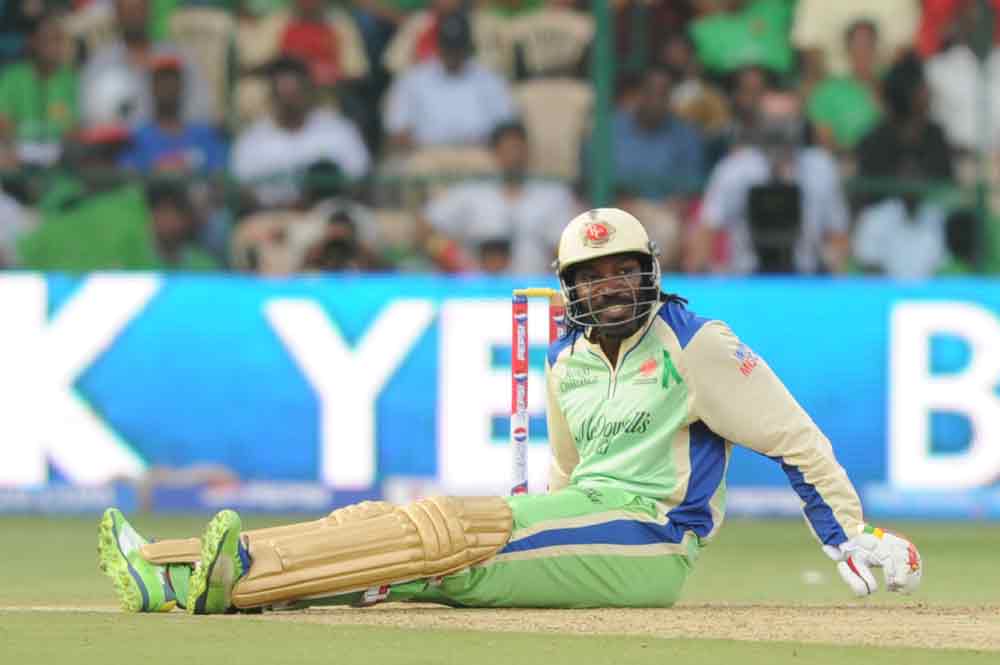 Saturday: 24th May, 16:00 IST
Chinnaswamy Stadium, Bangalore
A meaningless game is in store as Royal Challangers Bangalore take on Chennai Super Kings in the garden city, Bangalore. The local boys will be decked up in green jerseys- supporting their Go-Green campaign, something they do it every season to show their support for the environment.
RCB is already out of the tournament, for a third season in a row they have come up short, failing to make the playoffs. Their big guns have failed to deliver this time, Gayle has been completely out of touch, captain Kohli has has also not been in best of the form, Yuvraj-barring a few innings has also failed except, AB Devilliars, who has been the lone batsman to make a mark. The displeasure was also shown by their owner Dr. Vija Mallya who tweeted this morning
I am sad and apologise to all amazing RCB fans for the teams poor performance in this IPL. It is heartbreaking that the star line up failed.

— Vijay Mallya (@TheVijayMallya) May 22, 2014
While Chennai on the other hand with their superb early run once again qualified for the play-offs, but having lost last 3 games on the trott, they would be hoping to turn the tables around from today onwards and wouldn't want to scale down in the play-offs. Their bowling has not been top notch in recent times, but its not all gloom having done wonders with their batting line-up.
The last time these two teams met, AB Develliars cameo won it for Bangalore against Chennai.
Despite winning the last two games against Chennai, RCB trail 7-8 in the head to head between these two sides
Chennai stand 2nd in the points table with 16 points
RCB is on 7th position with 10 points
Welcome to Chinnaswamy for the final game to be played in garden city, Bangalore between these two teams
Chennai have won the toss and Dhoni will field first
The biggest news and probably the disappointment among the RCB fans is that they won't get to see Chris Gayle today
For RCB Gayle, Muralitharan, Dinda and Nechim are out, in comes Rampaul, Rossouw, Zol and Jakati
Chennai have dropped Hastings and Negi, in comes Badree and Nehra
Teams:
Royal Challangers Bangalore- V. Zol, Y. Takawale (wk), V. Kohli (c), Y. Singh, AB. Devilliars, R. Rossouw, M. Starc, S. Rana, Y. Chahal, R. Rampaul, S. Jakati
Chennai Super Kings: D. Smith, F. Plesis, S. Raina, M. Dhoni (wk/c), D. Hussey, R. Jadeja, M. Manhas, R. Ashwin, M. Sharma, S. Badree, A. Nehra

Its Game for Green! Cheering #RCB as they play their last match this Season, Hope its a Stellar one! #RCBvsCSK #RCBGoGreen #PepsiIPL

— •PREETHAM S• (@PrithamSadashiv) May 24, 2014
Takawale and Roussouw open for RCB, Nehra has the new ball
PLAY
OUT, NEHRA STRIKES TIMBER ! lenght ball, kept a bit low, takes and inside edge from Roussouw's bat and onto the stumps, Chennai strike very early in the game, Roussouw gone for 1
Zol is the new batsman at no.3, he was under-19 captain of the Indian Cricket Team which played the Under-19 World Cup in February this year in UAE
Badree will share the new ball
FOUR, BREAKING THE SHACKELS ! after 5 dot balls, Takawale smacks Badree over midwicket for four
RCB 6/1 (2) Takawale 5*- Zol 0* Run rate: 3:00
Chinnaswamy's record- Out of 35 times, teams winning the toss and fielded first- they have won 17 games
Nehra continues
SIX, slower ball from Nehra, Zol lunges forward and smack that one over the sight screen
Badree to bowl
FOUR, starighter one, and swept away with force towards long leg for four
FOUR, fuller on leg stump, Takawale sweeps that one with ease, easy pickings for the batsman
FOUR, outside off but a touch shortish, Takawale pulls that one for four, poor effort from Mohit Sharma at the boundary as the ball went past under diving Sharma
RCB 28/1 (4) Takawale 18*- Zol 9* Run rate: 7:00
Ashwin has been introduced
OUT, LBW straightaway he makes an impact, straighter one from around the wicket, doesn't spin and Takawale is given out by Umpire Anil Chaudhary after a long appeal, he departs for 19
In Comes the flambouyant captain Kohli at no.4
Mohit Sharma inserted into the attack
OUT ! BOWLED ! from around the wicket, straight on stumps, Zol swings his bat across the line, doesn't get any connect and his stumps are rattled
Yuvraj Singh comes out to bat
And the 2014 story of @RCBTweets continues. *sigh* No matter boys, try to finish on a high! #iplt20 #RCBvsCSK

— Sanat Mharolkar (@mharolkarsanat) May 24, 2014
RCB 34/3 (6) Yuvraj 1*- Kohli 0* Run rate: 5.66
Raina now, so Dhoni again rotating his bowlers
Dhoni is using plenty of spinners here, and rotating his bowlers, not letting the batsmen to settle for one
Kohli's last year batting average in IPL was 45.28, he only averages at 23.83 in this season
Mohit Sharma bowls
Excellent over from him, just 2 runs from the over
RCB 41/3 (8) Kohli 2*- Yuvraj 5* Run rate: 5.12
Raina continues, with a slip in place
This has been a fabulous start from Men in Yellow , that's what they needed, quick wickets and RCB is on back foot
Time Out
Here's Ashwin
Slower one, Yuvraj dances down, just a chip shot straight, they take 2 runs
SIX, Kohli uses his feet, and goes big towards the deep midwicket for a maximum, great placement from him, perfect hand-eye coordination when he played that one
RCB 56/3 (10) Yuvraj 11*- Kohli 11* Run rate: 5.60
Raina to Kohli on pads, nudged towards fine leg, excellent dive from Mohit Sharma to prevent it going to the boundary, they take 3 runs, Sharma is not comfortbale, he is limping after that dive
Yuvraj opens face and plays this towards pioint for a single
Ashwin will continue, he bowls from the stumps
SIX, too short, Kohli has ample of time, rocks back and swivleved on it, for a six towards long leg
RCB 73/3 (12) Kohli 25*- Yuvraj 14* Run rate: 6.08
Raina continues
RCB are going about, but they need to be little more aggressive to push forward for a good total from here onwards, whereas a wicket or too will occur in a collapse for them
FOUR, Yuvraj down on his knees, picks his spot towards midwicket
FOUR, short and wide, Yuvi cuts that one away, too much room for the batsman
Raina completes his spell of 4 overs
having best players of world in your team simply doesn't make u champion! #RCBvsCSK #PepsiIPL

— Shilpa Bhandari (@77parasian) May 24, 2014
That sums up RCB's journey
MSD uses his trump card- Sir Jadeja to bowl
OUT, SIR STRIKES ! lenght ball, Yuvraj again looking towards that midwicket region, but doesn't get the distance, Raina takes an easy catch, Yuvi gone for 25
A partnership of 55 runs comes to an end
RCB had four 50+ partnerships in this year's IPL
Time Out
ABD is the new man
RCB 88/4 (14) Kohli 29*- ABD 0* Run rate: 6.28
Badree comes back
SIX, dancing down once again and Kohli swatting it over long on
That's 100 for RCB
Chinnaswamy roaring with the chant of- ABD ABD ABD
Jadeja continues, 5 overs to go
9 runs from the over
RCB 110/4 (16) Kohli 47*- ABD 2* Run rate: 6.87
In last 5 overs, RCB's scoring rate has been at 9.40
Ashiwn to bowl his last over
FOUR, Ashwin from around the wicket, Kohli goes back and hits that one towards leg side for four, that's 50 for Kohli
FOUR, reverse sweep from ABD, crisp timing and for four
Last 3 overs- Except some fireworks now
Nehra comes back
FOUR, full toss there for the taking and Kohli blasts that one towards midwicket, that went liek a tracer bullet
FOUR, DEVELLIARS THIS TIME ! Nehra from round the wicket, bowls a length delivery, ABD smashes that one towards midwicket
OUT, PERFECT YORKER ! this time Nehra delivers a yorker, ABD swings to play the same shot, misses and stumps castled, the angle and the length deceiving ABD
ABD's strike rate against Nehra was 286, today is the first time that Nehra has dismissed ABD
Sachin Rana walks out to bat
RCB 132/5 (18) Kohli 59*- Rana 1* Run rate: 7.33
#Nehra Bowling Like in his Younger Days .... Awesome Yorker !! #RCBvsCSK

— पाल्पाली ठिटो (@MrBigyan64) May 24, 2014
Mohit Sharma bowls
SIX, Kohli reaches forward and hits that one towards deep midwicket, it hasn't been timed properly, but well enough to clear the fence
Good News: Kohli back in form Bad News:This year IPL has ended #RCBvsCSK #PepsiIPL

— Zaid ;) (@iamzaid_) May 24, 2014
11 runs from it
Last over coming up
SIX, WHAT A SOUND IT MADE ! Length delivery from Nehra, Virat takes one step out of his crease and clobbers it miles over midwicket, that's 150 up for RCB
OUT, another yorker and ball went back to hit the stumps after taking an inside edge off the pads, Kohli departs after playing a great innings of 73
Starc walks out
Good over from Nehra giving away just singles
RCB 154/6 in 20 overs (Rana 5*- Starc 2*)
"One does not Simply takes a wicket of Both world Class batsman AB & Virat Unless his name is Ashish Nehra #Bowled #RCBvsCSK" #Eit20

— Sangam (@SangamSharma17) May 24, 2014
What an innings from Kohli..!!Just a blast..Cameo throughout the innings.!! #rcbvscsk #PepsiIpl

— Muhamed Tajudeen (@tajudeen9495) May 24, 2014
Hope Virats efforts will not go in vain! #RCBvsCSK

— نام تو سنا هی ہوگا (@iamhafsaaltaf) May 24, 2014
So, RCB have managed 53 runs in the last 5 overs, that took them past 150, the total put there is moderate after their openers failed again to live up to the expectations, and then Chennai doing well to cordon off the runs but it was one man who should be thanked, yes the captain Kohli, who took the initiative and driven RCB to this total with a great innings which included some blistering shots.
Chennai with a strong batting line up will back themselves to chase this one down, however, for the one last time in this year's IPL, RCB would do anything to win this one for them and for their fans.
Join us for the chase in few minutes
Back for chase
157 is the lowest total successfully defended by RCB at Chinnaswamy, can they beat their own record?
In-form Dwayne Smith is joined by Faf Du Plesis, Jakati will open the bowling
Jakati has twice dismissed Smith in IPL
Slow left arm spin to start with, a slip in place
Short, Smith pulls, just falls in short of diving Starc, could have been a sensational catch if taken
Another one in the air, Smith chips but just manages to clear mid-on
RCB feeling they are in with a chance to pick up a quick wicket
Dwayne Smith's batting average 1st innings: 26.81 and in 2nd innings: 46.21 (since 2011 IPL)
Ravi Rampaul to bowl from other end
FOUR, GREETINGS ! classy straight drive from Smith
FOUR, HAMMERED ! Faf going down the pitch and hammering him over midwicket
SIX, down the track again and plays it over long-off for a maximum, Faf taking on Rampaul here
This season RCB performed and showed that they r a group of good individuals but not brilliant team comparatively #PepsiIPL #RCBvsCSK

— Ishan Shrivastava (@shanushaans) May 24, 2014
CSK 20/0 (2) Faf 11*- Smith 9* Required rate: 7.50
SIX, ELEGANT AND POWERFUL ! flighted on off stump, Smith just picks it up and chips this one for four
FOUR, Faf this time, flashy cover drive
Starc replaces Rampaul
Starc bowling average in IPL 2014 - around the wicket: 37.66 - over the wicket: 23.27
FOUR, Oh goodness, full on off stump, Smith punches it straight down the ground
FOUR, length, Smith is going bezerk, this time over covers, one bounce for four
SIX, short and pulled away for six, Chennai are in a hurry, they want to finish this one very early
CSK took 4 overs to get to fifty today, their quickest fifty in the IPL
CSK 53/0 (4) Faf 22*- Smith 30* Req rate: 6.37
Rampaul changing ends
FOUR, slower ball, Uppish straight drive from Smith and four more, CSK on a roll
OUT, Smith looking to play towards the on-side gets a top edge and is caught by skipper Kohli at midwicket, no celebrations from Kohli, gone for 34
Suresh Raina comes at no. 3
Good over from Rampaul this time, just 6 runs off it
Starc to continue
FOUR, overpitched from Starc, Raina caresses it down the ground for four
CSK 64/1 (6) Faf 27*- Raina 6*
CSK require 91 runs from 84 balls
Time Out
Indeed Ravi Kiran !
Leg spinner Chahal comes onto bowl
Chennai has been sensational with their start, at same stage RCB were 39/3 while CSK are 69/1 ..shows the difference
Sachin Rana inserted into the attack
FOUR, Short and Raina times it towards midwicket for four, excellent shot
CSK 76/1 (8) Faf 30*- Raina 11*
79 runs required from 72 balls
Bangalore Suppose to be RCB home ground but the Crowds is cheering CSK CSK..This team got massive fan following across the country #RCBvsCSK

— Naga Sai (@nagaa151) May 24, 2014
FOUR, Raina takes a few steps out of the crease and smashes it towards the midwicket
Yuvraj now into the attack
OUT, STUMPED ! Yuvraj immediately makes an impact, Raina takes a few steps out, flighted from Yuvraj and Takewala does a good job, out for 18
MS Dhoni comes at no. 4
CSK 87/2 (10) Faf 33*- Dhoni 1*
68 runs required from 60 balls
Chahal continues
BIG APPEAL ! turned down- Faf jumps out of his crease, ball pops out and keeper takes it, loud appeal from RCB, umpire says no, replays show that it cam off the glove, lucky escape for Faf, disappointment for Bangalore
Good over, just 3 runs from it
95/2 (12) Faf 37*- Dhoni 5* Req. rate: 7.50
Jakati comes back
Dhoni trouble, he is limping while he took a single, probably a hamstring, CSK takes a Time Out and in the meanwhile Dhoni will get some treatment
4 runs from it, RCB just cramping CSK for runs here, if they can take a few quick wickets here, this match might become interesting
Yuvi bowls
Dhoni taps down to midwicket for 1 run, 100 up for CSK
Last 5 overs 19 runs have come, no boundaries scored
CSK 103/2 (14) Faf 41*- Dhoni 9*
52 runs required from 36 balls
FOUR, paddle sweep from Dhoni, using Chahal's pace and working towards fine leg boundary
first boundary in 33 balls for Chennai
Yuvi to bowl his last over
CHANCE, FOUR ! Dhoni was down on the track, misses the ball, but the keeper also misses the stumping chance, went between hs legs for four, Yuvraj is not happy
SIX, MAESTRO DHONI ! takes a few steps and sends it roaring over the long on boundary
SIX, MASSIVE ! same shot and this went beyond the previous hit
FOUR, DHONI IS TAKING YUVI HERE ! onto the pads, Dhoni clubs it towards the deep sqaure leg with immense power
22 runs from Yuvi's last over
Missed stumping turning point of the match #RCBvsCSK #PepsiIPL

— Santanu Biswas (@Santanusays) May 24, 2014
CSK 133/2 (16) Faf 44*- Dhoni 32*
22 required from 24 balls
Starc back into the attack
FOUR, around the wicket, and Dhoni has pummled that one towards long off for four
50 partnership comes
12 runs required from 18 balls
Jakati now
FOUR, swept hard four four
SIX, Dhoni comes out as Jakati drops short and into the stands
SIX, and GAME OVER ! Faf gets to fifty and ends the game with a lofted shot over long off for a maxium
A 75 run stand between these two helps Chennai register an emphatic victory over the Bangalore
CSK 160/2 in 17.5 overs Dhoni 49*- Faf 54*
Chennai beat Bangalore by eight wickets
MSD once again finishes things off.@msdhoni Dont give this man a second chance.#RCBVsCSK, #CSK

— Shanmuga Sundaram (@satheeshanmugam) May 24, 2014
"Dhoni & last over" made for each other #PepsiIPL #RCBvsCSK

— Mah€$h $h€T (@shet_mahesh) May 24, 2014
#Rcb sit now and rethink your team strategy. Main reasons for loss - overpriced cricketers & improper attitude #IPL2014 #rcbvscsk

— Kaushal Sharma (@KaushalSharma84) May 24, 2014
So much free WiFi at Chinnaswamy, yet no #RCB fan updating twitter? :P #troll #RCBvsCSK #IPL7

— Sonali Dhulap (@pillya) May 24, 2014
Comprehensive is the word- Chennai outshining Bangalore in all the departments today, a strong chase first led by Smith and then the masterclass of Dhoni in finishing the innings was enthralling, how many times the cool ckipper have done it in his career, and not to forget the anchor role from Faf Du Plesis, who stayed right till the end to ensure that Chennai are home easily and scored a well deserved half century The big win also ensures that Chennai might finish in top two.
RCB will be disappointed with their season, they never fired as a team in this season, they have had one last chance to deliver for the excellent crowd and their fans at Chinnaswamy but failed to do so.
Skipper MS Dhoni is the Man of the Match
Final Score: Chennai Super Kings 160/2 in 17.5 overs (Faf 54*- Yuvraj 1/30) beat Royal Challangers Bangalore 154/6 in 20 overs (Kohli 73- Nehra 3/33) by eight wickets
That's all from the amazing Chinnaswamy, this is Uzair Hasan Rizvi, signing off !