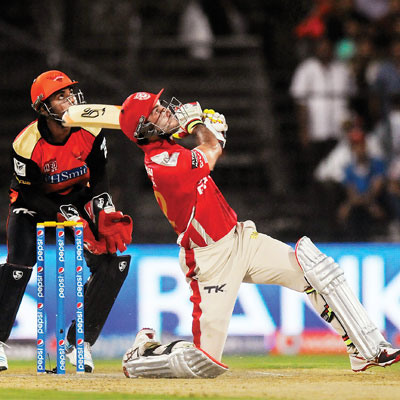 Eden Gardens, Kolkata
Wednesday, 28 May
This is it, the final four are through and the qualifiers for the finals begin, the winner will straightaway head to the finals. Kolkata Knight Riders take on table toppers Kings XI Punjab. The last time Kings XI reached the last four was in 2008.
The first qualifier, postponed by a day due to rain will the pit the two teams against each other. Its the bat vs the bowl, Kings XI had a phenomenol run with the bat while Knight RIders have had a very good outing with the bowl.
KKR hold the advantage over Kings XI as Eden Gardens has been mostly kind to the home side, they had a slow start in the tournament but came back with a bang, their prolific opener- Robin Uthappa is the top scorer of the tournament and with economical Sunil Narine in the sqaud, this gives makes them a balanced side. And not to miss out Shakib al Hasan and belligerent Yusuf Pathan, who are in red hot form.
Kings XI Punjab started their journey with aplomb winning almost everything, with likes of big powerhouses - Maxwell and Miller, they have dominated the opposition bowling with swashbucking hits. Their bowling is something that they should be worry off, Sandeep Sharma had a good initial run but looks a bit dizzy during the last leg of the games. Though, they are team buzzing with all the energy after wipingo out Delhi in the last game.
Head to Head:
Played 13: KXIP 6-7 KKR
Welcome to buzzing Eden Gardens, it is sultry and sunny out here, plenty of rains last night but clear weather for today and the qualifier is on
News from the centre is that George Bailey have won the Toss and Kings XI will bowl first
Kings XI are unchanged while KKR have made one change- Piyush Chawla comes in for Vinay Kumar
Teams:
Kolkata Knight Riders: Gautam Gambhir (c), Robin Uthappa (wk), M. Pandey, Y. Pathan, S. Hasan, R. Doeschate, S. Yadav, P. Chawla, M. Morkel, U. Yadav, S. Narine
Kings XI Punjab: V. Sehwag, M. Vohra, W. Saha (wk), G. Maxwell, D. Miller, G. Bailey (c), A. Patel, M. Johnson, R. Dhawan, K. Singh, P. Awana
KKR batting first win percentage- 54%
KXIP batting second win percentage- 64%
(since 2011)
Yatin Jain making this battle more filmy
For others its #KKRvsKXIP.. For me its Veer vs Zara! #eit20

— Yatin Jain (@yatinj03) May 28, 2014
Gambhir and Uthappa comes out bat in front of the full house at Eden Gardens, Parwinder Awana with new ball
Play !
Length delivery, shapes away, Uthappa plays it towards the third man with an open face for a single, loud cheer from the crowd
Mitchell Johnson sharing the new ball
OUT, HE STRIKES IT ! short and pacy from Mitch, Gambhir tries to pull, miscues and straight towards George Bailey at mid-on, KKR lose their captain early on, Gambhir remains pause, thankfully he is not searing at anyone today
Manish Pandey comes at no. 3
KKR 5/1 (2) Uthappa 2*- Pandey 2* Run rate: 2.50
We are having some techincal problems, sorry for the lost feed
Mitchell Johnson gives away 17 runs from the over, Uthappa is the man in form taking on Kings XI bowlers
KKR 31/1 (4) Uthappa 19*- Pandey 8* Run rate: 7.75
Uthappa gonna fit in Gambhir's shoes as well... he's so good this season *_* #PepsiIPL #KKR #KKRvsKXIP #KXIP

— Ihsaan Muhiyadheen (@ihsaanm97) May 28, 2014
Awana comes back
FOUR, TOP SHOT ! fuller on off side, He comes down the track and smashes it over extra cover
FOUR, CRASHED ! short and pulled away for four, one bounce over the rope
Rishi Dhawan is the new bowler
SIX, ROCKING ROBIN ! welcome Dhawan- oh boy, look at that for a shot- pure timing on that one, full and straight over the bolwers head
FOUR, Pandey slams this one down the ground- it brings up 50 runs for KKR
KKR 55/1 (6) Uthappa 37*- Pandey 14* Run rate: 9.16
Akshar Patel bowls
Good over only 3 runs from it and its Strategic Time Out
Kings XI got an early breakthrough when Johnson got the wicket of Gambhir but since then Uthappa has been rocking, hitting shots around all parts of the ground and propelling KKR to a solid position
What an IPL it has been for Robin Utthapa. All he needs is a century today !! #KKRvsKXIP #KKR

— Dhvani Shah (@dhvani_shah) May 28, 2014
Here's Karanveer
40 for Uthappa, he is in form of his life, that's 10th forty for Uthappa in as many innings
Top-edge stays there for a long time, but falls in no man lands, lucky one for Uthappa
FOUR, flighted out side off, Pandey drives handsomely towards the cover region
KKR 67/1 (8) Uthappa 42*- Pandey 21* Run rate: 8.37
Robin Uthappa crossed Kohli 634 runs most by a Indian in IPL history. @IPL #KKRvsKXIP

— Deepak Sharma (@deepakbhlscr) May 28, 2014
Akhsar Patel now
OUT, it looks like a mere chip towards long off and Uthappa holes out, failed to score a half century, should have hit that one hard, gone for 42,
Shakib comes out to bat at no.4
OUT, ANOTHER WICKET ! unlucky Pnadey- bowl on the pads, Pandey looks to work towards on side, ball takes on the pads and hits the stump, out for 21
what an over- 2 wickets and a maiden
Kings XI have bowled 5 double wicket maiden overs, most by any IPL team
both set batsmen gone
Yusuf Pathan comes in to bat, can he repeat the magic?
Yusuf Pathan's batting strike rate in this year's IPL is 164
Oh ! Shah Rukh Khan is present in the stands today
At half way through the stage- KKR 73/3 in 10 overs
Bunked my tuition classes for the epic match.. #KKRvsKXIP @KKRiders

— Savinay Goel (@savinaygoel) May 28, 2014
Mitchell Johnson back into the attack
FOUR, Pathan goes for it, short and outside off, Pathan picks that one over the point region, good placement
#KKRvsKXIP need another yousuf special

— Semi (@semiKafunda) May 28, 2014
Rishi Dhawan now,
FOUR, edged , length outside off, Pathan looks to swing, gets an outside edge past the keeper
KKR 90/3 (12) Pathan 13*- Shakib 8* Run rate: 7.50
Awana comes back
FOUR, SLAPPED ! good length outside off,Shakib takes two steps out and slaps it over the covers
LBW APPEAL ! not given- another loud appeal against Yusuf Pathan, Nigel Llong says no, he survies another scare, replays suggest would have gone on to hit top of the stumps
Rishi Dhawan now
SIX, full and Pathan launches it over long -off into the crowd for a maximum, 100 up for KKR
KKR 104/3 (14) Pathan 20*- Shakib 14* Run rate: 7.42
Karanveer inserted back into the attack
OUT, Shakib looks to go down the ground, but hits only as far as mid-on, where Miller takes a simple catch, he departs for 18
OUT, Twin strike from Karan, dangerman Pathan goes for 20, tossed up on middle, Yusuf chips it straight towards Miller at long -on
On a hat-trick now
Misses, Yadav quietly defends this one
Singh is King at Eden Gardens -Karanveer takes the crucial wickets of Shakib & Pathan !!! #KKRvsKXIP #PepsiIPL

— Sheethal Ravindran (@sheethur) May 28, 2014
Yadav and Doeschate on the crease now
BREAKING NEWS: ROBIN UTHAPPA HAS BEEN RECALLED INTO THE INDIAN TEAM !
Its raining here at the Eden Gardens, and Covers are coming on as players leave the field, it ain't that heavy, hopefully will clear out quickly
Avicii Levels in the ground when it is raining, Trash music when there are 4s and 6s. #KKRvsKXIP IPL Concept. *Insert that Meme*

— BeerBal (@Blahkowski) May 28, 2014
Good news, it was just a passing cloud, covers are coming off
Oh, no the rain is here again, and covers coming back
"Let it rain over me" ,the music in the Eden gardens.But we don't want rain.we want match on .@IPL #KKRvsKXIP #KXIPvsKKR #eit20 #PepsiIPL

— jagadish (@Jaggu_34) May 28, 2014
Covers are coming off, hopefully the rain won't come back again
75 members staff is on field.. Lookin like a ending ceremony of IPL.. @sonymax #KKRvsKXIP

— Hemant (@hemant_tweetoo) May 28, 2014
Hemant, all thanks to them for doing their best in trying to restart the game
And we are restarting- The players are back on the field, no overs have been deducted, its a full 20 over game
Akshar Patel finishes his spell 4-1-11-2
KKR 114/5 (16) Yadav 5*- Doeschate 0* Run rate: 7.12
Dhawan bowls
SIX, good length on middle and Yadav clears the long leg fence with that effortless pull
FOUR, fuller and Yadav lofts it down the ground, 14 runs from the over
Karanveer into his last over
SIX, tossed up and Doeschate comes down the track and thumps it over long on
SIX, THIS ONE IS EVEN BIGGER ! flighted swings through the line and Doeschate sends it again through the same region
FOUR, flighted outside off, Yadav picks it from wide outside off and times it thorugh the midwicket
OUT, BOWLED ! What has Yadav done, straight and Yadav looks to sweep hard exposing his stumps, he misses and that hits the timber, Yadav gone for 20
17 runs and a wicket in his last over for Karanveer
KKR 145/6 (18) Doeschate 16*- Chawla 0* Run rate: 8.05
Mitchell Johnson comes to bowl the penultimate over
OUT, fuller on pads, Doeschate trying to flick it over sqaure leg boundary, finds the filder just inside the rope, his small cameo of 17 comes to an end
Sunil Narine is the new man
That's what you expect from Johnson, 3 runs and a wicket
Awana to bowl the last over
FOUR, searching for the yorker, full toss and Chawla smashes it towards leg side, 150 up for KKR
FOUR, short stuff slower one, Chawla pulls and clears short fine leg
Bailey not happy
RUN-OUT, chaos at the middle, they take off a single from Awana's misfield and then comes back after a wide throw from the midwicket fielder and then a direct hit towards non-strikers end
and Narine's gone
Morne Morkel comes to bat, last ball coming up, Chawla is on strike
FOUR, cheeky, Chawla sweeps Awana for four over short fine leg
KKR 163/8 in 20 overs- Chawla 17*- Morkel 0*
164 Defendable Target . Spinners Will play Crucial role . Hope #Narine & #Shakib can turn in around #KKRvsKXIP #KLJ #eit20 .

— Vineeth (@Vineethmjain28) May 28, 2014
#KKR are just a miller-&-maxwell away from the final. #KkrVsKXiP

— Kshitij Shringi (@Hawaa_Baaz) May 28, 2014
Well Kolkata have able to post a challanging total for Kings XI, though the Punjab team are known for chasing big total, but would this be enormous for them, looking a the conditions. They lost Gambhir early but Uthappa went swashbucking, big guns like Pathan and Shakib failed to achieve a big score and Kings XI lost the momentum after the rain break.
Can Kings XI play against the Kolkata spinners, will be interesting to see how Maxwell and Miller play tonight
This will be a short break
Second innings about to begin
Sehwag and Vohra out in the middle, Morne Morkel to start the proceedings for Kolkata
Good bowl from Morkel, lenght ball shapes away, beats the outside edge
Umesh Yadav to bowl from other end
OUT, short and wide, Sehwag cranks it straight to Shakib at point, first wicket down
Wriddhiman Saha is the new man
Loud Appeal, not out, good bowl, outswinger, beats Saha off the bat
Good over, ust 3 runs from it and a wicket
KXIP 8/1 (2) Saha 1*- Vohra 3* required rate: 8.66
Morne Morkel continues
Good bowling from KKR, their line and length have been good, on giving away no runs, putting pressure on Kings XI batsmen, the ball is also seaming a bit, helping fast bowlers to create more terror
SIX, angling in towards the pads and Saha picks that one towards sqaure leg for a six, good timing
Sunil Narine comes to bowl
Its starting to drizzle again and covers are coming on oh and they being turned away by Nigle Llong, crazy scenes at Eden Gardens
DL par score after 5 overs is 37, that's what KXIP need to achieve if rain halts play
Sunil Narine's has the best economy rate in this year's IPL- 5.91
FOUR, short onto the pads and Saha pulls it towards fine leg boundary
KXIP 24/1 (4) Saha 14*- Vohra 6* Required rate: 8.75
Shakib has been introduced
SIX, tossed up, Vohra gets on the knee, and slogs him clean over deep midwicket
SIX, TWO IN TWO ! fuller , Vohra picks it up and slams it over the midwicket region for a biggie
15 runs from the over, they are past the DL score
Morkel bowls
SIX, length delivery, a touch fuller and Vohra easily picks it over midwicket for a six
OUT, short ball, Vohra miscues , it goes high and Umesh Yadav at long on takes a catch, a wicket falls for Kings XI while it continues to drizzle, drama here
KXIP 46/2 (6) Maxwell 0*- Saha 15* required rate: 8.42
Narine continues
@IPL Awaiting for maxwell's hurricane!!!!!!! Come on!!!!! Break the ball!!!! #KKRvsKXIP

— HariPrasad (@harihp_90) May 28, 2014
FOUR, onto pads, Maxwell gets down and sweeps it over square leg
Yadav into his second over
Yadav averages 20.25 against Kings XI, his best against all IPL teams
Maxwell looking to slog Yadav, who is disgusing him well slower ones
Saha just took out a sheet of paper and reading the DL par scores
OUT LBW BIG WICKET ! MAXWELL DEPARTS ! Maxwell shuffles, looking to play towards fine leg, misses and hits him on the pads in front of the wicket, Nigel Llong raises the finger, pressure of Kings XI now, they are playing for the DL par score and lost two wickets while pushing up the rate
Time Out
Maxwell's average in his last six innings, including todays is 13.17
Miller is the new man
KXIP 55/3 (8) Miller 0*- Saha 17* required rate 9.08 DL Par after 8 is 66
is this #IPL7 or game theory linear equation !! both side players reading match winning equations iin the ground #KKRvsKXIP #PepsiIPL

— Vipul (@invisibal_ghost) May 28, 2014
Chawla inserted into the attack
Top over from Chawla is this situation, just 5 runs from it , the required rate is climbing up, and the persistent drizzle is making things more bad for Kings XI, someone needs to rescue them
Yadav to continue
FOUR, fuller outside off, Saha pulls it towards deep midwicket for four
CHANCE, DROPPED ! short and cut away hard towards backward point from Miller, Pandey leaps to his right side and saves a certain boundary
KXIP 68/3 (10) Miller 2*- Saha 27*
KXIP require 96 runs from 60 balls
Here's Chawla
Chawla inserted into the attack
Top over from Chawla is this situation, just 5 runs from it , the required rate is climbing up, and the persistent drizzle is making things more bad for Kings XI, someone needs to rescue them
Yadav to continue
FOUR, fuller outside off, Saha pulls it towards deep midwicket for four
CHANCE, DROPPED ! short and cut away hard towards backward point from Miller, Pandey leaps to his right side and saves a certain boundary
KXIP 68/3 (10) Miller 2*- Saha 27*
KXIP require 96 runs from 60 balls
Here's Chawla
SIX, SAHA IS BLAZING ALL GUNS HERE ! tossed up, Saha goes down on the knee and slams it over deep midwicket
#KXIP need 90 in 9 overs... Kind of chase they like doing... #ipl2014 #KKRvsKXIP

— Kapilan B (@bkapilan) May 28, 2014
Morkel's being brought back to bowl his last over, Gambhir using him up early
OUT, MORKEL DELIVERS HERE FOR KKR ! They desperately needed one more wicket here, full and Saha drives it uppishly but straight to the mid-off fielder, well settled Saha gone for 35
KXIP 80/4 (12) Miller 6*- Patel 0* DL par score is 97
KXIP require 84 runs from 48 balls
Its still drizlling here
Chawla
OUT, short spinning in, Miller tries to cut, gets an inside edge onto the stumps, half of the team back in pavilion, KKR on top, Miller goes for 8
Captain Bailey comes out to the rescue
Its Time Out
78 runs required from 42 balls
Eden Garden is roaring at the moment, Mexican Wave inside the ground
Bailey and akshar patel has to do corey and rayudu today to make their team win #KXIP #KKRvsKXIP #PepsiIPL #ipl7

— being asmi♥ (@luckygal07) May 28, 2014
Shakib coming back
Rain's gone ..so no threat of DL for now
RUN-OUT, Bailey hits that one straight to fine leg and sets off for a single, Chawla with a strong throw at keeper's end sends Akshar Patel back, out for 2
Rishi Dhawan comes out to bat
That's really good bowling for Shakib, blwoking really slow, 2 runs and a wicket from this over
KXIP 88/6 (14) Dhawan 1*- Bailey 3*
76 runs required from 36 balls, required rate is now above 12
Shakib's bowling strike rate against left handers: 45.00 and against right handers: 23.00
Its only singles for Kings XI, this won't do it, they need boundaries at the moment
KXIP 97/6 (16) Bailey 8*- Dhawan 5*
67 required from 24 balls
C'mon @KKRiders slow n steady wins the race-just keep that strong bowling attack on lock and we'll be in the final in no time <3 #KKRvsKXIP

— Հɑɾɑ_յɑվ ~ (@ItzZazoo_97) May 28, 2014
Sunil Narine is back
FOUR, short carromball, Bailey powers it towards the covers for four
they need a few more
SIX, Bailey pops that one into the crowd, on middle, he punches that one towards midwicket
55 required from 18
Shakib to bowl his last over
SIX, slower on, Dhawan takes a few steps and sweeps it towards sqaure leg, Yadav tries to catch but ball pops out of his hands and crosses over the rope
OUT, STUMPED ! Dhawan dances down the track - ball stays quite low and he misses, Uthappa does the rest, gone for 14
Mitchell Johnson comes in
SIX, first ball, right in the slot, Johsnon slogs
SIX, Bailey this time, comes down the track and pummles that one over deep midwicket
KXIP 130/7 (18) Bailey 25*- Johnson 7*
34 runs required from 12
Narine to bowl the penultimate over, this is going to be crucial
Mitch swings misses, Narine is very difficult to play
Narine is giving here nothing, what a bowler he is
Excellent from him ust 4 runs in the 19th over
30 required in the last over
Umesh Yadav bowls
OUT, slower one, Bailey looking for a six finds long on fielder, out for 26, Punjab lose their eight wicket
Karanveer is the new man
Johnson gets a slower one, swings and misses
slower bouncer, misses, what a bowling from Umesh Yadav
Kings XI 135/8in 20 overs, lost to Kolkata by 28 runs
KKR's eight win on trott
Kolkata Knight Riders are into the finals of the 2014 Pepsi IPL
Yessss!!! KKR in the finals!!! KXIP, you can't beat KKR. GO KKR!!! #KKRvsKXIP

— Anamil Kochar (@anamil_great) May 28, 2014
KKR hv made it count.. The delayed surge n peaking at right time. One hand on the cup now.. #ipl2014 #KKRvsKXIP

— Krishnan Chidambaram (@krish_233) May 28, 2014
City of Joy erupts! #KKRvsKXIP #iplt20

— Susmit Dandapat (@dSusmit) May 28, 2014
KXIP get another chance of redemption. Tough luck for this one #KKRvsKXIP

— Mr. A (@covertsoul) May 28, 2014
What a bowling performance by the KKR to restrict the batting powerhouses of Kings XI below par, they have successfully defended their target of 163 and through to the finals of IPL for the second time.
Kolkata are the team riding on the wave of Uthappa and some fine bowling performances, backed by lovely Kolkata cricket fans. The rain made it worse for Kings XI as they continue to lost wickets and the asking rate started to climb up, no one really took up the charge and played a saviour for Punjab. Morkel and Yadav bowled excellent to make things worse for Punab batsmen, though Punab have one more chance to make it to the finals, when they will play the winner of Chennai vs Mumbai on Friday in the eliminator.
Umesh Yadav is the Man of the Match
Final Score: Kolkata Knight Riders 163/8 in 20 overs (Uthappa 42*- Karanveer 3/40) beat Kings XI Punjab 135/8 in 20 overs (Saha 35*- Umesh Yadav 3/13) by 28 runs and qualify for the finals