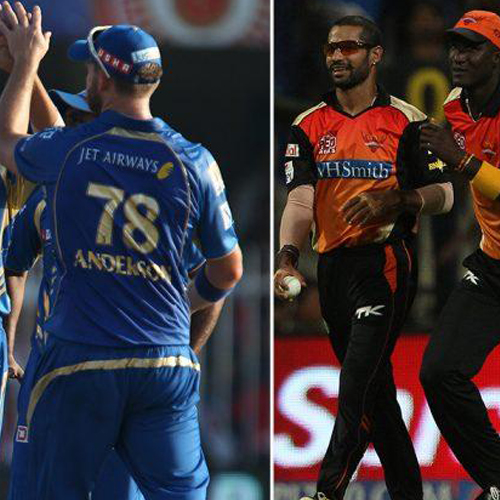 Venue: Dubai
Start time: 8 pm IST
Mumbai Indians are 0-4 down, and one more loss will make it extremely difficult for them to come back in the tournament.
This is Mumbai's last match of the UAE leg and they would not like to go back winless to India.
The biggest problem for Mumbai is not any particular player. It is the fact that they have gone down without a fight. For most seasons in the past, Mumbai have managed to fight hard even when they went down.
Mumbai's opening partnership of Aditya Tare and Michael Hussey failed to click for 3 games, and Rohit Sharma finally promoted himself to the opening slot in the 4th.
Hussey will likely play no further role in the Mumbai team for the next few games. However, Neither Kieron Pollard nor Corey Anderson have shown much form down the order either. While both seemed to be getting into the groove in the last match, they didn't really convert their starts into anything big.
Sunrisers Hyderabad have also won just one game this tournament, and their top-heavy batting has been exposed by the weak middle and lower orders.
Here's an interesting stat though: Mumbai have only one fifty-plus score this season: by Rohit Sharma, and Amit Mishra of Hyderabad has conceded 9.48 runs per over, the most by a bowler in this tournament so far. This could be an interesting battle.
Sunrisers Hyderabad: Aaron Finch, Shikhar Dhawan (Captain), David Warner, Lokesh Rahul, Darren Sammy, Naman Ojha, Karn Sharma, Irfan Pathan, Dale Steyn, Amit Mishra, Bhuvneshwar Kumar.
Mumbai Indians: Ben Dunk, Aditya Tare, Rohit Sharma (Captain), Corey Anderson, Ambati Rayudu, Kieron Pollard, Chidhambaram Gautam, Harbhajan Singh, Zaheer Khan, Pragyan Ojha, Lasith Malinga.
Mumbai have won the toss and will bowl first. Ben Duck comes in for Michael Hussey.
Nikhil Anand already opposes Mumbai's move to bring in Ben Duck:
Mumbai Indians should have gone in for Lendl Simmons instead of Ben Duck #MIvsSRH #PepsiIPL

— Nikhil Anand (@nikhiltwit) April 30, 2014
Aaron Finch has hit Zaheer Khan for 10 off the first over, including two boundaries.
Malinga to bowl now
5 off the over, SRH 15/0 after 2 overs
Khan continues to be hammered as Shikhar Dhawan now whips him away for four
OUT! But Khan has got his man. Dhawan fished at that one and was caught at slip by Harbhajan
SRH 21/1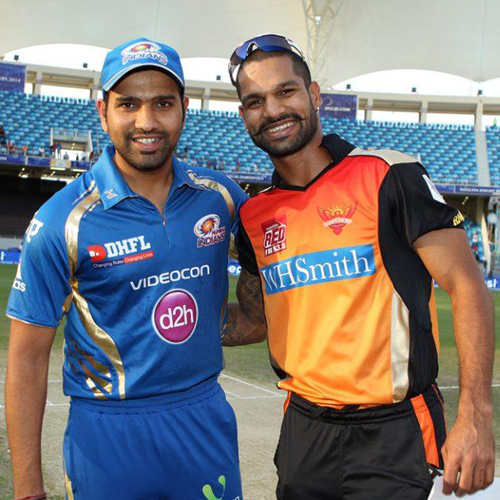 Lokesh Rahul is the new batsman
Mumbai introduce Pragyan Ojha into the attack
Four. Finch gives himself room and carves it over the off side for four
People are already taking digs at MI on Twitter:
I am happy that Mumbai Indians are not batting first, that way other side gets to score some runs !! #MIvsSRH #IPL2014

— Pandu Hawaldar (@Pandurang_Mama) April 30, 2014
Another boundary, this time by Finch.
SRH 31/1 after 4 overs
Zaheer Khan into his third over, from around the wicket
Poor slip fielding from Harbhajan as Rahul edged that and Harbhajan failed to stop it
OUT. Zaheer nips out another one, big one. Finch slices one to cover and is caught
SRH 38/2 after 5 overs
David Warner is the new batsman, and Lasith Malinga returns
Slower yorker, well dug out by Rahul for two
Hyderabad 44/2 after 6 overs
SRH 48/2 after 7 overs
Ojha is back, and he bowls a terrible delivery outside leg stump which goes for 5 wides
From bad to worse. 11 runs off 1 legal ball as Warner goes down on one knee and thumps Ojha for six over midwicket
SRH 63/2 after 8 overs
Time for the time out
Harbhajan Singh comes back into the attack and concedes just 2 off his first over
SRH 65/2 after 9 overs
Kieron Pollard comes in to bowl
He concedes 6 off his first over
SRH 71/2 after 10 overs
Harbhajan Singh continues to bowl a tight line and length.
SRH 76/2 after 11 overs
Some quiet overs for SRH as Pollard and Harbhajan continue to bowl tight lines
Hyderabad 89/2 after 13 overs
Pollard has been hammered for two boundaries off the 14th over
10 runs from the over, SRH 99/2
5 wides. Another 5 wides from Ojha. he's having one bad day
Six. Is this a pattern? Ojha now gets tonked into the stands for six by Warner
Two to end the over. SRH 117/2 after 15 overs
She describes our feelings well:
I have no idea why Ojha was even given that third over. #IPL7 #MIvsSRH

— Sonali Dhulap (@pillya) April 30, 2014
Ojha, to put it on record, conceded 43 off 3 overs
Pollard is back
High full toss, and called a no ball. Pollard tried to hold on to a sharp catch, but deflected it onto the umpire Dharmasena.
SIX! Now Warner launches a full ball high over long on
SRH 130/2 after 16 overs
David Warner has reached his fifty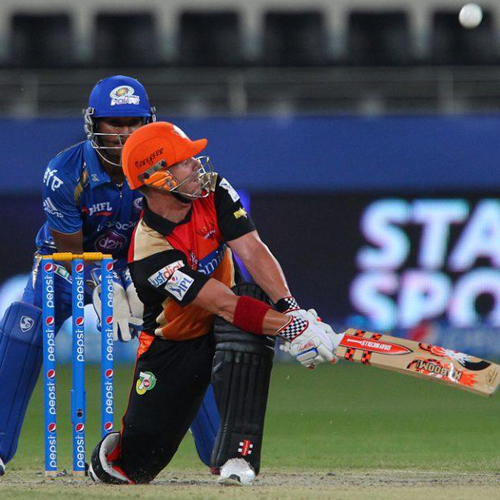 Lasith Malinga comes back into the attack. He will probably bowl overs 17 and 19.
Drilled wide of the bowler for one
Switch hit! Can anyone play a switch hit off Malinga? But Warner did and he hit it just away from Ojha at short fine leg for two
4 runs off the remaining part of the over
SRH 137/2 after 17 overs
Zak to bowl now
Two runs off the first two balls of Zak's over
Zak has bowled around the wicket all day and it has paid off for him
Only singles this over. Two balls to go, Warner on strike.
Another well bowled Yorker, Warner digs it out for one
Six singles off the over, SRH 143/2 after 18 overs
Zaheer has been Mumbai's best bowler today: 4-0-26-2
Interesting. Corey Anderson will bowl the 19th over, so Malinga for the 20th
SIX. Half volley on middle stump gets caned over mid wicket for six.
OUT! Now Warner tries another switch hit, this time Anderson came around the wicket. Gets a thick edge to the keeper. End of a good innings.
SRH 149/3, Warner 65 (51)
SIX! Sammy comes in and promptly hits Anderson for six over long on.
Now a wide down the leg side. This over has spoilt Zaheer's good work.
Another wide.
Big swing from Sammy, it hit the outside edge of his bat and flies over short third man for four.
OUT! Sammy tries it again and it goes high in the air. Pollard comes running down from long on, dives and takes a good catch.
SRH 161/4 after 19 overs
Naman Ojha is in but he won't be facing.
Malinga to bowl the last over of the innings
OUT. Rahul is out. Gave a soft catch after a good innings.
Irfan Pathan is in and he is almost out. There was a direct hit but Irfan was just in.
Four.
Four. This was turning out to be a great last over, but Ojha makes sure SRH end with two consecutive boundaries.
SRH 172/5 after 20 overs
MI have already lost two wickets. 8/2 after 2.5 overs
Rohit Sharma and Corey Anderson are back in the pavilion.
Ben Dunk and Ambati Rayudu are at the crease
Four by Ambati Rayudu
MI 12/2 after 3 overs
Bhuvaneshwar Kumar to bowl
No run so far off the over.
MI 13/2 after 4 overs
Dunk hits inside out over extra cover for four
Now he gets a leading edge and it flies down past third man for four
This sounds like a good idea:
Instead of run rate, MI should put wicket rate. They can top that ranking #MIvsSRH

— Vikram (@vikramuk) April 30, 2014
MI 24/2 after 5 overs
Darren Sammy comes in to bowl
Now Dunk goes through extra cover, it was in the air but got past the fielder for four.
Quick single to mid off
Bowled. OUT! Now he's out. Tried to smash a short ball on middle and leg, it ricocheted off his pads onto the stumps.
MI 31/3 after 6 overs
Mayhem for Mumbai in the powerplay
Kieron Pollard is in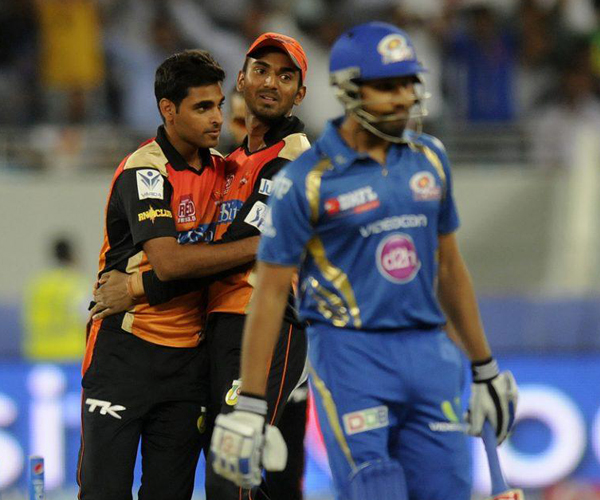 The Steyn-gun is back again
Edged! And it goes for four. Rayudu gave room and then just nudged at it, it flew between slips for four
MI 38/3 after 7 overs
After 9 overs, Mumbai are 48/3
Two boundaries off the over from Pollard, Mumbai 60/3 after 10 overs
Amit Mishra to bowl. The most expensive bowler in IPL 7 so far.
Single off the second ball
Three singles off the over, MI 63/3 after 11 overs
Pollard comes down the track for the second straight ball, can only defend it, and gets frustrated. He tries to kick the ball in desperation.
Launched over extra cover and Pollard can still only manage a single
Single to end the over, MI 67/3 after 12 overs
The required run rate is now 13.25 RPO
Pollard pulls hard at a short ball and it flies over midwicket for four
SIX! Now he is down the track, and top edges, but it flies for six over deep extra cover anyway.
Swing and a miss. He missed an offspinner.
Six more. Picture perfect advance down the ground and Pollard picks Mishra over long on for six more
That ball came in sharply but Pollard played it well, a single results.
A big cheer goes around as Sachin Tendulkar is shown on the big screen having some juice.
Rayudu swings this time and they rush back for two
20 runs off the over, MI 86/3 after 13 overs
HUGE, HUGE SIX. Pollard came down the track again and smashed it into next week. He was halfway down the pitch and the ball was right under his bat.
Now he turns a leg break into the on side for one.
I don't know what's in store for Mumbai Indians this season, but I can't watch Sachin getting disappointed in every match! :( #MIvsSRH

— Gauri J. (@chiiiu07) April 30, 2014
Four. Now Rayudu goes straight down the ground for four. What a flat, hard strike.
Suddenly Mumbai are buzzing.
MI 99/3 after 14 overs
Four. What a shot from Rayudu. That was like Sachin. He came down the track and smashed a short ball over cover, the diving fielder could not get to it.
Slower ball played out to long on for one by Pollard
Beautiful ball to end the over, Rayudu walked to the off side, Kumar bowled it slow and Rayudu could not connect.
MI 106/3 after 15 overs
OUT. Rayudu goes hard at a full ball wide outside off and hits it straight to long on.
MI 108/4
Irfan Pathan yorks Pollard but he digs it out for a couple
Now a single down the ground
Tare hits a four off the last ball. MI 115/4 after 16 overs
58 required off 24
SIX! Pollard sizzles and sizzles. Full toss on off stump is hoicked straight down the ground for six.
SIX MORE. Amit Mishra is taking a hell of a beating. Half volley outside off this time, Pollard gets under it and hits it over long off for six.
Three in a row. Now its wide and of good length, Pollard gets enough bat on it to biff it just over long on for six.
Four. Now crashed down the ground for four. Pollard is now 72 off 40.
Crashed down to deep midwicket for two. 25 off 5 balls.
Wide ball. 26 off 5 balls.
Now a slow ball on leg stump gets scooped to fine leg. Very intelligent batting by Pollard.
27 off the over.
MI 142/4 after 17 overs
Steyn is back.
Cover driven for one.
Mishra went for 54 in his four overs
This is no Mishra, this is Steyn. He yorks Pollard who digs it out for one.
Two runs. Two quick runs as Mumbai run for their life. Their was an appeal and the third umpire showed Pollard was in.
OUT! Aditya Tare is out. He went for the big slog but it went high in the air and nowhere. The keeper caught it.
MI 146/5
Pollard sways out of the line of a Steyn delivery. Will leave the fireworks for later.
MI 146/5 after 18 overs
Harbhajan Singh gives the strike back to Pollard.
One run. Pollard smashes it straight down the ground, the umpire nearly got killed, but he found the straight fielder.
Now Harbhajan swings hard and misses, after the wide ball. How crucial is this over?
OUT. Harbhajan now hits straight down the throat of cover.
MI 149/6 after 18.4 overs
Chidambaram Gautam comes in, and he was about to attempt a reverse scoop-sweep when the bowler pulled out of the run up!!
Now he half-drives, half-biffs a ball on leg stump for four through cover.
20 needed off 7.
No run, ball was wide outside off, Gautam chased it and tried to flick it past fine leg, he failed but they won't take the single
MI 153/6 after 19 overs
20 needed off the last over, Pollard on strike and Irfan to bowl
OUT! That should be the match for Hyderabad, Pollard swung hard at a full ball and got an inside edge onto the stumps. That was a poor shot for someone who's played so well.
Pollard 78 (48)
MI 153/7
Zaheer Khan comes in
Just a single, 19 needed off 4
Dot ball, 19 off 3, SRH cannot lose this match unless they lose a Super Over now.
Swing and a miss, hits his leg and they get one, now SRH have won for sure
Yorker, perfect yorker, the batsman misses and runs and its called byes. There was an appeal from the keeper.
Full toss and the batsman goes for another swing, the batsman misses and they get another single but the match is over.
MI 157/7 of 20 overs.
What a match. Pollard nearly won the match for MI after they were in real doldrums, but one over from Steyn and then the last over from Pathan made the difference.
Mumbai go back to India winless, they are 0-5 down. At least they fought hard today.
I went to a hotel to watch MI lose n suddenly Pollard startd turning up d heat, n I was like "what the!", bt nw faith is restored #MIvsSRH

— HER'sh (@Harshissist) April 30, 2014