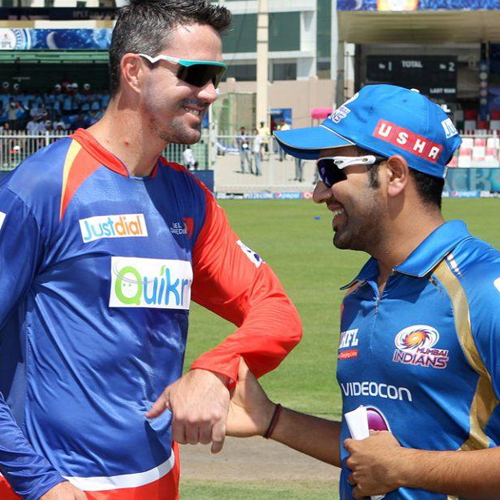 Hi folks
Welcome to the first match of the evening, between Mumbai Indians and Delhi Daredevils
Mumbai have won the toss and will bat first
Rohit Sharma and Aditya Tare are out to open the innings
Shahbaz Nadeem to bowl for Delhi
Nadeem to Sharma, 1 run
A few singles and two wides give Mumbai 7 runs off the first over
Mohammad Shami will bowl the second over
OUT! That is run out, Rohit Sharma went for a quick single but Shami darted forward and threw the ball onto the stumps. Mumbai 10/1
Four. Tare pulls Shami over the short leg fielder for four.
MI 14/1 after 2 overs
Corey Anderson is in at No. 3
JP Duminy to bowl
MI 16/1 after 3 overs
Anderson hasn't been able to adjust to the IPL yet. His S/R remains abysmally low given the reason he was brought in.
Wide ball
Wayne Parnell to bowl
OUT! Now Tare is out, he rocked back to a short ball and tried to go over the on side, but found midwicket.
MI 17/2
Ambati Rayudu comes in
Flicked through the on side for four
MI 21/2 after 4 overs
Mumbai are content with scoring in ones and twos at the moment, apart from the odd rush of blood.
Four. Boundary off the last ball means Mumbai get 10 off the over
Mumbai 31/2 after 5 overs
Mohammad Shami comes back
Now Anderson's starting to get into the groove. Thumping pull for four through the midwicket region.
MI 37/2 after 6 overs. Powerplay over.
Jaydev Unadkat comes in after the powerplay
Corey walks at him and pushes the delivery towards mid off
OUT! Long hop gets thumped straight to deep midwicket, the shot was on but the placement was a mess.
That ball didn't deserve a wicket
MI 39/3
Time for the time out
Michael Hussey comes in at No 5. This could be a much better position for Hussey.
MI 41/3 after 7 overs
Duminy comes back
Four dot balls to begin the over
Eased to long off for one
MI 42/3 after 8 overs
Four singles from the first 4 balls of the over
OUT! Rayudu has picked out long on to a flighted delivery
Mumbai's batsmen are in terrible form...they just cannot find the gaps.
Keiron Pollard is in, way too early for Mumbai
MI 49/4 after 10 overs
Nadeem gives away just 2 runs from the next over
MI 51/4 after 11 overs
Five balls of the 12th over have fetched one run. MI can't get the ball off the turf.
Wide. That adds one more run to the tally
One run from Hussey to end the over
MI 54/4 after 12 overs
Laxmi Shukla comes in to bowl
Single off the first ball
Now Pollard walks down and tries to heave it over the leg side. The ball hit his back pad and there was a huge appeal, but it was turned down but the umpire
Another tangle as Pollard almost falls over while trying to hit that through midwicket. Hit on the pads again, and it looked adjacent but the ump doesn't agree
Now Pollard goes straight down the ground, Shukla tries to catch it but it was hit too hard and sped to the boundary
MI 59/4 after 13 overs
Another strategic timeout
Hussey steers Unadkat behind point for one
Dabbed towards point for a quick single
Clipped to deep midwicket for one. Six runs per over will not help them.
Four runs off the first four balls
Bowled! What a delivery! Slow yorker on middle and leg, Hussey jams his bat down at the last moment but can't block it and is bowled
MI 63/5 after 14 overs
Chidambaram Gautam comes in to bat
Another 6-run over
MI 69/5 after 15 overs
MI have hit just 5 boundaries in this innings
Now Gautam gets into a tangle. There is something very wrong with the defending champions
Short ball gets cut over the cover fielder for two
SIX! Finally Pollard goes big. He got under it and it sailed over long on
MI 80/5 after 16 overs
Pollard biffs Unadkat to deep midwicket for one
Down the track and Gautam hits over extra cover for four
Gautam now reverse sweeps for four
MI 94/5 after 17 overs
Two dot balls now from Parnell to Pollard
Two runs off a front-foot no ball, and its a free hit
Four. Gautam goes high in the air and though its not timed well, it goes one bounce into the straight boundary
Three dot balls after the free hit. MI 100/5 after 18 overs
OUT! Gautam is run out. He lost his bat while heaving the ball to deep midwicket, and was called for two anyway. He got run out.
Four. Pollard biffs a low full toss from Shami for four
Six. That was massive. Over long on, that should have been 15 runs, it went out of the stadium
MI 113/6 after 19 overs
Ball 1, big swing and a miss from Harbhajan
Four. Now he smashes him for four
HUGE HIT from Harbhajan, that sailed for six over the on side
1 run off a slow, low full toss.
Pollard slaps the last ball to deep cover for one
MI 125/6 after 20 overs
Delhi are 49/1 after 9 overs. Sorry, we had a major technical issue
Harbhajan in his last over. Does this make any sense?
He is bowling around the wicket to Duminy
6 runs off the over, singles and twos. DD 55/1 after 10 overs
Corey Anderson to bowl
Four. Murali Vijay thumps it down the ground for four
Leg bye
Another boundary to end the over. Delhi 67/1 after 11 overs
Naman Ojha to bowl
SIX! Vijay slog sweeps a half-volley over the midwicket boundary
Eased into the covers for two runs
Delhi 78/1 after 12 overs
Rohit Sharma to bowl. This could be a last-ditch attempt.
OUT! And he strikes quickly, removing Murali Vijay. This was the batsman's fault as he went for a wild slog off a short ball and saw his off stump pegged back.
DD 79/2
The great Kevin Pietersen strides out to bat
DD 81/2 after 13 overs
Naman Ojha to bowl
3 runs off the first 4 balls
Pietersen slices one through the off side
DD 86/2 after 14 overs
Rohit Sharma continues
Clipped through deep mid wicket for one
SIX! That is classic Pietersen. He advances down the track and launches the ball straight down the ground for six
Four. Now slashed through the covers for four
Four. Thumped down the ground, Anderson tries very hard to stop it with a great dive, but is unsuccessful
Delhi 103/2 after 15 overs
That was probably the decisive over of the match
Malinga comes back, but its probably too late
Slower ball on leg stump, Duminy keeps it out
OUT! Duminy slices one straight to cover
DD 103/3
Dinesh Karthik comes in
Inswinging yorker dug out for two
OUT! Another one falls as Karthik hits it straight to Rayudu at short midwicket
Kedar Jadhav to bat for the first time in the series
Delhi 105/4 after 16 overs
Zaheer Khan will bowl
Cut into the covers for no run
Sliced to sweeper cover for one
Now Kedar Jadhav picks Khan off his legs for four. He doesn't seem to be rusty from not batting in this tournament.
Pietersen lofts it down the ground, doesn't time it well, but it falls short of Corey Anderson.
Delhi 112/4 after 17 overs
Malinga to Pietersen, sliced away for one
Jadhav jams a yorker down the ground for one
KP digs out a yorker on middle and leg and gets two
DD 118/4 after 18 overs
Jadhav hooks, doesn't time well but it ends up behind square leg
Delhi doing it easily now, just 4 needed to win
Four. Jadhav hits it for four to fine leg and Delhi have won
Mumbai are now 0-4 in this tournament