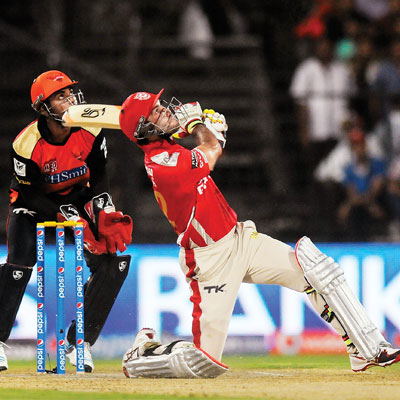 This one is big, both Kings XI and KKR comes into this game with a win, but those wins were contrasting, KKR justs managed to snatch the victory from the jaws of defeat against Royal Challangers Bangalore, when Chris Lynn took a spiderman catch i the last over to win it for KKR, while Kings XI Punjab is on a roll led by Maxwell, who thrashed Sunrisers Hyderabad by 70 odd runs.
For KKR, Sunil Narine has been the pick of the bowlers, so it would be an interesting battle between Narine and Maxwell, will Maxwell be able to deliver same thunder off Narine, will be eventful. And apart from Maxwell and Miller, no one really has go runs for Kings XI, so with fall of these two, Punjab might be vulnerable.
Gautam Gambhir has scored three ducks, he is yet to make an impression, so he would be eager to get some runs under his bat in a big game and ofcorse we know the power of mighty Yusuf Pathan, he can match Maxwell in hitting the bowlers apart, but like all seasons he has been relatively quiet once again.
Kings XI might be playing some excellent cricket with the bat, but their bowlers have gone for runs, plenty of runs, so onus comes on their fierce Mitchell Johnson, who hasn't done much in this IPL.
Kings XI has won 5 out of 11 games between the two teams.
Welcome to this big game from the Pepsi IPL
IPL is still in its first phase and the crowd at UAE has been phenominal. Jam packed stadiums, great support for the teams and players, and the players have responded by giving them some quality cricket and entertainment.
So, after Maxwell's tornadoes in Sharjah, we now move to Abu Dhabi at the beautiful Shiekh Zayed International Stadium
The crowd must be hoping another one of those blistering innings from Maxwell that gets going
KKR have won the toss and will bowl first
Punjab is unchanged for KKR Piyush Chawla is in for Vinay Kumar
Teams:
KKR- J. Kallis, G. Gambhir (c), M. Pandey, C. Lynn, Y. Pathan, R. Uthappa (wk), S. Yadav, P. Chawla, S. Narine, M. Morkel, U. Yadav
Kings XI- C. Pujara, V. Sehwag, G. Maxwell, D. Miller, G. Bailey (c), M. Johnson, W. Saha (wk), A. Patel, L. Balaji, R. Dhawan, S. Sharma
Play !
Sehwag and Pujara will open the innings
Umesh Yadav will bowl the first over
FOUR, creamed through the covers by Pujara, half volley, Puajara gets his foot out and times this to perfection
Morne Morkel to bowl from the other end
NO-BALL (NOT OUT), Oh Morkel has over-stepped there, it was towards the leg stump, Pujara gets a glove and carries to the wicket keeper, fortunately for Puajara, it was a no-ball
FREE HIT COMING UP !
Pujara looks to go over covers, however he ends up hitting it at mid-off, who takes a catch, but wickets don't count when its a free hit
OUT, Puajara is run-out, finally after surviving a few scares, Pujara is done by a brilliant work from Manish Pandey from point to hit direct at the stumps, Puajara is short (Pujara gone for 8)
To everyone's , it's Wriddhiman Saha who cames at no. 3 to face his former club, no Maxwell
Good over, just 2 runs from it and a wicket
KXIP 9/1 (2) Sehwag 0*- Saha 0*
FOUR, that's a Sehwag tarde-mark, half-outside off, he flashes it towards the back-ward point for four
PUT DOWN, length delivery on middle, Saha looks to flick, however ball takes an edge and Morkel's pace helps it fly towards the third man where Umesh Yadav spills a catch
FOUR, YOU MISS I HIT BUDDY ! back off a length from Morkel, Saha helps it towards square leg boundary
SIX, onto the pads and Saha swings his bats for a huge six towards the long leg
An eventful over, 13 runs from it
KXIP 28/1 (4) Saha 14*- Sehwag 5*
Kallis comes into the attack
OUT, LBW ! straight-away makes an impact, fullish on middle, Saha shuffles to play on the leg, misses the pall and it hits him right in front of the stumps (Saha out for 14 runs)
The stadium ROARS as Glenn Maxwell walks in
FOUR, charges immediately, takes a few steps and slaps Kallis for four over covers
Sunil narine immediately being introduced to tackle Maxwell
SIX, Sehwag this time, flighted from Narine, Sehwag slogs it over deep midwicket
FOUR, first ball to Maxwell and he switch-hits it, reverse sweep for four
KXIP reach 50 in six over
14 runs from Narine's first over
KXIP 51/2 (6) Maxwell 11*- Sehwag 14* Run-rate 8.50
Average score for Kings XI in powerplay is 45-1, they made 51/2 today
Kallis bowling average to the left handers is 42.55 and to right-handers is 20.90, so he is more effective bowling to the right-hand batsman (since 2011 IPL)
7 number of times, team winning the toss has won the match in total 11 games played between these two teams
KXIP record in IPL is far better chasing in second innings rather than posting a score in first innings
OUT, Maxwell's joy in run in IPL comes to an end, Morkel bowls a fuller length delivery, Maxwell tries to shuffle to play it towards fine leg, gets beaten by pace and is bowled. Gone for 15 runs, a big wicket, Kolkata Knight-Riders must be feeling like they have taken down half of the team now
Hold on, David Miller replaces Maxwell
3 runs and a wicket from Morkel's over
FOUR, Miller heaves this one past mid-on for four
FOUR, CRACKING ! a classical cover-drive, full outside off from Kallis, Miller gets his foot across and smashes that one towards the cover boundary. Beauty !
KXIP 71/3 (9) Miller 12*- Sehwag 18*
Sehwag has just faced 18 deliveries till now, hasn't got much of the strike today, though good news for KXIP is that he is still on the crease
Miller's first innings average is just 23.87 while it jumps to 146.66 in second innings (since 2011 IPL)
We have just seen one over from Narine today, oh it's Piyush Chawal who comes in to bowl
OUT, Chawla strikes, Miller is gone too, googly, Miller looing to slog, gets toe end of the bat and is taken by Morkel (Gone for 14 runs)
Kings XI losing quick wickets here, no substantial partnerships till now, both Maxwell and Miller are back in the pavilion
So, half-way through the stage, Punjab are stuttering
KXIP 76/4 (10)
KKR should bring back Narine now to apply more pressure
Umesh Yadav comes back
FOUR, great placement from the captain, George Bailey, towards the square leg boundary
FOUR, fullish on pads, Sehwag flicks it towards the long leg boundary
quick runs coming here for Punjab
FOUR, Sehwag cuts Chawla towards the point boundary, back off a length, he slices that one hard
KXIP 94/4 (12) Sehwag 30*- Bailey 9*
Narine comes back
Bailey is not being able to read Narine's mystery spin
That's 100 for KXIP in 13.1 overs
OUT, CHAWLA SPINS OUT BAILEY ! Flighted, Bailey looks to hit it straight, doesn't get the pwer and the distance, Morkel takes a catch at long-off (Bailey made 11 runs)
OUT, CHAWLA ON FIRE ! Gets two in this over ! flighted and googly from Chawla, Sehwag is foxed, who looks to cut this one away, however sees his stumps shaterring, a hard fought 37 for Sehwag
Strategic-Time Out
Kallis to bowl out, RIshi Dhawan and Akshar Patel in the middle
FOUR, strays on the pads, clipped it away to the fine leg boundary
KXIP 111/6 (15) How many runs they can gather in last 5 overs, Narine has two overs left
Chawla comes to finish his spell
3 runs from his last over, a very good spell comes to an end 4-0-19-3
Chawla has damaged KXIP's chances, damaged it very hard
Here comes Narine, to make things more difficult
KXIP should have promoted Mitchell Johnson up the order, he can hit big sixes
Great over from Narine, nothing giving, just four singles
Kings XI desperate to score some runs at the death
3 overs to go,
Morkel into the attack, his last over
FOUR, Short from Morkel, Dhawan backs away and hits it over mid-on, much needed boundary, they need a few of those
Morkel to Patel full outside off, he misses, that was 145 kmph, seriously fast
KXIP 126/6 (18) Patel 7*- Dhawan 16* Run-Rate 7.00
Narine into his last over, yet to take a wicket
OUT, HE DOES ! Finally, flighted from Narine,Patel lurks outside his crease to play on mid-off, misses and wicket keeper does the rest (Patel gone for 7 runs)
Mitchell Johnson now
OUT, TWO IN TWO FOR NARINE ! GOLDEN DUCK FOR JOHNSON ! Carrom ball from Narine, Johnson reaches out to play on the off, but there is a big gap left between and ball crashes into the stumps
On a hat-trick now, Balaji to face, misses, blocked by the batsman
OUT, GETS HIM ! Third wicket in this over, Balaji looking to sweep, misses and is hit plumb in front, Narine is ecstatic.
What an over 1 run and 3 wickets, Narine has made up for all the boundaries hit against him in the first over, finishes off a great spell 4-0-24-3
Umesh Yadav to bowl the last over
Punjab 132/9 in 20 overs
Punjab has been undone by a very good bowling performance from Piyush Chawla and Sunil Narine both picked up 3 wickets each, earlier put on to bat first, KXIP kept on losing wickets from starting and today both Maxwell and Miller failed to do anything with the bat, Sehwag long resistance came to an end, he couldn't do much after staying at the wicket for a long time, there were a few starts for the batsmen but none really took it on, no solid partnerships either. KKR bowlers kept the pressure on and it was some disciplined bowling from Chawla and Narine that crumbled the KXIP team
However, with 132 on the scoresheet, KXIP would definitely look to make a match out of it, we know that KKR is not been in the best batting form, let's see how they chase this score,
join me in a few minutes
KKR openers are on the field, surprise surprise GAMBHIR DOESN'T OPEN !
It's Kallis and Manish Pandey
Sandeep Sharma to open the bowling for KXIP
FOUR, uppish but safe, in the gap, it was bowled outside from Sharma, Pandey reaches out for it and clears it
Mitchell Johnson to share the new ball
first-up, yorker, Kallis digs it out
FOUR, TIMING ! pitched up from Johnson, Kallis gets forward and caresses the ball towards the covers for four
Full delivery from Johnson, that clocked at 150 kmph
KKR 11/0 (2) Kallis 4*- Pandey 6* Required Rate- 6.77
Sandepp Sharma to Pandey, swings away as batsman gets beaten, good stuff
OUT, GONE THIS TIME ! This is clever bowling from Sharma after troubling Pandey with outswingers, he bowls an in-swinger, Pandey looks to drive towards mid-on, misses and gets trapped in front (Gone for 8 runs)
DROPPED, first ball to Gambhir, who gets a leading edge towards the bowler, Sharma gets his fingertips but can't hold. COuld have been 4th duck for Gauti
Just 2 runs and a wicket from it
Johnson continues
FOUR, Kallis is classy, over-pitched and dispatched it away towards the covers for four
In 12 attempts only 3 no. of times KXIP have successfully defended a score of 135 or less
Johnson was so effective for Mumbai Indians, he hasn't looked the same for Punjab
OUT, Gambhir continues to struggle, fullish on off from Sharma, Gambhir tries to lofts it over mid-on, doesn't connects and hits staright at mid-on fielder.
After 3 ducks, he scores 1 run this time
Chris Lynn comes in
Can KXIP make a match out of it, they are charged up now with those two wickets
KKR 19/2 (5)
Balaji now
OUT, First ball and he gets a wicket, Kallis looks to cut this ball but fails to keep it on the ground, easy catch for Maxwell (Kallis gone for 9)
Robin Uthappa is the new man
FOUR, not good this time, onto the pads, eay picking for Uthappa on the leg side
KKR 24/3 (6) Uthappa 5*- Lynn 0*
KKR require 109 runs from 14 overs
Rishi Dhawan to bowl now
Good over from him, just 4 runs, KXIP applying pressure by not giving free runs, this is good cricket from them
Strategic Time Out
This is good bowling from Punjab, they have kept pressure on KKR by not giving runs and taking early wickets, two more quick ickets for them now and they have a good chance
FOUR, Lenght delivery from Dhawan, Lynn rocks back and punches through te covers
KKR 39/3 (9) Lynn 6*- Uthappa 11*
Slow left arm from Akshar Patel
Good over from him too, nothing giving away, ahh the pressure is slowly mounting and the required rate is creeping upwards
KKR require 90 runs from 60 balls at 9 runs per over
Balaji back into the attack
In previous game, Balaji bowled a lot of slower deliveries that were very effective, he hasn't tried one yet here till now
FOUR, Lynn shuffles and whacks that towards the square leg boundary, important runs for KKR
That brings up 50 runs for KKR in 11 overs
This partnership is steadily growing now, 31 runs so far, KXIP need wickets
OUT, and they get one, Lynn looking this to heave, dones't connect it, misses it completely and ball hits the middle stump, good bowling from Patel (Lynn gone for 13)
This match is ON !
Yusuf Pathan comes in
KKR 57/4 (12) Pathan 2*- Uthappa 19*
They require 76 runs off 48 balls
OUT, LBW When was the last time Yusuf Pathan ever scored runs? and contributed in a win for his team, I can't remember, straight from Dhawan, Pathan gets locked on the crease, trapped in front, out for 3 runs
KKR in big-big trobule now, KXIP can sense something, yes a win particulalry, but for that they need to remove Uthappa
On twice occassions KKR have failed to chase down 135 or less in IPL in 17 attempts, one of them was against KXIP
OUT, RUN-OUT ! DISASTER HAS STRUCK KKR CAMP ! There was no run there, Uthappa looking to take a single on the last ball, was sent back by Yadav, Bailey from short-cover goes for a direct-hit (Uthappa is gone for 19 runs)
And with him KKR chances are also bleaking
Patel to bowl his last over
OUT, STUMPED ! Poor from Chawla, Patel angles it wide, Chawla races down the tarck to play inside out over covers, misses and keeper pulls off a smart stumping
KKR falling like a pack of cards here
KKR 66/7 (14) Narine 1*- Yadav 5*
They require 67 runs from 36 balls at 11.16 rpo
Akshar Patel's magical figures 4-0-16-2
This is like a moutain to climb for KKR, can Narine and Yadav get their team out of jail
Mitchell Johnson now,
Can he strike with his fierce pace
SIX, slower one from Johnson, Yadav picks it early and dispatches it over deep midwicket boundary
OUT, CASTELED ! Johnson's pace clean'm up, Narine backs away to hit on the off-side, but misses, off-stump is uprooted
KKR 85/8 (16)
Require 48 runs from 24 balls
This has been a dismal performance from KKR with the bat
Akshar Patel's economy rate in this season is 5.75, the best among all the left arm-spinners
FOUR, Yadav continues his lone fight, full-on stumps, Yadav walks and guides it towards a big gap at sqaure leg, great timing there
So, what KKR is missing is a middle-order batsman, who can really hold the innings and score quick runs like they earlier had Eoin Morgan and Ryan Ten Doeschate
Sandeep Sharma now
FOUR, Yadav sweeps the quickie, his very good with that shot, he is not giving up here
FOUR, Yadav dilscoops this one over the wicket-keeper, four more, are here for an interesting end?
OUT, Sharma has the final say, back off a lenght just short, Yadav looks to go over mid-off, doesn't get any distance, gone, his nice cameo of 34 runs comes to an end
KKR 9 down
KKR 107/9 (18)
OUT, GONE ! That's the end ! Johnson knocks down the timber of Umesh Yadav
KKR 109 all out in 19.2 overs
KXIP continue their winning streak
It's all over, poor batting from KKR, like KXIP they too never had any partnership in between with all the batsmen failing to stay on the pitch for a long time, just 3 batsmen were in double figures, disappointing from Gambhir who marshalled his troops well with the ball but couldn't ignite same passion while chasing, he himself needs to correct his form. Yusuf Pathan is nowhere close to being worth for the money spent on him.
KXIP bowling unit led by Johnson, Sandeep Sharma and Patel were amazing, all their bowlers were in wickets column and none of them being too much expensive.
Well, 132 was never a big target but some great bowling from KXIP to defend their low score, they failed today with the bat, but proved that their bowling unit should not be underestimated, earlier put onto bat, they ade 132 runs with no one really going capitalizing on the start, Maxwell failed with the bat, some good bowling from KKR bowlers to restrict them for a low score.
Sandeep Sharma of KXIP is the Man of the Match
Final Score: Kings XI Punjab (132/9 Sehwag 37- Chawla 3/19) beat Kolkata Knight Riders (109 all out Yadav 34- Sandeep Sharma 3/21) by 23 runs
That's from me tonight, this is Uzair Hasan Rizvi, signing off, have a good night !