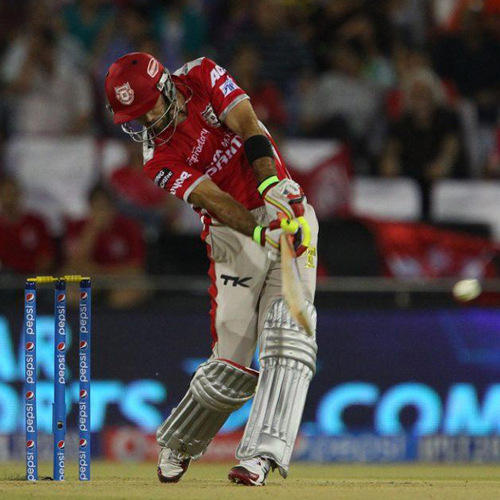 Venue: Bangalore
Start Time: 8 pm
Royal Challengers Bangalore are placed sixth on the points table, whereas Kings XI Punjab are at first position, having lost just one game out of seven.
Bangalore have no obvious weaknesses (barring the awful form of Yuvraj Singh), but their bowlers conceded 25 extras in the last game against Mumbai, which eventually played a major role in their loss. However, Bangalore will believe that performance was a one-off.
Also, Chris Gayle has got several starts for Bangalore but is yet to score a really big one.
Kings XI Punjab on the other hand seems to have all bases covered. Glenn Maxwell is in super-hot form and the bowlers continue to back up the team whenever Maxwell fails. Their only problem could be over-reliance on Maxwell combined with a poor performance from their bowlers. But barring complacency, even this does not look likely.
Bangalore have won the toss and they will bowl first
Punjab 26/0 after 3 overs
Already 6 extras have been bowled
Oh...it came in sharply and Sehwag was just saved from having his off stump shaved off
Four, makes room and swats the length ball over point
KXIP 35/0 after 4 overs
Varun Aaron to bowl
Four. Mandeep Singh has hit Aaron for four. Hooked for four.
Everyone's waiting for the Max Magic but Viru has other plans !!! #KXIPvsRCB #IPL7

— Sheethal Ravindran (@sheethur) May 9, 2014
Punjab 45/0 after 5 overs
Harshad Patel comes in to bowl
Two wides to start with, the extras are still being leaked
Four. Sehwag is on the offensive, he just clears mid off who jumped high to catch it.
WIDE. Down the leg side again
5 runs, this is disastrous, they take a quick single off a mishit, then the fielder throws and the bowler can't get to it, it goes for 5 runs overthrows.
OUT! Mandeep Singh is gone, tries to launch one down the ground but holes out at mid on
Maxwell is in
Four, boundary first ball, flicked away past backward point
KXIP 64/1 after 6 overs
OUT! Sehwag is out, he is down the track and tries to clear the field, not timed well and Kohli takes a good catch at long on
Punjab 69/2 after 7 overs
SIX! Down the track and Maxwell launches it big into the stands
SIX!
Four! Now a boundary, short ball from Yuvraj is pulled for four
Swing and a miss
Punjab 88/2 after 8 overs
Yuzvendra Chahal..Yuzi...comes on to bowl
OUT! Big wicket, Glenn Maxwell is out, he tried a slog-sweep to the on side, and was caught on the deep square leg boundary
KXIP 93/3
Aaron to Miller, short and wide, cut to the boundary
Four, now he pulls and it is another boundary
Good ball, he came over the wicket and the ball went right through Miller
Four more, driven past extra cover for four, KXIP 107/3 after 10 overs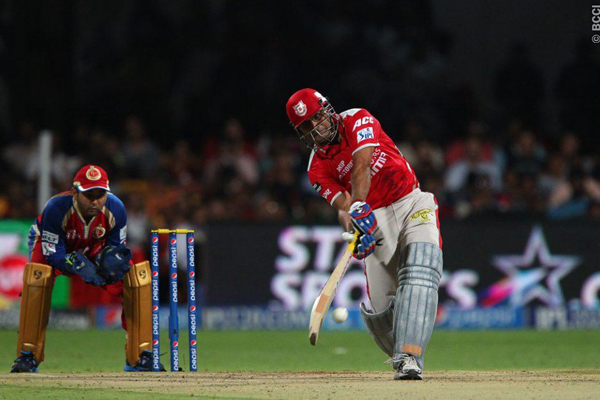 Yuzi to continue.
What a six. That was lifted way, way back into the stands, KXIP are on a serious rampage, Maxwell or not.
Miller has taken it up from Maxwell, 25 off 12 balls so far
KXIP 115/3 after 11 overs
#killerMiller show tonight since #Maxwell is outta sight. #KXIPVSRCB.

— Gaur Farmaiye !! (@Shikhar_Gaur) May 9, 2014
Albie Morkel into the attack
OUT! Bailey is out! gets an outside edge to the keeper
Ouch. Morkel went to bowl and the ball slipped out of his hands and almost landed on his own head!
Wriddhiman Saha is in. In this mayhem KXIP have lost a few more wickets than they should have
Starc to bowl, and he bowls a wide
Four. Flicked through the off side for four, Miller continues to flow
Four. Four more, punched over the off side, it almost went for six, third consecutive boundary
KXIP 131/4 after 13 overs
Yuzi will bowl his last over
5 runs from that over, a very tight one by the usual standards in this match.
KXIP 136/4 after 14 overs
Morne Morkel comes in to bowl
Chahal what a spell man #salute #KXIPvsRCB

— Lokeshwar Shekhawat (@Riddle_Rulez) May 9, 2014
KXIP 140/4 after 15 overs
SIX! That just beat Virat Kohli at long off, he looks pissed
SIX! HUGE SIX, goes miles and miles back, Miller just swings hard and connects well, its almost on the roof
Four, now he goes for a wild pull, gets enough on it and it beats the man at deep square leg
2 runs
Harshal Patel has been taken apart, 37 runs off 10 balls
Now a wide, the problems continue
SIX! Now Saha gets into the act, full ball outside off stump is swept for six
Punjab 166/4 after 16 overs, 26 runs off that over
Four, driven away through the off side, it beats the man on the boundary
Wide delivery, Miller cannot reach it, but its not called a wide because it was inside the line
OUT! Full toss outside off stump, Miller hits it straight to cover. They check for the no ball, and it was ALMOST a no ball
What a ball, Mitchell Johnson gets a screamer first up, it really climbed into him, almost hits him in the face
Driven through the on side, they get two
KXIP 173/5 after 17 overs
Punjab are literally demoralizing every opposition they are playing.. #KXIPvsRCB

— Arun (@SRKdhoni30) May 9, 2014
SIX! Mitchell Johnson flicks an inswing, full delivery into the boundary over square leg
Smashed to wide long on and they get two
Wide delivery outside off, Johnson should have let it go, it could have been called wide. They get just a single.
OUT! In the air and de Villiers takes a good catch, KXIP 184/6, Saha is out
KXIP 184/6 after 18 overs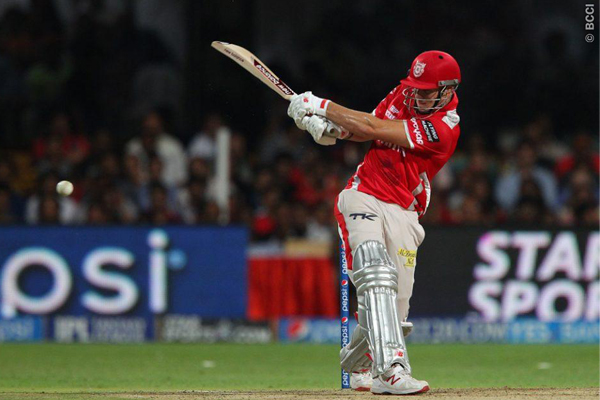 1 run off three balls so far in this over
Now Johnson biffs a single down the ground
Short ball outside off, thrashed away to third man, the fielder tried to catch it, then he realises he would go over the boundary, and flicks it back. Saves five runs
KXIP 188/6 after 19 overs
Great over, just 4 from it
Starc to bowl the last over
Just a single as Mitchell Johnson swings and misses...its a leg bye
OUT! RCB have bowled very well in the last 8 balls, this is a yorker and Akshar Patel's off stump goes for a walk
Four, bad ball, short and outside off, the new batsman uses the pace and guides it to the third man boundary
Bowled. Shivam Sharma is out, yorker on middle stump which flies out of the ground
One run, Johnson on strike for the last ball, can he hit a six to take Punjab to 200?
Four, great shot, low full toss on off stump, Johnson moves to off and scoops it behind for four through long leg
KXIP 198/8 after 20 overs
A bit of a comeback from Bangalore, at one point it seemed like Punjab would reach 220. But it's still a tall order. Bangalore have a star-studded batting lineup though.
Chris Gayle and Virat Kohli have been dismissed, Bangalore are 8/2
The wicketkeeper barely managed to hold on to the Kohli catch, after several replays, umpires decide it did not touch the ground
Sachin Rana comes in, no sign of AB de Villiers yet
Bangalore 9/2 after 3 overs
so sorry #viratkohli we know you aren't out! :/ bad umpiring! :( #KXIPvsRCB

— Anusha_अनुषा (@dawnstaranusha) May 9, 2014
Rana is beaten as he wafts at a wide delivery outside off stump
Four, finally they get a boundary
Four more, down the track, he smashes through the line over point
Now a cover drive which is stopped by the cover fielder
RCB 17/2 after 4 overs
Four, another boundary, Parthiv goes over the off side and gets just enough bat on it to clear cover and reach the fence
Short ball from Johnson but well directed, Rana tried to get under it to flick it over the keeper, he barely missed and its all for the good - a gentle touch could have resulted in a catch
RCB 22/2 after 5 overs
Shortish ball, smashed down the ground for four by Parthiv
OUT! He's gone....gives room and goes over the off side, gets it high on the bat and it flies to deep extra cover
RCB 26/3
SIX! What a shot, full and fast, Rana launches into it, straight down the ground and into the first tier for six
Bangalore 34/3 after 6 overs
De Villiers is in, short and cut away for two
OUT! Bowled him, Akshar Patel totally decieves Rana, straight ball, Rana thought it was turning away and played down the wrong line
RCB 40/4 after 8 overs, just 1 run off the over, Yuvraj Singh struggles and struggles
The required rate is already 13.25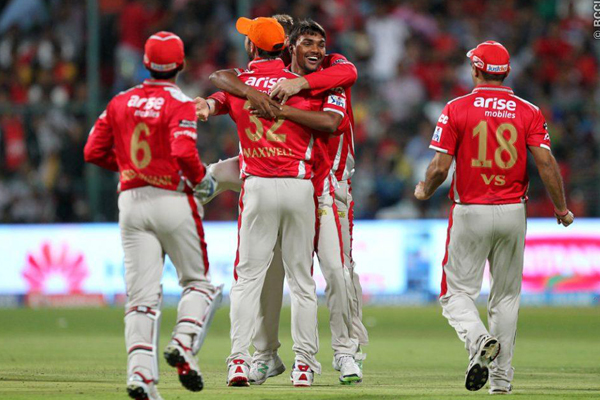 Four, de Villiers finally gets a boundary
Bangalore 48/4 after 9 overs
Yuvraj Singh is out
AB and Morkel just hit 24 runs off the last over, Bangalore 76/5 after 11 overs
Maxwell got a dose of his own medicine there
Out, Morkel is out now, he goes for another big hit and holes out
SIX, Bangalore have decided that they are going to hit out, AB deVilliers goes big and gets it over the rope
Bangalore 85/6 after 12 overs
Goes for a reverse sweep and misses
1 run
Just 3 runs from the over, RCB 88/6 after 13 overs
SIX! Shivam Sharma is taking a beating, deVilliers goes big and over the rope for six
Starc thrashes over third man for four. RCB 99/6
RCB 100/6 after 14 overs
Shivam Sharma definitely not relative of Rohit & Ishant Sharma. #PerfomnaceMatters #RCBvsKXIP #KXIPvsRCB

— 0mar Abdullah (@abdullah_0mar) May 9, 2014
Johnson to bowl to de Villiers. Bangalore are just chasing the match here. The required rate is over 17 an over
Four, Starc hammers it straight back, it nearly took AB's head off but the went for four
9 runs from the over, RCB 109/6 after 15 overs
Short ball into the body, hits Starc when he tried to pull it. One run
Slapped away and they get two
Beamer (no ball), SIX! That came right onto AB's face, he swung hard and hit it for a flat six to long leg
SIX! Another six, good length ball outside off gets smacked into the midwicket boundary, AB's got 53 off 25
Now he is taking a well-deserved break
OUT! He's out now, that was very wide, AB goes right after it, he almost lost his balance there, his back hand came off, the ball flew straight to the man at deep square leg
RCB finish on 166/9, they lose by 32 runs, thanks to a poor batting performance from everyone not named AB de Villiers