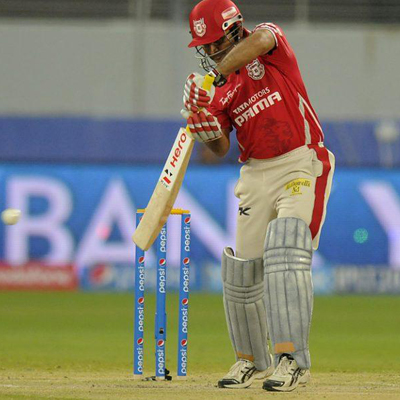 Kolkata Knight Riders have won the toss and they will bowl first
Four, Sehwag smashes the ball through covers to begin with
Wide ball
Four. Sehwag now flicks off his pads for four
Short ball, wide outside off, Sehwag walks towards the off side and pulls it for four
On the legs, and Sehwag beats fine leg, 17 off the over
KXIP 17/0 after 1 over
Mandeep Singh was dismissed for 0 in the second over
Umesh Yadav comes on to bowl
Full, down the leg side, sent screaming away for four
Punjab 30/1 after 3 overs
Seems like KKR bowlers think that the stumps are 6 inches towards the leg side #PepsiIPL #KXIPvsKKR

— Utkarsh Shenvi (@imutkarsh48) May 11, 2014
Morkel to bowl again, Sehwag leaves outside off
Four, almost caught, Sehwag pokes lazily at it and it takes the outside edge, dropped by Utthappa, and worse, it went for four
Punjab 35/1 after 4 overs
Saha pulls, goes high in the air, over the keeper's head, and drops in between the keeper and another fielder
Wide, another wide, the last ball to Sehwag was almost a wide as well
Four, Punjab are not backing down, Saha pulls, not timed well enough but still goes for four
Four. Slapped wide over cover, much better shot, and another boundary
Punjab 48/1 after 5 overs
OUT! Saha is out, inside edge onto the stumps, 15 off 9 balls
They have called for the time out, this could be the earliest timeout in IPL history
Glenn Maxwell comes in, Maxwell and Sehwag at the crease could be disastrous for KKR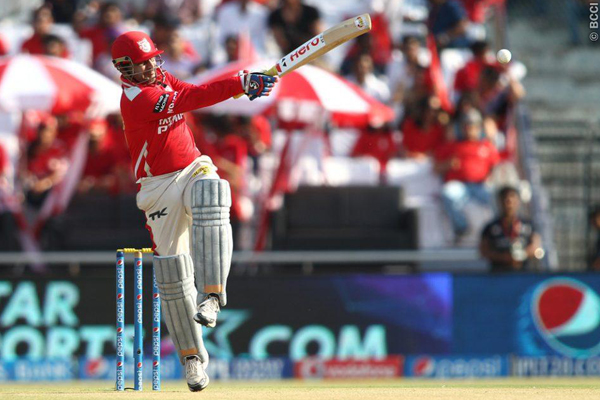 KXIP 49/2 after 6 overs
Sunil Narine comes on, this could be an interesting contest
Oh..Maxwell tried to slog over midwicket, but he almost lost his balance and missed the ball
He misses again and its the end of the over
Punjab 53/2 after 7 overs
Kallis to Sehwag, Sehwag tries to go straight down the ground, gets it high on the bat and just falls foul of the straight fielder who puts in a dive
Wide ball outside off, Sehwag has a big slash at it, no feet, no run
SIX! Sehwag won't back off, slower ball, half volley, Sehwag swings it straight down the ground for six
Now he takes a single to third man and keeps strike
Punjab 62/2 after 8 overs
Four, turns sharply from Narine, surprises Sehwag who just hangs his bat out, it flies away for four through third man
2, 1 off the next two balls, Sehwag moves to 47
Punjab 73/2 after 9 overs
Four, Maxwell goes cross batted over mid wicket, the fielder comes in from deep midwicket but it just falls short of him and goes for four
1 run, Sehwag gets to his fifity of 35 balls, good innings
Four, beautiful shot, that is the shot of the day, ball outside off, Sehwag leans into it, flicks his bat and finds the gap between point and third man. It runs away smoothly for four
Punjab 85/2 after 10 overs
OUT! Glenn Maxwell is out, he tries to slog over the on side again, caught on the boundary
Punjab 90/3 after 11 overs
Four, what a shot from Sehwag, short, wide and slapped away for four
Now he gives himself room, and tries hard to cut but misses
Slammed down the ground but he only gets a single
KXIP 96/3 after 12 overs
David Miller has come in
Miller sweeps, the fielder at deep square leg dives to stop it, then relays it back to another fielder
Seems like KKR bowlers think that the stumps are 6 inches towards the leg side #PepsiIPL #KXIPvsKKR

— Utkarsh Shenvi (@imutkarsh48) May 11, 2014
Six from the over so far
Another single to end the over, KXIP 102/3 after 13 overs
Morkel to bowl his final over
On the leg side, flicked away for four off the legs, Sehwag continues to flow
Four, edged this time, and he gets four through third man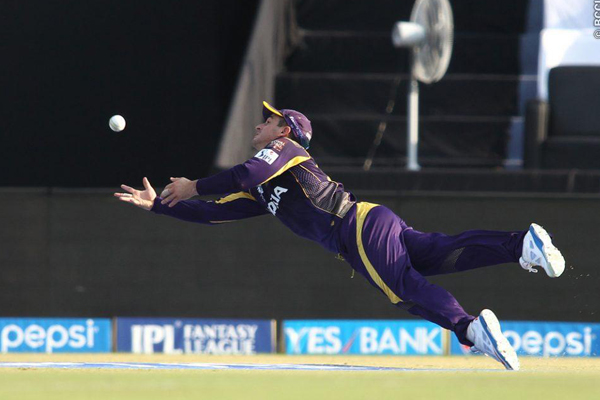 Now he takes a single
Punjab 112/3 after 14 overs
Bowled! Sehwag was trying to hit balls out of the ground for some time now, he charges down the track, gets an inside edge and is bowled
Sehwag 72 off 50 balls
Great over so far, just one off 4 balls, you can understand why Sehwag got desperate.
Punjab need some good runs in these final overs
KXIP 116/4 after 15 overs
Bowled! Miller is clean bowled as he swung across a full ball and found his off stump out of the ground
Punjab 123/5 after 16 overs
OUT! Punjab are not getting many runs here in the end overs, Rishi Dhawan is bowled for 4
Punjab 127/6 after 17 overs
Mitchell Johnson comes in
George Bailey to face Sunil Narine, just 3 runs off 4 balls so far
Bailey and Mitch are struggling to put bat to ball against Narine
Just 4 off the over, what a spell from Narine, 131/6 after 18 overs
Umesh Yadav comes back
KXIP still can't find the boundary, 4 runs off 4 balls
Just 7 runs off the over. Punjab 138/6 after 19 overs
Punjab really need some powerful hits in the last over. They are already about 20 runs short
Four. Johnson comes down the track, this is Narine's last over, and swings over midwicket. Gets enough bat on it to go for four
SIX! Deposited over deep midwicket for six, just
OUT! He goes down fighting, he comes down the track again, the ball turns away from him, and the keeper does an easy stumping
Run out off the last ball, chipped to long on and Akshar Patel tries to take two, but is run out
KXIP finish on 149/8, very disappointing score
#FanzyCricket #KXIPvsKKR it's gng pretty well for #kkr so far against the best batting line up.... hope kkr ll win diz tym....

— Dhanush (@imdhanu008) May 11, 2014
Kolkata have started off really well, 22/0 after 3 overs
Three fours off the last over by Utthappa
SIX! What a shot, smashed over the on side for six
Utthappa is on fire here
He goes straight down the ground, smashed for four
Bowls down the leg side and Robin just gets a tickle on it, it reaches the fine leg boundary
Huge over this
Another boundary to end the over, 19 from it. Kolkata 41/0 after 4 overs
Now Gautam drives, but it is well stopped at cover
Briliant stuff by Uthappa. This is a great start for @KKRiders NOW. #KXIPvsKKR

— Specter (@Deckle_Edge) May 11, 2014
Four, this time he gets it over the top for four
Wide ball
Swings at a good length ball, this time he gets a flying edge to the off side, lands over the fielder's head and they get two
KKR 48/0 after 5 overs
Four, down the track and Utthappa goes over mid on for four
Great partnership by Robin and Gambhir again
KKR 55/0 after 6 overs
Edged and four, Utthappa's edge flies to the third man boundary
Short ball, crashed away for four by Gambhir
OUT! Utthappa goes over mid wicket but the man coming in from the deep takes a good catch
Utthappa 46 off 29 balls
KKR 68/1 after 7 overs
The crowd in Punjab is chanting for KKR. Weird.
Manish Pandey has come in, Rishi Dhawan bowls
4 runs off the over, KKR 72/1 after 8 overs
Parminder Awana to bowl, KKR have slowed down after Utthappa's wicket. Maybe it will prevent a collapse.
Four, Gambhir cuts hard, third man dives but cannot stop it
KKR 79/1 after 9 overs
KKR 88/1 after 10 overs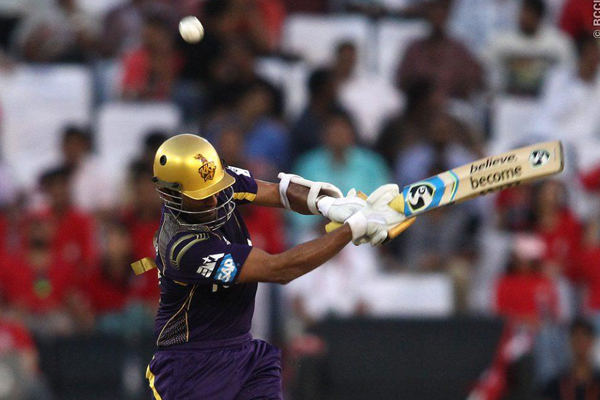 Akshar Patel bowls to Manish Pandey
1 run off 4 balls so far
Just 2 off the over, KKR 91/1 after 11 overs
Four, two couples off the first 2 balls and then Gambhir cuts Maxwell away for four
KKR 102/1 after 12 overs, Gambhir has moved quietly to 38 off just 27 balls
@KKRiders Oh! So the stats are also with the Knights here. Looks like it's going to be a cakewalk of a chase. #KXIPvsKKR #FightKKR

— Specter (@Deckle_Edge) May 11, 2014
Mitchell Johnson is back, KKR need just 48 off 48, Punjab are desperate for wickets here
KKR 110/1 after 13 overs, 8 from that over
Good over so far from Akshar Patel, just 2 off it. But they need wickets
3 off the over, KKR 113/1 after 14 overs
Four. Gambhir goes over the on side and gets four
KKR 123/1 after 15 overs
KKR just need 27 off five overs
Oh..Pandey sends Gambhir back in a hurry, the throw was wide or it would have been out
Down the track and chipped to deep midwicket
Kolkata 131/1 after 16 overs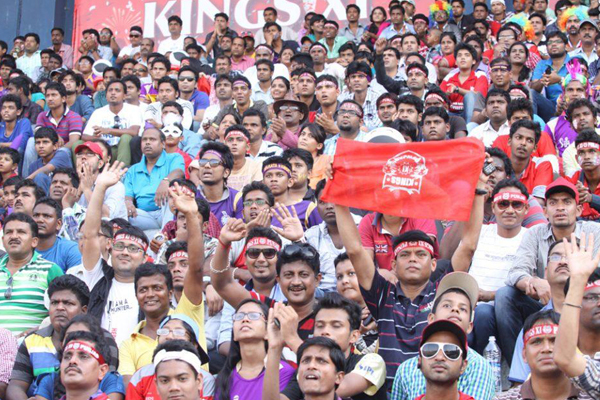 KKR are motoring along, but Gambhir was dropped in the last over
KKR 139/1 after 17 overs
Four. They get closer as Pandey flicks Sandeep Sharma for four.
Slower ball, Pandey mistimes his pull but they get two
Short, flat batted pull to deep midwicket
Now Gambhir gets two runs and they are just another couple away from a win
One more run off the overthrow
One run, KKR have won, flicked to wide of mid on and KKR will cherish this win
Punjab have lost, and lost badly today. They have now been overcome by two teams considered not top of their form - Mumbai Indians and Kolkata Knight Riders - and they have beaten the strong teams