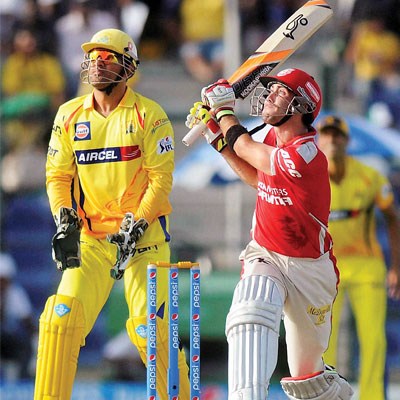 Welcome to the live coverage of the match between Delhi Daredevils and Kings XI Punjab, its the top-versus-bottm match at the Feroze Shah Kotla in New Delhi
Punjab have won the toss and they will bowl first
For Punjab Hendericks is in for Mitchell Johnson
Delhi have made four changes, Parnell, Shami, Vijay and Unadkat are in place of Ross taylor, Rahul Shukla, Shahbaz Nadeem and Siddharth Kaul
Head to Head: Played 12 : KXIP 7-5 DD
Teams:
Delhi Daredevils: M. Vijay, K. Pieterson (c), M. Agarwal, D. Karthik (wk), J.P. Dumniy, M. Tiwari, K. Jadhav, W. Parnell, I. Tahir, M. Shami, J. Unadkat
Kings XI Punjab: V. Sehwag, M. Vohra, W. Saha (wk), G. Maxwell, D. Miller, G. Bailey (c), A. Patel, B. Hendericks, S. Sharma, R. Dhawan, S. Sharma
Sandeep Sharma will open the bowling while KP and Murali Vijay open the batting for Delhi
Play !
FOUR, Outswinger and gorgoeous drive from Vijay past covers
Beuran Hendericks to share the new ball
FOUR, short stuff from Hendericks, KP pulls that one towards midwicket
DD 11/0 (2) KP 6*- Vijay 5* Run-rate: 5.50
Sandeep Sharma economy in UAE: 5.64 and in India : 9.81 , so he is clearly struggling in India
OUT, short from Sandeep Sharma, Vijay pulls that one, gets a top edge and Hendericks at deep sqaure boundary takes a well-judged catch near the rope, Delhi lose their first wicket, Vijay gone for 5
Dinesh Karthik is the new batsman
Huge crowds at Kotla today. They have all come to see Mr. Mexwell! #IPL #DDvsKXIP pic.twitter.com/KcDmFhGyXw

— Chetan Narula (@chetannarula) May 19, 2014
FOUR, losener from Sharma, KP plants his front foot forward and hammers it throught the point
Hendericks to continue
FOUR,SMACK ! KP is having a good night, he flays it between cover and point
FOUR, width offered, KP sways the bat gets a thick edge and ball races towards the third man boundary
SIX, Short from the bowler, KP pulls that one, gets a top edge and ball clears the deep sqaure leg boundary, lucky for him that it didn't fetch the same result like of Vijay
DD 38/1 (4) KP 30*- DK 0* Run rate: 9.25
When @KP24 bats,every other things look so dull and slow. Common rockstar :-) Win it for us !¡ #DDvsKXIP

— Freaky Maan (@trueVigilante) May 19, 2014
Agreed, and it looks like that finally the old KP, that we know of , the world know of has arrived, though it's been very late in the tournament, but entertainment is one thing from which you can't take your eyes off in IPL
Sandeep Sharma into his thrid over
SIX, DK JOINS THE PARTY ! length ball from Sharma, DK goes down on one knee and picks it from off stump and sends it roaring towards the long leg boundary
Slow left arm- Akshar Patel into the attack
FOUR, short, wide, cut away in front of point
End of powerplay, this is Delhi's highest score in first six over's in this year's IPL
DD 55/1 (6) KP 32*- DK 14* Run rate:9.16
Rishi Dhawan into the attack
FOUR, BEAUTIFULLY PLAYED ! length ball around off, KP goes back inside the crease and slaps it towards the point
FOUR, EVEN BETTER ! full around off stump, KP presses it forward and drills it through extra cover boundary
KP strike rate against fat bowlers is 121 and against spin 144, so he prefers playing spin (since 2011 IPL)
DD 71/1 (8) KP 45*- DK 17* Run rate: 8.87
Time Out
Tweets are poruing in for KP
Kevin Peitersen finally showing some form #DDvsKXIP

— Ciara Dastur (@psych0ciara) May 19, 2014
Treat to watch Kevin PIETERSEN @KP24 bat like this. He's the finest English cricketer over last one decade for me.. #DDvsKXIP #PepsiIPL

— Tejan Shrivastava (@BeingTeJan) May 19, 2014
Rishi Dhawan
FOUR, short and wide, DK cuts it towards the point boundary
2000 IPL RUNS FOR DINESH KARTHIK ! Congratulations
Dinesh Karthik is the 16th batsman to cross the mark of 2000 runs in IPL
Shivam Sharma inserted into the attack
KP's top score in this year's IPL was 35, he has broken his best, on 49* now
DD 84/1 (10) KP 49*- DK 26* Run rate: 8.40
OUT, BOWLED ! KP misses his half century by 1 run, ball turns from the leg stump, KP looking to play straight, ball spins away and beats the outside edge as it crashes onto the middle and off, a great delivery to dismiss a great batsman, gone for 49
JP Duminy is the new batsman
what an over, wicket and a maiden, how often you get to see this in IPL
JP's average against Kings XI Punjab is 15, the worst against any team
DD 92/2 (12) DK 32*- JP 2* run rate: 7.66
Rishi Dhawan bowls
FOUR, short of length ball outside off, Karthik steadies and thumps it past point
That's 100 for Delhi Daredevils in 13.1 overs
DD have slowed down a bit after the wicket of KP
Only singles are coming now
DD 104/2 (14) JP 9*- DK 39* Run rate: 7.42
Dhawan into his last over
FOUR, short on middle stump, JP pulls it towards the fine leg boundary
SIX, full angling in, DK chips it over the bowler's head straight into the sight screen
FOUR, BANG ! drops short, Karthik rocks back and pulls it towards the midwikcet boundary, that's 50 runs for Karthik
17 runs coming from that over
Now, Shivam Sharma into the last over of his spell
FOUR, full on middle, Karthik goes on one knee and sweps it over midwicket for four
SIX, Karthik is taking on the bowlers here, dances down the track and hits it straight over bowler's head
DD 134/2 (16) JP 15*- DK 61* Run rate: 8.37
Time Out
THAT is how you hit straight. Super stuff from @DineshKarthik. #PepsiIPL #DDvsKXIP

— Uday Vir Garg (@udayvirgarg) May 19, 2014
How much can Delhi score in last 5 overs, with Maxwell and Miller in Punjab's ranks, they should be aiming to somewhere near 180-200
Hendericks comes back
OUT, low full toss, JP tries to heave that one out of the park, but only manages to find Maxwell on long-on boundary, out for 17
Kedhar Jadhav is the news batsman out in the middle
Sandeep Sharma comes back into the attack
OUT, Maxwell is everywhere, length ball from the bowler, it was there to be hit, but Jadhav hits it only as far as deep midwicket, where Maxwell takes a simple catch, out for 0
Mayank Agarwal comes in
SIX, UP AND OVER ! lenght ball over the wicket, Mayank makes it room and crisply times it over the cover boundary
OUT, full on leg stump, Mayank going for the reverse sweep, misses and loses his timber, gone for 6
Manoj Tiwary comes out
DD 155/5 (18) Tiwary 4*- DK 69*
OUT, wickets tumbling here, slower ball from Hendericks out side off, DK looks to pull, doesn't get any power and is caught at deep sqaure leg, DK perishes at 69
Wayne Parnell now
OUT, ANOTHER ONE BITES THE DUST ! Maxwell takes another catch and this time its a screamer. Fuller length on off, Parnell hits towards long off, Maxwell pouches the catch but the ball comes out of his hands, he quickly reacts to take the catch with his right hand, Parnell gone for 2
The man with the orange cap, truly has the Midas Touch at least for this IPL !!! #PepsiIPL #DDvsKXIP

— Sheethal Ravindran (@sheethur) May 19, 2014
From 140/2 to 164/7, Delhi lost 5 wickets in last 12 balls
Delhi Daredevils 164/7 in 20 overs
Hendricks performed really well! 3 wickets for him! #DDvsKXIP #PepsiIPL

— Rahul Chaudary (@CricRahul) May 19, 2014
"5 wickets in 12 balls!" DD surely knows the art of loosing the game. #DDvsKXIP

— Ashwani (@Social_Spartan) May 19, 2014
Delhi going too hard out of fear of the opposition. Play to your strengths, rather than your opponents. #DDvsKXIP #IPL

— Vikram Mehta (@MehtaMorphosis) May 19, 2014
From 140/2 in 16 overs to 164/7 in 20 overs, this sums up the scenario of Delhi Daredevils in this entire IPL, they have had starts but failed to make a mark, earlier after being put onto bat first Kevin Pietersen and Dinesh Karthik's blizzard propelled the Delhi's score, at one stage they were cruising but a good come back from Punjab bowlers to restrict them to a less destructive total, though 164 is really good on this track but they could have got more, with the likes of Maxwell and Miller in Punjba's batting line-up, this is a very small score, but Delhi will do their best to make a game out of this one.
Here comes KINGS XI Openers Sehwag and Vohra, Wayne Parnell to bowl the first over
Delhi's win percentage when defending 160-180 totals is 50% (lost 3 won 3)
Sehwag has breathtaking strike at this venue of 163.81 (since 2011 IPL)
Vohra's average against spinners: 13.50 and agaisnt pacers: 30.80 (sicne 2011 IPL)
Mohd. Shami to share the new ball from the other end
FOUR, SEH-WHACK ! back off a length around off, Viru camps back and punches over the cover fielder
FOUR, length ball outside off, Sehwag guides it with lose hands past first slip for four
KXIP 18/0 (2) Sehwag 11*- Vohra 2* Required rate: 8.11
For Virendra Sehwag Form is temporary, but glass is permanent. #DDvsKXIP

— Kiक (@being_Akashk) May 19, 2014
FOUR, ELEGANCE ! full outside off from Parnell, Vohra leans into the drive past covers for four, top quality shot
SIX, on length around off-stump, asking to be hit, Vohra slaps that one over long-off
FOUR, Vohra is getting boundaries everywhere, this time its towards fine leg, short and Vohra looks to heave over midwicket, gets an inside edge
16 runs from the over
A win tonight for Punjab will take them above Chennai Super Kings in the points table
SIX, INCREDIBLE ! bakc off a length, Vohra stands back and richotes it over the covers
SIX, SHEER CLASS ! this one is down the ground, hit over bowler's head
KXIP is on a roll ! Vohra is doing what we usually see from Maxwell down the order
Vohra what a talent this guy is! #PepsiIPL #DDvsKXIP

— Kashmiri Chohra (@muqeet47) May 19, 2014
Bowling change for Delhi, Unadkat comes in
DROPPED, Sehwag mistimes his shot in the air behind bowler, Imran Tahir runs back from mid on gets to the ball but can't hold on the catch, they take two runs
50 up for Punjab in 5 overs, they are cruising
KXIP 55/0 (5) Vohra 33*- Sehwag 14* Req.rate: 7.33
FOUR, short outside off from Shami, Vohra steers it past the short third man
FOUR, fetches a length ball from outside off over the midwicket
KXIP 66/0 (6) Vohra 42*- Sehwag 15* Req.rate: 7.07
Time Out
Spin is introduced for the first time, Imran Tahir comes to bowl
OUT, Imran Tahir does the trick, Vohra beign aggressive looks to hit Tahir out of park, but holes out at long off, well played innings of 42 comes to an end
In comes the dangerman, Glenn Maxwell
He's the man that crowd is here to see
SIX, he delivers, takes Tahir from off stump, plays against spin and launches it over long on for a maximum
Oh boy ! Maxwell has arrived
"@lionsdenkxip: Six number one for @Gmaxi_32! Big Show is on. #KXIP #IPL7 #DDvsKXIP" #boooom

— Sam® (@khanessam) May 19, 2014
Duminy comes into the attack
SIX, SEHWAG JOINS MAXWELL SHOW ! length ball outside off, clubbed over covers for a six
OUT, DUMINY HAS THE LAST LAUGH ! same ball, Sehwag taking the same aerial route but this time finds the fielder at sweeper cover
KXIP 85/2 (8) Maxwell 10*- Miller 0*
80 runs required from 12 overs
The dangerous duo Maxwell and Miller is on the crease now
Maxwell's strike rate while chasing is 183.94 in the IPL
OUT, BOWLED ! The dangerman departs, Imran Tahir googly does it, Maxwell is foxed Tahir is jubiliant
Saha is the news batsman
#Maxi gone.but #KillerMiller is out there!no worry #KXIP fans! #DDvsKXIP #PepsiIPL

— #Manojroshantha (@ManojRoshantha) May 19, 2014
OUT, ANOTHER BIG WICKET ! Miller lloking to play down the ground, misses and the ball crashes into his leg stump, suddenly Kings XI are crashing
KXIP 95/4 (10) Patel 1*- Saha 1*
Bailey holidng himself here, sends Akshar Patel before him
Maxwell is gone!!!!! Now is the right time for @DelhiDaredevils to make a comeback in this match. #DDvsKXIP .

— Pranith Rao (@Pranith_Rao) May 19, 2014
Here's Unadkat
FOUR, short and wide outside off, Unadkat gets the treatment from Akshar Patel
That's 100 for Punjab
Kings XI have the best average strike rate in an IPL season- 153.74
KXIP 107/4 (12) Saha 4*- Patel 9*
Required 58 runs from 48 balls
How much more amusing IPL can get if the top most team loses to the bottom most team? @SonySIX #DDvsKXIP #iplt20

— Saatvik Agarwal (@saatvikagarwal) May 19, 2014
FOUR, flighted outside off from Duminy, Saha stretches and connects it well towards the point
KXIP 121/4 (14) Saha 13*- Patel 13*
44 runs required from 36 balls
Shami now, to bowl his last over
FOUR, Shami continues to sway his line, short outside off, and thumped behind point for four
OUT, yorker and Saha drives it straight to the cover, a soft dismissal in the end, Shami picks up his lone wicket on the last ball of his spell
38 runs required from 30 balls
Skipper Bailey comes in
Wayne Parnell into the attack
FOUR, short ball, Patel carves it behind backward point
FOUR, toe-crushing yorker from Parnell, it hits on the boot and runs down towards the third man for four, all these are valuable runs for Punjab
FOUR MORE ! on the pads, Patel helps it towards the fine leg boundary
KXIP 139/5 (16) Bailey 0*- Patel 30*
26 required from 24 balls
Imran Tahir comes to bowl his 2 overs, can he do the magic for Delhi?
Tahir gonna loose or win the game in next over #DDvsKXIP

— imdpk (@dpk_syl) May 19, 2014
Good tight over from him, just 5 runs off it
21 required from 18 balls
Unadkat into his last over
SIX, full toss outside off, Patel has thumped that one over long -off, a huge six
KXIP 154/5 (18) Patel 39*- Bailey 6*
11 runs required from 12 balls
In reference to Akshar Patel's master cameo
Everyone else is playing like Sehwag in #KXIP, except Sehwag. #DDvsKXIP #KXIPvsDD #IPL7

— Bee (@mbhavishka) May 19, 2014
Imran Tahir to bowl his last over, what can he do?
OUT, HE DOES ! Googly to Bailey, who swings around, mistimes his shot and Jadhav at deep sqaure leg takes a well judged catch, Bailey gone for 6,
LATE MINUTE DRAMA HERE !
Rishi Dhawan is the new batsman
9 required off 8 balls
What an excelllent over , just 2 runs from it and a wicket, Tahir completes his magical figures 4-0-22-3
9 runs reuqired from 6 balls
Tahir has given some hope to Delhi, can they sneak a win here, Parnell to bowl the last over
Good for Punjab is that Akshar Patel is still batting
Have to give credit to Imran Tahir for making this match somewhat interesting #IPL #DDvsKXIP

— Karl (@scissmorser) May 19, 2014
FOUR, Parnell drags it short and Dhawan pulls away to midwicket and score the winning runs
KXIP 165/6 win by 4 wickets in 19.4 overs (Patel 42*- Dhawan 8*)
KXIP have sealed a spot in the play offs
@lionsdenkxip Taken into the playoffs sealed with a magnificent six from Rishi! Awesome finish! Big congratulations! #DDvsKXIP #ProudMoments

— Sherin Tia (@sherin246) May 19, 2014
#KXIP becomes the 1st team to qualify. Their dream run this season started right from the auctions. Congrats! #DDvsKXIP #PepsiIPL

— Vivek (@Vivek_koul) May 19, 2014
#DDvsKXIP Once again they did it with ease :) well played Vohra, you deserve today's MOM for your cracking start Whooooopie \m/ #PepsiIPL

— Vinod Odunghat (@vinododunghat) May 19, 2014
Hats Off to Akshar Patel for his calm & sensible batting #KXIP #IPL7 #DDvsKXIP

— Arpit Gupta (@arpitsizzle) May 19, 2014
Delhi daredevils fought hard and pushed the table toppers into the last over, after some excellent bowling from Imran Tahir, Manan Vohra gave Kings XI a flying start but they stuttered in the middle by losing quick wickets. However, Akshar Patel came and anchored the chase at the right time, and in the end Punjab managed to defeat Delhi, who lost their 7th game in a row, their poor season just got worse.
Akshar Patel is the Man of the Match
Final Score: Kings XI Punjab 165/6 in 19.4 overs (A. Patel 42* - Imran Tahir 3/22) beat Delhi Daredevils 164/7 in 20 overs (Dinesh Karthik 69- Sandeep Sharma 3/35) by 4 wickets
That's all, this is Uzair Hasan Rizvi, signing off, have a good night !