Venue: Dubai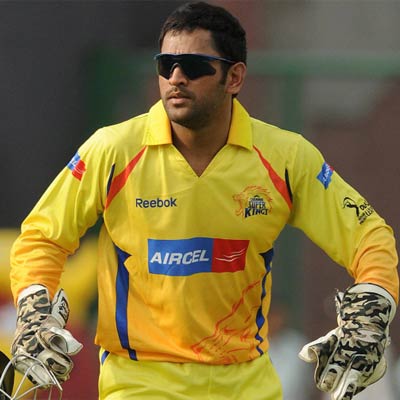 Venue: Dubai
Start time: 8 pm IST
Chennai Super Kings have recovered from their horror first match against the KIngs XI Punjab. Their bowling has been robust, and their batting is starting to show signs of form.
Mumbai Indians on the other hand have lost both their games so far, with their famed batting lineup failing to deliver.
Michael Hussey seems to be struggling for form, but the rest of the Mumbai batting hasn't clicked either. Corey Anderson and Kieron Pollard, their two famed big hitters, have either not been helped by their top order, or have simply been unable to acclerate the scoring.
Rohit Sharma is yet to get a big score in this tournament, while in the bowling department, Lasith Malinga has carried the hopes of the entire team. While Zaheer Khan struck two blows in a single over against RCB, but could not keep up his performance later in the game.
Mumbai have a 9-6 win-loss record against Chennai, being the only team against which Chennai have lost more than won.
The team winning the toss will look to bat first and put its opposition under pressure. On current form, CSK should be favourites to win.

Mumbai Indians have won the toss and decided to bat first
CP Gautam comes in for Jaspreet Bumrah for MI. CSK have no changes.
Teams:
Chennai Super Kings- D. Smith, B. McCullum, S. Raina, F. DuPlesis, M.S. Dhoni (c/wk), M. Manhas, R. Jadeja, R. Ashwin, B. Hilfenhaus, I. Pandey, M. Sharma
Mumbai Indians- M. Hussey, A. Tare, A. Rayudu, R. Sharma (c), K. Pollard, C. Anderson, C. gautam (wk), H. Singh, P. Ojha, Z. Khan, L. Malinga
I. Pnadey will bowl the first over, facing is Hussey and on non-strikers end in Tare
PLAY !
Pandey to Hussey, punched towards mid-off, no run
Good over from Pandey, just 2 runs, both the batsman not taking any risks there, just trying to read him
Hilfenhaus comes to bowl
FOUR, straight away- short, swinging outside, Tare beautifully places towards the point boundary
FOUR More ! Same delievry, same result, crisp from Tare
OUT, Mr. Cricket is Gone ! swinging delivery from Hilfenhaus, Hussey looks to defend it from the crease, misses and loses his off-stumps
Early blow for Mumbai
MI 11/1 (2) Tare 10*- C. Anderson 0*
FOUR, GREAT SHOT ! Short and wide from Pandey, Tare crashes it towards the cover
FOUR, Tare is taking on Pandey here, this is pitched up, Tare times it through the covers
Tare is playing some lovely shots on the off-side
Spin early on, Ashwin to bowl
Good over from Ashiwn, giving no room for the batsman to chance up
Another change, Mohit Sharma comes now
OUT, takes him ! Sharma does the trick, length ball, Tare tries to hit uppishly over mid-wicket, doesn't time well, and is caught at mid-on
In comes the MI captain, Rohit Sharma, 100th IPL game for him today
Rohit Sharma's batting strike rate against all CSK bowlers- 112 , his strike rate against Ashwin- 70
So, Ashiwn knows how to stifle him
FOUR, easy pikckings for Anderson there, Ashwin bowls on pads, Anderson glances it towards fine leg
End of powerplay
MI 31/2 (6) Sharma 2*- Anderson 5*
FOUR, boundary ruins a very good over from Sharma, fuller delivery on stumps, Sharma gets outside the line and scoops it towards the fine leg fence
MI's run-rate in 7 overs is 5.25, not an ideal T20 RR
Suresh Raina now, so MSD is playing around with his bowlers once again, we have seen 5 different bowlers in just 8 overs
FOUR, pre-meditated from Anderson, drags the ball towards mid-wicket boundary
Another good-over comes to an end, only 3 runs from it. Ishwar Pandey keeping it tight, MI cramped for runs
Strategic Time Out
Raina continues
Short ball, punched right back from Rohit, no run
Anderson steers it for singe at long-off 50 comes for MI
SIX, Anderson charges down the track and hit Raina miles over long-off, first six of the match
MI 57/2 Anderson 21*- Sharma 12*
Hilfenhaus now
Hilfenhaus has the worst economy in IPL against MI of 9.87 (since 2011 IPL)
SIX, Rohit Sharma this time, Hilfenhaus comes back into the attack and is dispatched away for six over deep-midwicket, elegant from Sharma
These two looking to free their arms now
12 runs from the over, a productive for MI
Ashwin comes back, MSD still rotating the bowlers
Rohit Sharma's IPL strike rate against Ashwin is 64, however Ashwin has never dismissed him.
just 4 runs from the over
That brings 50 runs partnership between these two, it took 46 deliveries
FOUR, quicker from Raina, and Rohit cuts it behind point
SIX, GOES BIG ! slog sweep over deep midwicket
Rohit Sharma trying to break the shackles now
DROPPED, One more time in this IPL, this time from Suresh Raina, Anderson skips out off track and hits straight at the bowler, Raina can't poucne on that one, it came like a rocket
MI 88/2 Sharma 34*- Anderson 30* Run-Rate- 6.76
Ashwin completes his spell, 4-0-20-0
Finally we see SIR Jadeja coming on to bowl
FOUR, swats the delivery towards the straight boundary, Faf has no chance there. Sheer power
FOUR, Rohit this time, wide outside off from Jadeja, batsman cuts it and finds the gap for four
MI 108/2 (15)
How much can MI get in last 5 overs?
Ravindra Jadeja's bowling average in first innings is 32.46 and in second innings 21.16 (since 2011 IPL) that is why MSD didn't use him much today
OUT, DIRECT HIT ! Anderson drives at extra cover and runs for a single, Ashwin fires a direct hit towards the bowlers end, Anderson is inches short. Brilliant work from Ashwin
Good innings from Corey Anderson, scored 39 valuable runs for his team, partnership was off 84 runs
Dangerman Kierron Pollard is on the pitch, where can he take his team from this position?
Another excellent over from Mohit Sharma ends, just 5 runs from it
FOUR, Pollard gets across and perfectly times it towards fine leg for four
Ishwar Pandey completes a very tidy spell 4-0-21-0
Pollard's strike-rate in last 5 overs of an innings in IPL is - 170
Hilfenhaus round the wicket
Yorker on leg, Sharma squeezes for a single, 50 for him in his 100th IPL match
His team needs more from him
OUT, As soon as he reaches his personal milestone, Sharma holes out to a slower bouncer from Hilfenhaus at mid-wicket
MI 125/4 (18) Pollard 11*- Rayudu 1*
OUT, another slower one does the trick, as Rayudu hits that one hard, but can't clear the fence, Raina takes an easy catch at long-on, Mohit Sharma's excellent work has been rewarded again
OUT, SHARMA PICKS ANOTHER ! dangerous Pollard is gone, slower one's continue to work in favor, bowled from back of the hand, Pollard trying to hit that one out of stadium, gets inside edge and the ball shatters the stumps
OUT, Mumbai can't bear the slower one's, Sharma is on fire, Harbhajan slices to backward point fielder, he picks up his fourth wicket
Look at these figures 4-0-14-4,great bowling
Last over to be bowled by Hilfenhaus, he's been touch expensive tonight
FOUR, reverse sweep, and ball beats short third man
SIX, Hilfenhaus experiment with the slower ball doesn't work, Zaheer Khan dispatches him for a six over deep midwicket
14 runs coming from the last over, taking them beyond 140
MI 141/7 in 20 overs (Rohit Sharma 50 - Mohit Sharma 4/14)
From 109/2 to 141/7, excellent pefromance from CSK to not let MI run free, their bowlers kept a check on them first the first ball, accelaration came for MI in form of Corey Anderson and Rohit Sharma, but both the batsman got otu at the wrong time and not to take any credits away from the fast bowler who took wickets with his slower one's - Mohit Sharma.
Chennai would be very happy with the score, however a few days ago Chennai defended the same score, with keeping this thing in their minds, Mumbai will not going to give up easily especially when the track seems to be getting slower.
Chase beings in 15 minutes
MI start the proceedings with left-arm spinnr Ojha
Dwayne Smith and McCullum open the innings for CSK
Smith being watchful, Ojha denies any opportunity to him, first up- maiden over. Good tight bowling
Zaheer Khan will share the new ball
Good length, just beating the batsman outside off, ball nipping away there, no run
just 2 runs from the over,
CSK 2/0 (2) Smith 1*- McCullum 1*
Ojha continues
SIX, STRAIGHT ON ! Smith decides he's seen enough of Ojha, takes him for a long six on the sight-screen
SIX, quick, Smith lashes it over the long-on boundary, he is taking Ojha now.
SIX, Smith is in a hurry, he is not stopping here, this time takes on Zaheer, full right in the slot, Smith hits it straight
FOUR, Ahh CRACKED ! full and wide from Zaheer, McCullum cracks it to covers for four
FOUR, now McCullum taking on Zaheer, short in length, McCullum pulls towards midwicket
17 runs from this over
CSK 32/0 (4) McCullum 11*- Smith 21* Run-Rate 6.87
Two good overs followed by two bad over
Sharma immediately brings on Malinga
Malinga trying for those slingers, and slow yorkers, doesn't get it right
5 runs from it
Left arm-medium from Corey Anderson
FOUR, his country mate dispatches him for four, slow and outside off, McCullum hammers it on the off boundary
FOUR more ! Anderson bowls a good lenght, McCullum puts this one again towards cover boundary, look at the power
FOUR- HAT-TRICK ! McCullum using his full force to pummel that one again towards cover
14 runs coming from the over
50 runs in just 6 overs
Malinga has dismissed McCullum in 3 previous IPL innings
Powerplay over ! CSK 51/0 McCullum 26*- Smith 23*
Ojha comes back
SIX, these two are in a hurry ! Smith slogs Ojha massively towards deep midwicket
OUT, Smith has holed that one, wide outside off, Smith hits towards sweeper cover, Anderson takes the catch
9 boundaries were hit inside powerplay overs
Only on 2 previous occassions, MI have successfully defended a target of 145 or less in the IPL ( in 11 previous attempts)
Raina is the new batsman
Raina loves to bat against MI, he has a strike-rate of 164 against them (since 2011 IPL)
Harbhajan Singh has been introduced, let's see what he can do for his team
OUT, and he takes a wicket in his first over, Raina steps out, Bhajji bowls it wide and misses, wicket-keeper does the rest
Faf DuPlesis comes now
CSK 62/2 (8) DuPlesis 1*- McCullum 29* CSK require 80 runs from 12 overs
Ojha continues
Good tight over from him, just 3 runs off it, Ojha completes his spell 4-1-25-1
Harbhajan now, spinners from both ends
SIX, McCullum does not want to wait, a touch short from Bhajji, McCullum rocks back and pulls it over deep midwicket
CSK at Half-way 76/2 (10) Run-Rate 7.60
They require 66 from 60 balls, not so difficult with wickets in hand
Bhajji has the best economy against CSK in IPL of 5.51
Malinga bought back
Full-length delivery, McCullum defends
Low-full toss from Malinga, no run
Malinga is getting it right here
Just 2 runs from the over
CSK 78/2 (11) McCullum 38*- DuPlesis 7*
FOUR, HAMMERED ! uses his feet and straight over the bowler's head, McCullum wants to finish this one early
Pollard comes onto bowl now
FOUR, WELCOME POLLARD, GREETINGS FROM McCULLUM ! high full-toss, McCullum whips it past deep square leg
That's a half-century for Brendom McCullum, good batting from the Kiwi
His 50 came in 36 balls with 7 fours and 1 six, 22 runs came towards the cover region.
Zaheer Khan around the wicket
SIX, McCullum using the angle, Short from ZAK, McCullum helps it away over midwicket
CSK are running away here
Strategic Time Out
CSK 104/2 (14) DuPlesis 14*- McCullum 57*
38 runs required from 36 balls
Mumbai never kept a lid on the Chennai Batsmen, barring the first two overs, Smith and McCullum tore apart MI bowlers. Slower deliveries were tried by MI, but to their discomfort, they have been in-effective till now.
With 38 runs required, it should be a cake-walk for the CSK team, who have outplayed MI in every department.
McCullum gets beaten on the on-drive with an outswinger, another good over from Malinga comes to an end, just 3 runs from it. Malinga completes his third over and is yet to concede a boundary, but tonight MI needed wickets from him.
Bhajji into his last over
McCullum punches thorugh mid-off for a single, raises the 50 runs stand between these two, with McCullum adding 32 and DuPlesis adding 18 runs
OUT, a touch too late, Harbhajan decieves DuPlesis, he lunges out, misses but the wicket keeper does not,
Bhajji picks up his second wicket on the last bowl of his final over, 4-0-27-2
Dhoni walks in
Zaheer round the stumps to complete his spell
6 number of times Zaheer Khan has dismissed MS Dhoni in 9 IPL innings
Gives away six runs and completes his overs
CSK 120/3 (17) McCullum 63*- Dhoni 1*
22 required from 18 balls
Malinga to bowl his final over, he's been very economical tonight, can he do some more damage by taking some wickets.
NO-BALL, Malinga oversteps
FREE HIT COMING UP !
SIX, DHONI DOES BEST WHAT HE DOES BEST ! a free-hit for him, and he went isnde his crease and played a helicopter shot over deep midwicket
FOUR, wide from Malinga, McCullums plays it with open face, Zaheer doesn't make any efforts at sweeper cover
Malinga is not happy
13 runs from this over
9 required from 12 balls
FOUR, Anderson sways down onto the pads, Dhoni doesn't miss this out
Single to McCullum, who brings CSK home
CSK 142/3 in 19 overs, win by 7 wickets
Mumbai make it three loses from three games, they are the only team yet to win a game in this year's IPL
That's the end of a one-sided affair, 140 was never a big target. Chennai outshining Mumbai in every department, first with the ball and then with the bat, with Smith and McCullum providing a perfect start by taking on Mumbai bowlers, McCullum achored the innings when Smith departed and stayed there till the end to see Chennai home. For Mumbai both the spinner picked up the wickets, Harabhajan 2 and Ojha 1.
Earlier, Mumbai batting first were first rattled by some very disciplined bowling, however Rohit Sharma and Corey Anderson tried rescue operations but then Mohit Sharma turned out be a star with the ball by taking 4 wickets and giving least runs to make the things worse for Mumbai.
Mumbai Indians is now on bottom of the table
Mohit Sharma is the Man of the Match
Final Score: Chennai Super Kings 142/3 in 19 overs (McCullum 71*- Harbhajan 2/27) beat Mumbai Indians 141/7 in 20 overs (Rohit Sharma 50- Mohit Sharma 4/14) by seven wickets
That's all, this is Uzair Hasan Rizvi signing off, have a good-night !