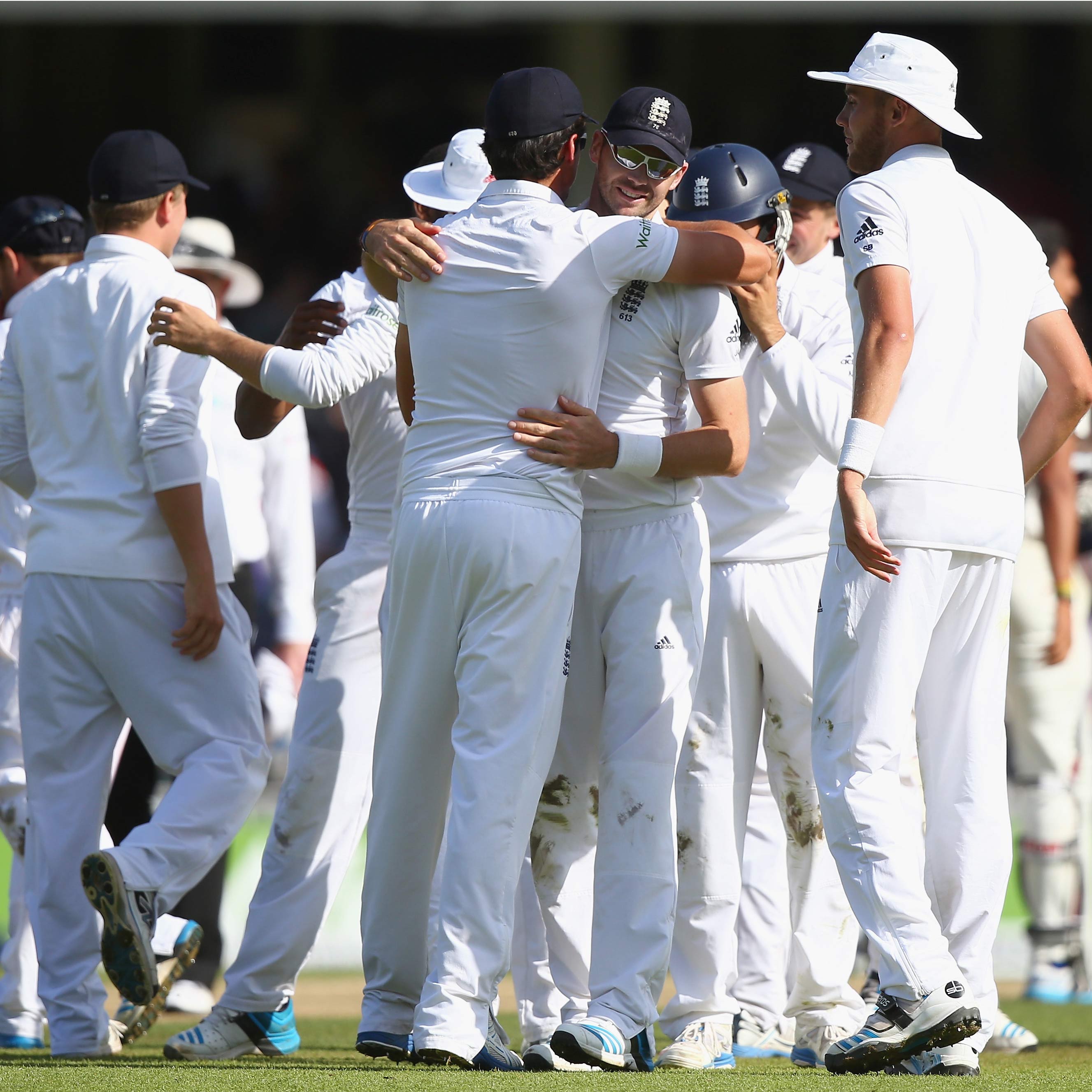 21:28 IST Sunday, 17 August 2014
Joe Root has been declared the Man of the Match for his superb century. England's Man of the Series is James Anderson for taking 25 wickets at an average of 20. India's Man of the Series is Bhuvaneshwar Kumar for 247 runs and 19 wickets at an average of 26.
21:11 IST Sunday, 17 August 2014
So India have lost the 5th Test by a humiliating margin of an innings and 244 runs. After winning the second Test at Lord's, India have looked abysmally out of their depth in the face of some superb bowling from James Anderson, Stuart Broad and Mooen Ali. The wide majority of wickets have fallen to keeper/ slip catches, which speaks a lot about India being unable to cope with the swing and seam movement.
India's famed batting stars, particularly Virat Kohli and Cheteshwar Pujara have failed miserably in this series. Ajinkya Rahane and Murali Vijay began well but ended disastrously like their teammates. The much-reviled MS Dhoni was India's most consistent batsman. His captaincy however, leaves a lot to be desired. India will now begin the ODI series on the 25th of August, but they have a game against Middlesex before that.
21:06 IST Sunday, 17 August 2014
OUT! It's all over for India as Ishant Sharma falls for 2. He tried to fend off a short ball and was caught by the silly point fielder (and India's nemesis) Moeen Ali. Chris Jordan is the bowler and he has taken 4 wickets. India 94 all out.
OUT! Varun Aaron is comically run out, and it's almost as if the Gods are mocking India for the abysmal display of batting through the last 3 tests. India 84/9
20:47 IST Sunday, 17 August 2014
OUT! Gone, Bhuvaneshwar Kumar provides catching practice in the slips, but to the wrong team. Kumar has sliced a wide, short ball to slip. He's been consumed by India's demons too, after batting so well earlier on in the series. India are 74/8 and a massive, humiliating humbling is on the cards.
OUT! Gone. One more walks back, R Ashwin is the man and India are collapsing like a pack of cards. Nicked to slip again, where Ian Bell takes the rebound after Ballance fails to hold on! Out for 7, India 70/7.
OUT! Virat Kohli's horror tour has come to an end with another failure. A cracker of a ball from Chris Jordan, moves away late and Kohli knicks to slip. He made 20. India now 62/6.
20:11 IST Sunday, 17 August 2014
OUT! Dhoni's gone now. A shortish delivery from Chris Woakes finds the inside edge of Dhoni's bat and flies to short leg. Out for a duck. India in tatters now at 45/5.
OUT! Ajinkya Rahane falls, he edged a ball towards third slip but it never looked like carrying. But then Gary Ballance flew to his right and held on to a stunning catch. Rahane falls for 4, India 45/4, Broad was the bowler.
19:39 IST Sunday, 17 August 2014
OUT! Another one bites the dust, this time it's CK Pujara who is walking back. Caught behind for 11, as Anderson scalps another. India sink deeper into the abyss. 30/3.
17:43 IST Sunday, 17 August 2014
Rain has come down at the Oval and the players have gone off immediately, with India on 9/2 after 6.1 overs. Anderson tested Pujara a bit more and then Gambhir was run out. What started off with a victory at Lord's has turned into a horror tour for India. It's very likely that India will lose this match too under three days now, and the series 3-1.
17:37 IST Sunday, 17 August 2014
OUT! This is the worst thing that could happen to India now - a run out. Gambhir is the man to go; Shikhar Dhawan's replacement has failed throughout the rest of the series. Pujara and Gambhir set off for an awful single after Gambhir tucked it to short midwicket. Chris Woakes raced in and his throw hit the stumps direct. India 9/2.
17:26 IST Sunday, 17 August 2014
OUT! And the collapse begins! Murali Vijay goes, he has been caught LBW by Anderson, the ball jagged in a long, long way and hit him right in front. Vijay departs for 2, India 6/1. Another out of form batsman, Cheteshwar Pujara, walks in.
16:59 IST Sunday, 17 August 2014
OUT! R Ashwin has got James Anderson LBW for 1, though replays indicate the ball would have missed off. England have been dismissed for 486, with a huge lead of 338. Joe Root finishes on an unbeaten 149.
16:53 IST Sunday, 17 August 2014
It's Day 3 and England have added 101 runs to their overnight total of 385/7. They are now 486/9, with Joe Root batting on 148. England have stepped on the accelerator, adding 86 runs off the last 9 overs for just 1 wicket. Stuart Broad smashed 37 off 21 balls in the morning before being dismissed by Ishant Sharma. There is no doubt that England are looking for a declaration.
The lead is 338 and India will do well to avoid an innings defeat from this position.
23:17 IST Saturday, 16 August 2014
England have progressed to 385/7 at stumps on Day 2, with Joe Root on 92. India have lost another session after winning the one between lunch and tea. More crucially though, England are 237 runs ahead and still have 3 wickets standing, including that of a top order batsman in form. A three-day humiliation is a likely outcome of this match, but India will be looking to avoid that.
22:36 IST Saturday, 16 August 2014
OUT! The seventh wicket falls with England on 318. Chris Woakes it is, he got a feather touch on a delivery going down leg, and Dhoni collects it. Bhuvaneshwar Kumar was the bowler.
OUT! Ishant Sharma strikes for the second time and removes wicketkeeper Jos Buttler. Angled in, Buttler chips it towards midwicket and is caught. He made 45, England are 309/6
20:32 IST Saturday, 16 August 2014
It's tea on Day 2 at the Oval and England are in a commanding position in the match despite losing four wickets in the last session. They go to tea on 246/5, with a lead of 98.
20:05 IST Saturday, 16 August 2014
OUT! Mooen Ali is out, as Ashwin strikes again. Floated up, Mooen tries to leave it but is too late in doing so. Instead, he inside edges it onto his stumps. Moeen made 14. England 229/5, but already 81 ahead.
19:37 IST Saturday, 16 August 2014
OUT! Ishant Sharma finally strikes, and removes Ian Bell. Lovely delivery, length, angled into off stump, Bell pokes forward and edges to Dhoni! England 204/4, Bell 7.
19:34 IST Saturday, 16 August 2014
OUT! That's the first wicket for R Ashwin. It was fast and hurtling towards the stumps, Ballance's straight bat missed the ball and it crashed into the stumps. Ballance made 37. England 201/3
19:12 IST Saturday, 16 August 2014
OUT! Cook is gone, and it is Aaron who has struck. He had bowled a probing line outside off since lunch, and is finally rewarded as Cook nicks one and it finds the slip fielder, who does not drop it. Murali Vijay it was. Cook made 79, but he still cannot find three figures. England are 191/2
18:04 IST Saturday, 16 August 2014
England have progressed to 148/1 at lunch on Day 2, even as the Indian bowlers continue to toil away. Cook has moved to 56 and Ballance to 40. Varun Aaron has teased a few wickets with seam and swing movement, but ended up with just one. Scores are level and India will have to play out of their skins to entertain any chance of drawing the series.
16:57 IST Saturday, 16 August 2014
England lost Sam Robson (37) early on Day 2, but have since then put together another good stand. Cook and Ballance have added 45 runs, and the English total is now 111/1 - triple Nelson. Cook is on 43 and Ballance on 22. They are within 37 runs of India's total of 148.
23:55 IST Friday, 15 August 2014
It's stumps and England have moved on to 62/0 after 19 overs. The Indian bowlers failed to get the same bite from the pitch as the English, once again, though Ishant Sharma was very economical. India are starting down the barrel in this Test and it's just stumps on Day 1.
22:06 IST Friday, 15 August 2014
OUT! After a very good last-wicket stand of 58, MS Dhoni holes out to long leg off the bowling of Stuart Broad for 82. India have been bowled out for 148 in 61.1 overs, a terrible performance. It would have been disastrous if Dhoni had not scored 82. Ishant Sharma also deserves praise for facing 42 balls from the other end. It now remains to be seen how well the Indian bowlers can do.
21:30 IST Friday, 15 August 2014
India have moved to 125/9 at tea, as the last wicket partnership of MS Dhoni and Ishant Sharma continue to frustrate England. Dhoni has scored 65 now, more than half his team's total. Ishant is on 2 off 27 balls, a very good effort from the tailender.
20:48 IST Friday, 15 August 2014
India reach 100. MS Dhoni has got to 40 but he is not yearning to keep strike.
20:31 IST Friday, 15 August 2014
OUT! Varun Aaron is gone, dismissed by Woakes, who has now taken 3/19. Hit straight back to the bowler, caught and bowled. India 90/9
20:02 IST Friday, 15 August 2014
OUT! Bhuvaneshwar Kumar is out to a very poor delivery, it was way outside off from Chris Jordan, and short. Somehow Kumar managed to get an edge, which carried to the keeper Jos Buttler. India 79/8 after 40 overs.
19:50 IST Friday, 15 August 2014
OUT! Ravichandran Ashwin is gone and India slip to 68/7. Woakes squares Ashwin up, who gets an outside edge that flies to gully. Joe Root takes an excellent catch. After a third umpire intervention it is determined that he got his fingers under the ball. Ashwin made 13.
19:20 IST Friday, 15 August 2014
OUT! India blocked, left and missed after lunch but did not score more than a single. Then they lost a wicket. Another thick outside edge, and another batsman bites the dust. This time it is Stuart Binny, and of course the bowler is Anderson. India 44/6 after 30.3 overs.
19:06 IST Friday, 15 August 2014
Here's the match report so far. Makes sad reading if you are an Indian fan.
Also, VVS Laxman says Rohit Sharma should have played instead of Stuart Binny.
18:43 IST Friday, 15 August 2014
Lunch has been taken after 25 overs and India are in a huge hole at 43/5. MS Dhoni and Stuart Binny could not wait to get off the ground. They will be hoping for some kind of a turnaround in the second session. On this wicket a score of 200 is an absolute must to provide any kind of challenge.
17:45 IST Friday, 15 August 2014
OUT! Another one bites the dust in the hurry to continue the procession. Murali Vijay has now been put out of his misery, and the English team is cashing in. Woakes is the new wicket taker. Good ball, back of a length and straightens to take the outside edge, Vijay went hard at it and hit straight to gully. India 36/5 after 18.5 overs
17:32 IST Friday, 15 August 2014
OUT! All the highlights here have so far consisted of Indian batsmen getting out, because that's all that's really happened this morning. Now it's Ajinkya Rahane's turn to go, he merely pushed the ball straight back into the bowler's hands. The bowler was Chris Jordan. India are 28/4 after 16 overs.
This has been another shameful display of batting so far. No conviction from the Indian batsmen and a lack of knowledge of the off stump.
17:16 IST Friday, 15 August 2014
OUT! Virat Kohli is gone. This time he makes six off 18 balls. What's more, he's out leaving the ball again, which crashed into his pads. Chris Jordan joins the party, Kohli looks devastated. India 26/3 after 13.4 overs.
16:42 IST Friday, 15 August 2014
OUT! Now it is Pujara's turn to go. Broad has brought the ball back in and bowled Pujara through the gate, which has left the batsman embarrassed. His horror tour continues but his bat was awfully slow in coming down. India 10/2
16:20 IST Friday, 15 August 2014
OUT! Gambhir is out for a first ball duck. Back of a length, but jags away massively, Gambhir gets a feather on it and it sails into the keeper's hands. Gambhir 0, England 1. India 3/1
16:08 IST Friday, 15 August 2014
Welcome to the live coverage of the 5th and final Test between India and England, at the Oval. England won the toss and elected to field.
Stuart Binny is in for Ravindra Jadeja and Ishant Sharma is back, in place of Pankaj Singh.
Captain MS Dhoni says runs on the board are important and that Ishant's experience will be handy for India.