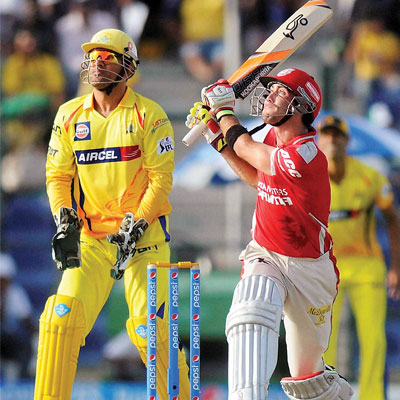 Hello and Welcome to the coverage of the game between Kings XI Punjab and Sunrisers Hyderabad in Sharjah
Kings XI have made tow changes, Rishi Dhawan and S. Sharma comes in for Murali Karthik and P. Awana
While for Hyderabad, Irfan Pathan replaces I. Sharma
Sunrisers lost their first game, while Kings XI are coming in with a big wins in their back, thanks to Maxwell and Miller.
How will Hyderabad contain the duo of Maxwell and Miller
Sunrisers have won the toss and they opt to field
KXIP and SRH head to head. 2 games - KXIP 2-0 SRH
Teams:
KXIP - C. Puajara, V. Sehwag. G. Maxwell, D. Miller, G. Bailey (c), M. Johnson, A. Patel, W. Saha (wk), L. Balaji, R. Dhawan, S. Sharma
SRH - A. Finch, S. Dhawan (c), D. Warner, V. Rao, L. Rahul, D. Sammy, I. Pathan, K. Sharma, D. Steyn, A. Mishra, B. Kumar
PLAY !
Pujara and Sehwag open the innings for Kings XI
Steyn steaming in ..
SIX, short from Pathan and Viru pulls it over sqaure leg for a maximum
FOUR, similar length and similar result, but only for a four this time
FOUR, Pathan pitches around off this time, Sehwag punches towards mid-off
SIX, This time, Bhuvneshwar Kumar get wrong and Viru sends it over fine leg boundary
Sehwag looking in good touch today
KINGS XI 26/0 (4) Sehwag 23*- Pujara 3*
STEYN COMES BACK !
FOUR, slwoer one, Pujara muscles it towards wide long on
FOUR, fuller this time, but Pujara lofts him over mid-on. He is taking on the world's best bowler
Another FOUR, clever from Pujara, on the middle, he shuffles and sweeps it towards the fine leg boundary, the fielder was in the circle.
How often you see Steyn getting hit all over the par
Time for some spin, after fast bowlers have been hammered
Karan Sharma now
APPEAL for Caught-behind, no says the umpire, Viru misses his flick and keeper collects it, it looked that ball hit the pad there, no bat involved
FOUR, neatly done, floated on middle, Pujara sweeps and sweeps very bisecting the two fielders on the leg.
Mohali off to an impressive start, they lacked an opening stand and now is what they have
Spin maestro Amit Mishra to bowl now
SIX, SEH-WHACKKK !!! Tossed up, Sehwag gets under and it lofts it towards long-on for a biggie
OUT, good comeback from Mishra, tosses up again, slighlty wider, Sehwag lookes to heave to the on-side from outside off, get's it high but doesn't get the same distance, SAmmy takes it on long-on. Punjab lose their first wicket.
Now comes the danger man MAXWELL !
Sehwag and Pujara shared the opening stand of 51 runs
Hyderabad would be hoping to see the back of Maxwell as early as possible, other wise he might take this score to anywhere
Kings XI 62/1 (9) Maxwell 2*- Pujara 22*
SIX, Maxwell slogs this one hard, fuller from Karan Sharma, Maxwell slogs it towards deep midwicket, oh boy ! he loves doing that
DROPPED, Warner has given MAxwell a life, I repeat- David Warner drops the catch of Maxwell, well, this was a sitter, you don't drop Maxwell. Very costly drop
Darren Sammy to bowl now
OUT, He takes a wicket, removes Pujara, another patient innings from Pujara comes to and end, who looked to slog the shorter one as hard as possible, but only could as far as deep midwicket
Who comes in to join MAxwell, no guessing- partner in crime- David Miller
The M&M duo is on the crease, Hyderabad should start worrying now
Amit Mishra to bowl to Maxwell
SIX, tosses up worng 'un, Maxwell carts it away to the leg boundary
SIX, Another one- Mishra once again is fuller, Maxwell once again dispatches in the same region
SIX-THREE IN A ROW ! Maxwell can't get over with his slog-seeping
SIX- NOW Miller Murders him, fullish and Miller hits it straight towards the sight-screen.
25 runs coming from Mishra's over Mishra has an economy rate of 9 against KXIP.
Look at Warner's face, he must be kicking himself for dropping Maxwell
Kings XI 123/2 (13) Maxwell 47*- Miller 7*
SIX, That's a half century for Maxwell in just 21 balls
FOUR, magnificent, full on middle, Maxwell powers it between Mid on and midwicket
FOUR, MAXWELL REVERSES ! reverse sweep is comes in this game, Sharma bowls full Maxwll adjusts himself to hit that one towards point
SIX, MAXWELL IS MURDERING SUNRISERS HERE ! Full toss from Sammy, Maxwell hits that one over deepsquare leg. Not the right length to bowl to him
FOUR, tries full and wide this time, Maxwell will hit you everywhere, Sunrisers having no idea where to bowl him, he is hitting it everywhere
Partenrship is worth 68 runs in just 24 balls
Kings XI 152/2 (15) Maxwell 72*- Miller 19*
How many more runs will Kings XI score from here, is 200 a possiblity?
OUT, Warner holds it this time, Miller whacks length ball towards long off, staright to the fielder. Bhuvi gets the wicket
Captain George Bailey comes in
Good over from Bhuvaneshwar Kumar, just 3 runs and a wicket, it's like gold in these circumstances
STEYN NOW !
Fast and furious from Steyn, full and moves away, Maxwell swings hard, doesn't get any connection
FOUR, this time he does, Maxwell smartly guides this one towards third man, Steyn is furious ..
Maxwell on 80 now, 38 runs have come towards the mid-wicket region, and total 68 runs out of 80 have come on the leg side, Hyderabad have been bowling to him at his strong zone and he has made full use of it today
Maxwell is in form of his life- Third innings and he is playing a blinder here, Sharjah must be loving their new BOOM BOOM !
SIX, BOOM BOOM MAXWELL ! Now he is taking the ball from outside off towards leg, full outisde off and he slams it over the long on boundary
SIX, Mishra is getting the treatment today, same line and length from Mishra and Maxwell this time punches over the long-off fence
Maxwell on 95 now, can he get to his century today, having missed it the last time.
OUT, commentator curse, He is out again on 95, twice is succession. Maxwell looks to go over deep cover this time, but finds Sammy at point,finnaly persihes on his weak zone, the off-side, but what a sizzling innings from Maxwell, gets a stading applause from his team-mates. Pure entertainment, 95 runs from 43 balls with 5 fours and 9 sixes.
Steyn to bowl the second last over of the innings
What an over just 4 runs from it, in this situaton, he makes a strong comeback, after being hammered in first two over, he finishes his spell 4-0-26-0, wicketless though.
Bhuvi to bowl the last over
FOUR, high full toss, Bailey gets a top edge, ball runs down to the third man boundary.
OUT, fuller and on middle, Bailey looks to clear the boundary, gets caught at long on
Last bowl coming up
OUT, another one bites the dust, Buvi gets full and it shatters Mitchell Johnson's middle stump.
Kings XI Punjab score 193/6 in 20 overs
It's hard to judge who will be the happier team now, KXIP got off to a good start, Sehwag clicked today and then came KXIP flambuoyant Maxwell, who went berserk, played a wild innings striking the ball at a rate of 220, at that point it looked like KXIP will score more than 200, but a good comeback from the bowlers in the end, a few wickets and Sunrisers gave away just 41 runs in last 5 overs, something for them to cheer about.
Amit Mishra, though picked 2 important wickets, but was blasted for 56 runs in 2 overs, Pathan came for this game, bolwed just 2 overs and gave away 28 runs. Bhuvaneshwar Kumar bowled exceptionally well, 19 runs and 3 wickets.
Sunrisers have a mammoth task to chase, having laready lost the opening game, they will look to win this one, with 194 to chase, they need their top order to fire today.
CHASE BEGINS ! Sunrisers needs to score at 9.5 rpo to chase this target.
Dhawan and Aaron Finch open for Sunrisers, Sandeep Sharma to bowl with new ball.
SRH have only chased a maximum of 132 agaist KKR in their short IPL tenure, they need to break this record tonight
SIX, WHAT A START ! Finch provides a perfect start, Sharma bowls fuller and Finch lifts it easily over the staright boundary, effortless
Mitchell Johnson will start the proceedings from the other end.
OUT, STRIKE ! Captain Dhawan is gone, a big early blow to SRH. Dhawan looks to cut away close from the body, was nowehere is a comfortable position, gets a faint edge. Johnson is ecstatic
Out comes Warner
David Warner has a batting strike rate of just 113 in the pwerplay, not upto his standards, perhaps he should bat down the order. (Since 2011 IPL)
FOUR, that oozed class. Fullish on off, Finch leans into the drive and times it to perfection on the covers for four
SRH 16/1 (2) Finch 13*- Warner 1*
One of the batsman among these two needs to play a long innings if SRH are to win this one
KXIP bowling has not been good, thanks to Maxwell that they have chased big scores but their bowlers have conceded a lot of runs, Can SRH capitalize on this.
FOUR, on the pads from Sharma, Warner tucks the ball square of the fine leg fielder
I feel that SRH have spend too much on the bowlers this time, though it didn't appear that way today, but yes, their bowling department look more better than the batting, they should have gone for one more T20-specialist, a more consistent batsman.
NO-BALLfrom Johsnon, Overstepped and FREE HIT !
FOUR, shorter one from Johnson, Finch sits back and crashes the ball towards point boundary
SRH 31/1 (4) Finch 19*- Warner 8*
SRH going at a run-rate of 7.75 , However the asking rate is over 10 rpo. They need more fire-power
Laxmipathy Balaji in the attack now
OUT, the change working here, length delivery, Finch gets caught on the crease as ball crashes into the stumps, both the openers are back into the pavilion
OUT, Two Wickets in this over ! Balaji doing the trick here, removes Warner now, back of a length from Warner, who jabs staright at Maxwell to the point.
Hyderabad suffers another blow
Two big blows in this over
Is this game already over for SRH, or there is still a fightback left, in comes V. Rao
Rishi Dhawan into the attack
FOUR, good shot from Rao, short from Dhawan, rao cuts towards point
FOUR, dragged away, on middle, Rao swings towards midwicket
SRH 45/3 (6) Rao 9*- Rahul 4*
OUT, KNOCKED 'EM OVER ! Full, Rao looks to hits towards the square leg boundary, misses. You Miss I Hit Buddy !
This is very poor batting from SRH, never expected them to lose their wickets so cheaply, credits to KXIP for bowling on good line and length
SRH have not stability in middle order, with top 3 gone, no one is there to stable the innings
Irfan Pathan has been promoted ahead of Sammy, doesn't understand the strategy, why are they holidng Sammy back.
50 up for SRH in 7.1 overs
The asking rate is getting higher and higher
FOUR, a welcome boundary for SRH, slow outside off, Rahul backs away and crakcs hard beating the cover fielder
SRH 64/4 (9) Rahul 15*- Pathan 3*
GLENN MAXWELL COMES ONTO BOWL !
That's a nice thing from the captain to bring Maxwell, with KXIP on top, why not bring your star batsman and let him take a wicket or so.
SIX, sorry, this time Maxwell gets the dose of his own medicine, over-pitched and Rahul slog-sweeps Maxwell over the deep midwicket boundary
SRH require 120 runs from 60 balls, required rate is 12 rpo
OUT, CASTLED !full and quick from patel, Pathan looks to go ver mid-wicket, misses and losses his wicket.
He's been a flop today, poor with ball and now also with the bat
Half of the team back in pavilion now
Sunrisers last hope- Darren Sammy comes on
Balaji to Sammy, no run, this is good stuff from Balaji, he is having a great day with the ball
SRH needs boundaries
SRH needs 110 of 48 balls.
Maxwell scored 95 off 43 balls, if SRH are to win this someone needs to play even faster than Maxwell
SIX, THAT"S OUTTA HERE ! On off-stump from Patel, Sammy generates that power and sends it miles-miles over the boundary and over the roof as well, 99m that was
They need a few of those
SRH haven't had any partnership today, highest was of 25 runs between Pathan and Rahul
OUT, BALAJI TAKES 3, dangerman Sammy departs, looks to crank it over the off-side, get's toe-end of the bat and Akshar Patel at mid-off takes a good diving catch.
All over for SRH now.
Balaji removes 3 overseas player tonight
3 runs and a wicket, this is some excellent bowling from Balaji. Why is he not in Indian Team???
OUT, another wicket, KXIP is making it so easy, flighted from Patel, Rahul decideds to send this one out of Sharjah, hits a skier, gets caught at long on
SRH 99/7 (15) Sharma 3*- Steyn 2*
Asking rate is 19 rpo
That's 100 for SRH, this game is over now, nothing left
SIX, banged in short from Johnson, Sharma hooks and sends it over the roof, that made a cracking sound as it the bat. Too late for SRH
86 runs required from 24 balls
Akshar Patel completes figures today 4-20-2 , great bowling
Give Maxwell one more over, might take a wicket. That will be even sweeter for him
DROPPED, BUTTERY FINGERS in IPL ! Saha drops a skier, Steyn survives
You don't expect from atleast wicket-keeper to drop these
OUT, Johnson picks up the wicket this time, fuller, Sharma backs away, and canonly hit as far as mid-off
Last man, Bhuvaneshwar Kumar comes to bat