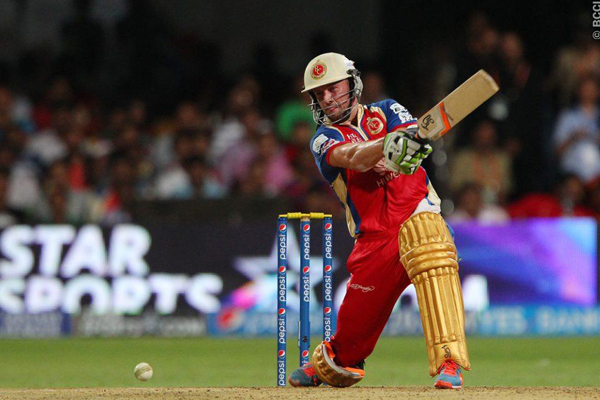 Venue: Bangalore
Start time: 8 pm
This is a match that both Bangalore and Hyderabad would not like to lose. Both teams have 2 wins from 5 games, and are languishing in the bottom half of the table.
While Hyderabad managed to weather a Kieron Pollard storm to beat Mumbai Indians in their last game, Bangalore have now lost three straight games - one due to THAT catch by Chris Lynn and two owing to poor batting (scores of 70 and 124). However, they have a stellar record on their home ground.
The worry for Hyderabad is the poor form of captain Shikhar Dhawan, as well as the awfully expensive bowling of Amit Mishra. On the upside, Brendon McCullum's form and the performance of KL Rahul against Mumbai will encourage the Sunrisers Hyderabad.
Bangalore, though ahead of Hyderabad on net run rate, have a bigger set of problems. Chris Gayle is still not fully fit, Albie Morkel is not firing with either bat or ball, and AB DeVilliers has hit an unexpected bad patch. Given that the pitches are batting-friendly in India, Bangalore might give Vijay Zol a look in.
The side winning the toss would look to bat first. Even with all their problems, a Bangalore with Gayle is a threat to Hyderabad, and hence they start favourites. Minus Gayle though, the game would become even.
Virat Kohli wins the toss and Bangalore will bowl
Shikhar Dhawan and Aaron Finch are the openers for Hyderabad
Mitchell Starc to bowl
The ball is staying very low in the first over itself
Hyderabad 3/0 after 1 over
Ashok Dinda opens the bowling with Mitchell Starc
Four. Pitched up, Finch stroked it to square leg and it went right through Yuvraj. Poor fielding.
SIX! Finch now lofts him over deep cover for six.
Yuvraj Singh has started to show that his batting is affecting to his fielding too. #RCBvsSRH

— Sarthak (@SarthakDas_) May 4, 2014
Hyderabad 15/0 after 2 overs
Four. Now Dhawan helps it past short fine leg
OUT! Finch is out, that was an amazing delivery, it seared up and Finch could not control the pull shot.
Hyderabad 20/1 after 3 overs
Dinda continues after being caned in the first over.
Three runs as Shikhar flicks it off his pads.
KL Rahul is the new batsman
Four. Short, and Rahul hooks it over square leg for four.
OUT! Rahul is caught in the slips by Gayle.
Hyderabad 29/2 after 4 overs
David Warner is the new batsman.
Four. Good length ball from Varun Aaron, driven away for four by Warner
No ball. Aaron oversteps and its a free hit.
Good ball of the free hit, yorker outside off and Warner misses.
Wide ball now.
Hyderabad 38/2 after 5 overs
HV Patel comes into the attack
Four. A good over is spoiled by Dhawan who pulls a leg-stump delivery for four
SRH 47/2 after 6 overs
That awkward moment when Chris Gayle's hands are bigger than Parthiv Patel's gloves. #RCBvsSRH #IPL7 #SCHvsRCB

— Sir Ravindra Jadeja (@SirJadeja) May 4, 2014
Yuzvendra Chahal (Yuzi) to bowl now
Yuzi finishes his over before we can type 'ineffective'. Six singles from it, SRH 53/2 after 7 overs
HV Patel continues and he continues to bowl down leg side
On the thigh pad and Warner works it away for four. Is this how HV bowls usually?
SRH 59/2 after 8 overs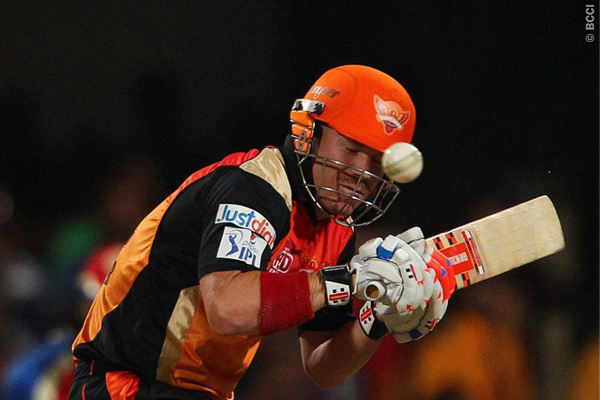 Yuzi is again running through his over quickly.
And its also a good over as he concedes just 2 runs. SRH 61/2 after 9 overs
Varun Aaron is back.
Four. Shikhar Dhawan rocks back and slaps it away for four through cover.
Short, Dhawan tries to pull but gets an underedge for a single.
Dhawan was in some pain, he took the blow to his thigh.
Short ball from Aaron, Warner frees his arms and slams it for four through cover.
Now picked away on the leg side for one
SRH 72/2 after 10 overs
Yuzi continues but gets hammered by Dhawan for four off the third ball
Unusual for Shikhar Dhawan to stay in the crease for so long!! #RCBvsSRH

— Salihdeen RM (@BadMF7) May 4, 2014
SRH 81/2 after 11 overs
Harsha Patel is back into the attack
Four. Warner bashes it down with force through the on side for four
SRH 87/2 after 12 overs
Varun Aaron to bowl his third over
Hyderabad have been smooth, but have not been able to up the tempo much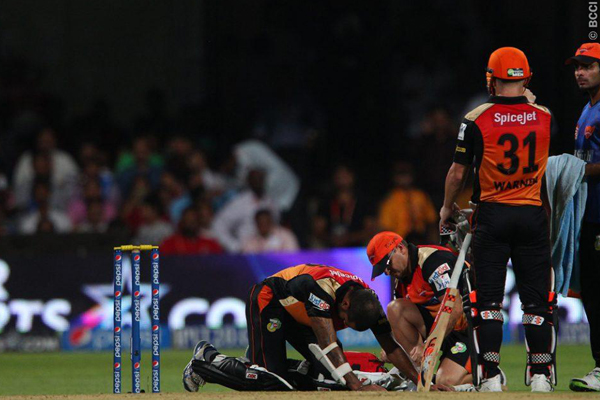 Four runs so far off five balls.
OUT! Dhawan is out after a laboured innings, he pulled but hit straight to the man at deep midwicket.
SRH 91/3 after 13 overs
Darren Sammy comes in, and Ashok Dinda will bowl
2 runs off a Dinda over is incredible. SRH 93/3 after 14 overs.
SIX! Yuzi to bowl and Warner takes him for maximum down the ground.
The rest of the over finishes without much drama. SRH 106/3 after 15 overs
Patel bowls
SIX! Sammy has flat-batted this wide length ball 80 metres over long off, set himself up, pushed front foot out and clobbered it.
OUT! Now he is out, Sammy tries to hit a slower one over deep midwicket but holes out.
SRH 115/4 after 16 overs
Starc concedes 9 off the 17th over. Could have been 5 if the last ball was not edged for four.
Ashok Dinda comes back.
Getting the wicket of Darren Sammy cheaply is like drop in the target by some 30 odd runs #RCBvsSRH #IPL2014

— ♫ Vivekanand Singh ♫ (@Iam_BigV) May 4, 2014
Six. After a slow start to the over, Warner just thumps Dinda over the off side for six, he just managed to clear long on.
SIX! Six more to finish the over, SRH 140/4 after 18 overs.
Ashok Dinda finishes with moderate figures of 4-0-39-1. So moderate....for Dinda.
Varun Aaron to bowl the penultimate over.
SIX! The commentators said "good over so far", and the next ball was deposited over long on for six.
Wide ball.
OUT! Ojha is out, he gave room and tried a strange shot through the off side, and was caught on the cover boundary.
SRH 149/5 after 19 overs
Irfan Pathan is the new batsman, Starc is the bowler to bowl the last over.
He gets a single off the first ball.
Great ball, Warner advanced down the track but got yorked, the ball dribbles through to the keeper.
Repeat.
Bowled. OUT. He hits timber the third time, it was the slower ball, Warner walked over to the off side and tried a flick, the ball crashed into middle stump.
KV Sharma is in, he gets a single
Four. The last ball turns a great over into a good one.
SRH finish on 155/6 off 20 overs
Bangalore batting
Parthiv Patel gets bowled for 3 by Bhuvaneswar Kumar
Virat Kohli is in
OUT! Virat is out, caught behind for nought
Bangalore 6/2 after 2 overs
Four, Everyone moves out of the way as Chris Gayle biffs Steyn down the ground for four.
Dropped. Short ball, came quicker onto Gayle than he thought, and the man at short mid on spooned the catch
Four. Now Gayle clubs it over the off side field for four.
RCB 14/2 after 3 overs
Free wifi at Chinnaswamy. But the way #RCB have started, ain't no one going to upddate their statuses. #RCBvsSRH #ipl7 #PepsiIPL

— Sonali Dhulap (@pillya) May 4, 2014
Kumar to bowl to Rossouw
Good over, just 2 from it. RCB 16/2 after 4 overs
Ishant Sharma comes into the attack
Gayle is not timing the ball well, so far.
Good length ball, Gayle slams it through wide mid on for four.
SIX! Now a shortish ball on middle stump, Gayle has a free swing of his arms and deposits it into the midwicket boundary
SIX! Another six, this time a swivel-pull which went farther than most sixes I can think of
RCB 32/2 after 5 overs
The ball has been lost, they need a new one.
Now Roussouw flicks the ball to the straight boundary for four
Underedges the square drive for no run
Round the wicket, and no run
RCB 36/2 after 6 overs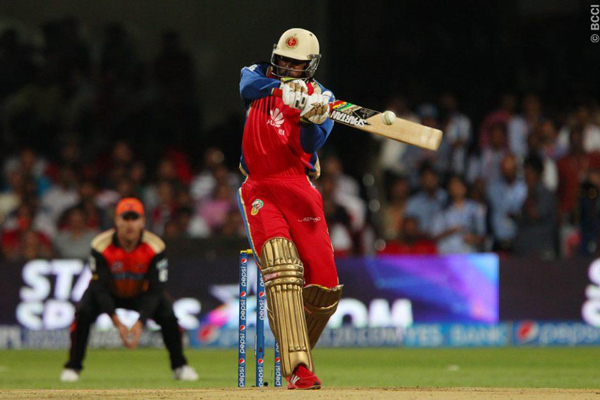 Karn Sharma comes in to bowl
Two runs off the first three balls
OUT! Chris Gayle is out, he swung and connected to a straight ball, but hit straight to deep midwicket.
RCB 38/3
AB DeVilliers comes in, and gets beaten first ball
RCB 38/3 after 7 overs
Ishant Sharma continues, perhaps only because Gayle is gone
RCB 45/3 after 8 overs
AB DeVilliers on strike
Bangalore 50/3 after 9 overs
SIX! AB carts Irfan Pathan for six off the last ball
RCB 59/4 after 11 overs
Yuvraj Singh comes in
Ishant Sharma bowls
Four. Yuvraj whips a shortish delivery for four
SIX! What a shot! AB DeVilliers launches Ishant into the crowd
Bangalore 73/4 after 12 overs
Darren Sammy will bowl
RCB 79/4 after 13 overs
SIX! AB down on one knee and lofts it over extra cover for a six. What a shot!
Dropped, there was a tough chance at backward point, Karn Sharma spooned a tough catch.
RCB 89/4 after 14 overs
SIX! Yuvraj comes down the track, gets too close to the pitch of the ball but nevertheless lofts it straight down the ground for six
OUT! Sweeps straight into the hands of deep square leg!
Bangalore 97/5 after 15 overs
SIX! HUGE SIX. Launched over long off for a massive six, that nearly reached the top tier of the stands
Darren Sammy is in the firing line
Four, half volley outside off and DeVilliers creams it for four.
Six! He's really turned it on now. slower one from Sammy gets pummelled over deep mid wicket.
RCB 116/5 after 16 overs
Dale Steyn comes back. Huge difference in bowling quality.
Just 2 off the first 3 balls, the difference shows
AB DeVilliers reached 50 off 23 balls
The whole stadium chanting ABD. Wonder how would he be keeping calm. ABD the #king! #RCBvsSRH #PepsiIPL

— Kshitij Talwar (@maximaminima) May 4, 2014
Full ball wide of off stump, slammed down the ground for one, AB can't get more off it
Just 3 off the over, what a comeback. RCB 119/5 after 17 overs
Four. Haha. Bhuvaneshwar comes back and gets slammed over point for four by ABD.
Steyn v/s other bowlers is really the contest on display here
RCB 128/5 after 18 overs
Crucially, Steyn still has one over left
SIX! ABD on song is incredible. He has now bashed Dale Steyn for six over midwicket
SIX! Six more, half volley, AB drills it straight down the ground, flat six
This is a duel between a great batsman and a great bowler. The bowler won the first over, the batsman is winning the second.
Thumped to mid wicket for a single
Four. ABD now drills Steyn for four over extra cover
This should be the defining over of the game
SIX! This has gone way,way back into the stands! 24 runs off Steyn's over, can you believe it? RCB just need 4 off the last over now.
ABD is now 84 off 39 balls
Irfan Pathan to bowl, Starc goes for a quick single and is run out
Not a bad exchange for RCB - Starc's wicket brings ABD on strike
He tries a cute shot off a wide ball. It misses and they get a leg bye
Swing and a miss, Harshal Patel swings hard and misses, nearly run out as well. 3 needed off 3 balls
Yorker, but Patel gets bat on it and they score a quick single. ABD on strike, he has to finish this.
Four. What a shot. Low full toss, smashed through midwicket for four and RCB have won.
This has to be one of the best innings of the tournament.