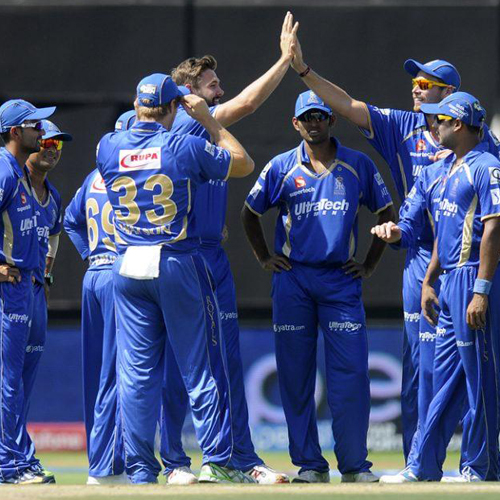 Welcome to the league match between Rajasthan Royals and Royal Challengers Bangalore
RCB to bat.
Gayle is still not playing.
Bangalore have lost 2 wickets in the first over.
RCB 1/2 after 1 over
The struggling Yuvraj Singh and Virat Kohli are on the crease.
RCB 5/2 after 2 overs
OUT! Yuvraj Singh's poor run of form continues as he is dismissed by Kane Richardson for 3 off 7 balls. He hung his bat out at that one and was caught at slip.
OUT! Now DeVilliers goes and Bangalore are in a huge mess.
Bangalore 5/4
What has AB done? That was a lazy waft outside the off stump and AB had gone.
Sachin comes in...Sachin Rana that is.
Four. Virat Kohli pulls Richardson for four as if no mayhem occured that over.
Kohli steers to third man for one
RCB 11/4 after 3 overs. Kohli keeping strike is perhaps the safest thing for Bangalore.
Kohli defends three balls for no run
Punched to deep cover for one.
Sachin on strike...Rana
Rana defends two deliveries without trouble
Bangalore 12/4 after 4 overs
More cautious cricket from Bangalore, they are taking the singles but avoiding the big shots.
Bangalore 16/4 after 5 overs
OUT! More disaster for Bangalore as half their team has been blown away!
Just like AB, Sachin Rana tried to punch through cover and played on. Shane Watson strikes.
Bangalore 17/5
Albie Morkel comes in.
Four. What a shot. Slow, straight delivery gets driven beautifully down the ground for four. Some psychological relief for RCB.
RCB 22/5 after 6 overs
Kane Richardson is back
They continue taking singles off every other ball.
Flicked away by Albie to fine leg, the fielder there fumbles and they come back for two.
RCB 26/5 after 7 overs
Oh. Kohli was cut in half by that one. He went for a cover drive but the ball swung back in sharply.
Now Morkel swings at a widish ball outside off stump and misses.
RCB 27/5 after 8 overs
Pravin Tambe comes in to bowl
Virat Kohli hits a full topspinner hard but can't connect well
Is it the pitch or is the Bangalore batting really off today?
Albie defends one down the pitch.
OUT! Now Albie goes for the big hit, gets a top edge and the fielder coming in from long on takes a good catch.
RCB 28/6
It's the strategic time out and Bangalore need to hit their heads against a wall.
The only strategy now is for Kohli to bat through the innings and accelerate towards the very end. It will be great if they reach 120 from here.
The batsmen crossed over and Virat drives the next ball for four.
Now he takes a single off the last ball. Perhaps he should take all the strike, the other batsmen seem totally inept today.
RCB 33/6 after 9 overs
Four. Aggressive shot from Kohli, chipped over mid on for four.
Another attacking shot, it was whipped to the midwicket region but Kohli can't get two.
Mitchell Starc is the next scapegoat batsman. He whips a ball through the on side for two.
Four. Now Starc chips the ball over mid on for four, this was done without risk.
A single off the last ball takes RCB to 45/6 at the halfway mark.
Praveen Tambe continues.
Starc gets a single to get Kohli on strike.
OUT. Kohli went for another attacking shot, the ball was slow and was caught at midwicket.
This is surely the beginning of the end for Bangalore.
RCB 46/7
Bangalore 47/7 after 11 overs. Ravi Rampaul is the new batsman.
Ravi Rampaul cannot score off the first three balls.
Now he gets a single to backward point for one.
Starc ends with 2,1 to make it four for the over.
Bangalore 51/7 after 12 overs
Oh. Tambe beats Starc's bat with a beautiful wrong one.
12.4 Starc sweeps and gets an underage to fine leg
Bangalore 55/7 after 13 overs
Rajat Bhatia to bowl his first over.
Beautiful shot! Starc scythes Bhatia through the off side, between backward point and short third man, into the tiny gap there for four.
Clubbed to mid on for one
OUT! Now Starc is gone, he hit a short delivery straight to point.
Bangalore 62/8 after 14 overs
SIX! Ravi Rampaul has clubbed a full toss from Tambe into the stands.
OUT! He tries to go big again and now holes out. This spun away from Rampaul, he tried to go over the off side, didn't hit the sweet spot and looped to long on.
OUT! And its all over! Ashok Dinda gets a ball that turns in sharply, he is trapped on the backfoot and given out LBW.
Bangalore are 70 all out.
This is an embarrassing performance by a powerful batting side. Rajasthan should not find the chase too difficult.
Rajasthan batting
The Rajasthan openers are out to bat.
Karun Nair to open with Ajinkya Rahane
Mitchell Starc to bowl
No run off the first ball, Rahane watches it go by.
Four. Down the leg side and Rahane gets bat on it to glide it away to the fine leg boundary.
Now he overcompensates, bowls too wide outside off and its called a wide.
Four. Another boundary. Nice half volley on off stump driven away for four.
Slightly wide of off stumps, Rahane cuts it away and the fielder at third man runs and cuts it off well.
Rajasthan 11/0 after 1 over.
Ravi Rampaul is the new ball bowler with Starc.
Swing and a miss from Nair.
Now he tries to cut a short ball and nearly plays on like AB DeVilliers. That should be a forbidden shot on this wicket.
Single to short mid on.
Short ball, Rahane tucks it to backward point for one after jumping.
Appeal for a caught behind and the umpire is not interested.
Good over from Rampaul, just 2 from it.
RR 13/0 after 2 overs
Good shot! That wasn't very short or wide from Starc, it was clipped away through point for four by Rahane.
Four. Short delivery gets hooked through midwicket for four.
Starc gets a chance to bowl at Nair now.
But he blows it, ball on leg stump, Nair skied it past the close in fielders on the on side for two.
Rajasthan 24/0 after 3 overs
Oh. Rahane closes the face of the bat to a ball coming in. He gets the inside edge and it scoops just over the jumping point fielder for two runs.
Now Nair drives for a single
Now a short delivery from Rampaul and Rahane sways out of the way. Good ball, good batting.
Rajasthan 28/0 after 4 overs
Rampaul is bowling well but isn't getting wickets. Starc has been hammered. The target is just 71.
Astonishingly, Starc continues. 0/22 of 2 overs.
He gets driven through the on side for three this time, the fielder makes a sliding stop near the boundary.
OUT. Rahane is out. He edged to the keeper. They check for the no ball but its ok. A good short innings comes to an end.
RR 31/1
Sanju Samson comes in to bat
Rajasthan 32/1 after 5 overs
Ravi Rampaul continues
Clipped to third man for one despite the slips
Ouch. Is that a run out on the second run? The umpire has called for the third umpire.
And it is out. Rajasthan have lost two now. Is there life in this match?
Sanju Samson run out 2
RR 35/2
Rampaul into his third over and bowls short and wide outside....leg stump. Called wide.
Abhishek Nayar is in and now its Nayar and Nair at the crease.
Rajasthan 36/2 after 6 overs.
36/2 vs 22/5 in the powerplay....Rajasthan are still light years ahead despite the two wickets.
Mitchell Starc to continue.
Waft at a wide ball outside off, no run.
Now he's caught behind! Rajasthan are stumbling now. 36/3
Shane Watson walks in, this could go either way.
Clipped to short mid wicket and the crowd thought that was a catch.
Oh. Now another appeal for caught behind is rejected by the umpire. Watson stuck his bat out but could not manage to get out the ball missed it.
Four off the last ball, big release of pressure and it also averts the wicket maiden.
RR 40/3 after 7 overs
There was some banter between Watson and Kohli during the commercial break
Rampaul will also finish his quota of four overs here.
Beautiful test-match quality shot. Drives a good length ball through mid off for four.
Now a single down to third man
Single on to the on side
Rajasthan 46/3 after 8 overs
Just 25 more needed to win
Yuzvendra Chahal...Yuzi....to bowl now.
He concedes zero runs off the first four balls.
And its a maiden over.
Time for the time out.
Ashok Dinda comes in to bowl. This match could finish quickly.
Oh! He beats the bat twice off the shorter bouncer, fourth and fifth ball of the over
Rajasthan 48/3 after 10 overs
Four. Yuzi bowls a half volley and gets deposited for four straight down the ground.
Watson is back in form...or is he?
Now he pulls but finds short mid on
Slapped away to sweeper cover for one
RR 55/3 after 11 overs
Abhishek Nayar almost got run out while taking a third run.
Rajasthan 61/3 after 12 overs
SIX! Watson clobbers Yuzi for six and Rajasthan are almost home
OUT! He tries it again, this time gets a top edge and long on takes it.
Rajasthan 68/4
Now this gets swept away to fine leg and Rajasthan have won by 6 wickets.
Rajasthan 71/4 off 13 overs