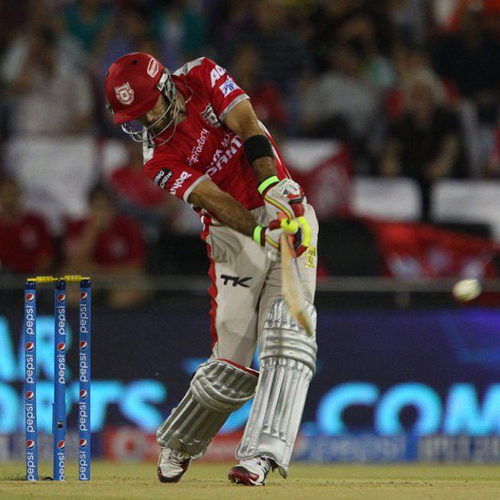 Chennai Super Kings have won the toss and they will bowl first. Sandeep Sharma comes in for Rishi Dhawan for Chennai.
There are no changes in the Kings XI Punjab team.
Lots of support for the Punjab team in Mumbai. Maxwell is the most popular guy. But he hasn't fired in the last few games. Will he fire today? It will be a great time to do it.
The umpires come out on to the field, and the Punjab batsmen follow. Virender Sehwag needs a big score under his belt. The general success of the Punjab team in this year's IPL has hidden his failures.
There are multiple contests hidden within this mega one. Ravindra Jadeja v/s David Miller, Mohit Sharma v/s George Bailey, Everybody v/s Glenn Maxwell.
Sehwag has been on fire from the start. He is 26 off 10 balls right now. The last three balls have gone for four. 7 boundaries have been scored off the last nine balls.
Punjab are 57/0 after 5 overs
Punjab have now reached 70 in 6 overs, Sehwag is on 42 off 18 balls.
Sehwag scored a century of 50 balls, then was out for 122 off 58 balls.
Punjab are 217/3 in 18.4 overs, a hammering is in order.
Can they surpass their previous highest of 231? It looks very likely at the moment.
Nope. Punjab have finished on 226/6, the last two overs pegged them back a bit, but its still a massive score.
Punjab 226/6 after 20 overs
Chennai lost the wicket of Faf Du Plessis in the first over, who skied one to mid off.
Suresh Raina though, is on fire. He has now score 47 runs off 15 balls. Chennai have scored 56 off 4 overs. The game really is on.
Suresh Raina reached fifty off 16 balls with a six.
After the blitzkreig from Raina, Dwayne Smith is out for 7. Chennai are now 67/2 in 5 overs
Suresh Raina is absolutely on FIRE. He has smashed 87 off 25 balls, including 33 runs off the previous over.
KXIP now need just 127 off 14 overs.
To put things in perspective, Raina has a Strike Rate of 348.
However, a run out has cost Suresh Raina a superb century. What a mix-up.
CSK had reached 100 in 6 overs. The next two overs have brought 7 runs. We are back to earth.