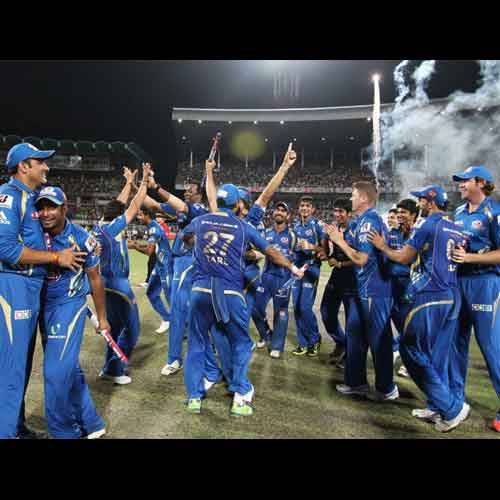 15:52 IST Saturday, 19 April 2014
Royal Challengers Bangalore have won the toss and they will bowl first
It is now confirmed that Chris Gayle will not play the match. He still has a sore back.
Michael Hussey and Aditya Tare will open for Mumbai
16:07 IST Saturday, 19 April 2014
Four. Hussey has struck that through the off side for four
MI 8/0 after 1 over
Albie Morkel comes on to bowl
DROPPED! Virat Kohli has dropped Tare in the slips. That was quite easy.
Tare drives, gets a quick single. The IPL bugle sounds and the crowd cheer. I wonder why that tune is still so popular after 7 years.
Good outswinger to Hussey, he let it go at the last moment
Tucked away by Hussey for no run
Another sharp single on the off side
MI 10/0 after 2 overs
Hussey advances down the track but misses that outswinger from Mitchell Starc
Whadda cover drive! Perfect head position and Hussey steers that through cover and point for four
Wrong line, picked away through square leg for two
Hussey is batting faster today - a good sign for MI
Another drive through the on side for a single
Tare has a wild swing at the next delivery and misses
Short ball and Tare could not get bat on it
MI 17/0 after 3 overs
Out! Michael Hussey is out, he slapped it straight to square leg. Perhaps Tare's poor form got the better of him
Mumbai 20/1
Ambati Rayudu is in and he takes a single
MI 21/1 after 4 overs
Very wide ball from Varun Aaron and Rayudu lets it pass. Called wide.
Thrashed into the covers where the fielding is superb.
Quick single to short mid on
Short ball and Aditya Tare manages to pull it just over the mid on fielder
Almost a run out. They went for the third and there was almost a run out at the bowler's end. The third umpire is reviewing that, but Tare is barely safe.
MI 31/1 after 5 overs
16:33 IST Saturday, 19 April 2014
Excellent shot from Rayudu this time. Flicked perfectly through the on side for four
Flicked away again, this time they get two
Albie bowls short again and gets punished again. Four through midwicket.
Now flashed away for four. Aditya Tare is on fire now. That was brutal
Oh God. Morkel's luck is terrible today. Tare had a wild go at a good length ball, missed it and it flew through the keeper's fingers for five wides.
Such a long over for Albie. Still two balls to go
Morkel bowls short, Tare tries an upper cut now but fails
Flashes again and can't connect. MI 49/1 after 6 overs
18 runs off that over. Powerplay over
Nice shot from Ambati Rayudu, tucked away to third man for one
Assaulted again. Finds sweeper cover. One run.
Was that dropped? Rayudu tried an uppercut off a very high delivery and it changed direction to land just out of reach of the keeper.
OUT. Caught. Tare has been caught on the deep midwicket boundary.
MI 52/2
Varun Aaron's pace did the trick
Strategic timeout after the wicket
MI 53/2 after 7 overs.
The captain Rohit Sharma is in
Rayudu charges down the track and hits hard but superb fielding in the deep keeps it to one
Yuzvendra Chahal is the new bowler by the way. I'll call him Yuzi.
Yuzi gets milked away for one on the leg side
MI 58/2 after 8 overs
Ashok Dinda into the attack. This could go either way.
Too short and wide, but Rayudu still fails to find the boundary
Again bowls wide, but perhaps the pace of the ball is too much for MI at the moment.
Tucked away for one by Rohit
This negative tactic of bowling short and wide must be frustrating MI. They are struggling to get bat on ball, its so wide.
Slower ball, wide again, Rayudu advanced down the track but missed it.
MI 60/2 after 9 overs. A tight over that doesn't deserve praise.
OUT! Huge wicket. Kaboom. Rohit Sharma smashed Yuzi down the ground but only found long off. Sharma makes two.
MI 60/3
Test match style front foot defence. Haha.
Tucked away wide of short mid on for one
Another single on the on side
Kieron Pollard is in, and the good side of this is that he has plenty of time to play himself in.
Mumbai 63/3 after 10 overs
14 runs from the last four overs for 2 wickets. Real choke on.
Edged away to third man for two
Rayudu flashed at air outside the off stump
Ashok Dinda's spell is being made to look way better than it has been.
Short and wide and Rayudu flashes again, beats cover but the fielder in the deep cuts it off
MI 69/3 after 11 overs
OUT! Huge wicket! Kieron Pollard is gone. He shovelled a full ball straight down the throat of long on. Yuzi is rolling.
Corey Anderson, Mumbai needs you today
MI 70/4
Corey Anderson is in. Mumbai's innings is wrecked at the moment.
MI 72/4 after 12 overs
Yuvraj Singh comes in to bowl. Yuvi and Yuzi in the same side.
Short ball, pulled away but can only get one
Wide ball down the leg side, Corey still tried to flick it away
Single down to deep midwicket
MI 78/4 after 13 overs
Varun Aaron is back
Short ball cut away but straight to point
Four. Anderson hooked it away, it went straight down the ground for four.
Another short, fast delivery. This may not work with Anderson. He hooks again and this time it flies to fine leg for four. Almost went for six
MI 87/4 after 14 overs
Another strategic timeout. I think two are one too many.
Ashok Dinda comes back. fast, full ball smashed to long off
Down the track and scooped out to mid on for one
Two runs straight down the ground
Mumbai 92/4 after 15 overs
Rayudu smashes it down to wide long on for one
Very wide ball from Yuzi but Mumbai fail to do anything about it once again
Two runs on the boundary
How much time has passed since a boundary was hit?
Rayudu charges down the track but he can only score two at wide long on
Corey swings and edges it behind the keeper, Yuzi can't believe his lucky day didn't continue
MI 98/4 after 16 overs
Mitchell Starc is back
Rayudu goes wide of long on, another mishit, just a couple
Is Mumbai really so bad today or is it the pitch behaving strangely?
OUT. Rayudu is out. He hit wide of long off, but Ab DeVilliers made amazing ground there to hold on to the catch
Rayudu's painful innings is over. He made 35 off 37
Mumbai 101/5
OUT. Another wicket. This time Anderson goes. Scooped a length ball to Kohli at long off.
Very disappointing batting from Mumbai
Harbhajan Singh is in, earlier than he would have liked and with Mumbai in a big hole
Mumbai 101/6 in 17 overs
Last 11 overs have fetched just 52 runs for Mumbai, and 5 wickets have fallen.
OUT. Another catch. MI are folding quickly here. Zaheer Khan hits straight to long on. There was no need to go after his second ball, but Zaheer did it.
Ashok Dinda is 3.2-0-13-1. This is not even funny. He hasn't bowled that well
Bhajji deadbats a single to long off. Will he manage to keep composure?
Swing and a miss. Malinga swung with all his might and missed
Mumbai 102/7
Four. FINALLY a boundary. Harbhajan managed a swat to the wide long on boundary.
Now a very high short ball gets slapped to deep mid wicket and they take a single.
Malinga gets a single, Harbhajan back on strike.
Bowled. Awful shot. Took his front leg wide outside leg, and swung wildly. Clean bowled.
Harbhajan 8 off 8 balls
MI 110/8
Varun Aaron's figures are more representative of how Bangalore have bowled: 4-0-31-2
MI 111/8 after 19 overs
Pragyan Ojha is the new man. Beats me why they sent Malinga above him.
Mitchell Starc to bowl the last over
Slogged down to deep extra cover for one
OUT. Malinga is run out. They ran for a non-existent single and Malinga was the victim.
MI 113/9
Yorker, single down to short third man
A single off the last ball. Mumbai 115/9 after 20 overs.
This is an extremely poor score on this wicket. Mumbai's innings can be described in three words - chaos and mishits.
RCB batting
Nic Maddinson falls for 12. Malinga uprooted his stumps. RCB 16/1
RCB 16/1 after 3 overs
Zaheer Khan into the attack
Virat Kohli comes in
OUT. Another one goes down. This time it's the big fish. Kohli edged an outswinger from Zaheer straight to first slip.
He falls without scoring, and this is one of Kohli's rare failures in the second innings
Yuvraj Singh comes in
GONE. OUT! This is amazing for Mumbai. Now Yuvraj falls. That was faster than Yuvi thought and he was caught on the backfoot. It struck him reasonably in front.
Zaheer is having a dream spell after a long time.
RCB 17/3
Almost caught again. AB DeVilliers poked outside off stump and it nearly carried to second slip.
RCB 17/3 after 4 overs.
Malinga to continue the drama
Now the absence of Gayle will begin to pinch Bangalore.
Yorker outside off stump, dug out to third man
Oh. Ab DeVilliers meant to hit that short ball, then he pulled out at the last moment and it struck his bat.
Two runs to deep point
Straight drive, which the bowler stopped with his leg
Full ball driven straight down the ground for four.
RCB 24/3 after 5 overs
Inside edge to short fine leg
Zaheer is back for a third over
Wide half volley, slapped to cover for one
Bad delivery, outside leg stump, Parthiv slaps it for four through fine leg
Bangalore 30/3 after 6 overs
Dabbed down to long on for one. The powerplay is over
Jasprit Bumrah is into the attack
Wide slower ball gets slapped to deep point for one
Bangalore 36/3 after 7 overs
Low ball gets biffed to long on for one; Harbhajan Singh is into the attack
Oh that kept low. AB played straight, he completely missed the length of the ball
AB comes down the track and hits it straight back to the bowler
Reverse sweep for 2 runs
RCB 41/3 after 8 overs
Time for strategy. Time for the timeout
Nice late cut behind short third man. Malinga has to run hard.
Pragyan Ojha and Harbhajan Singh better bowl tightly.
Milked to long on for another single
RCB 47/3 after 9 overs
Bhajji to continue.
AB DeVilliers comes down the track and plays it back to the bowler.
ABD tries the reverse sweep but a diving Zaheer restricts it to one
Bangalore 49/3 after 10 overs
Pragyan Ojha continues.
Oh. He was nearly out caught. Falls short of extra cover
Driven for four
RCB 57/3 after 11 overs
SIX! DeVilliers lines it up and hits Bumrah for six
Run down to third man for a single
Dabbed to short cover for no run
Bangalore 65/3 after 12 overs
Malinga comes back into the attack
Slower ball from Malinga gets edged for one
Perfect yorker from Malinga next, but Patel digs it out.
I just get the feeling Mumbai will rue their low total. Another 20 runs could have been very challenging for RCB. Mumbai have bowled well, better than Bangalore actually.
Four. Did I just say that. Slow half volley on off hit away for four
Yet another slower ball, this is a short ball too, Parthiv gets all the height he can muster and slaps it behind the keeper for four.
Bangalore 75/3 after 13 overs
Driven to sweeper cover for one
Zaheer Khan is back
No run
AB DeVilliers is playing another great knock today
Direct hit from the mid off fielder but Parthiv was safe
Wide ball from Zaheer. Does not help Mumbai's cause
Bangalore 82/3 after 14 overs
Four. Nice shot from Parthiv. Long hop from Ojha.
Short ball from Ojha. Hit to deep cover for one
Now Parthiv is starting to take liberties. He goes over cover and gets two
Ojha has been ordinary today. Another short ball eased into the deep for one
Bangalore 92/3 after 15 overs
Another of those strategy-making mini-sessions is upon us.
Harbhajan is back.
Huge appeal for LBW. ABD tried one of his famous reverse sweeps again, but it hit his pads this time. However, he was probably too far in front to be given out.
Bangalore 95/3 after 16 overs
Great shot from Parthiv. Opened his stance and went over mid off. Four runs.
Ojha has taken a hammering, I don't know why Rohit continues with him.
And he does it again.
50 up for Parthiv Patel, what an innings under pressure
RCB 109/3 after 17 overs
Just 7 runs needed for victory
Lasith Malinga comes back for a last try, but this is beyond any bowler now.
Smashed away for four, Parthiv has played a matchwinning knock.
One to win. Field is up.
Eased away to third man for one, and Bangalore have won very easily. They looked in trouble at 17/3, but this partnership has taken it away completely from Mumbai. Mumbai just had too few runs on the board on this wicket.
Match Preview
The bad news for Bangalore going into this match is that Chris Gayle might still be unavailable. The wicket is expected to play better than the one Mumbai Indians played on before, so Bangalore could really need to put up a big score.
Chris Gayle will be further missed because he averages 73 against Mumbai Indians at a strike rate of 143.
RCB could still rely on AB DeVilliers and Virat Kohli though, who are in fine form. Yuvraj Singh's swashbuckling innings will also boost them. However, the bowling remains an issue, especially with Bangalore conceding several wides in their match against Delhi.
Varun Aaron, on the other hand, won't be cutting down his pace and if he bowls a disciplined line, might get Mumbai's batsmen in trouble.
Mumbai have several problems, the first of which is that Michael Hussey is in scratchy form and leaves a lot for the middle order to do. Rohit Sharma needs to click with more than a well-made 20-odd, and the batting positions of Kieron Pollard and Corey Anderson are up in the air.
They are both pinch-hitters and Mumbai will be looking to space them between other batsmen so as to maintain a healthy run rate throughout the innings.
Mumbai have a 7-6 record against Bangalore in IPL, which is neither here nor there. One encouraging sign is the performance history of Ambati Rayudu against RCB. Rayudu has 298 runs against Bangalore in 11 innings, with 2 fifties. Nevertheless, Mumbai will be hoping for a better start from their openers than in the last game.
Mumbai's trump card in this match will invariably be Lasith Malinga.