Venue: Mumbai
Start Time: 8 pm
Royal Challengers Bangalore are favourites as they take on Mumbai Indians in Mumbai on Tuesday.
RCB won their first game against Mumbai comfortably, and they have been the superior side in the rest of the tournament as well, though they have won just 3 games out of 6. RCB have nearly won two more matches, while Mumbai won their first match this tournament against Kings XI Punjab a few days ago.
For Mumbai, the fitness of Zaheer Khan is in question. Mumbai have the option of replacing him with young left-arm pacer Pawan Suyal or leaving out Ben Dunk in favour of one of their foreign pacers, Marchant de Lange, Josh Hazlewood or Krishmar Santokie.
Bangalore, on the other hand, have no such problems. Varun Aaron and Mitchell Starc are doing a decent job, while young Indian spinner Yuzvendra Chahal has really been an asset for the team.
Mumbai have to face up to the might of the RCB batting at its full strength - Chris Gayle, AB de Villiers and Virat Kohli - and Yuvraj Singh if he manages to click. For Mumbai, however, only Kieron Pollard seems to be in sound form, though Rohit Sharma showed a semblance of touch, and so did Corey Anderson in the last match.
The team winning the toss should bat first, but Bangalore will even back their chasing ability.
Mumbai have still not lost a wicket
Mumbai 25/0 after 3 overs
Ben Dunk and Chidambaram Gautam have opened for Mumbai
Woooohoooo reached Wankhede stadium just to support RCB .... Ready to chant RCB aaarrrccccbbbb #MIvsRCB

— Gitesh Jethwa (@Me_RCBian) May 6, 2014
OUT! Ben Dunk is out, Dunk tries to chip it over mid off and fails
Mumbai 25/1
Chidambaram Gautam is showing some really good form
Bangalore have given away 17 extras already
SIX! Length ball from Dinda and Gautam takes full toll of it, pulled over deep mid wicket
#MIvsRCB RCB need a huge target to chase down so MI hit as runs as u can.

— NITINKUMAR S.R. (@nitinkumar9465) May 6, 2014
OUT! Dinda strikes back and gets Rayudu bowled for 9
Rohit Sharma is the new batsman
Mumbai 71/2 after 8 overs
Aaron to bowl
2 wides, the extras continue to flow
Another leg bye, and then a wide
OUT! Now Gautam is out, the ball was short and Gautam went hard at it, the wicketkeeper caught it
Mumbai 77/3 after 9 overs, Corey Anderson strides in. I would have preferred the in-form Pollard.
SIX! Yuzi gets smashed for six, slogged over long on by Anderson
OUT! He's out now and Mumbai have another collapse on their hands. He tries to clear long on again but fails this time.
Mumbai 84/4
Kieron Pollard comes in, MI 85/4 after 10 overs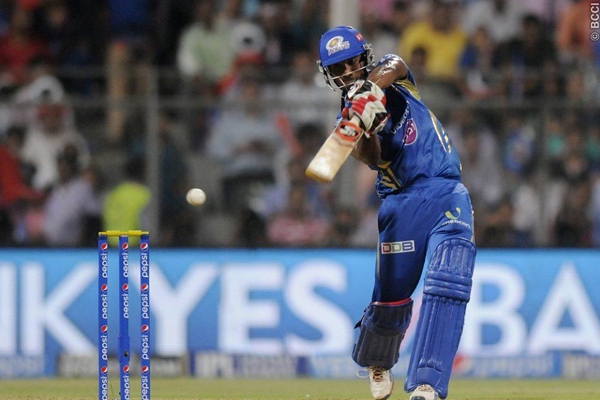 Varun Aaron comes back
Short and wide outside off and Sharma thrashes to sweeper cover
Pollard gets off the mark with a single
Just 3 runs from the 11th over, Mumbai 88/4
Four, Pollard scoops it over the keeper, Dinda fumbles and its four.
Mumbai 95/4 after 12 overs
Harshal Patel comes in to bowl
4 runs from 5 balls this over so far
MI 101/4 after 13 overs
Four. Pollard biffs Yuzi for four.
Now a single down the leg side
Good news for RCB fans! Lord DInda struggling with his shoulder! #IPL #MIvsRCB

— Koushik (@im_koushik) May 6, 2014
Rohit comes down the track and gets a single to sweeper cover
Pollard bashes the ball to long on to end the over. MI 110/4 after 14 overs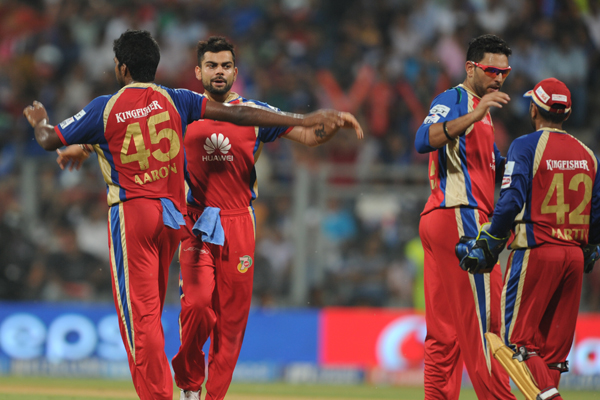 Yuvraj Singh comes into the attack and starts with a wide
Just 3 runs from 5 balls despite the wide
Pollard biffs down the ground for four
Overthrow and they get two
Mumbai 119/2 after 15 overs
Harshal Patel bowls
Freebie to Kieron Pollard and he has carved it over extra cover, that was really short and wide.
Half volley outside off stump, Rohit Sharma crashes it away for four
Mumbai 129/4 after 16 overs
Mitchell Starc is back and again concedes a leg bye
Two runs down the ground, Pollard hurries back for the couple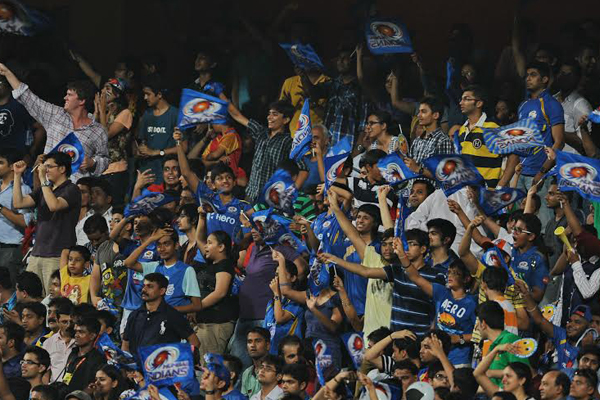 Four, last ball of the 17th over goes for four, Mumbai 140/4
Ashok Dinda is back. Kieron Pollard has found some good form for good
SIX! He gets slammed into the stands for six
Four. Now a full ball, which Pollard biffs away to the deep midwicket boundary
Mumbai 152/4 after 18 overs
SIX! Short ball, Rohit Sharma goes for the pull and mistimes it, it flew off the top edge for six over third man!
Four. Sharma now biffs this straight down the ground for four
SIX! Another six, full ball wide outside off, driven away for six over cover point!
Now a couple to wide third man
SIX! What a shot, he lifts a ball on middle over long leg for six
Rohit Sharma gets to his fifty
Swing and a miss to end the over, but 24 off it, MI 176/4 after 19 overs
Mitchell Starc will bowl the last over
3 runs off the first two balls, Pollard is very disappointed with himself
Wide ball, too wide, he's also bowling from around the wicket.
Smashed to deep mid wicket, AB de Villiers gives chase and they get only one
OUT! Kieron Pollard is run out, he missed a wild shot and Rohit ran anyway, the keeper threw the ball to the bowler who took off the bails, Pollard was out of his crease
2 runs, good running, Rohit smashed it hard but it went towards long on, AB de VIlliers managed to stop it and threw, but Rohit had run two
Four, Rohit goes over extra cover and gets four, Mumbai Indians finish on 187/5 off 20 overs
only a fool would question d ability of rohit sharma. he can pace his innings 2 perfection. more d reason he should open #MIvsRCB #PepsiIPL

— preyash thakkar (@PreyashThakkar) May 6, 2014
RCB 6/0 after the 1st over. Parthiv Patel and Chris Gayle are the openers\
Parthiv Patel hits two fours off Jasprit Bumrah's over. RCB 17/0 after 2 overs
Pawan Suyal, who has replaced Zaheer Khan, gets tonked for six by Gayle
Length ball, too straight, hits over midwicket for four
SIX! Half volley, too straight again, clobbered over long on for six
Four, now a boundary, Chris Gayle is really on fire.
RCB 43/0 after 3 overs
Harbhajan Singh is into the attack very early, Mumbai have panicked
Outside leg stump and Parthiv slog sweeps it to the square leg boundary
Down the track, over mid on, not timed well but still reaches the boundary
Slogged down the ground, there is a deep mid off which stops it
RCB 49/0 after 4 overs
Slower ball, Gayle defends it with ease
If you're sitting on the fence, get off it, else #ChrisGayle will knock you off it. #MIvsRCB

— Rahul Bose (@RahulBose1) May 6, 2014
Lasith Malinga has come in to bowl. Given Mumbai's inexperienced new ball bowlers, he should have been given the new ball
50 up for RCB in 26 balls
Yorked, but Parthiv gets a single to third man
Short arm pull by Gayle, gets two as the fielder from deep square leg has to run a lot
Short ball, Gayle goes for a wild pull but misses
RCB 53/0 after 5 overs
OUT! Harbhajan Singh dismisses Parthiv Patel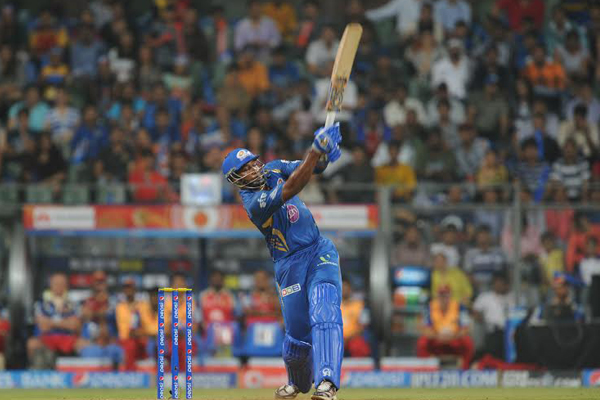 Virat Kohli walks in
Gayle sweeps but they get no run
Four. Flung away over the midwicket boundary for four, that was wide and looped away but it made no difference to Gayle
SIX! Now he tonks Harbhajan over midwicket for six, what an end to the powerplay!
RCB 64/1 after 6 overs
Gayle has 34 off 15 balls
Its the time out, taken early
Jasprit Bumrah comes back
Good move to bring Bumrah. He took the wicket of Kohli last year with his in swingers #MIvsRCB

— Yokesh (@ImYokEsH) May 6, 2014
Just 3 runs so far off this over, from 5 balls
Bangalore 67/1 off 7 overs
Harbhajan continues
For the first time the run rate falls below the required run rate
Kieron Pollard into the attack
SIX! Kohli gives Pollard the charge, and attempts a wild hoick. It goes over extra cover and just crosses the ropes.
Short ball, cross batted pull to deep midwicket for one
RCB 82/1 after 8 overs
Harbhajan is back.
Four. Gayle slog-sweeps him for four
SIX! Now Virat Kohli comes down the track and hits a straight six, the RCB fans in the crowd go wild
Bowled! Chris Gayle is bowled, Bhajji bowls straight and Gayle slogs hard, the ball crashes into his middle stump
Gayle 38 (24)
After 10 overs, Bangalore are 98/2
11 runs from the 11th over, Bangalore 109/2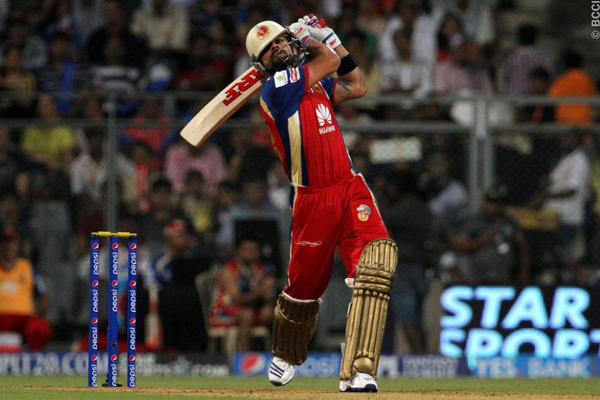 Ab de Villiers hit a boundary off the first ball he faced
Lasith Malinga comes back for his 2nd over
Low full toss, Kohli tries to whip it away but finds backward short leg
Wide yorker, Kohli gets enough bat on it to send it to the sweeper cover boundary for four
Bangalore 116/2 after 12 overs
We need wickets.... Is there someone...to give us breakthrough... come onnnn @mipaltan #MIvsRCB #DilSeMI

— BHASKAR JAWAR (@of_SACHIN_era) May 6, 2014
Jasprit Bumrah comes back
Bowled! Big wicket, de Villiers is OUT, he walks across to the off side for his trademark sweep and loses his leg stump
Yuvraj Singh comes in, this could actually be good for Mumbai. Yuvraj could considerably slow down the run rate
Just 2 runs and a big wicket from that over
RCB 118/3 after 13 overs
OUT! Virat Kohli biffs it hard, down the ground to long off, who takes a superb diving catch
Now the tables have turned. Two new batsmen at the crease, one of them terribly out of form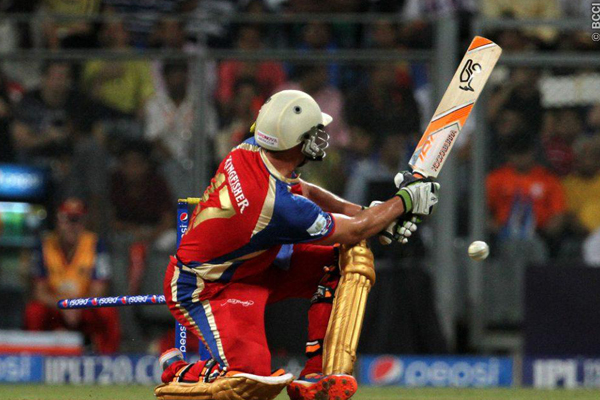 Bangalore 119/4 after 14 overs
66 needed off 33 now
5 runs off 5 balls
6 runs off the over, RCB 125/4 after 15 overs
SIX! Roussouw launches the ball into the deep midwicket boundary for six
OUT! Run out, Yuvraj goes for 6
Direct hit from Pollard took Yuvraj down. The throw was wide but Pollard intercepted it midway and kicked it onto the stumps. Amazing.
RCB 134/5 after 16 overs
Lasith Malinga comes in for his third over
Four, bad ball from Malinga, wide and full, scooped over point for four
OUT! Starc is out, he holes out to extra cover
Four. Slogged hard over mid wicket and its four, RCB still in the game
Single to long off ends the over, RCB 144/6 after 17 overs
44 needed off 3 overs
Slogged to long on for one, he was almost run out on the second run
HV Patel slogs Bumrah for six, he gave room, Bumrah bowled wide but Patel went hard at it
Bowled. And now he's bowled.
Another KKR type story, 100 ways to loose a match... #MIvsRCB

— Abhey Singh Grewal (@abhey_singh) May 6, 2014
Bangalore might just get bowled out here
RCB 153/7 off 18 overs, 35 needed off 12
Flat ball from Malinga, Roussow lifts it straight to extra cover, OUT
Malinga is firing it in and RCB seem to have no clue
RCB 161/8 after 19 overs
27 needed off the last over
Four, short ball whipped for four
Slower ball, swing and a miss
22 neded off 1 ball
Short ball, little wide, he swings and gets no run, called a wide
Last ball slammed down the ground, just a single, RCB end at 168/8 and lose by 19 runs