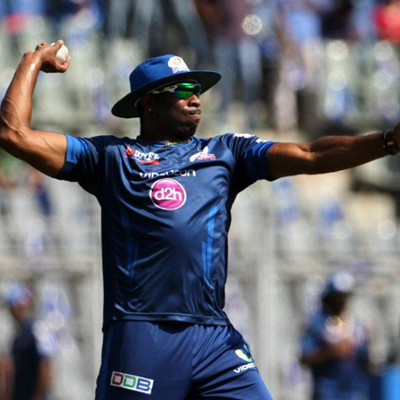 16:22 IST Saturday, 3 May 2014
Welcome to the live coverage of the league match between Mumbai Indians and KIngs XI Punjab
Punjab have lost Virender Sehwag to a run out early
This is Mumbai's chance to win their first match of the tournament, as they play at home.
KXIP 20/1 after 3 overs
OUT! Pujara is out, he slammed at a short, wide ball from Anderson but got an edge to the keeper.
Glenn Maxwell walks in.
Four. And just like that, Maxwell steps out and flays the ball over cover point for four.
KXIP 29/2 after 4 overs
Table toppers and table bottom teams are playing now :-P #MIvsKXIP

— Gurunadhampokuri (@Gnptweets) May 3, 2014
Jasprit Bumrah continues
Punjab 31/2 after 5 overs
Lasith Malinga is into the attack
Four. Poor line with fine leg in the circle, Saha whips it away for four
KXIP 36/2 after 6 overs
Bumrah comes back and Maxwell promptly hits him for four
Bumrah bowls the rest of the over well
KXIP 42/2 after 7 overs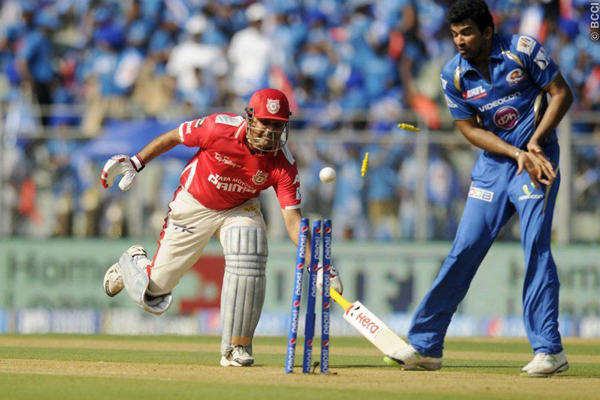 Harbhajan Singh to bowl his first over
Maxwell pushes to long on for one
Four. Saha was prompt in given the strike back to Maxwell. Bhajji beat Maxwell in the flight, but he still lofted it to the cover boundary with one hand off his bat. That's what happens when you are in good form.
KXIP 51/2 after 8 overs
SIX! Malinga bowls short, and Maxwell carts him over the on side for six
Yorked, but Maxwell got bat on to it and it flew past the keeper, edged for four.
Chirag, a Mumbai fan, offers some advice:
Our fielding needs to stay tight, can't allow Kings Punjab to score a high total because our batting has been out of form. #MIvsKXIP #IPL7

— Chirag (@Chirag__Gadhvi) May 3, 2014
Malinga 63/2 after 9 overs
Maxwell is back on fire after failing in two games.
Harbhajan Singh to continue
Maxwell is finding it a bit tough to read Harbhajan here. Interesting.
But now Bhajji bowls a friendly full toss on off stump, and Maxwell dispatches it to the off side boundary with ease
KXIP 70/2 after 10 overs
Pollard comes on from over the wicket now
Maxwell slaps a slower ball expertly wide of long off for two
Extremely good running from Maxwell as they get two
Maxwell pulls to deep midwicket for one to end the over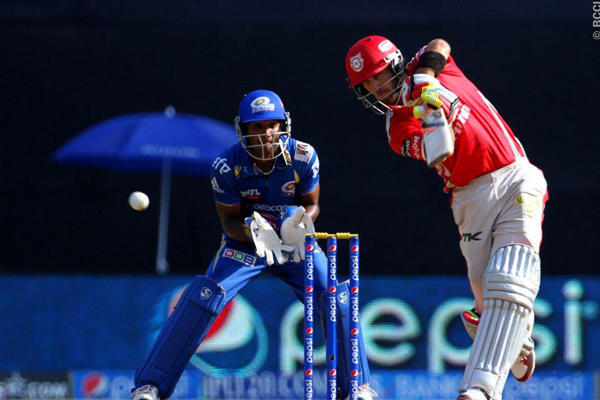 Punjab 79/2 after 11 overs
SIX! Maxwell goes high into the stands
Now Saha gets into the act as he launches Bhajji over midwicket
OUT! The big wicket. Maxwell advanced down the track and tried to loft Harbhajan into next week. It took the top edge of his bat and was taken by Ben Dunk on the boundary
Punjab 93/3 after 12 overs
Corey Anderson comes back
Four. And he immediately gets hammered for four by George Bailey
KXIP 101/3 after 13 overs
Wriddhiman Saha is on 21 off 29 balls. It's like an ODI from the 1990s for him.
Saha will win it single handedly tonight For Mumbai Indians Last known fact is that Saha is fan of yuvraj singh! #MIvsKXIP #IPL

— Shekhar (@MangoBwoy) May 3, 2014
Aha. Now he swings a ball on leg stump to the leg side boundary for four
Now he's on the attack. Mid off in the circle, Saha advances down the pitch and lofts it over him for four
SIX! What a transformation! This is the third boundary of the over and its a six. Down on one knee and slapped over square leg
KXIP 117/3 after 14 overs
Zaheer Khan comes in from over the wicket
Four. After three dot balls, Bailey cuts Khan for four through point
Four. Another good shot, this time from Saha. Wide outside off but pulled through midwicket for four.
KXIP 126/3 after 15 overs
Punjab are scoring at well over 8 an over right now. 185 + is on the cards here.
Harbhajan Singh bowls
OUT! George Bailey is out, he tried to clear the on side, but hit it straight to deep midwicket
David Miller is the new batsman
KXIP 131/4 after 16 overs. Very good over from Bhajji, just four off it
Now here's a positive perspective on Saha:
Wriddhiman Saha. Name of an investment plan that starts yielding runs after you invest for six seasons. #MIvsKXIP #IPL7

— Reimagine (@othergandhi) May 3, 2014
Jasprit Bumrah comes back
He bowls five balls for five runs and then Miller hits him for four off the last ball
KXIP 140/4 after 17 overs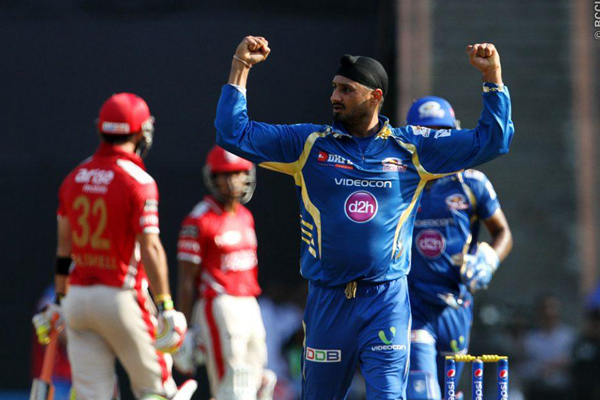 Lasith Malinga comes back to bowl
Good over from Malinga so far, the batsmen keep swinging and missing
Just 5 off the over, excellent from Malinga
KXIP 145/4 off 18 overs
SIX! The last over is wasted with the first delivery of the next, as Saha swivel pulls Pollard over midwicket for six.
Saha has got to his fifty
But he is still being trolled on Twitter:
Saha is right handed Sadagopan Ramesh if you see. Anything you bowl swing it to the leg side. #MIvsKXIP #PepsiIPL

— Ravi Teja Kalle (@rt_Kalle) May 3, 2014
Now a four leg byes. Miller has been quiet for a long time, now Pollard tries a yorker and gets it slightly wrong. Maxwell swings across the line, the ball brushes his pad and goes for four
SIX! Miller now gets into the act, full toss outside off stump gets slammed over long off for six
Slower ball now driven to deep cover
Two runs off the last ball, KXIP 165/4 after 19 overs
Malinga to bowl the last over
Miller gets yorked and can do nothing about it
Now he swings at a full toss and misses, that was there for the taking
OUT! Miller is desperate, he smashes a low full toss straight to deep midwicket
Superb running from Saha, they get two.
Swung across the line and a single results
Johnson on strike
No run, Malinga bowled full and straight, Johnson tried to scoop it over wicketkeeper but failed.
KXIP 168/5 after 20 overs
Mumbai came back really well in the last 5 overs: 42/2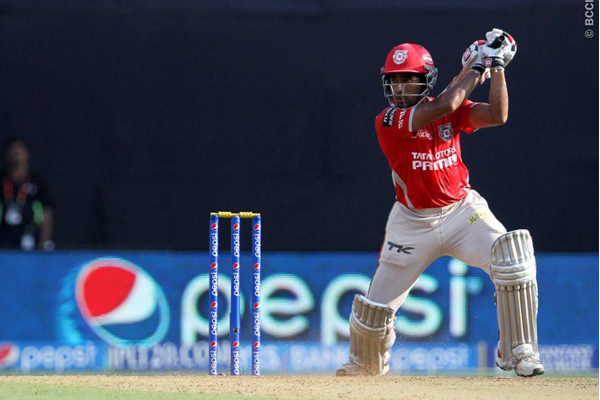 Mumbai Indians batting
Ben Dunk had come out to open the batting, and was out for 5 to an outstanding catch from Saha
MI are 17/1 after 2 overs
Ambati Rayudu and Chidambaram Gautam are at the crease
Sandeep Sharma to bowl
Gautam flicked it over square leg for four
OUT! Rayudu is out, Mumbai continue to slide, LBW by Sandeep Sharma
Rohit Sharma comes in, he dropped himself down the border but he is out there in the third over itself
MI 23/2 after 3 overs
Mitchell Johnson will roar in now, from over the wicket
Slapped to point for no run
Four dot balls as Sharma is still not off the mark
SIX! He breaks the jinx with a pull, it was top edged but still went over the square leg boundary
MI 30/2 after 4 overs
Shot! Shot! Shot! Rohit Sharma you swing it well. Super six! #DilseMI #MIvsKXIP #PepsiIPL #IPL7

— BrindaJPaleja ♈ (@socialmeeow) May 3, 2014
Chidambaram Gautam continues to struggle
SIX! Not any more. After 3 dot balls he puts a leg out and creames the ball over long off for six
SIX! Another six as Gautam now goes over the on side, Mumbai 42/2 after 5 overs
Johnson continues
Mumbai have hit more sixes than boundaries so far
Mumbai are playing Johnson with a little caution
Oooh....there was a run out chance at the bowlers end as Gautam ran for a non-existent single, but he was able to get back as Johnson made a hash of picking up the throw
Four. Sharma now goes over extra cover and gets four
Mumbai 49/2 after 6 overs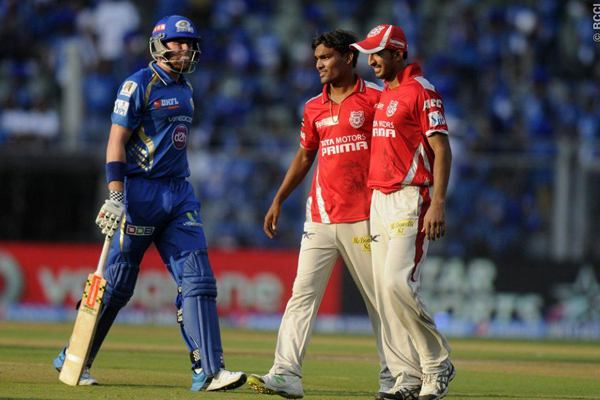 Gautam now goes for a reverse scoop, gets something on it as it races to the boundary
Rohit Sharma half-scoops, half-sweeps for four
Akshar Patel is the bowler
First time..Mumbai looking convincing #MIvsKXIP

— भास्कर अग्निहोत्री (@bkagnihotri88) May 3, 2014
Now a quick single
Mumbai 61/2 after 7 overs
Rishi Dhawan comes in to bowl from over the wicket
Mumbai 65/2 after 8 overs
Gautam now steps out to Akshar Patel but gets beaten in the flight
Goes for a reverse scoop, misses and they get one leg bye
Direct hit from deep midwicket, but they get two and Gautam is in safely
MI 69/2 after 9 overs
OUT! Gautam is out, he tried to reverse-scoop Rishi Dhawan and the ball crashed into his pad. LBW.
MI 70/3
Corey Anderson walks out to the middle. The man of the 36-ball-100 fame needs a big score, he's been a disappointment so far for MI.
Anderson faces two dot balls, MI 70/3 after 10 overs
5 off the over, MI 75/3 after 11 overs
SIX! Sharma attacks, the ball flies off the top edge for six over third man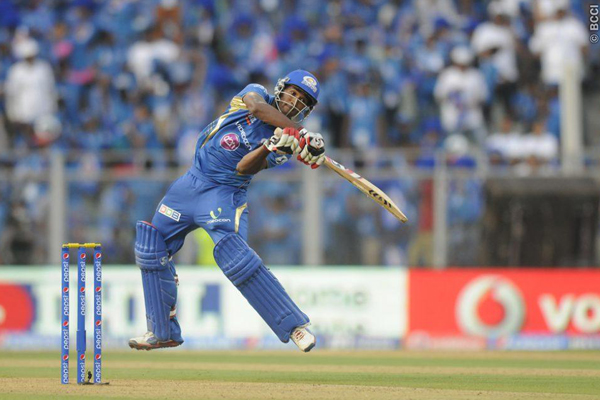 SIX! Finally Corey Anderson has something to cheer about, he goes down the track and launches it over long on, just clears the boundary
MI 90/3 after 12 overs
Akshar Patel to bowl his last over
Ravi shastri has given more license in his commentary career than the Licensing authority of India since it's inception. #MIvsKXIP #IPL7

— Harry (@Harry_Sadana) May 3, 2014
Four. Corey Anderson biffs it down the ground for four.
SIX! Now he is opening up! Launched into the stands over long on for six
Four. Short and slow, smashed over the bowler's head for four
MI 109/3 after 13 overs
20 runs off the over
Patel was 3-0-20-0 and now he finishes at 4-0-40-0
6 runs from Balaji's over, Mumbai 115/3 after 14 overs
Johnson bowls three dot balls to Anderson
Low full toss swung behind leg for two
Just three runs off the over, Mumbai 118/3 after 15 overs
51 required off 5. Mumbai's game to lose, even after two tough overs
Usha on the MI helmet, expect to see a sewing machine on Corey Anderson's head #MIvsKXIP

— Gaurav Sethi (@BoredCricket) May 3, 2014
Four. Length ball from Balaji, Rohit heaves across the line and its four
OUT. He goes for a strange scoop, the ball came on to him quicker than he expected and Rohit gave a simple catch to the keeper.
MI 123/4
Kieron Pollard comes out. Pollard and Anderson. What a game.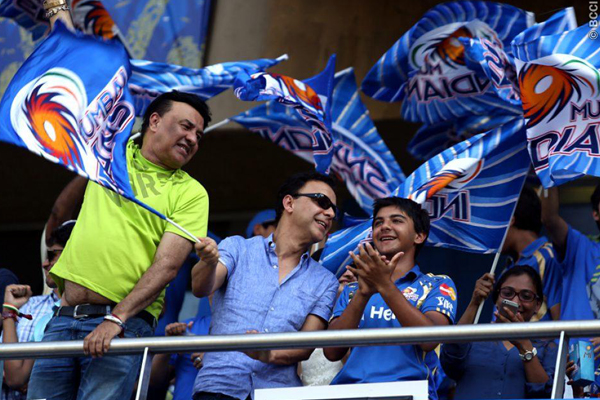 Pollard gets beaten off the last ball of the over
MI 124/4 after 16 overs
Rishi Dhawan comes back
Mumbai get two off the first two balls
OUT! Corey Anderson is out at a crucial time. He tried to go big over long on but found the fielder.
MI 126/5
MI 128/5 after 17 overs
Aditya Tare comes in, he was almost forgotten. But Mumbai have managed to lengthen their batting order.
Will Tare be able to go big from ball 1 though?
Pollard takes a quick two
Four. What a shot. Tare nearly carved this ball for six over extra cover, and mind you he's a short man
Pollard now on strike following a single
MI finding a way to mess this up! Rohit was key. #MIvsKXIP

— Sonal (@SonalHirani95) May 3, 2014
After a couple of singles, the equation now reads 33 needed off 14
SIX! Aditya Tare is the man, not Pollard. Shortish ball, Tare swings hard and it goes into the stands beyond the midwicket boundary!
MI 144/5 after 18 overs
25 needed off 12
SIX! Pollard, what a six. Half-volley on middle stump, right in the slot, but Pollard just swung through the line and the flat six landed into the stands straight down the ground!
Mitchell Johnson is the bowler.
Oh, he pulls out of the run and I am not sure that was not deliberate
Wide ball, down the leg side and called wide
18 needed off 11
She thinks Mumbai has already won:
So Mumbai Indians needed Mumbai to win. See!!!! This city is pure awesomeness! #MIvsKXIP #Mumbai

— Khushi Sen (@MissKhushiSen) May 3, 2014
Very good couple of couples now, Mumbai need 14 off 9, this is once again Mumbai's game to lose
Four. What a shot. Yorker from Johnson, Pollard dug it out and flicked it to the midwicket boundary.
Four more. This is the over that decides the match! Pollard swings hard at a short ball, one hand off the bat handle, but it still goes for four to long leg.
Smashed for a single to end the 20-run over.
MI 163/5 after 19 overs
SIX! Sandeep Sharma is the bowler, its almost a yorker but outside off stump, Pollard just biffs it nonchalantly into the stands over long off to give Mumbai their first win of the tournament.
Kieron Pollard nearly did it the previous game, and he's finished the job this time.