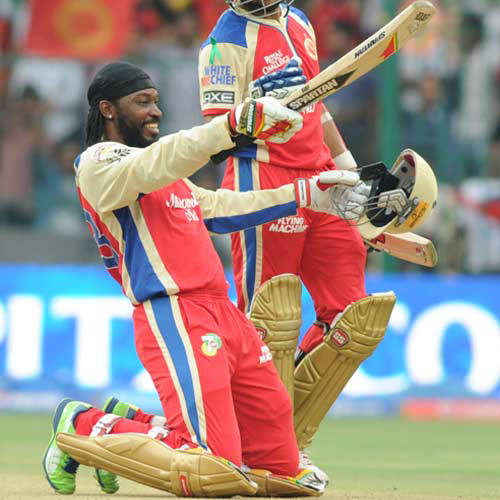 Venue: Sharjah
Time: 8 pm IST
Bangalore versus Kolkata is a battle of batting might versus bowling might.
Bangalore are in hot form and Chris Gayle could return, boosting their batting prowess further. On the other hand, Kolkata have the wily Sunil Narine and a good support cast of bowlers that can keep Gayle and Co. in check.
Both teams have done well in the tournament, but RCB will be looking to go top of table with a big win, where Punjab are sitting pretty right now.
The Knight Riders' batting order is shaky - accentuated by two ducks in two games from captain Gautam Gambhir - and thus it is their bowling they will depend upon the most. However, RCB have also bowled well in the tournament, conceding just 260 runs off their 40 overs. Bangalore, thus, have an edge going into this match.
RCB and KKR have a 6-6 record against each other. The side winning the toss should look to bat first, to set up an imposing score on a good batting track.
Bangalore have won the toss and they will bowl first.
Still no Chris Gayle in the Bangalore team.
Jacques Kallis and Gautam Gambhir to open
OUT! Gambhir is out for another duck. 3 in a row. Bowled by Starc. It crashed into middle and leg stump.
This is incredible.
Manish Pandey is in.
KKR 6/1 after 1 over
Manish Pandey slams a short and wide delivery from Albie Morkel for four
OUT! And just like that he is gone. Early into the shot and gets a leading edge to cover point.
KKR 10/2
Chris Lynn comes in. Who?
Oh. Kallis almost hit straight to mid on, but it went to the right and away for four.
KKR 17/2 after 2 overs
Off the outside edge and down to third man. Very fast ball, Lynn is off strike.
Four dot balls to Kallis.
Four. Boundary to end the over and KKR manage to get something off it after all. 22/2 after 3 overs.
Varun Aaron comes into the attack
Four. Boundary off the fifth ball of what was threatening to be another poor over for KKR. Driven through mid on by Lynn.
KKR 28/2 after 4 overs
Albie Morkel comes from the other end now.
Single off the first ball
Now Lynn gets beaten by a yorker outside off stump. Good delivery.
Beautifully driven through cover for four, and Dinda made a mess of it.
Even better. Half volley gets thumped through extra cover for four. Good over for KKR.
Oh. Driven again and it bumped awkwardly off the square. Hit Kohli in the face, who is bleeding. He is going off now. Sad state of affairs with the infield.
KKR 38/2 after 5 overs
Much better over from Varun Aaron so far...just 2 runs off the first five balls.
And Kallis gets two of the final ball to make it four.
KKR 42/2 after 6 overs
Virat Kohli is back on the field
Muralitharan comes on to bowl
SIX. He gets welcomed with a six. Chris Lynn goes down on one knee and smashes one over midwicket
The ball has been changed. The old one looked really worn out
Oh no! Six more. Similar delivery, tossed up, and similar shot from Lynn.
KKR 57/2 after 7 overs
Yuzvendra Chahal...Yuzi we call him....is into the attack.
Two singles off the first two balls.
Out....No...its Six! That is serious bad luck. Lynn thrashed it to the midwicket boundary where Mitchell Starc went for the catch. He took the catch, and then stepped onto the ropes. Ugh.
KKR 66/2 after 8 overs
Murali is back and a single is taken
Oh. Kallis went for the sweep and completely missed it.
Third ball keeps low, Kallis manages to nudge it around the corner.
SIX. Murali is the official scapegoat today. Same shot as well. Again the slog sweep over midwicket, this time by Kallis.
KKR 76/2 after 9 overs
Yuzi continues, and they get six runs off his over, in ones and twos.
KKR 82/2 after 10 overs
Kallis is playing a really good anchor role here even as Chris Lynn is hitting big.
Ashok Dinda finally gets a bowl. He has style but is yet to show substance, quite frankly.
1 run, cracked to deep point off the backfoot
1,1,1,1,1 in this over so far
Now a wide from Dinda, just when you thought he was actually bowling a good over.
Another single off the last ball. KKR 89/2 after 11 overs
Varun Aaron gets another spell
Pacy delivery punched to long on for a single
Swing and a miss. Tried to swing a length ball over midwicket but missed...and the ball just missed the leg stump. Lucky Lynn.
OUT. Now he really is out as he slaps a length ball to long off.
KKR 90/3
Yusuf Pathan is in. The good thing is he has time to play himself in.
OUT. But he won't. He didn't wait to get his eye in. He thrashed a ball to long on and was caught just like Lynn.
KKR 90/4
Robin Utthappa is in, but he is batting way down the order. Wonder why.
KKR 91/4 after 12 overs. Just 2 runs and 2 wickets off that over.
12.3 Dinda bowls on the legs and Robin whips it through midwicket for two.
12.4 Now he misses a yorker and nearly gets bowled
KKR 96/4 after 13 overs. Good over from Dinda - at least because he conceded just 5 runs
Yuzi is back for a second spell.
Three singles off the first 3 balls
Kallis makes a lot of room to go over point, but can only manage a single
KKR 100/4 after 14 overs
Yorker edged for a single. Dinda has been bowling unusually well today.
And just as we say that, he goes short and wide outside off stump. Only that Utthappa is unable to punish it. He smashes it straight to cover.
Now Utthappa swings across the line but can't connect cleanly, gets a single to midwicket.
Full, wide. Utthappa squeezes it for one. KKR 106/4 after 15 overs.
Yuzi is back
OUT! Kallis tries to go inside-out against the spin over extra cover. Fails and ends up spooning it to deep extra cover and is caught.
KKR 107/5
The lesser-known Suryakumar Yadav comes in
Three of the two balls he's faced so far
Utthappa plays the last ball to sweeper cover for two
KKR 113/5 after 16 overs
Mitchell Starc is back and the raw pace will test Yadav
Misses a drive completely...no contact between bat and ball
Finally he gets a drive right, driven on to the off side for two
SIX! Launched. Starc went short and Utthappa pulled it over the square leg boundary for six
Now he gives room an Starc bowls a yorker outside off stump, dug out to short third man for one
SIX! Another six.
KKR 129/5 after 17 overs
Aaron returns
OUT! Utthappa slammed a slower ball towards midwicket and was caught on the boundary by Starc. Sweet revenge for that last over.
The fun lasted just one over.
KKR 129/6
Wow. Yadav is really struggling. He's trying all kinds of shots to score boundaries, but is finding it difficult to score even a single.
Edged to third man for one.
Vinay Kumar is the new batsman, and gets a bullet from Starc, but its away from the pads and is called wide
Quick ball dabbed quickly into the off side for one
Dug out to cover for one
KKR 133/6 after 18 overs
Four. This over could upset Dinda's heavenly figures...Yadav has swept a full ball outside off into the midwicket boundary!
A couple. It was in the air but beat the fielder at short fine leg
A leg bye now, he charged down the pitch but could not connect
Tries to sweep a wide yorker again and fails. No run
Single to end the over.
Amazing spell from Ashok Dinda. 4-0-26-0 is as good as he gets. KKR 142/6 after 19 overs
KKR have to pass the Starc test for the last over
Wide ball to begin with. Full and wide but too wide.
1 leg bye, Yadav is all over the place, tries to whack this to the on side again and fails.
1 bye, big swing and miss from Vinay Kumar, nowhere near the line of the ball
Chipped over extra cover for two
Now Yadav gets an underage to the keeper but they get one
OUT! He is out of the last ball. Vinay Kumar walked over to the off side and attempted to go over short fine leg, but he just scooped it straight to that man.
KKR 150/7 after 20 overs
KKR have reached 150, but just about. They would have looked for about 15-20 runs more.
Bangalore 8/0 after 1 over
Morne Morkel to share the new ball with Umesh Yadav
1,0,1 off the first 3 balls
Parthiv Patel and Yogesh Takawale are the openers for Bangalore
Short delivery from Morkel, pulled to midwicket by Parthiv for no run
Two more short deliveries and the batsman meets thin air
Bangalore 10/0 after 2 overs
Yadav continues.
Hoicked awkwardly over point for four by Parthiv
Another boundary to end the over. RCB 20/0 after 3 overs
This middling score might be too small for RCB's big guns. Then again, you dunno.
Four. Takawale was walking down the pitch, Morkel bowled short and Takawale went over square leg for four, with ease
Four more.
Third boundary off the over, flicked through backward square leg for four
RCB 33/0 after 4 overs
Good over from Narine so far
Just one off the over, RCB 34/0 after 5 overs
Morne Morkel to continue
Consecutive boundaries off the third and fourth ball of the over
Another boundary off the last ball makes it 12 for the over. Takawale is on fire.
RCB 49/0 after 6 overs
Parthiv hits a boundary off the first ball of the new over
4 leg byes, no bat but the ball was poor, on the leg stump and runs away for four
Dot ball to end the over. Vinay is not having a good time
RCB 61/0 after 7 overs
Kallis comes in to bowl
Underedged for four! That was a slower delivery and it got tickled through the slip region for four
OUT! Kallis strikes and removes Takawale, who was looking very dangerous. 40 off 28 balls.
RCB 67/1
RCB 67/1 after 8 overs
OUT! Now Parthiv Patel is out, he is done in by the extra bounce, a slower delivery gets big on him and the leading edge carries to cover.
RCB 67/2
Yuvraj Singh saunters in, one slip in place
Single to cover and Yuvraj is off.
Virat Kohli is the other colossus at the crease. Oh what magic he has created in world cricket over the last few years.
Bangalore 72/2 after 9 overs
Yuvraj still continues to play with an angled bat.
3 runs from Kohli as that nearly went to the boundary
Oh. Short ball from Morkel, gets up on Yuvraj who plays it very late. A top edge hits his helmet.
Bangalore 77/2 after 10 overs
Even more pace. Umesh Yadav comes back
Driven straight to cover. A poor delivery but Kohli could not capitalise.
Single to square leg
SIX! 135.5 ks and Yuvraj just slogs into the stands behind midwicket
Sliced over point for one
Nice medium pace ball gets smacked for four by Kohli
Big over for RCB. 90/2 after 11 overs
Sunil Narine is back. This will be a test for Yuvraj.
Four dot balls and Yuvraj still tries to find the gap
Now he gets a couple, then immediately offers a forward defence to the last ball
RCB 93/2 after 12 overs
Kallis is back and now Gambhir is banking on two bowlers you can usually bank on for breakthroughs.
4, 4
Punched through extra cover for four, and then does it again with even better timing.
This is a man destined for greatness.....
Clipped to fine leg for one
And we are welcomed back to the struggling Yuvraj
Dabbed to midwicket for a single
RCB 103/2 after 13 overs
Narine continues but you have got to believe that Gambhir hasn't used him well
Yuvraj punches to midwicket for two
Yuvraj's failures are being masked by the amazingly strong RCB batting so far
Another couple of runs
Now he cuts straight to point and seems frustrated that he couldn't get it away
Now Narine beats Yuvraj's bat as this new Yuvraj continues to bewilder.
RCB 110/2 after 14 overs
Kohli scores a single and then Yuvraj gets beat twice
Yuvraj is 18 off 23 balls
Four. Yuvraj tried to make room, but didn't need it in the end as the ball was on the pads, and easily flicked to the fine leg boundary.
RCB 116/2 after 15 overs
Narine in his last over
Bowls a long hop, a poor full toss and Kohli hits it with ease to the midwicket boundary
BOWLED! What a ball. It was quick, flat and spun a touch into from the batsman right towards the end of its flight. Kohli lost his off stump.
Bangalore 122/3
AB DeVilliers comes in. One batting master after another in this RCB side. How do you get through this daunting line up with just 28 runs needed off 4 overs?
RCB 123/3 after 16 overs
Jacques Kallis comes back
Single in the deep
Two singles off four balls so far. They need a bit of a push here. Can't leave 12 or 14 runs for the last over.
Another length ball gets driven to short mid on for no run.
Slapped away to deep cover for one.
RCB 126/3 off 17 overs.
25 needed of 18. The next over could be crucial
Vinay Kumar comes into bowl. Anticlimax.
Three balls and Yuvraj can't score a run.
24 needed off 14.
Yuvraj swings hard through off and gets a boundary, finally.
Bangalore 133/3 after 18 overs, 18 required off 12 balls
Umesh Yadav comes in to bowl, bowls a very short and wide delivery which gets lifted away for four by Kohli. What a waste.
After the single, Yuvraj misses the next ball and we are back to square one
Now there is a no ball and Yuvi skies a high full toss for two straight down the ground
OUT. Yuvi was frustrated, he went for the big one and slapped into into the hands of sweeper cover
RCB 141/4
Yuvraj 31 off 34 balls
Albie Morkel is the new batsman
RCB 142/4 after 19 overs, 9 needed off the last over
Vinay Kumar comes in to bowl
Single off the first ball, 8 off 5.
It should never have come to this.
Short and wide, AB pulls it to deep midwicket for one
High full toss, Albie whipped it away to the deep for one.
6 required off 3 balls
OUT! What a catch, what a catch baby! AB whipped it hard to the deep midwicket boundary, the fielder jumped out of his boots at caught an absolute blinder on his back
What a break in such a crucial situation
Albie Morkel SLAMS the next ball to long on, the fielder has to make ground and they get two
Four needed off the last ball
Full toss, slogged hard but only finds the fielder at long off. Bangalore have lost an un-losable match by 2 runs. Heartbreak. How much will Yuvraj's slow batting be blamed for this now?
Bangalore 148/5 after 20 overs