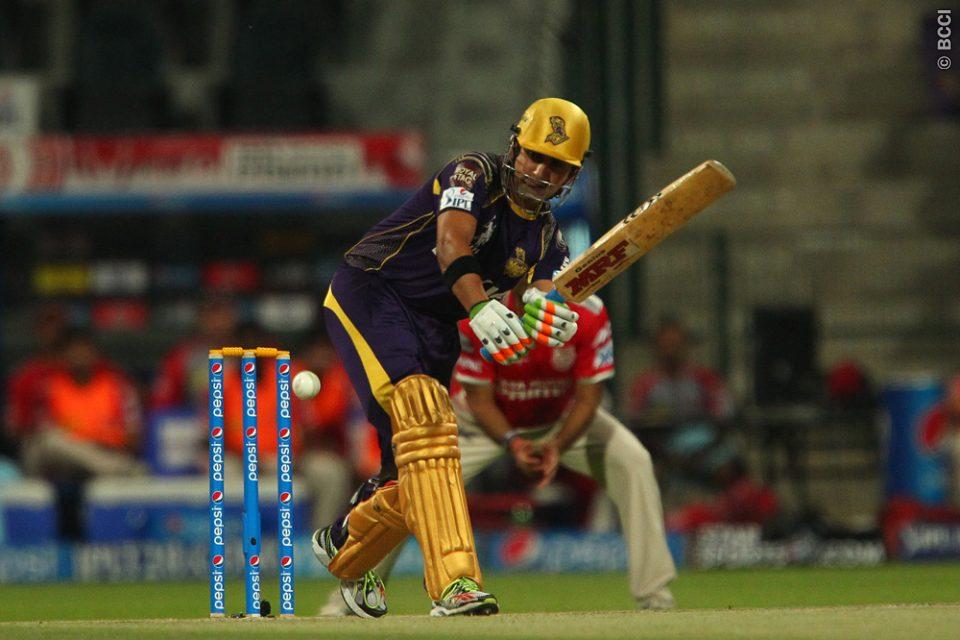 Venue: Ranchi, Jharkhand
Start Time: 8 pm IST
The IPL has returned to India after a successful stint in the UAE, and all eyes will be on the spectator turnout for the first match at home.
Kolkata Knight Riders campaign so far cannot be called 'successful'. They have won 2 matches and lost 3. While Chris Lynn's unbelievable catch helped them win a difficult match against Bangalore, they lost to the Royals after a Super Over tie.
Gautam Gambhir has regained some form after scoring one run in 4 innings, but he still took 44 balls for his 45 against Rajasthan.
Chennai are second in the table with 4 wins from 5 games, though they have not looked as dominating as before. Only Glenn Maxwell has managed to stop them. This is also Chennai's first match at Ranchi.
Some interesting statistics:
Chennai Super Kings' first-wicket aggregate of 323 runs this season is almost double that of next-best Delhi Daredevils.
Kolkata Knight Riders have conceded 7.31 runs an over in the final four four overs of an innings, the lowest this season.
Welcome to the first match of the IPL-7 being played in India, finally after setting fire-works in UAE, IPL is back home
Its a home game for Chennai, in the hometown of their captain MS Dhoni
Chennai are unchanged, they are carrying on with sqaud played last time in UAE, KKR have made 2 changes- Andre Russell comes in for Morne Morkel and Yusuf Pathan is back on for Manvinder Bisla
Congratulations to Gautam Gambhir on becoming a father
Chennai have won the toss and will bat first
Teams:
Chennai Super Kings- D. Smith, B. McCullum, S. Raina, F. DuPlesis, M.S. Dhoni (c/wk), M. Manhas, R. Jadeja, R. Ashwin, B. Hilfenhaus, I. Pandey, M. Sharma
Kolkata Knight Riders:- G. Gambhir (c), J. Kallis, M. Pandey, S. Hasan, R. Uthappa (wk), Y. Pathan, S. Yadav, A. Russell, P. Chawla, V. Kumar, S. Narine
Oh Dear, rains during the peak Indian summers, though it's a blessing for many but not for cricket lovers tonight in Ranchi, rain seems to have become steady now, covers not off yet
20:09 IST Friday, 2 May 2014
No start here, just wondering can we go back to UAE
The rain seems to be unrelenting and the covers have still not come off
this is an irritating rain....a sharp drizzle, not a shower that empties itself & goes away....can play a 5 over game starting 1110 though

— Harsha Bhogle (@bhogleharsha) May 2, 2014
We want #RainaDay, and not a Rainy day! Can we try driving out the clouds with our whistles? #whistlepodu

— Chennai Super Kings (@ChennaiIPL) May 2, 2014
The rain seems to have stopped and the umpires have come out for an inspection.
What KKR fan has to say
Hope the game gets abandoned. My #KKR loses one match less in the tournament and our captain Gambhir scores a duck less #CSKvsKKR #KKRvsCSK

— The Witty Lawyer (@vakeel_babu) May 2, 2014
The latest the match can begin is 23:10 IST, if which case match will be shortened to 5 overs a side
The next inspection is scheduled at 21:15 IST. This means we are likely to lose overs from here on.
The umpires are out for inspection, a lot of mopping is being done and we could see game beginning shortly, fingers crossed !
The inspection has been carried out, we are not sure about the start yet, meanwhile some players are out on the field warming up
There we have it, due to rain 3 overs have been lost, this means we will have a 17-over game. Play to begin at 21:40 IST
The powerplay will last 5 overs, and 2 bowlers can bowl a maximum of 4 overs each
Dwayne Smith and Brendon McCullum come out for CSK, Shakib Al Hasan will take the new ball
CSK openers have the best strike rate and average in this season- strike rate of 136 and batting average of 48
So, finally we have a game tonight
PLAY !
FOUR, drifts down on the pads and swept away for four, Smith powerfully hit that shot
FOUR, once again drifting down the leg side and this time McCullum glances away to the leg boundary
Narine to bowl now, so KKR operating the new ball with spinners from both the ends
FOUR, on leg stump, this time Smith reverse-sweeps it, a flurry on boundaries here for CSK
CSK 14/0 (2) Smith 10*- McCullum 4*
SIX, flighted from Shakib and Smith hits it straight and clean over long off
OUT, LBW- Smith goes, flighted ball, Smith looking to sweep this, misses and it hits him on the pads staright in front of stumps, no doubt in umpire's mind on this one, perishes at 16
Shakib has better bowling figures when his team bowls first- 1st innings average 13.37 - 2nd innings average 25.88 (since 2011 IPL)
Here's Narine once again
Raina is the new batsman
FOUR, short ball and punished, McCullum rocks back and smacks it towards the sqaure leg boundary
CSK 29/1 (4) Raina 0*- McCullum 13* Run rate 7.25
Shakib to continue, so KKR are not introducing any pace here
We are done with 5 overs, Field restrictions are over
Piyush Chawla has been introduced now
FOUR, skids through with the arm, Raina cuts it towards the point for four
FOUR, short ball from Chawla, Raina camps back and cuts it towards the point, where Pathan fails to stop it from getting to the boundary
Chawla's economy rate against CSK is 8.23- his most expensive against any IPL team
CSK 43/1 (6) Raina 12*- McCullum 15*
First sign of pace, Vinay Kumar is into the attack
SIX, off the last bowl, McCullum ruins Kumar's good over, he bowls short and has been hammered towards the deep-midwicket
Chawla now
FOUR, poor bowling from him, continues to bowl short, McCullum never misses out on those, pulls it towards midwicket for four
CSK 59/1 (8) McCullum 26*- Raina 16* Run rate- 7.37
Strategic Time Out
We haven't seen any sign of Kallis and Russell, KKR just going with slower bowlers, except for Vinay Kumar, it suggests the pitch is slow and is assisting the spinners more than the pacers
FOUR, short from Kumar, McCullum is loving to pull these ones onto the on side
FOUR, ridiculous bowling from KKR bowlers, they just keep banging it short- another short ball from Vinay Kumar and McCullum just eases it down to the fine leg, they are gifting away runs
CSK 72/1 (9)
Chalwa again
SIX, IMPERIOUS ! flighted on middle, Raina comes down the track, just checks his shot but it has enough power to sail it over the boundary rope for a maximum
FOUR, short ball again, Raina goes back and slaps it down to wide long on fence
CSK 85/1 (10) McCullum 41*- Raina 27*
Partnership is worth 65 now
The pitch is helpful, it is assisting the spinners, but KKR haven't bowled on the right channels
Shakib is back into the attack
FOUR, CLASSY FROM RAINA! full from Shakib, Raina creames it towards the covers for four
OUT, SHAKIB GETS HIM - full toss from Shakib, Raina comes down the track looking to hit it over long on, but finds the fielder, out for 31
In comes the local boy - Massive cheer from the crowd for MS Dhoni
Shakib finishes his spell 4-0-26-2
Shakib has bowled 4 overs, now only more bowler eligible to bowl full four overs, Narine it should be
Kallis has been asked to bowl
SIX, FIFTY UP FOR McCULLUM ! Now Kallis bowling short here, McCullum only knows one way to deal with the short pitched stuff, dispatches it over deep midwicket for a big one
Its his 8th IPL half-century
CSK 102/2 (12) McCullum 51*- Dhoni 2*
3 number who batsman who have scored 3 fifties this season- McCullum, Maxwell and Dwayne Smith
Narine comes back
Narine to McCullum, 1 run, stays back and steers it to third man for a single
Narine to Dhoni, 1 run, Dhoni tucks away to covers as the ball turns sharply
Good over from Narine, just six singles from the over, not giving any room and making it difficult for McCullum and Dhoni to have a go at him
End of 14 overs - CSK 114/2
Only 3 overs left
Andre Russell into the attack now
FOUR, full on off stump, Dhoni generates great power and swivles powerfully through the shot to send skimming staright back past bowler
OUT, RUSSELL STRIKES ! Full outside off, McCullum tries to slash hard toward point but finds Pathan on the boundary, gone for 56
SIR JADEJA is the new batsman
SIX, WHEN SIR HITS IT STAYS HIT ! Full, Jadeja stays back gets his front leg out of the way and clobbers it over deep midwicket
CSK 126/3 (15) Dhoni 14* - Jadeja 6* Run rate 8.40
Narine into his last over
Flatter, inside edge onto the pads, good bowling from Narine
Narine to Dhoni, 1 run, goes back and pushes carefully to midwicket
NO-BALL ! LUCKY FOR SIR ! Good bowl from Narine, Jadeja looking to play across misses and hits plumb in front of the wicket, umpire gives him out, Jadeja has been told to stay as umpires check for no-ball, and Narine has over-stepped this one
FREE HIT !
Jadeja looks to swing this one, but misses, balls hits the pad and they run a quick single
An eventful over comes to an end, Narine finishes off his spell
Russell to bowl the last over
SIX, BLUDGEONED ! full outside off, and the power of Dhoni sends the white ball into the orbit, a big one over long off
FOUR, Jadeja moves his foot out of the line and carves this one straight over the bowlers head
CSK score 148/3 in 17 overs
CSK posting a good total in a rain curtailed game, KKR will have to go at around 9 runs per over, McCullum scoring yet another 50 guided CSK with contributions from Raina in the middle, that set up the tone for Chennai and then came Dhoni and Jadeja to take things further forward and helping Chennai post a decent score on a track that is assisting the spinner and Chennai have got two sensible bowlers in form of Ashwin and Jadeja, though looking at the pitch Dhoni might fancy trying Raina also.
Shakib picked up two wickets, Sunil Narine was once again wicketless, looks like the batsmen found out his mystery spin..
So KKR have to chase 149 in 17 overs, join us for the chase which begins very shortly
It's Father-Gambhir and Uthappa who will begin the chase for KKR, Hilfenhaus to bwol the first over
Gambhir will be hoping to make this day a more memorable one by chasing this one down
Swings away, Uthappa looks to play but misses
Another play and a miss, lovely stuff from Hilfenhaus
Short ball, Uthappa tries to pull but misses, this is good bowling from Hilfenhaus
Ishwar Pandey to bowl from the other end
31 number of times Robin Uthappa has opened the batting in 92 IPL innings
FOUR, short and wide, Gambhir slashes it hard towards the point boundary
FOUR, CRISP ! Uthappa leans forward and pushes it towards the covers for four
FOUR, bowl angles into Uthappa who drives it through the mid-on boundary
3 fours in this over
KKR 16/0 (2) Uthappa 9*- Gambhir 5* Required rate 8.86
RUN-OUT, NO WAY GAMBHIR ! Uthappa takes tow steps forward, as he sets himself for a single, Gambhir responds, Dhoni quickly underarms the ball on to the stuumps, and Gambhir is short of his crease, Captain's gone, just 6 runs for gambhir tonight, not a happy night as far as batting is concerned
Mohit Sharma now
FOUR, Uthappa comes down the track and slashes behind point
SIX, short outside off- Uthappa pulls it front on the wicket over long-on
FOUR, EXQUISITE ! Kallis creams fullish delivery towards the covers
Big over for KKR
Ashiwn to bowl
OUT, bad ball gets Kallis, wide outside leg stump and Kallis sweeps it, mistimes it and straight to deep backward sqaure leg, out for 4
Just 3 runs and a wicket
CSK 38/2 (5) M. Pandey 1*- Uthappa 25*
Field Restrictions over
Jadeja comes in , spinners from both the ends
OUT, SIR DOES THE TRICK ON THE FIRST BALL, Pandey checks his shot and scoops it towards the cover fielder, gone for 1
OUT, GOLDEN DUCK ,Shakib al Hasan tries to slog Jadeja on the first ball, gets caught at deep midwicket, good diving catch from Mohit Sharma
Hat-trick ball now
Uthappa comes forward and guides it to square on the off side
Excellent over, what a start for Jadeja, just 1 run 2 wickets off the over
Raina now, it's all spin from CSK
FOUR, reverse sweep from Uthappa
KKR brings up 50 in 7.1 overs
Only 2 batsman have scored 50 in Ranchi in IPL- Manish Pandey and Yusuf Pathan, one is gone and other one is yet to come
FOUR, Uthappa fighting a lone battle here, cuts it towards the point for four
KKR 5/94 (8) Uthappa 38*- SA Yadav 6*
90 runs required from 54 balls at 10 runs per over
Strategic Time Out
Ashwin now
Carrom ball, Uthappa defends
Carrom ball again, yadav clubs it down to long-on for a single
Jadeja is back as well
OUT LBW, HE CAN'T STOP TAKING WICKETS HERE ! skidder from Jadeja, Yadav tries to sweep, similar stroy, he misses and the ball hits the back thigh of the batsman, and he's been given out for 8
Half the KKR team is back in the pavilion
Pathan now at no. 7
KKR 66/5 (10) Uthappa 42*- Pathan 1*
Ashwin continues
Ashwin fires a quick off-break, Pathan defends
Ashwin to Pathan quicker, Pathan tries to cut and gets beaten
Ashwin is such an intelligent bowler, not giving any thing away easily
Just 3 runs from the over
Jadeja continues from the other end
Just 5 singles from the over, excellent bowling from CSK spinners unlike KKR spinners, these tow have cramped the batsmen for runs
CSK 74/5 (12) 76 required from 30 balls, required rate has jumped to 15
Ashwin to bowl his last over
Quickish, no runs, Pathan gets beaten and is struck on the pads, outside leg stump
SIX, UP AND OVER ! short ball from Ashwin, Pathan has plenty of time to pull it over deep midwicket
FOUR, carrom ball and Pathan sweeps with sqaure leg in the circle
10 runs from it
Ashwin 4-0-21-1
Required rate is creeping up, now over 16
But with these two on the crease anything can happen
Sir will bowl his final over
OUT, MAGICIAN DOES IT ! Jadeja wipes out dangerous Uthappa in his last over, Uthappa trying to reverse sweep, ball comes off his glove and Dhoni take the catch, valiant effort comes to an end on 47
Andre Russell is the new man
That's over from Jadeja, look at his amazing spell 4-0-12-4, almost a match-winning effort, the main reason of putting KKR on backfoot
Dhoni has finished off his two best bowlers, Jadeja and Ashwin with 3 overs to go, now that's what you call a bold captaincy, he went for the kill !
KKR 88/6 (14) Pathan 19*- Russell 1*
62 required from 18 balls at 20.66 rpo
It's very difficult for KKR to win the game from here, but Pathan is still there, he needs to prove his worth tonight, can he make it, even Russell can strike big, he has strike rate of over 150
OUT, Russell's gone slower ball from Sharma gets him, bowled
2 overs 59 required
Pathan clobbers Hilfenhaus for 3 sixes in an over, but more was required as KKR need 40 off the last over
OUT, Mohit Sharma removes Chawla and Pathan in success deliveries, 9 down
Its all over KKR 114/9 in 17 overs lost to Chennai by 34 runs
It's been a splendid performance by Men in yellow in a rain-curatiled match, as they thrash KKR by a heavy margin, it was a one-sided affair all through out the game,Chennai win 5 in a row after losing the first game, getting back into the groove. The spinners completely dominating the KKR batsman none of them had any answers to Jadeja and Ashwin who ripped through the batting order of KKR. Just two men for KKR were in double figures- Uthappa and Pathan but their contribution couldn't take the team any closer to victory.
Earleir, won the toss and batting first Chennai took control of the proceedings from the start , McCullum slaming another half-century and contributions from Raina, Dhoni and Jadeja powered them past 140 in 17 overs.
Mohit Sharma's 3 wickets today took him to 11 wickets and he is the purple cap holder now, Chennai have joined Kings XI on top of the table, but KXIP have one match in hand
Ravindra Jadeja is phenomenol, he delivers everytime when his team requires him and he did it again tonight and he is the Man of the Match
Final Score: Chennai Super Kings (148/3 in 17 overs McCullum 56- Shakib 2/25) beat Kolkata Knight Riders (114/9 in 17 overs Uthappa 47- Jadeja 4/12) by 34 runs
That's all from tonight, this is Uzair Hasan Rizvi, have a good-night !