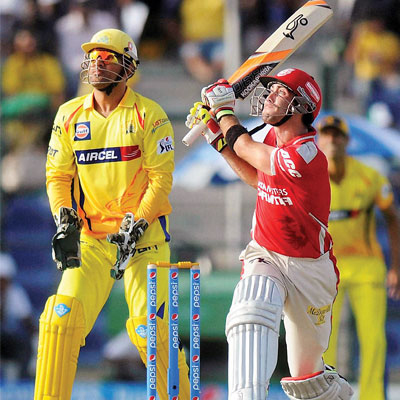 19:15 IST Sunday, 20 April 2014
Today's match features Rajasthan Royals vs Kings XI Punjab at Sharjah
Both these teams play against each other after winning their first game on Friday at the same venue. Kings XI Punjab chased a mammoth 200-plus against Chennai with both Glenn Maxwell and David Miller tearing the bowlers apart. And later on the same pitch, Rajasthan restricted Hyderabad in a low score of 130s with their tight bowling and chased the total after a few hiccups. So on paper Kings XI is the stronger side but Rajasthan Royals is a spirited side that posses a never say die attitude. It would be an interesting contest between Kings XI batting and Rajasthan's bowling giving their record in the first game.
*Kings XI Punjab lost both its game against Rajasthan in last year's edition, they lost batting first. Now when the Kings XI have batting fire-power in this edition, toss would be a major factor.
Punjab have won the toss and captain George Bailey have elected to bowl first
Both the teams have made one change each- For Punjab -Murali Karthik is in for Rishi Dhawan and for Rajasthan- Steven Smith replaces Brad Hodge, who is not well
So, both the teams option for a spinner, looks like the pitch has a lot to offer for the slow bowlers.
Rajasthan Team : A.Rahane, S.Watson (c), S. Samson (wk), S. Binny, S. Smith, A. Nayar, J. Faulker, R. Bhatia, K. Richardson, D. Kulkarni, P. Tambe
Punjab Team :V. Sehwag, C. Pujara, G. maxwell, D. Miller, G. Bailey (c), W. Saha (wk), M. Johnson, M. Karthik, A. Patel, P. Awana, L. Balaji
Send in your tweets regarding the match to @rizviuzair
The teams are out, bailey is starting with a spinner. Left arm- spinne Akshar Patel to start the proceedings, Nayar on strike
PLAY !
Patel to Nayar, tossed up, 1 run. Patel is not afraid to give flight to the new ball with fielding restrictions in place
FOUR, tossed up once again, Rahane jumps out of the crase and plays it over the cover fielder.
It is interesting that Punjab are starting with the spinner, earlier we talked about both the teams going for an extra spinner and with Punjab starting the proceeding with a slower one, it looks like the pitch will play on a slower side, and a total of 140-150 can be a challenging one. But only if Rajasthan removes Maxwell early on
End of the first over Rajasthan 6/0
Johnson comes in to bowl
FOUR, Rahane is carrying from where he left in the last game, short stuff from Johnson, Rahane connects and pulls it away to the sqaure leg boundary
Faster one from Johnson, he is touching the 140 kmph, ful and defended well by Rahane. Johnson was catered to all over the park in the last game, doesn't really looked like the same Johnson who destroyed South Africa and Englad in his previous two test series.
RUN OUT, Rahane's gone. There was no single here, Rahane pushes towards mid-on and looks for a single, Captain Bailey is quick to the ball and hits direclty at the stumps, leaving no chance for Rahane to get back.
Rajasthan suffers a big blow, Rahane was looking in good touch and what a way to get out, run-outs can be really painful.
Here comes Balaji, Sanju Samson is the new batsmen So Bailey not continuing with sinner any more
FOUR, back of a lenght delivery from Balaji, Samson just walk a couple of steps forward and times it to perfection towards the cover boundary
SIX, HUGEEE ! just a touch short from the bowler and Samson smashes it to the deep mid-wicket boundary. As easy as you like
After 4 overs Rajasthan 32/1
Awana comes to bowl his second over
FOUR, stand and deliver. Samson is oozing class, length ball from Awana, Samson picks it up and hits towards deep midwicket
Sanju Samson is playing fanstastic crickete here, after an early blow for Rajasthan, he is taking advantage of the field restrcitions and hitting Punjab bowlers with his class.
Mitchell Johnson is back into the attack
NO-BALL and FOUR, hammered down the ground from Nayar.
FREE HIT COMING UP !
ANOTHER FOUR, full length ball on off and Nayar latches over the bowlers head
Murali Karthik comes in to bowl after the field-restrictions get over.
OUT, LBW, first ball and he strikes, fuller from the left arm spinner , Nayar tries to sweep, doesn't connect, and hits the pad in front of the stumps. Out for 23 runs
Karthik provides his captain the break-through, new batsman is Shane Watson. Didn't really troubled the scorers in the last game. Will be hoping to do so this time.
SIX, Samson continues to play the way he has been playing, slower and fuller outside off, he heaves it over the covers for six, this is excellent batting.
After 7 overs 62/2 - Samson 23*- Watson 1*
FOUR, now Watson has joined the party, short and wide from Patel, Watto rocks back and cuts it towards the point.
SIX, Samson continues to hit the ball clean, over-pitched and he picks it up staright over the bowlers head.
TIME OUT for KXIP ! Much Needed ..
Sanju Samson has been the dangerous man, despite Punjab taking two wickets, they haven't been able to stop Samson and now with Watson also playing some free shot, this partnership starting to look a touch threatening for Punjab. They need to come back quickly
FOUR, Watson trying for a slog sweep, get an inside edge that beats both the stumps and the wicket keeper.
FOUR, Watson heaves it over the midwicket and wait a minute Miller has dropped a sitter, the ball bursts out his hand and touches the rope.
Watson has been lucky in this over
Rajasthan 85/2 after 10 overs
FOUR, Watson lofts the over-pitched ball from Balaji over the extra cover
SIX, Watson you beauty ! Over-pitched again but straighter this time, he sends a mile over the bolwer's head
FOUR-FOUR-SIX, Watson is taking on Karthik here, there's his half century.
OUT, Watson goes for another slog sweep, misses and hit the stumps.
Finally Punjab can breathe easy, that ended the 74 runs stand between Watson and Samson. Watson really turned the tides, a 29- ball 50 have really propelled Rajasthan's score from here.
They will definitely be looking at a BIG score now.
14 overs gone Rajasthan 131/3
Karthik to bowl his last over new batsmen is Stuart Bin,ny
SIX, MIGHTY ! Steos out and clears the long off- Now Binny is taking up the charge here
OUT, Finally Miller has caught onto this one in an unsual manner. Binny aims to go big over the long-on, mis-hits, Miller runs in forward to take the catch, spils and the balls gets caught between his thighs.
Binny gone for 12
Last 5 overs to go, how much can Rajastha score from here, Samson has been looked quiet for sometime, time for him to fire now
Awana to Samson
SIX, Beautiful shot staright down the wicket to bring up his half-century
BOWLED, perfect yorker from Awana, hits the base of the stumps, great innings comes to an end.
Both the Aussies on the crease ! Steven Smith and James Faulker
Balaji comes to bowl
FOUR-FOUR-FOUR
Balaji can't get his delivery right on 3 ocassions and Smith with some improvisation has hit Balaji for boundaries. This is poor stuff from the bowler, needs to adjust his lenght
18 overs Rajasthan 174/5
SIX, with mid-off in the circle, thta's not the lenght to bowl, Johnson pitches up and outside off, Faulker easily hits it over the fielder for a six
Can Rajasthan reach a score of 200?
Last over coming up
Balaji to Faulker, mishits, just a single
FOUR, full toss outside off, Smith leans into it and caresses it over the cover for a boundary
Rajasthan 191/5 in 20 overs
Massive total put on the board by Rajasthan Royals, courtesy- great batting from Samson and Watson and then a quickfire cameo from Steven Smith at the end. Awana, Balaji and Karthik combined gave 137 runs in just 12 overs with two wickets. At the toss it looked like, the wicket is slow but Kudos to Rajasthan for not letting the KXIP bowlers to settle. 10 sixes were hit in the innings.
However, with the fire-power KXIP have got in their batting, this is not a big total for them, they have already chased a 200 plus score. It would be intresting to see how Rajasthan bolwers will contain Maxwell and Miller.
Chase begins in 15 minutes
Sehwag and Pujara to open for Punjab
Kane Richardson will bowl the first over
Short and wing stuff in the first over to Sehwag, Richardson not giving any lose stuff. Good first over from him
Kulkarni will share the new ball with Richardson
Outside off - Sehwag flashed but misses
OUT, Sehwag slices the outside off ball but straight towards the deep point for an easy catch.
Punajb suffers a big blow in this chase
Rajasthan is keeping the thinsg very tight here, like they did it against Hyderabad
Punjab 6/1 after 2 overs
Now comes Faulker, so Richardson jsut bowling one over from that end
OUT, What a start from Rajasthan, picking up two quick wickets, short-ball and swung straight to deep backward sqaure leg. Saha departs
MAXWELL COMES IN !
FOUR, First boundary for Punjab. Short and wide from Kulkarni, Pujara wait and hits towards the point, ball went like a tracer bullet.
4 overs gone Punjab 18/2
KXIP are really struglling here, they needed runs instead they have lost two quick wickets. Perfect start for Rajasthan !
DROPPED, how many times we have witnessed this in this year's IPL, a cathc drop in every match. Tambe drops Puajara
SIX, Glenn MAxwell it is, Richardson bowls full onto his pads, he picks it up over the deep sqaure leg. That went roaring
FOUR, more like the MAXWELL now, goes over mid-on
So we see a spinner in this innings for the first time, Tambe comes in
SIX, Maxwell is taking on here, angled in, Maxwell slogged it in front of deep square leg
Glenn Maxwell is getting into the act now, he is starting to show his true colours, may be this is what KXIP need from him. Rajasthan begin to worry.
Punjab 39/2 after 6 overs
Faulker comes back, Rajasthan have rotated their bowlers very well, not letting KXIP settle, but Maxwell is playing a different role here
SIX- BOOM BOOM MAXWELL ! Full toss from Faulker and Maxwell sends it miles over the midwicket rope for a six
SIXXX ! WHOAA ! This time he goes towards the off-side. Maxwell is hitting the bowlers every where. Backs away to the leg side and slaps it over deep point
Maxwell is on 36 in just 16 balls with 4 sixes
Punjab require 136 runs from 78 balls
The kind of form Maxwell is in is amazing. The scoring rate has jumped from 4 rpo to 8 rpo. The enormous power he Maxwell has in those arms murders the ball every time he hits. If he gets going its difficult to stop him. Rajasthan better need to get him out quickly.
KXIP have enough hitters in their line up to come, that if Maxwell builds a platform, 190 is easily gettable for them.
In comes Rajat Bhatia, he was the most impressive bowler in the previous game, can be dangerous with those off-cutters, he uses in between.
Great bowling from Bhatia and Tambe, last 3 overs jsut 13 runs have been scored. Good pressure applied from these two bowlers.
Pujara seems to be playing a test match, 18 runs in 24 balls, he has gone into the shell, the pressure will build on Maxwell even more. Its time for Pujara to let loose, he has seen enoguh delievries.
Punjab 69/2 after 10 overs. (Maxwell 42*- Pujara 18*)
Require 123 runs from 60 balls at 12 rpo
FOUR, reverse sweep from Maxwell, he loves playing that shot, pre-meditated and hits for four
FOUR, and Maxwell scores his half-century-another reverse sweep from the Aussie that clears point boundary very comfortbaly
FOUR, THREE IN THIS OVER ! ALL REVERSE SWEEPS ! Bhatia is not giving Maxwell to free his arms, he goes the other way round, another reverse sweep, dragging the over the cover, no chance for sweeper.
Dhawan Kulkarni (2-0-6-1) comes back replacing Tambe.
FOUR, shor ball from Kulkarni, Maxwell cuts over the backward point
FOUR, low full toss on the pads, Maxwell perfectly guides between the two filders on the leg side.
FOUR, CLASSY ! Kulkarni is not getting it right here, another low full toss Maxwell opens the face and hits it towards the cover
FOUR, FOUR- FOURS NOW ! Terrific stuff from Maxwell, Kulkarni is under prssure here, he bowls anther full toss outside off and get sthe same treatment.
Kulkarni's great bwoling figures have been chopped off by Maxwell
90 runs required off 8 overs now
SIX- CRACKER !!! Maxwell is unstoppable at this moment. He won't have mercy on the bowlers. Full outisde off from Bhatia, batsman backs away and whips it over long-off
SIX, ONE MORE ! Dug in too short, Maxwell rocks back and pulls it over the deep midwicket.
This is poor bowling from Rajasthan, they are giving enough space to Maxwell. He is a clever batsman you give him an inch he will improvise and hit you back.
Maxwell on 89 in just 42 balls
Maxwell and Pujara shared a partnership of 226 runs where Maxwell scored 89 and Pujara added 21
Pace comes back- Richardson
FOUR, LUCKY ! But they all count, inside edge for Puajara and ball race towards the boundary.
OUT, Rajashtan Royals finally get the dangerman. MAxwell is out. Mishits, its a skier and Smith doesn't drop any of those.
Entertainment is what Sharjah and millions watching on TV sets witnessed from Maxwell. He ignited up the chase, can KXIP manage to capitalize on the platform built by Maxwell or can Rajasthan stage an epic comeback, match is evenly poised now. With 5 overs to go, KXIP require 60 runs at 12 rpo.
Midst, walks in another dangerman- David Miller
Tambe had another good day with the ball, gave 15 runs in 3 oevrs, can he manage another good one here.
SIX, wrong'un but shortish, Miller rocks back and hits staright towards the sight-screen
Four, Pujara this time, connects with the scoop towards the fine leg boundary.
End of 17 overs Punjab 155/3. Require 37 runs in 18 bowls ( Puajar 38*- Miller 15*)
After getting pummeled from Maxwell is his previous over, Kulkarni comes back to complete his spell
SIX, full toss, Kulkarni can't get anything on to the good lenght now, Miller launches over the long-on
SIX, EVEN BIGGER ! one more full toss from Kulkarni, Miller with his power crashes it on the off-side towards cover. Kulkarni is trying too hard for a yorker and not getting it right.
SIX, THIRD IN THIS OVER ! This time Kulkarni tries a slower one, Miller picks it up and hits over the square leg boundary
SIX, CRAZY !Miller joins the party, four sixes in an over now, this game is over now. Full and towrads off, Miller slices over deep -point, look at that timing and power.
Kulkarni first 2 overs 6 runs , last 2 overs 44 runs, finishes his spell 4-0-50-1.
6 required off 9 balls
SIX, GAME OVER ! MILLER scores a half-century in just 19 balls
Faulker bowls outside off, Miller backs away and creams it over the point to take Punjab home.
Punjab chase the total with 8 balls to spare.
In previous game agaisnt Chennai they chased 206 and today 191.
The duo of M&M (Maxwell and Miller) have been the pivotal in these two mammoth chase for KXIP, which they achieved in conviction.
Sharjah has been re-ginited, people here have seen only seen Afridi's carnage over the years, this was altogether a different treat for them, and probably a refreshment.
Rajasthan put onto bat scored 191 runs with some great batting from Samson, Watson and Smith at the end, they must have felt completely safe, with wicket slowing down a bit and Rajasthan picking up two early wickets, and putting on the pressure on KXIP, but it was Maxwell, who started playing another of his blizzard placing the KXIP safely and then Miller, who striked the ball at a rate of 268 just took away everything from the Royals.
Bhatia, Faulker and Kulkarni combined gave 133 runs in 10.4 overs.
Honestly, today was not the best of the night for the bowlers, they a bad night, but this is what T-20 cricket is all about. Where bowlers needs to be clever or else get ready to hit for the maximum.
Glenn Maxwell undoubtedly is the Man of the Match
Final Score: Rajasthan Royals- 191/5 (Samson 52 - A. Patel 4-0-22-1) lost to Kings XI Punjab- 193/3 (Maxwell 89- Richardson 3-0-25-1) by seven wickets
That's all from today. This is Uzair Hasan Rizvi, signing off !