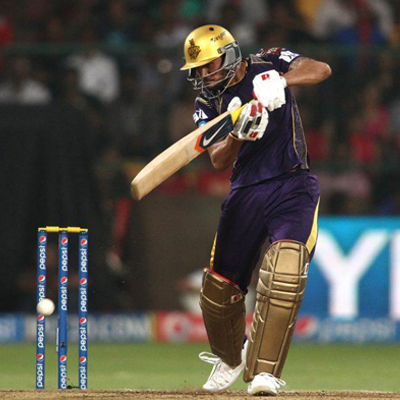 So, we have reached the final match of the seventh season of the IPL. The final will be played in Bangalore, after being shifted out of Mumbai due to controversy surrounding the Mumbai Cricket Association and the BCCI.
The Kings XI Punjab batting is a massive threat to any team that takes the field opposite them. Almost every batsman is in form now, after Virender Sehwag blasted 122 off 58 balls on Friday night against Chennai Super Kings.
One could argue that Glenn Maxwell has not fired in several games, Manan Vohra bats far slower than Sehwag, and that David Miller and George Bailey are just support acts. This would be a shallow understanding of the situation however, looking at how Punjab's batting has risen to the task on almost every occasion in this tournament.
The effectiveness of their batting performance has lay in how some or the other batsman has performed in almost every game. Punjab are the one team which has not had a serious batting failure in this edition of the IPL. Even when no batsman crosses 50, several useful performances have contributed to strong totals for the Punjab side.
The catch however, is that KKR have met Punjab thrice in the tournament, and not once have they allowed Punjab to cross 150. That is a massive feat given how Punjab's batting has been destroying all and sundry in this tournament. Moreover, Virender Sehwag, Glenn Maxwell and David Miller have scored one half century between them, against the Knight Riders in this IPL.
Kolkata Knight Riders have momentum on their side. They have won their last 5 games. It would have been hard to believe they'd reach the finals after a very poor outing in the Dubai leg of the IPL. But they have, on the back of several great opening stands between Gautam Gambhir and Robin Utthappa, one brilliant knock by Yusuf Pathan and several incisive performance from the bowling unit of Sunil Narine, Piyush Chawla, Morne Morkel, Umesh Yadav and Shakib al Hasan. In short, Kolkata have performed as a unit after their poor start.
Figure this - Robin Utthappa has now crossed 40 ten successive times in the IPL. If a score of 30 in a 20-over match is comparable to a half-century in an ODI, Utthappa's performance has been remarkable.
But will the law of averages catch up with him tonight? Similarly, will the law of averages work well for Glenn Maxwell, who is capable of a tremendous onslaught against any opposition? Kolkata will hope not. For all the teamwork Kolkata have put in to reach the finals, Punjab are still the favourites going into the final, simply because their batting has been so overpowering.
It's almost time for the toss at the Chinnaswamy stadium in Bangalore
Kolkata Knight Riders have won the toss and captain Gambhir says they will bowl first
KXIP are 9/0 after 1 over
Four. Sehwag has slammed that down the ground for four, it's his first boundary, Punjab are 15/0 after 2 overs
Vohra now drives Morne Morkel for four over midwicket. That was beautiful.
Manan Vohra is the weak link in the KXIP batting, he only strikes at about 120.
Punjab 21/0 after 3 overs
OUT! Sehwag is out, 140ks, he tried to pull it, got it high on the bat and was caught
The pull was never on there
Umesh Yadav has taken Sehwag, the big fish is gone but now a monster walks in
Oh. They have sent George Bailey in at No 3...or he has sent himself.
Punjab 24/1 after 4 overs
Sehwag played his natural game and scored his natural runs. #KKRvsKXIP #IPLFINAL

— Keh Ke Peheno (@coolfunnytshirt) June 1, 2014
Vohra goes high in the air, no timing, but it lands in no man's land and they get two
Timed better this time, on the pull, but cut off just inside the boundary
#IPLFINAL captain to take up the responsibility! #Bailey :)

— Mithun Mithz (@MithzMithun) June 1, 2014
Six runs off the over, Punjab 30/1 after 5 overs
Sunil Narine to bowl, very early
OUT! Bowled. Bailey has been bowled first ball off Narine's spell.
Bailey missed a straight delivery there.
Wriddhiman Saha is in. Punjab are really protecting Maxwell and Miller. Not sure it's the right move.
A wicket and just 2 runs off the over, the powerplay ends. KXIP 32/2 after 6 overs
Narine got some very spicy turn that last over
Now Gambhir brings on Shakib Al Hasan. Smart move.
Another brilliant over. KXIP 36/2 after 7 overs
At the outset this doesn't look like a 200-run wicket. It will be interesting to see Maxwell's approach.
Four. Short and low, Saha does well to latch onto it and pull it away for four
SIX! Good strike, nice half-tracker from Chawla, Saha slog-sweeps for six.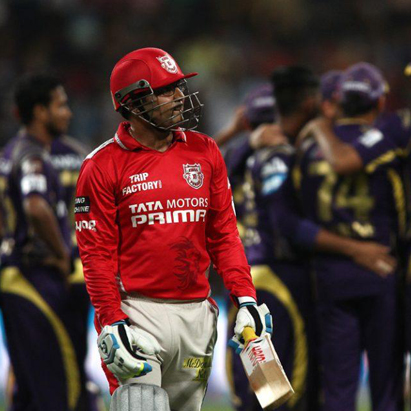 KXIP get 14 off that over, 50/2 after 8 overs
Three-pronged spin attack. Shakib continues.
After 9 overs, KXIP are 54/2. It's time for the timeout. KKR are going through their overs at decent pace.
The are few things in the world less threatening than Piyush Chawla bowling. #IPLFINAL #kkrvskxip

— Amit (@SillyP0int) June 1, 2014
Chawla continues.
A much better over so far. There was even an appeal for a stumping.
1, 1, 1, 0, 1, 0 off that over
KXIP 58/2 after 10 overs
It's about time Punjab start having a go.
Shakib Al Hasan continues.
Appeal for stumped and the square ump goes upstairs
Vohra however, seems to be in.
A valuable Piyush Chawla over not been capitalized by the KXIP batsmen. Can't let the weakest link get away easily #KKRvsKXIP #IPLFinal

— Cricket Rants (@CricketRants) June 1, 2014
SIX! Too shot from Shakib, and Saha puts it away for six over midwicket
Manan Vohra's strike rate is a problem. He's also consumed lots of balls - 35 - for his 37 runs
9 off the over, KXIP 67/2 after 11 overs
SIX! Piyush continues to get hammered, decent delivery this time but whipped away for six. Small width was enough.
SIX! Goes again, Saha. Another six over long off. Down the track, nothing-ball on off stump, and six.
15 off the over, Punjab 82/2 after 12 overs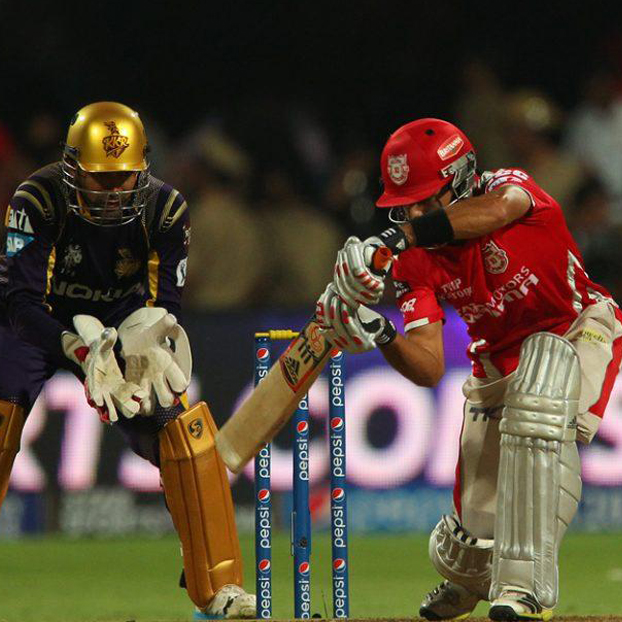 Shakib al Hasan into his last over.
3 runs off the first three balls
Four. Last ball gets edged away for four and Shakib is distraught.
KXIP 92/2 after 13 overs, 10 off the over
Shakib 4-0-26-0. Good figures, but a wicket would have been great
SIX! Now Saha's not sparing Narine either. Flat and short, rare bad ball, pulled away for six
Four. Similar short delivery, similar response. Except that it was a little too low to be pulled for six, so it's four.
Four. Third consecutive ball goes past the boundary. Saha has 50 off 29 balls. Someone always puts their hand up for Punjab.
A single
Four. Now Vohra pulls to the midwicket boundary, his is a rather sedate fifty, off 42 balls.
19 off the over, Kings XI Punjab 111/2 after 14 overs
These two have scored 81 in 8.5 overs
Narine just hold some lashes. Its a rare sight to see him go for 19 runs in an over. #PepsiIPL #IPLfinal

— Miguel El Patron (@Miguelon_H) June 1, 2014
The timeout has timed out and we are back to the game.
Morne Morkel comes back.
SIX! Vohra is not holding back now either, he slashes at a short and wide ball, one hand off the bat, but it goes for six over third man
Four. Similar ball, similar shot, more control, but just bounces inside the ropes.
Short ball, SIX more. Saha threw everything behind that hook shot and it sailed for six over long leg.
KXIP 130/2 after 15 overs, 100 run partnership up.
I said a while ago that this is not a 200 run pitch, but 180 looks easy without much effort.
DROPPED. Topspinner from Narine, Vohra doesn't read it, goes for a slog. The ball goes high in the air but Narine spoons a simple, simple catch!
Stumped. Tries to cut, misses, and the keeper. Or not? They are checking if the keeper took off the bails before the ball reached his gloves.
There's a huge pause here.
He's given not out, the keeper collected the ball from ahead of the stump.
Four. Rubbing salt into the wounds. Flat delivery, free hit, Vohra slams it past long on for four
KXIP 140/2 after 16 overs
Two wicket taking opportunities in two balls for Narine, both in vain. #IPLFINAL

— Sujan Paudel (@sujankp) June 1, 2014
No one expected Saha and Vohra to have a century stand in such quick time. Kings XI never cease to amaze this season.
Four. Short ball, cut away by Saha and the carnage continues.
Slow ball, wide outside off but good length, flicked away for four in the most unconventional fashion.
Wide ball + 2 runs. 3 runs without a ball bowled.
Pulled away, lands in no-man's land and they get a couple.
SIX! Umesh Yadav bowls it fast and straight, Saha swings hard and its a straight, flat six.
Saha has reached 77 off 40 balls.
OUT! Manan Vohra is out, he miscues a slog, Chawla tries to do what Narine couldn't, the ball hits him on the mouth, but he takes it on the mouth-bounce. Does a somersault backwards and it looks as if he's hurt his mouth.
Four. Whadda shot. Saha whacks it hard past the umpire.
I really do not know how Chawla has survived so long in international-level cricket. His bowling is awful on most occasions.
OUT! Glenn Maxwell is out, he had come in after Vohra's wicket, tries a reverse sweep first ball and third man gets him. What a dismissal.
Punjab 170/4 after 18 overs
Despite two wickets in that over, Chawla has been quite abysmal really. 44/2 off 4 overs.
SIX! What a shot from Saha, swept for six, moves to 94.
Four. That almost went for six, Saha moves to 98.
SIX! That's the century off 48 balls, what an innings. Hard slog straight down the ground, just clears the long on fielder.
After 19 overs, KXIP are 187/4
Last over, from Yadav
Four. Wide outside off, Saha can do no wrong today. Moves wide outside off and scoops it behind short fine leg for four
Four. Lifted over extra cover for four. KXIP are getting to 200 in a hurry here.
Smacked to deep square leg and they run two
Punjab 198/4, last ball coming up
Miller can only biff a single off the last ball, well stopped at cover. Punjab finish on 199/4 after 20 overs. Kolkata will have to chase exactly 200 to win this season.
KKR batting
Robin Utthappa sliced the ball to point in the first over, ending his glorious run
KKR 10/1 after 1 over
Four. Gambhir is not holding back though, half volley sliced for four.
KKR 19/1 after 2 overs
Mitchell Johnson starts his second over with a wide
Four. Gambhir cover drives for four
Wide. Johnson's radar is really haywire.
Saha nailed it. Robin ruined it. #KKRvsKXIP #IPLFINAL

— avishi (@guapabailaora) June 1, 2014
Short ball, carted away for four, Johnson is struggling.
After 3 overs, KKR are 31/1
High in the air, falls in no man's land again. Pandey was saved there.
Four. Great flick from Pandey, good length ball on off stump, he flicks it through mid wicket for four.
KKR 40/1 after 4 overs
Four. Punched back over the umpire for four, Balaji is not having a great return.
Two dot balls.
7 off the over, KKR 47/1 after 5 overs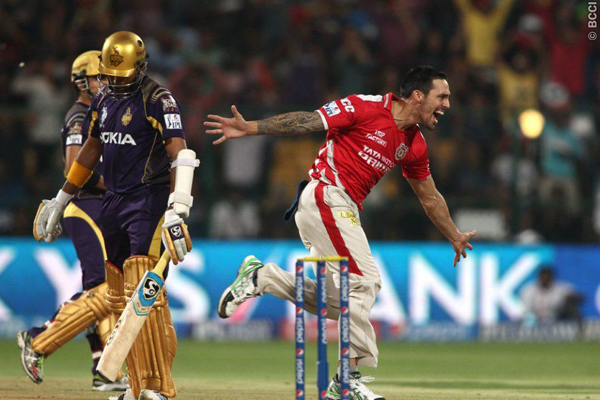 Four, or is it. Did he step on the boundary rope while attempting to stop the ball? Yes. It's four. Actually, five.
11 runs off the over, KKR 59/1 after 6 overs. Powerplay out.
OUT. Gambhir is out, tries to flick a shortish ball, didn't come onto the bat, he lofted it to midwicket.
Yusuf Pathan walks in.
SIX! Lofted over extra cover for six....but hold your horses, it's Pandey.
Karanveer Singh is a young turk.
Danny Morrison in the commentary box hasn't had the pleasure of saying "Double Ds" or "Double Rs" for a long time, but he's still very excitable.
Strategic timeout, KKR 67/2 after 7 overs
Four. Too easy for Manish Pandey, half tracker pulled away for four
Pandey has 40 off 22 balls
Just prayin the #KXIP make to, not that i support but for the sheer performace in this season #IPLFINAL #KXIPVSKKR

— Akash Erky (@akasherky) June 1, 2014
6 off the over, KKR 73/2 after 8 overs
SIX! Yusuf Pathan goes huge, into the stands over long off, with the turn. The crowd erupts.
He goes again, the ball almost carries to the fielder at long off, he puts in a great jump but can't get to it, another six.
Karanveer Singh may be a young turk but he's getting hammered at the moment.
KKR 87/2 after 9 overs
Akshar Patel to bowl for the first time
Just 2 runs off the over, KKR 89/2 after 10 overs
Yusuf Pathan can't do this. He's already played his one good innings this season. #KKRvsKXIP #IPLFINAL #ipl2014

— Jack The Lad (@Juvenile_Jack) June 1, 2014
Four. Manish Pandey splits the gap and its four.
Parminder Awana is the new bowler.
SIX! 50 with a six off 31 balls. Short ball, pulled away, the carnage resumes
Yorked, and they get a single
SIX! Another six, to end the over. KKR 107/2 after 11 overs
Akshar Patel is bowling extremely well. Just 3 off the over, these low-scoring overs are crucial for Punjab. KKR 110/2 after 12 overs
SIX. Yusuf Pathan slams a poor, poor delivery over deep midwicket for six. L Balaji is struggling.
SIX! Yusuf goes high again and its six again. 18 off the over, KKR 128/2 after 13 overs
72 needed off 7 overs
OUT! The young turk has a wicket and its the big one of Pathan. Pathan skied it high, Maxwell took it right on the boundary rope, good catch.
Shakib al Hasan comes in
SIX! Pandey keeps going, straight back over the bowler's head for six
Wide ball, come on young turk.
Four, pulled away and into the gap. The victory of Pathan's dismissal has been drowned by the counter assault.
KKR 142/3 after 14 overs
Mitchell Johnson comes back
Pulled away, but they get only 2 due to a superb fielding effort from Akshar Patel
SIX to end the over, a good over is spoilt, KKR are 151/3 after 15 overs
49 needed off five overs now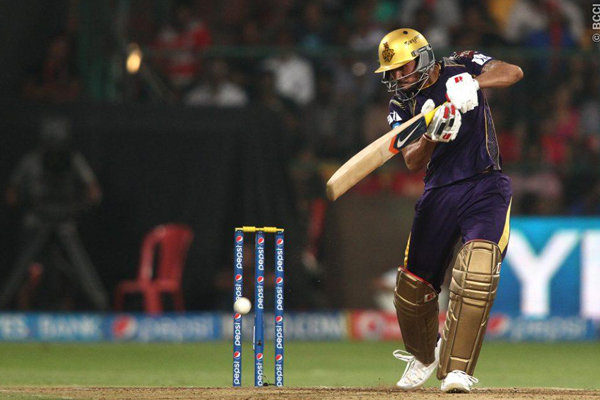 Four, boundary off the second ball, pressure is off
OUT! Direct hit and Shakib al Hasan has to return, this match really got hotter. George Bailey turned around the second qualifier with the wicket of Raina in similar fashion, now he does it to Shakib.
The umpires have used the wicket to call for a strategic timeout
Manish Pandey is crucial for KKR now.
Four, just a bit of width and cracked away for four. 39 needed off 4 overs now, KKR 161/4 after 16 overs
Four. KKR continue to hammer, four more.
OUT! Skies it and is out! RTD is gone.
SIX!
FOUR!
OUT. What a bad time to be out, and what a callous dismissal. Pandey has a rush of blood, he was on 94. Skies the ball, tried to clear the ground but couldn't even clear the in field. Caught at mid off.
Karanveer Singh has strange figures: 4-0-54-4
21 needed off 18 now, but just 4 wickets in hand.
Wide ball called, Danny Morrison is not happy, that was barely outside leg stump.
5 runs off 4 balls off this over
6 off the over, 185/6 after 18 overs
That #balaji over which went for 16 was the crucial. It ahudnt have been given to him ! #IPLFINAL #ipl2014 #KKRvsKXIP

— Harish Ram (@rharish36) June 1, 2014
Two off the first ball of the penultimate over
OUT! Unnecessary shot, Yadav goes high in the air, tries to clear mid wicket, but holes out. What is happening here, KKR?
Quick single.
Swing and a miss, 12 needed off 8, KKR are losing a match they had in the bag.
11 off 7
SIX! Huge shot, huge shot. Short ball. Johnson was bowling this over so well, there was no need for the short ball. But he banged it in and Piyush Chawla hooked it for six.
5 needed off the last over, KKR should win....once again.
Awana to bowl the last over
No run, he couldn't get it away
Oh. Almost a run out, the bowler was asleep, then a single off the overthrow.
FOUR! It's over! Kolkata Knight Riders have won. Low full toss and Piyush Chawla goes hard at it, through the gap between point and cover and its four. What a victory!
Manish Pandey has been named the Man of the Match. Richly deserved, but he is lucky his team won after he threw away his wicket at a crucial stage.
Glenn Maxwell wins an award for the maximum sixes for the season, and Akshar Patel wins the Emerging Player award
Chennai Super Kings win the Fair Play award
Mohit Sharma wins the purple cap
Glenn Maxwell is the MVP