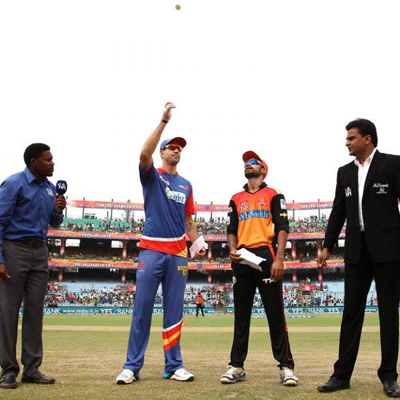 Sunrisers Hyderabad have won the toss and will bowl first
OUT! Q de Kock is out, he hits straight to cover
Delhi 10/1 after 2.4 overs
Daredevils have made three changes. They have dropped seamer Wayne Parnell, opener M Vijay and left-arm spinner Shahbaz Nadeem, and replaced them with legspinner Imran Tahir, batsman Mayank Agarwal and seamer Rahul Shukla.
Four, Steyn bowls a bad ball and Mayank Agarwal cuts him through backward point for four
DD 14/1 after 3 overs
Four, Pietersen cover drives and gets four
Four, goes for another drive and gets a thick outside edge through the slip cordon for four
DD 23/1 after 4 overs
Karn Sharma comes in from over the wicket
SIX! On the front foot and KP lofts it high over mid off for six
Four. Now crashed through backward point for four
Wide
Gets a single to keep strike
DD 37/1 after 5 overs
Six! Fullish ball on middle and leg, lifted high over long on for six
Four. Crashed straight down the ground, no one had any chance there
Four. Now Agarwal goes over cover, slight leading edge but enough to take it to the boundary
DD 52/1 after 6 overs, time for the timeout
Will Pietersen change his approach now?
Amit Mishra to bowl
OUT! Pietersen is out, he tried to go over cover but hit it straight to the fielder.
An exciting innings gets nipped in the bud. Today seemed to be Pietersen's day.
The KP cameo ends..100th WK for Mishi!! #ddvssrh

— Nishad (@SecondSlip_) May 10, 2014
Four, Mayank cuts late and gets it for four
DD 60/2 after 7 overs
Moises Henriques comes in to bowl
4 singles off 4 balls so far
7 off the over, DD 67/2 off 8 overs
Four, Mishra got lucky in the last over, now Agarwal comes out and drives, gets an edge that flies past backward point for four
Well driven for one
OUT, Mayank Agarwal is out, an offspinner was biffed to deep midwicket but Agarwal could not clear the fence
Delhi 73/3
Kp and de kock opening was a good move. But duminy should have come in at 4. #formbatsman #ddvssrh #IPL

— Vaibhav Bhasin (@vibes9393) May 10, 2014
Laxmi Shukla comes in, still no sign of Duminy
DD 73/3 after 9 overs
DD 75/3 at the halfway mark
Hah! Sooo many shots in one day! Now let me get out the amateur way ~ Kevin Pietersen #DDvsSRH

— Namita Sharma (@NamitaThe) May 10, 2014
Laxmi Shukla is down the track, misses and the bowler takes off the bails, but Shukla is in
SIX! Now Shukla slog-sweeps and it goes for six over deep midwicket
DD 84/3 after 11 overs
Irfan Pathan comes in from over the wicket
6 runs off 5 balls so far
7 off the over, DD 91/3 after 12 overs
Steyn comes back, and hola hola, Karthik launches him over the midwicket boundary for six
They have to get going now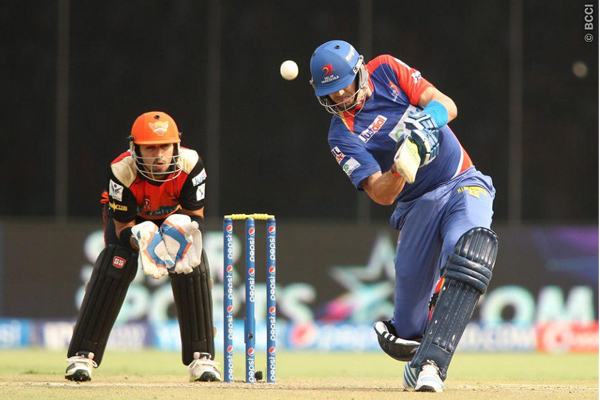 Delhi get to 100
11 runs off the over, Delhi 102/3 after 13 overs
Karn Sharma comes back
Rain seems imminent as the clouds hover dangerously over the stadium. The umpires take the players off the field.
Delhi 103/3 after 13.1 overs
Oh man its raining.. God show some mercy... Delhi don't wanna lose the overs... This s d momentum delhi looking for.#ApneMunde #DDvsSRH

— Rajkumar Rajendran (@rajkumar1104) May 10, 2014
We resume after the rain break, no overs reduced
Karn Sharma gets smacked all over the place, a four and a six from Dinesh Karthik to end the over. DD 115/3 after 14 overs
Delhi 128/3 after 16 overs, not enough runs coming
OUT! Karthik is out, Steyn has taken a blinder on the long off boundary
JP Duminy comes in now
Four. Rubbish full toss to follow, gets smacked for four by Shukla
OUT! Shukla is also out now, he slogged hard and holed out at deep midwicket
Delhi 132/5 off 17 overs
Delhi 137/5 after 18 overs, Delhi have really slowed down here
Now just one run off 3 balls
Bowled, OUT! JP Duminy is gone, he tries a sweep to a fast ball but misses and leg stump goes for a walk
That was the last ball of a terrific over, just 2 from it, Daredevils, who looked like crossing 165 at one time will now struggle to reach 150
Steyn comes back and concedes just 3 off the first 4 balls of the last over
OUT! Hard slog, caught in the deep, another one goes down, Delhi finish on 143/7 after 20 overs
Just 22 runs from the last 5 overs, and 4 wickets. Delhi are about 25 runs short here
The heavens open up again and the players head to the dugout, Hyderabad will 11/0 after 1.1 overs, they will need another 106 from 13.5 overs if the rain stops quickly
The target has now been reduced to 98 off 12 overs
OUT! DHawan is out, he slaps it straight to one of the three men in the covers.
7 runs from the over including 2 wides, SRH 17/1 after 2 overs
Oh God. The heavens have opened up again and this contest is soon becoming a mockery.
As of now @SunRisers are ahead by 3 runs.They should get to 36 by end of the fifth over to be on par with D/L equation #PepsiIPL #DDvsSRH

— Uzair Rizvi (@RizviUzair) May 10, 2014
Sunrisers are 25/12 in 3.2 overs
David Warner walks in
Four. Warner smashes his second ball for four
Six! It's almost over as Naman Ojha hits a six, now just 6 needed off 6 balls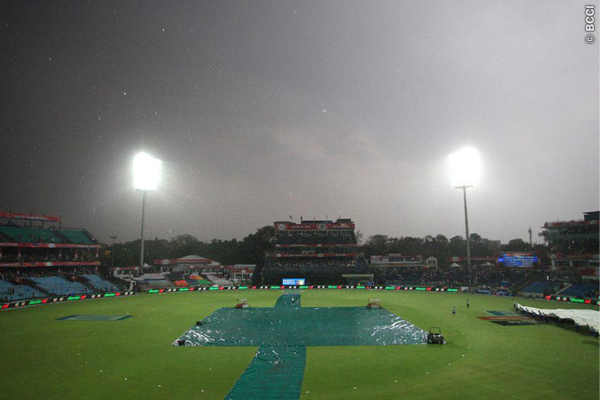 Imran Tahir bowls
SIX Naman Ojha launches him for six and its all over
SRH 44/2 in 4.2 overs