It's truly incredible that the person whom you grew up idolising one day becomes your idol. One doesn't see that happen, especially if the original idol was a legend himself. Sachin Tendulkar, like many cricketers of his generation during in his formative years, grew up idolising the legendary Sunil Gavaskar, who is now an unabashed fan of Tendulkar. H Natarajan recalls many moments since Tendulkar's pre-Test match days to several anecdotes that reveal the genuine love and admiration Gavaskar has showered on Tendulkar.
Sachin Tendulkar has taken away some of Sunil Gavaskar's prized possessions, like most runs and most centuries in Test cricket. Yet Gavaskar has nothing but undiluted admiration and affection for Tendulkar — even before the genius became an international star.

Gavaskar was there in the Mumbai Cricket Association (MCA) committee box alongside players of his vintage like Eknath Solkar and Milind Rege to watch Tendulkar make a century on Ranji Trophy debut against Gujarat in December 1988. Tendulkar's phenomenal scoring in the Inter-schools matches had created a huge buzz in the city and Gavaskar did not want to miss the opportunity of watching the first step of an unquestionable legend in the making.

On November 6, 1989 when Tendulkar was named in the Indian team to tour Pakistan, Gavaskar came to the Wankhede Stadium, where Tendulkar was playing for Rest of India against Delhi, and presented him with the lightweight pads that he had been using for long in his career. Tendulkar had grown up hero-worshipping Gavaskar and it was like manna from Heaven for the teenager.

I remember talking to Gavaskar about those light-weight pads, purely to educate myself. And the maestro opined that while the lack of weight was less taxing on the legs and very comfortable, it was not for everybody. He said one had to be technically correct to use these pads because of the carry of the ball after hitting the pads. He said he once saw a batsman — Graham Roope, if memory serves right — caught at mid-off after the ball bounced off his pads! Maybe, the light-weight pads of the present generation do not have that high bounce, which was not the case then. By gifting his prized pads to 16-year-old Tendulkar, he was endorsing the fact that the precocious teen had the necessary technique to handle the likes of Imran Khan,Wasim Akram and Waqar Younis on the arduous tour of Pakistan that shortly followed.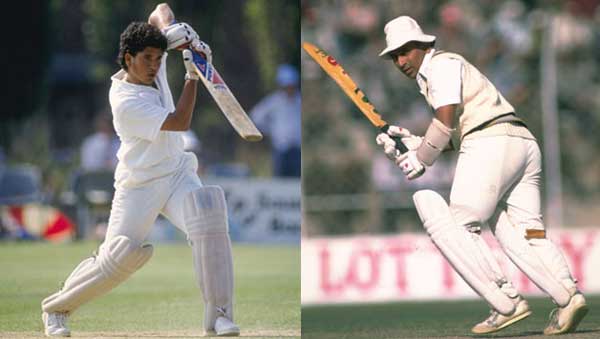 16-year-old Sachin Tendulkar (left) playing with the light-weight pads that Sunil Gavaskar used in his playing days (Photo courtesy: Getty Images)
Gavaskar has remained a strong source of inspiration and encouragement for Tendulkar, right from the latter's formative years in cricket. In 1987, a year before Tendulkar's First-Class debut, in a hand-written note, he consoled the then 14-year-old, not to get disheartened for not getting the Mumbai Cricket Association's "Best junior cricketer award".

Gavaskar wrote:

Dear Sachin,

I wanted to write earlier, but something or the other came in the way. Then I thought it better to write at the beginning of the new season rather than at the end of the last season.

Congratulations on your performance last season. What was most impressive was the way you batted alone when the others around you were not contributing much. Keep it up.

Also, please do not neglect your studies. My experience is that education helps you through bad patches in whichever career you choose.

So go ahead and God bless.

Regards,

Sunil Gavaskar

PS: Don't be disappointed at not getting the "Best Junior Cricketer award" from BCA. If you look at the past award winners, you will find one name missing and that person has not done badly in Test cricket.
The post-script was a subtle message which said that he, too, did not win the award, but went on to do well in international cricket.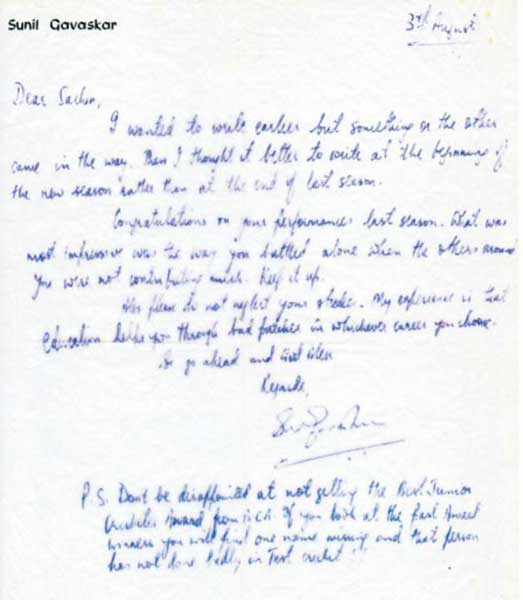 Scanned copy of Sunil Gavaskar's handwritten note to Sachin Tendulkar. Credit "The Making of a Cricketer" by Ajit Tendulkar
There is an interesting anecdote after Tendulkar got the letter of encouragement from Gavaskar. In his early years in senior level cricket, Tendulkar was very shy and spoke in monosyllables. His voice was much softer as well. Gavaskar recalls that anecdote in the below video:
Gavaskar has also not hidden the fact that he gets vicarious satisfaction seeing Tendulkar do all that he couldn't in his playing days. Many parents live their unfulfilled desires of their childhood and youth through their children and Gavaskar derives a similar paternal pleasure, so to say, by watching Tendulkar bloom. Gavaskar underlines that in the below video:
From One Master To The Other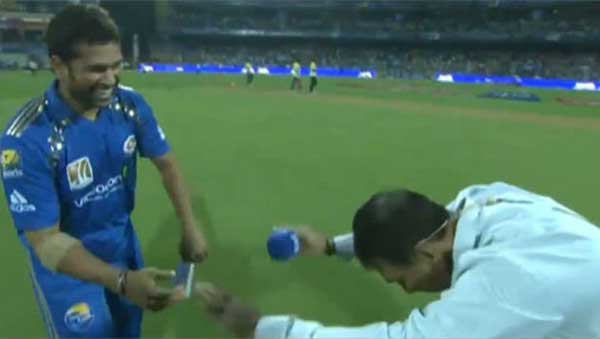 Sunil Gavaskar (right) walks out on the field to bow before Sachin Tendulkar after the latter had become the first man in One-Day International history to score a double hundred.
When Tendulkar became the first cricketer to score a double century in One-Day Internationals (ODIs), Gavaskar left his position in the commentary box and went to the ground to bow to the man who had just created history. It seemed that an overwhelmed Gavaskar was almost going to touch Tendulkar's feet!

"Who else has 93 international hundreds, who else has more than 14,000 ODI runs, who else has more than 17,000 Test runs? Nobody. I would really like to bend down and touch his feet. If somebody is at that pedestal, I would like to do that," Gavaskar told CNN-IBN.

The legendary Sir Don Bradman said Tendulkar's batting reminded him of his own batting. Viv Richards, for many the greatest batsman after Sir Don, had this to say about Tendulkar: "Sachin is God where batsmanship is concerned.

As someone aptly said, Sachin Tendulkar has done much to reduce the number of atheists in India since 1989!

(H Natarajan, formerly All India Deputy Sports Editor of the Indian Express and Senior Editor with Cricinfo/Wisden, is the Executive Editor of CricketCountry.com. A prolific writer, he has written for many of the biggest newspapers, magazines and websites all over the world. A great believer in the power of social media, he can be followed on Facebook at http://www.facebook.com/H.Natarajan and on Twitter at http://twitter.com/#!/hnatarajan)
View original article here.