Manchester United fans bid farewell to their long serving defender Nemanja Vidic, who played his last match at Old Trafford against Hull City. Though he started the match on the bench, Vidic was introduced into the match having only spent 22 minutes on the bench, to replace the injured Phil Jones. United won the match 3-1.
Nemanja Vidic is a strong and powerful centre-back, with impressive abilities in the air and a major threat in set-pieces on the opposite end. Agressive and imposing by nature, Vidic is a no-nonsense footballer who has been heart of United's defence through out the years.
Nemanja Vidic signed for Manchester United on 25th December 2005, and joined the Red Devils on 5th January 2006 after he was granted the work permit, completing a £7 million move from the Russian team Spartak Moscow. Vidic turned out to be a huge bargain for the Red Devils as he performed well and bagged a Premier League medal in his first full season (2006-07). At the time of the 2006 FIFA World Cup qualification campaign, Nemanja Vidic was a part of the 'FAMOUS FOUR' of Serbian National Team defence, that conceded just 'ONE' goal. Sadly, Vidic missed the 2006 FIFA World Cup campaign due to an injury.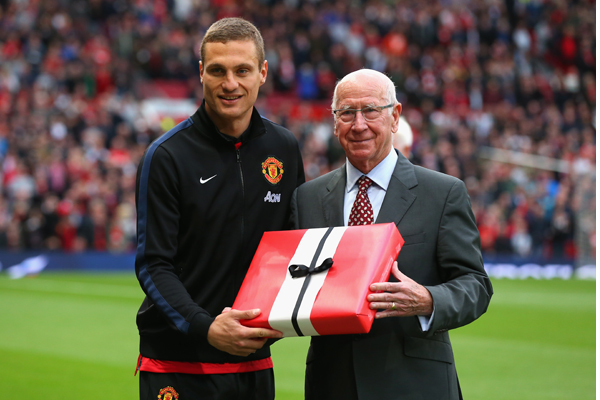 After overcoming a slow start in the Premier League, his partnership with Rio Ferdinand in the centre of defence was one of the best in European football and was also instrumental for the team as United went on to win three consecutive Premier League titles (2006/07, 2007/08, 2008/09). During that period, Vidic was also a part of the United squad that defeated Chelsea FC in the 2008 UEFA Champions League Finals, helping them secure their 3rd Champions League trophy. In the 2008/09 season, Vidic was pivotal in Manchester United's defence, who went on a record run of 14 consecutive clean sheets in the Premier League. Vidic was shortlisted for the PFA Player Of the Year, but it was later awarded to his teammate, Ryan Giggs. But that season, Vidic was named as Manchester United Fans' Player of the Year & Players' Player of the Year. He also booked a spot in PFA Team of the Year from 2007 to 2009.
In July 2010, Vidic extended his contract with Manchester United, ending a long running speculation of him joining Real Madrid. That same season, Sir Alex Ferguson confirmed that Nemanja Vidic will take over from Gary Neville as the team captian on a permenant basis. On 30th October 2010, Vidic's goal against Tottenham Hotspur was the 1000th goal to be scored on Old Trafford. That season, Vidic vs sent off in the match against Chelsea F.C. for a foul on Ramires, but he managed to take a reveng against Chelsea F.C. with a goal which ended their title aspirations. The victory over Chelsea put Manchester United closer to a record breaking 19th Premier League title.
Twisting his knee in a Champions League clash against F.C. Basel, Vidic went of to miss the rest of the season. Returning from the injury in August 2012, Vidic again injured his knee on 25th September 2012 and missed an additional eight weeks. But he was a fighter. Making a comeback from his injury, Vidic was full of confidence and even scored a goal off Patrice Evra's header against Liverpool at Old Trafford. Manchester United won their record 20th Premier League title, finishing 11 points over their city rivals, Manchester City.
This season, it came as a shock for all Manchester United fans when they found out that Nemanja Vidic would be leaving the English champions to join Italian giants Internazionale. This news was announced by the Italian club on 5th March 2014. The transfer of Vidic is a huge blow to Manchester United's defence, who are already struggling to perform up to the mark.
Here is United's left-back Patrice Evra's reaction on Nemanja's transfer: "It's painful to lose Vida. For me, he is a great centre-back. When you see a player like Vidic leaving the club, you feel really sad. We joined the club together. I remember the first game was so hard. In one match, we played in the reserves together. We were so poor! It was a difficult moment but we stuck together. We've been in the same hotel going into training and, together, we've won the same trophies. I'm really sad to lose him."
Manchester United's tweet of behalf of Vidic:
Nemanja Vidic told #mufc fans: "You've been fantastic to me over the years. Thank you from the bottom of my heart." pic.twitter.com/3I9trwO2kC

— Manchester United (@ManUtd) May 6, 2014
Manchester United defender Nemanja Vidic: "It was hard in many ways, because it was my last game at Old Trafford, we did not have a great year as it was my first year not celebrating a trophy. It was a tough season.
"This is maybe the best part of my life. I have three kids, won lots of trophies and have been loved by fans. The fans showed their class when we didn't do well this season.
"I was very emotional. I have to say my heart will always be at this club. I have spent so many years here and been part of such a good time and worked with so many great people.
"It is the board to decide but Ryan has a real talent to be the manager and a good manager. If he is not successful this time then in the future he should be considered to be manager of this club."
Though Vidic is on his way out of Old Trafford, he isn't leaving empty handed. He will be leaving with 5 Premier League titles, 1 Champions League trophy, 3 League Cup Medals, 1 FIFA Club World Cup, 5 Community Shields, 2 Premier League Player of the Year awards and milions of hearts.