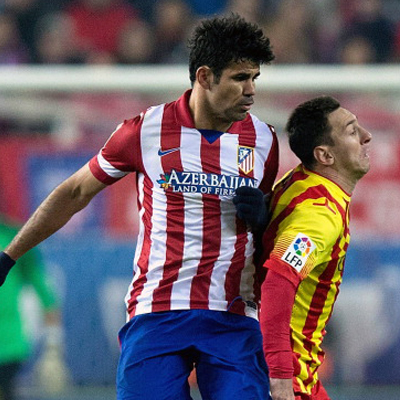 It is going to be stressful for Atletico Madrid's coach Diego Simeone as they have two major 'Finals' to be played. First they play Barcelona, competing for La Liga glory and later, they play Real Madrid in UEFA Champions League Finals on May 24. Atletico Madrid's match with Barcelona will decide who wins the La Liga, and the winner of this match takes the La Liga trophy home.
Diego Simeone, who has a tough time ahead, made these comments on the match against Barça, according to Goal.com : "We have 10 days of competition ahead, but we're focused on this game. It will be complicated and tough, but we'll go there aiming to compete. The work that this team has done is enormous."​
Until last week, Real Madrid were also in the title race, even though they had an outside chance of winning it. On May 11, Real squandered their title aspirations after losing the match 2-0 to Celta Vigo. That same game week, the two title contenders, Atletico Madrid and Barcelona drew their respective matches, taking the La Liga to the final day. Atletico were held at home in 1-1 draw at home against Malaga. It seemed to be frustrating for the hosts as a victory would have taken them them closer to the title. On the other hand, Barcelona were held by Elche in a frustrating goal-less draw.
Atletico Madrid, currently sitting on the top of the table, have 89 points, while Barcelona have 86. It is a must win match for Gerardo Martino's men. This is what Martino had to say on Barça's upcoming match, according to Goal.com: The players know this is a unique opportunity, playing for the title at home against a direct rival. I want with all my soul to win this game against Atletico."
If Barça win, they will level points with Atletico Madrid, and with La Liga's 'Head-To-Head' rule, they will clinch the the La Liga title. Unlike the Premier League, La Liga does not consider goal difference as a tie-breaker. Instead, the 'Head-To-Head' records are considered. In this case, if Barcelona defeat Atletico Madrid at the Camp Nou, they win the league on 'Head-To-Head' ,as previous both the teams were held in a 1-1 draw at Vicente Calderón Stadium on August 21, 2013. However, a draw for Atletico Madrid be enough to take away the La Liga Title.
Atletico's top goal-scorer, Diego Costa, who missed their last match against Malaga due to an injury, will be playing against Barcelona.
Also on Atlético, Simeone confirms in today's press conference that Diego Costa fit & will start at Camp Nou tomorrow (via @marca)

— Andy Brassell (@andybrassell) May 16, 2014
Atletico Madrid go into the La Liga 'Finale' as a strong team, as Los Colchoneros 4 of their last 5 league matches, whereas Barcelona on the other hand have won mere 2 of their last 5. However, the Catalans are favorites to win as they have won 60 of 106 matches against Atletico Madrid at the Camp Nou. Barcelona have won last 5 of the last 6 against Atletico Madrid in La Liga at the Camp Nou. Since the 2006/07 season, when the end result was 1-1, Barça have won 3-0, 6-1, 5-2, 3-0, 5-0 and 4-1 against Atletico Madrid at the Camp Nou in the last five seasons.
In the last 10 seasons, Barcelona has won 6 La Liga titles, Real Madrid won 3 and Valencia won 1. In those 10 seasons, the only team other than Barça or Real Madrid to make it into the top two was Villarreal, who made it to the second spot in 2007/08. Atletico Madrid made it to the third position last season, which was their best finish in the last 10 seasons. But this season, Atletico Madrid have proved themselves as title contenders. The league has been dominated by Barcelona and Real Madrid over the decade, and if Atletico Madrid win, they will be the team other than the two Spanish giants to win it. It will also be their first La Liga since the 1995-96 season.
It is rare that a league has to come down to the last match of the season, but it has the case this season. Diego Simeone's men will be looking to end their 18-year wait for La Liga. Barcelona's season has been filled with ups and downs, but still they managed to pull the league to the last day. Atletico Madrid has displayed their hard work and Barcelona never gave up. In the end, the best team will win.