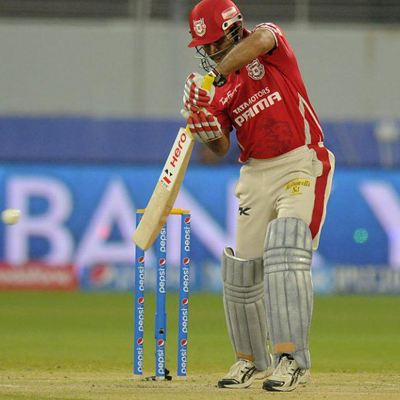 Virender Sehwag is not Rahul Dravid. He is not even Sachin Tendulkar, who had a reputation for anchoring the innnings during the second half of his career, and even in the first four seasons of the IPL.
Sehwag is a freak at batting. He is mercurial, he rarely bats to the situation and never goes defensive. His see-ball, hit-ball approach has resulted in some thrilling innings over the years in international cricket, but it has also led to untimely and ugly dismissals. It can even be said that Sehwag has deprived himself of a place in the pantheon of batting greats through this fearless but cavalier approach.
As Sehwag has lost his place in the Indian side, critics have questioned his eyesight. They have attacked him over the fact that he has no great technique, that it was merely hand-eye coordination that got him all those runs, and that he is reluctant to change his attacking approach for the greater good.
This IPL however, and especially over the last two games, Virender Sehwag has amazed us with his cautious approach.
Against Kolkata, when the Punjab batting faltered for the first time this season, Sehwag stayed calm, finding gaps and hitting the occasional boundary. He formed partnerships with whoever came in to bat - Saha, Maxwell, Miller and Bailey - and even let them take the bulk of the strike.
Figure this: out of exactly 14 overs - 84 balls - Sehwag played just 30 balls. He scored 37 - well up with the Kings XI run rate of just over 7 - yet did not take many risks. Just three boundaries and a six attest to that.
KKR did get the better of Sehwag that night way before he would have liked it to happen - he was out at the end of the 14th over and left his side six down. But take away 37 off 30 and see how that eventual scorecard of 132/9 reads.
On Monday, against Royal Challengers Bangalore, Sehwag did it again. His score of 32 may seem small, but it encompassed 13 overs and five wickets. This time Punjab were chasing, and though it was a low score of 124, wickets kept falling at the other end. Maxwell failed for the second time in the series, and so did Miller. Saha and Pujara did not enhance their reputation either.
But Sehwag looked in fine form without having to go hammer and tongs. He was once 25 from 15 deliveries without a single risky shot. When he was out, Punjab needed just 36 off 42. Given his form on Monday, Sehwag was unfortunate to be dismissed - he certainly looked set to take his side home.
Rahul Dravid was known for contributing far more to his team's cause than the runs he scored in Tests. While one cannot compare the two batsmen, especially across two extremely different formats, Sehwag is essaying a similar role this season as Dravid did in tests - his scores of 37 and 32 have had far more impact than it would appear at first sight.
Sehwag's goal would now be to convert those valuable thirties into much bigger scores. If he does this with the same calm and composure as he has been doing so far, Punjab's win streak may be difficult to break. The double advantage with Sehwag is that he is a naturally aggressive batsman who can go back to that game when the situation demands.
Sehwag playing to the situation might be a blessing for Punjab that has gone unnoticed behind the euphoria of Maxwell's big-hitting. With two failures for Maxwell, the focus is shifting to the efficacy of the Punjab bowlers, but it is Sehwag's sedate 30s that have been one of the big difference makers for Punjab. Whether Sehwag can carry this attitude and purple patch to domestic cricket and then make a comeback to Team India remains to be seen, but for now, it is refreshing to finally witness the new Sehwag.