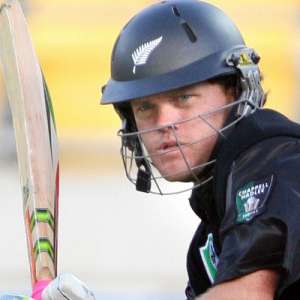 "My name is Lou Vincent and I am a cheat. I have abused my position as a professional sportsman on a number of occasions by choosing to accept money in fixing", said former New Zealand cricketer Lou Vincent, before being banned for life. The credibility of our gentlemen's game has come under scrutiny at regular intervals in the recent past and this is another dent in it.
In 1995, Mark Waugh and Shane Warne had passed information about the pitch and weather to a bookie. In 2000, Hansie Cronje confessed his involvement in match fixing, which shocked the world. Not long after that, Mohammad Azharuddin and Ajay Jadeja were banned for life and five years respectively. Former Pakistan captain Saleem Malik was also in the same boat.
In 2007, Pakistan coach Bob Woolmer, during the World Cup, was found dead in his hotel room under mysterious circumstances, to say the least. Some facts and reports after his death did not suggest a natural death.
However, these are relatively older examples. In 2010, Mohammad Asif, Mohammad Amir, and Salman Butt were banned for life. Then came last year's IPL scandal, which still lingers on. The alleged perjury of MS Dhoni, arrest of Gurunath Meiyyapan under the involvement in heavy betting and trading of inside information to bookies, and interrogation of Raj Kundra were accompanied by it. Moreover, after the hullaballoo over the murky IPL-6, IPL-7 was shifted to UAE of all the places, which was the biggest black comedy after Jaane Bhi Do Yaron.
Recently, Ian Chappell, writing for Cricinfo, remarked, 'Given the damning information overheard in cricket corridors - even without cocking an ear - and Ed Hawkins' informative book, Bookie Gambler Fixer Spy, the officials are hard-pressed to claim lack of available information as a defense. Many of Vincent's allegations involve T20 matches, which should concern administrators considering the high value placed on that format to fortify the game's financial future'.
Ironically, as the graph of dark days for cricket sees an upward surge, it finds a man called N Srinivasan, aka conflict of interest, as the chairman of the ICC, a body which is responsible to clean up the rot in the system. However, BCCI, unsurprisingly, believes that 'The responsibility of guiding the game in these challenging times could not have found a better leader than Mr. Srinivasan'.
Let us see if BCCI's statement can be mocked here.
Leaving aside the fact that Meiyyapan happens to be Srinivasan's son-in-law; it is too hard to overlook that he was the Team Principal of Chennai Super Kings, the IPL team owned by Srinivasan. The report submitted by Mudgal committee, led by the retired High Court Judge Mukul Mudgal, not only indicted Meiyyapan but also held Srinivasan's company, India Cements, responsible for Meiyyapan's actions and stated that the Chennai Super Kings franchise was in violation of the agreement, which may result in its termination. The Supreme Court of India stripped off Srinivasan's BCCI presidency too, as it found "nauseating" that he should hold on to the post despite various courts reprimanding him. A case against him is pending in the Supreme Court on grounds of conflict of interest as well, because the initial BCCI regulation, which was tweaked unfairly later on, did not allow BCCI members to own stakes in IPL teams. Apart from that, Srinivasan was one of the main investors in several of Jaganmohan Reddy's "suitcase companies" and is a subject of investigation in the Rs 3000 crore-corruption case.
The angst over Srinivasan's appointment is also about the formation of the 'Big Three Club', which has given India, England and Australia a lion's share of the profits and a substantially more power than the rest. Srinivasan was the driving force behind it.
When a person with as rotten a past is India's chief administrator in the field of Cricket, it fortifies the popular belief that India is plagued with corruption and has very few credible names. It is not just a sad truth about the game but a reflection of the society.
Four years back, when three Pakistani players were found guilty of spot fixing, a frustrated Shane Watson had remarked, "Maybe they [ICC] don't want to get to the bottom of it [fixing] because it might run too deep."
However, now we are expected to believe that something that the ICC has not been able to fix for the longest time would be fixed under the leadership of a man who has espoused shady deals and controversies with a frequency little less than that of a sunrise.
Talk about irony and you will find few better examples than this.