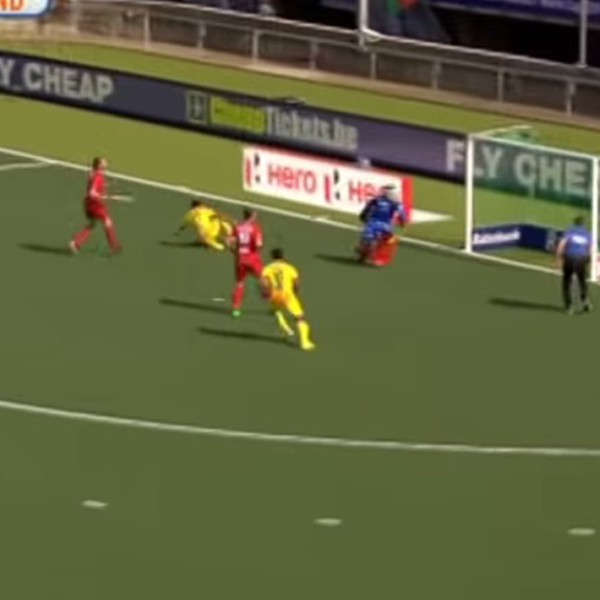 The Indian hockey team, which is competing in the World Cup in the Netherlands, has lost their first two games by a whisker. After going down to Belgium last week, India lost to England on Monday via a sensational 70th-minute goal from England. We bring you some highlights of India's 'so-near-yet-so-far' campaign until now.
1) India v/s Belgium, May 31, 2014
India started off the first game of the tournament looking very strong against a formidable Belgium side. Both teams had their chances early on, but crucially, it was Belgium who made their chances turn to goals. Though Harjot Singh managed to save a shot by Thomas Brlels, his second shot was met by Arthur van Doran who made sure Belgium went 1-0 up.
After the break, India pulled up their game and Mandeep Singh managed a goal to level the scoreline at 1-1. Then against the run of play, Akashdeep Singh met a 23-metre cross into the box to take India 2-1 up. However, it all went downhill from here on for India. Belgium's Simon Gougnard used a penalty corner to level the scoreline at 2-2. Even as India and Belgium scrambled for the third goal, it was the latter's John-John Dohmen who met a long ball and launched a shot straight past the Indian keeper into the goal. This made it 3-2 for Belgium and India were unable to make a comeback.
2) India v/s England, June 2, 2014
This match will be known for England's sensational 70th-minute goal which sealed their victory.
India actually looked in good touch during the first half, though both teams competed for the upper hand. While India looked like scoring a goal, it was England who finally broke the deadlock. A penalty corner was drag-flicked into the net by Mark Gleghorne. However, just four minutes later, India equalised through Dharamveer Singh, who received the ball on top of the D and played a fierce shot on the turn which deflected into the top corner of the net. Thus at the break, India were tied 1-1 with England.
India looked even better in the second half, with two scoring opportunities coming their way. First Sardar Singh and then Dharamveer Singh attempted to put India in the lead. Sardar made a strong run into the middle but his following shot only hit the back of the net. Dharamveer made a run into the wing and crossed a shot into the net D for Mandeep Singh to score the goal, but hit the side netting.
Finally, it was England who made the final goal, clinching victory. England's penalty corner hit was fantastically saved by Harjot Singh, but the ball went towards Simon Mantell whose shot went straight into the net, sealing England's victory in the 70th minute.