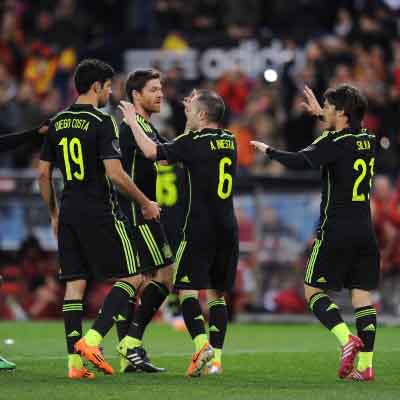 On 13th May, Spain's head coach Vicente del Bosque announced the provisional squad for the 2014 FIFA World Cup. Spain became a football superpower in 2008, winning the UEFA Euro Championship 1-0, courtesy Fernando Torres' strike, beating Germany. Two years later, Spain won their first ever FIFA world Cup and later in 2012, they won their third European Championship, thrashing Italy 4-0 in the finals. Spain created a record by consecutive victories in Euro 2008 and Euro 2012, becoming the first team to do so.
On the goal, Real Madrid's keeper Iker Casillas will be preferred. Liverpool's Pepe Reina, on loan to Napoli is also included. Uncapped David de Gea is chosen ahead of Real Madrid's first choise keeper Diego Lopez. Barcelona's Victor Valdez missed out on the squad due to a serious injury to his knee.
Sergio Ramos and Gerard Pique will be the heart of defense. The full back positions will be filled in by Barca's Jordi Alba and Chelsea's Cesar Azpilicueta, who replaced Ashley Cole in the left-back position. Youngsters Dani Carvajal and Alberto Moreno have been included along with experienced defenders such as Juanfran and Raul Albiol. Spanish veteran Carles Puyol is not included in the squad, who is about to leave his club Barcelona at the end of the season.
Spain is blessed with a star studded midfield. Barca's Xavi, Andres Iniesta, Pedro, Sergio Busquets and Cesc Fabregas are included.The Barca players are having an hectic season as they are facing severe competiton from Atletico Madrid for the La Liga. Bayern Munich duo Javi Martinez and Thiago Alcantara, who recently won the German Bundesliga, are a part of the provisional squad. Manchester City duo David Silva and Jesus Navas, who were instrumental in helping the club win their second Premier League title in three seasons, will be looking forward to do the same for their country. Athletic Bilbao's uncapped player Ander Iturraspe may be given his first opportunity to represent his country. Manchester United's Juan Mata is also named in the provisional squad, who left Chelsea in January is search of more playing time.
Del Bosque has added Atletico Madrid's striker pair, Diego Costa and David Villa in the provisional squad. Villa, who left Barcelona in summer to join Atletico, has scored 13 goals off 31 appearances in La Liga. Villa's club teammate, Diego Costa, born and brought up in Brazil, will be playing for Spain, after he was granted Spanish Nationality in September 2013. His decision to snub his country of birth to play for Spain left Brazil coach Luiz Felipe Scolari furious. This is what Scolari said after Costa's decision, according to Wikipedia: "A Brazilian player who refuses to wear the shirt of the Brazilian national team and compete in a World Cup in your country is automatically withdrawn. He is turning his back on a dream of millions, to represent our national team, the five-time champions in a World Cup in Brazil."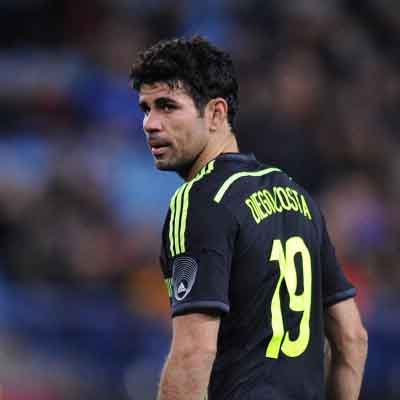 Costa has been a key player for Atletico Madrid, scoring 27 goals in 33 appearances, helping them to accquire the top spot in La Liga. Inclusion of Chelsea's £50 million striker Fernando Torres has surprised many. The out of form striker has made only 16 appearances, scoring mere 5 goals. Though many may criticize his inclusion, one can surely not ignore his contribution to the national side. It was his goal in the Euro '08 finals that won it for Spain. Torres was the top goal scorer in the Euro '12, scoring 4 goals in the tournament, winning the Golden Boot. Torres' goal in the final made him the first player ever to score goals in two consecutive Euro finals. The following year, Torres won the Golden Boot in FIFA Confederations Cup, scoring 5 goals. Manchester City's Alvaro Negredo and Juventus' Fernando Llorente are also named.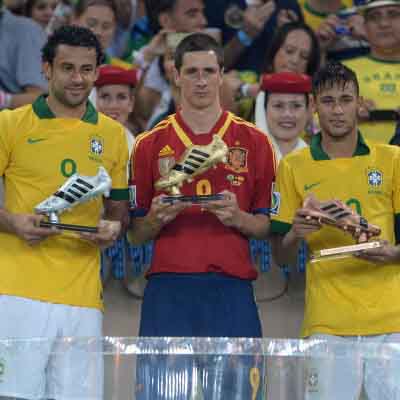 Spain begin their World Cup campaign on June 13 against Netherlands at Arena Fonte Nova in Salvador. That match will be a replica of the 2010 FIFA World Cup Finale, which Spain won 1-0 with the help of a late Iniesta strike. Del Bosque will announce the final 23-man squad on May 25. Spain will be aiming at a second consecutive World Cup victory. If they do so, Spain will be the third team to so, the previous two being Italy (1934 & 1938) and Brazil (1958 & 1962).
Spain's provisional 30-man squad:
Goalkeepers: Iker Casillas, David De Gea, Pepe Reina.
Defenders: Sergio Ramos, Gerard Pique, Raul Albiol, Juanfran, Jordi Alba, Cesar Azpilicueta, Daniel Carvajal, Alberto Moreno.
Midfielders: Xavi, Javi Martinez, Xabi Alonso, Andres Iniesta, Koke, Sergio Busquets, Santi Cazorla, Ander Iturraspe, Cesc Fabregas, Thiago Alcantara, Juan Mata, David Silva, Pedro, Jesus Navas.
Forwards: Diego Costa, David Villa, Fernando Torres, Alvaro Negredo, Fernando Llorente.