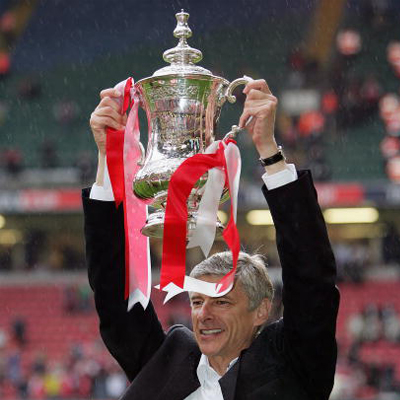 Arsenal are looking forward to end their 9-year trophy drought as they play Hull City in the FA Cup final.
The last time Arsenal won a trophy was way back in 2005, winning the FA Cup final against rivals Manchester United. Arsenal won that match 5-4 on penalties. Its literally been 3283 days since Arsenal won a trophy.
Arsenal reach the FA Cup final and are one victory away of ending a trophy drought that will have lasted 3,283 days by 17 May 2014.

— 8 Fact Football (@8Fact_Footballl) April 12, 2014
Arsenal had plenty of opportunities in these years, but squandered all of them. The closest Arsenal came to win a trophy was in 2011, when they faced Birmingham City in 2011 Carling Cup finals, losing the match 2-1. After that, Arsenal came nowhere close. Even in the Premier League this season, they were in the top spot for a long time, but eventually gave away their chances of winning.
Arsenal booked their spot in the FA Cup final after beating Wigan on penalties as the score was leveled at 1-1 after 90 minutes. Hull City booked their ticket to the FA Cup final, thrashing Sheffield United 5-3 at Wembly. Arsenal ace Mesut Ozil believes that Arsenal can win the FA Cup, ending their long running trophy drought. This is what he said on the upcoming final, as reported by Football.co.Uk.
"We are in the final and we want to take this silverware now. I am convinced we will achieve that. We can win titles with this squad, this is very important for the fans as well because they have been waiting for so long. I am very proud of the team. We qualified for the Champions League and we are in the FA Cup final. If we can win the cup, then it will be a great season. However, it will be a tough game because Hull fights till the end - nowhere else other than in England are there so many teams who never give up."
Arsenal's Belgian defender on the FA Cup, according to Sky Sports: "It would give us a massive boost for the next few years. There's loads of potential in this team, a lot of good players, and it would give them confidence for the following years."
Sky Sports' Paul Merson on the FA Cup final: "They should end their nine-year wait for a trophy on Saturday, but if they don't then it will be interesting to see the fans' reaction. I think they may want Arsene Wenger to go if they don't bring home the trophy. They were on the edge in the semi-final against Wigan. When they went 1-0 down and it was getting near the end of the game a lot of fans were set to turn on him. It might sound harsh because it looks like he could be judged on the result of this one game, but it's not one game, is it? It's nine years. Don't get me wrong, I'm a big Wenger fan, but those fans pay a lot of money. It's not cheap to go and watch Arsenal play and they want to see the club winning trophies. They could go the other way if the team doesn't win this."
Arsenal are looking to win their 11th FA Cup trophy, which will see them equal Manchester United's record. For Arsenal to prove a point, its necessary for them to win against Hull.