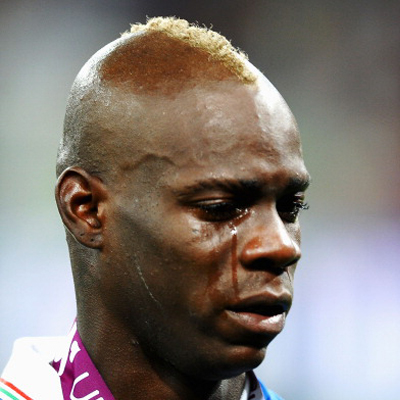 The Italian national football team was left embarrassed on May 21 as 23-year old AC Milan striker Mario Balotelli was racially abused by a bunch of boys while the national team was training for 2014 FIFA World Cup at a base near Florence.
Mario Balotelli was subjected to racial insults while training for Italy on Wednesday: http://t.co/YekphZrQWK

— ESPN FC (@ESPNFC) May 21, 2014
At the time of training, the boys were shouting "black piece of s**t" at him. But that wasn't all. One of the boys even shouted "F****** N****" at Balotelli. During the training session, Balotelli could be heard saying, "Only in Rome and Florence are they that stupid.." as the striker ran past the reporters.Italian Football Federation president Giancarlo Abete expressed his unhappiness on this incident. This is what he said, according to Sky Sports:
"This is unacceptable behavior. This should not happen. We will take this episode into account. The important thing is that this is only a minority and they have no regard for civil coexistence."​
Balotelli's Italy team-mate Ciro Immobile showed his anger towards this incident. He said:
"In 2014, we can't still be talking about racism. We didn't speak to Mario about it afterwards because I think he agrees with me - we do not want to give any importance to these people. At the moment, there is a problem with chants about black people. Fortunately, Mario was very calm. We had a meeting when we met up about behavior and not reacting, and he acted the right way. Fortunately, Mario has been very calm about it. Everything that has been said about it within the group, he has respected greatly. We know that it is a serious issue, but we don't want to talk about it because otherwise you put your finger on it and our country suffers. We need to try to do something to ensure it doesn't happen anymore.We will try to make appeals in order for these episodes not to happen again. I'm not ashamed of being Italian, but I do get upset by this type of behavior."​ - Mirror UK
Despite the shameful incident, Italy's head coach says that he did not hear any kind of racial slur. He said, according to Mirror UK: "I only heard nice chants. If there is then one which makes more headlines there's nothing I can do about that."​ The local police intervened into the situation to help for peaceful training for the players.
However, this not the first racism incident for Balotelli. He has been subjected to racial abuse in the past as well. Balotelli was born in Sicily to Ghanaian immigrants, but he was brought up by an Italian foster family. This has been the major reason for his racial abuse. Balotelli has faced racist chants throughout his professional career in Italy at Juventus, Inter Milan and AS Roma.
In an April 2009, in a match against Juventus, Balotelli was racially abused by Juventus fans throughout the game. This incident angered Inter owner Massimo Moratti as he stated that he would have pulled the team off the pitch had he been present. Juventus were given a one game home-fan ban because of the incident.​ Even after that incident, Balotelli continued to be the subject of racist chants throughout the season. He became the focus of Juventus fans even during games in which Inter wasn't involved, which ultimately led to Juventus being fined for the second time and the club was punished with a partial stadium closure.​
On 1 December 2013, during a match against Catania, Balotelli accused opponent Nicolás Spolli of racially abusing him. But due to insufficient evidence, there was no action taken against the allegedly accused Spolli.
Before the 2012 UEFA Euro competition, Balotelli made a statement to hit out at racial abusers in Poland and Ukraine. Balotelli said, "I will not accept racism at all. It's unacceptable. If someone throws a banana at me in the street, I will go to jail, because I will kill them." During the tournament, Balotelli was subject to racial abuse during the game against Croatia, which led UEFA to fine the Croatian Football Federation €80,000.​
The Italy players met this week to start their preparations for this summer's tournament. They face Republic of Ireland at Craven Cottage on Saturday 31 May in a friendly match. Cesare Prandelli's start their World Cup campaign on June 14, as Italy will face England in their opening match, and will play Uruguay and Costa Rica later on in Group D.