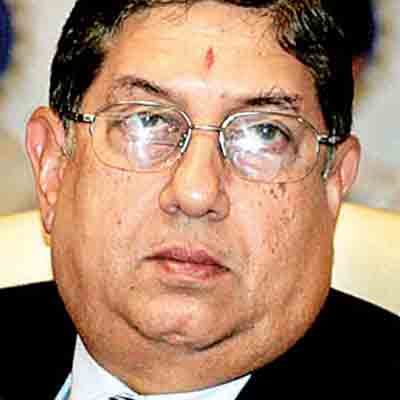 BCCI chief N Srinivasan has been asked to quit once again, this time by the Supreme Court of the country.

For Srinivasan though, everything seems easier than quitting. It is not unrealistic to believe, based on precedent, that he could hang on to his job for the full duration of 48 hours provided to him by the apex court.

The truth is that Srinivasan's and consequently the BCCI's best interests seem to lie not in the betterment of the sport, but in the betterment of their own futures.

BCCI's first brush with big money came at the 1996 World Cup in the subcontinent. Though the event itself was a badly managed affair, it brought marketing and sales revenue to BCCI like never before. It was the start of a journey to becoming the richest and most powerful cricket board in the world.

Unfortunately, this did not translate into better domestic cricketing infrastructure or support for making cricket a global sport. Rather, it led to milking the cash cow which the IPL is the most obvious representative of.

The IPL is a powerful platform for many reasons, the last of which is that it provides newer players an opportunity to excel.

The IPL brings in sponsorship money like never before. It is marketed like never before and it fills pockets like never before.

Due to its open and commercially lucrative nature, as well as the format of 20-over cricket, it also presents opportunities for betting and fixing like never before.

And there is no solid proof to show that the cricketing fraternity at large and BCCI in particular have attempted to stifle these opportunities.

The moment Sreesanth, Ankeet Chavan and Ajit Chandila were accused on charges of spot-fixing, the intelligent viewer understood - that these weren't the big fish, they were just pawns in a well-played game. Like pawns, they were most easily disposable. And they were disposed off with glee. The BCCI claimed the moral high ground and the media flashed images of the 'tainted' players day and night.

When murkier allegations emerged about Gurunath Meiyappan, India Cements, actor Vindoo, the Rajasthan Royals management and so on, things seemed to be getting serious.

But the BCCI, in one masterstroke that exuded both power and callousness, dismissed the charges, exonerated Meiyappan without an extensive probe and claimed lack of knowledge about the rest.

Morality demanded that Srinivasan quit after his son-in-law Meiyappan was charged of betting. Meiyappan's presence in the Chennai Super Kings dugout could not be attributed to mere enthusiasm - or all of us should have been present in the dugout.
After all, the jury is still out on whether Meiyappan was the 'principal' in any official capacity - but who's to say the one who wields power in any form in Indian cricket, must also occupy the chair. There have been numerous examples in the past of unofficial power superceding official position.

Srinivasan's refusal to resign was not in itself surprising - because that's how we expect powerful figures in India to behave. It was the manner of his refusal. He was arrogant in his response and uncaring. It almost seemed as if it was the media's privilege to know his side of the story, not quite his duty.

After much cajoling, a semi-revolt, media trials and threats from politicians, Srinivasan obliged enough to 'step aside'.

He appointed in his place another powerful man - and yet another man whose professional image is mired in controversy - Jagmohan Dalmiya.

But anyone who believed Dalmiya would wield more power than Srinivasan himself was mistaken - Dalmiya's power was diluted the moment he lost the political skirmishes in the BCCI during the last decade, and once the most powerful centre of cricket in India was no longer Mumbai or Kolkata.

Things panned out like we knew they would - no one could tell for sure who formed the BCCI committee to look into the IPL fixing allegations, and the results were unsurprising too. Their unsurprising nature - exonerating Meiyappan and charging three players - was further established by the very contradictory Mudgal committee report, which indicted all the suspects the BCCI had exonerated, including Meiyappan himself.

The Supreme Court today only gave vent to every cricket lover's feelings - that the BCCI probe was a sham and that Srinivasan was shadow-controlling it.

That Srinivasan has resumed official power and sat so firmly in that seat for close to a year after the first allegations, is proof enough of his influence in political corridors of power. The whispers must be true, or what could have stopped him from resigning?

It remains to be seen how much Srinivasan believes his political influence will help his son-in-law survive the law. The Supreme Court's order today certainly came as a shock to the BCCI. But it hasn't stopped them from continuing the Super Kings franchise, keeping MS Dhoni its captain or conducting fresh IPL auctions. Even the apex court didn't stop them.
Not only has the BCCI managed to keep all the vital components of its million-dollar invention alive, it has showed that it is unbothered about players' access to the betting and fixing mafia. No stringent set of enforceable rules have been announced, no bans on personal interactions will ever be enforced, and no one will take away mobile phones or make personal emails inaccessible.

In fact, the shifting in part of IPL 7 to Dubai - a hotbed of betting and match-fixing for decades - and the uncomfortable silence of the cricketing world about this development is clinching proof that little, if anything, will change after last year.

Perhaps we can find some little solace in the fact that our biggest (and cleanest) cricketing icons, Sachin Tendulkar and Rahul Dravid, will no longer be part of this very murky charade. The rest is a mere farce.