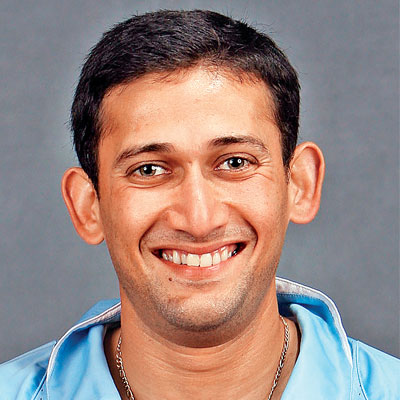 Looks like MS Dhoni & Co. will end the tour of New Zealand on a high. After being blanked 4-0 in the ODI series, the visitors were handed a heartbreaking loss in the first Test in Auckland. The entire team needed to step up and I am glad they have. If the bowlers starred on Day One, then the batsmen rose to the occasion on Day Two. I was extremely happy to see Ajinkya Rahane bat the way he did. He has proved to everyone that he belongs to this level.
India began the day on 100/2, but found themselves tottering at 165/5. Shikhar Dhawan must have felt terrible after falling for 98. Terrible is how Rohit Sharma would have felt, too, after playing a loose shot while on zero. The manner in which Rahane batted with Virat Kohli and, later, Dhoni, turned the contest completely in India's favour. Rahane was elegant all along, executing those back-foot drives with ease. And whenever the opportunity arose, he played off the front foot too.
If not those partnerships worth 63 and 120, India wouldn't have been in such a dominant position. Ravindra Jadeja and Zaheer Khan also got some valuable runs and, in the end, India managed to take a huge lead of 246. The Kiwis, already one down in the second dig, need 222 more to make India bat again. To put it simply, India have a 95 per cent chance of winning this one. And most of the credit must go to Rahane.
The hallmark of Rahane's innings was his unflappability. A battle-hardened domestic warrior, Rahane has scored tonnes of runs in the unforgiving and, often unrewarding, world of Ranji Trophy cricket. It took him nearly six years to convince the selectors that he was good enough for the big league. He got his chance last year, against Australia in New Delhi. Rahane failed to deliver and, like many before him, looked set to be ignored. Thankfully, he wasn't.
The tour of South Africa made all the difference. In his first overseas Test, in Johannesburg, he scored 47 and 15. Twin fifties in Durban — 51 not out and 96 — caught everyone's attention. Yes, India lost that Test, and the series, but discovered a quality batsman.
Given that I have watched Rahane from close quarters, his rise doesn't surprise me. There is a sort of studious demeanour associated with him. He has always been a quiet, focused lad. Recall the shots he played on Saturday. It was classical batting. Blessed with a calm head, sound technique and loads of patience, Rahane went about his business with discipline. He timed the ball, rather than bludgeon it. And I don't think he played a rash shot before getting to his maiden Test century. Yes, he did try to force the issue after Jadeja's dismissal, but that's alright.
This hundred will do Rahane's confidence a world of good. For someone who is considered the juniormost in the set-up, he would have had to make way for another batsman after a big defeat. But now that he has shown consistency, Rahane will feel a lot more assured.
Sharma would be kicking himself for getting out for a three-ball duck. It was a loose shot and put India in trouble. But like I had said about Dhawan a few days ago, we must be patient with Sharma. Yes, he has been around for some time now. But mind you, he has played a grand total of six Tests, including this one. Given that he has immense potential, people tend to criticise him whenever he fails. I am sure he must be equally disappointed. But for now, let's celebrate Rahane's special knock. India could finally win an overseas Test for the first time since June 2011.
Given that I have watched Rahane from close quarters, his rise doesn't surprise me. There is a sort of studious demeanour associated with him. He has always been a quiet, focused lad. Recall the shots he played on Saturday. It was classical batting