What has rattled fans is the way India were ragged at home by England. And so, we confront a familiar question: If this is not the country's worst phase, what is?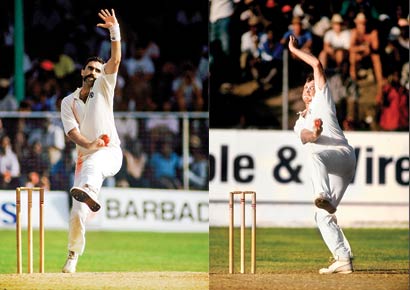 MS Dhoni's side has lost 10 out of their last 17 Tests, bringing back memories of equally testing phases in the country's cricketing history, especially in the 90s. DNA does a recap of the way India pulled through those barren years.

India's Test series loss to the Englishmen is being likened to a Greek tragedy. Let's admit it, we have seen more reversals than halcyon days. Numbers don't lie. In the last 11 years, the country has won just two series overseas.
Even at their best, India were a plain formidable side. Like England, their stay at the Test summit was brief. We have usually walked through the mists of defeats and returned a better side. What has rattled fans is the way India were ragged at home by England. And so, we confront a familiar question: If this is not the country's worst phase, what is?
Recent data point to two darker periods. In the late 1960s, Tiger Pataudi's team lost in England and Australia by 3-0 and 4-0 margins. India were also defeated in eight Tests in two five-match series each against the West Indies and Australia in 1958-59.
If you comb through the statistics, India have survived trying times in the last 25 years too:
1987 to 1989
After Sunil Gavaskar's exit, the search for India's next batting great was on. At some corner at Shivaji Park, Sachin Tendulkar, with his John McEnroe-type curls, was marking his bowling run-up. The 'boy wonder batter' would surface two years later. Dilip Vengsarkar, handed India's Test captaincy, was their only world-class batsmen. Mohammad Azharuddin, after a promising start, had somehow lost his way. In 1989, Vivian Richards's men routed India 3-0 in four Tests. India didn't look a unit that could compete. It didn't end there. The Indian cricket board pulled them up for playing benefit matches without its consent. By the end of the tour, it was obvious that Vengsarkar was well past his prime as a player.
**********************
Year 1989: Krishnamachari Srikkanth led a young team to Pakistan. Travelling with the side was that awesomely talented 16-year-old, sporting a pencil moustache. India blooded two young fast bowlers, Salil Ankola and Vivek Razdan. Sanjay Manjrekar looked a class apart in the West Indies, his hundred in Barbados rising him to prominence. If someone had to hold his own against Wasim Akram, Pakistan's new speedjet Waqar Younis and the ageing Imran Khan, it had to be him.
Manjrekar defied Pakistan; Azharuddin rediscovered his silken touch. And that 16-year-old looked well ahead of his years. India drew the series, a feat considered impossible in Pakistan. Srikkanth had a horrendous run as a batsman. A sports magazine cover showed his bare body dotted with arrows. Srikkanth lost his captaincy and was playing out his last years as a batsman.
1990 to 1992
Raj Singh Dungarpur, the then selector, wanted to build a team of the 90s around Azharuddin. Mohinder Amarnath and Vengsarkar were perceived to be deadwood. After Test series losses in England and New Zealand, manager Bishan Singh Bedi wished to dump the same team in the pacific. India were deemed as performance artists — born to entertain, fated to lose. They reached a nadir in 1992, losing four Tests in Australia. They slid on the historic tour of South Africa, losing a Test at St George's Park and subsequently the series.
**************
Something changed in the 1993 home series against England. Manager Ajit Wadekar spelled out a team code. Sanjay Manjrekar, the last word on solidity, faded away and a resolute Vinod Kambli emerged to give the Indian batting a new look. Azharuddin unwound those wrists. And India's spin trinity Anil Kumble, Rajesh Chauhan and Venkatapathy Raju snuffed England out. India won a rare Test series in Sri Lanka too. A drawn rubber at home against the West Indies in 1995 was an inexplicable blip. Meanwhile, Indian cricket's long-serving fast-bowling Goliath, Kapil Dev, walked into the sunset.
1996 to 1999-00
India had a poor success rate during this period, one of their worst in Tests. They won a home series against South Africa (2-1) before Allan Donald and Shaun Pollock ravaged them in their own lair. Sachin Tendulkar's outfit nearly won the third Test of that series (at the Wanderers) but rain robbed them of valuable overs. In 1999, India won another home assignment against New Zealand before travelling to Australia for a three-Test series, their biggest Agni Pariksha. A certain Jaywant Lele did a Nostradamus, predicting a sweep. Well, India went on to lose five Tests on the trot (two more against South Africa at home).
********************
The game was bleeding itself dry in the early 2000s, with the Hansie Cronje match-fixing scandal rocking world cricket. In such tumultuous times, a new India emerged under Sourav Ganguly's leadership. It all started with the VVS Laxman-Rahul Dravid epic at the Eden Gardens in 2001 that changed Indian cricket's DNA. The turnaround wasn't instant; they somehow managed to lose a Test in Zimbabwe.
While India won a Test at the Queen's Park Oval, they missed a golden opportunity to win a series in the West Indies. 'Headingley 2002' is thought as the country's turning point. They were no more perceived as homesick, poor travellers. If not for Parthiv Patel's profligacy behind the stumps and umpire Steve Bucknor's blunders, India may have returned with a 2-1 series win in Australia in 2003. Now, India could dream of parting seas.
2011 to 2012
India won two overseas series in the 2000s: in England in 2007 and in New Zealand two years later. The world was theirs on the April 2 night at the Wankhede. India won a World Cup. Were they the game's indisputable powerhouse? Weren't they No 1 in the Tests too? Well, 10 defeats in 17 Tests has been the sequence since 2011. Dawn has never appeared so distant.
Was 2011-12 the worst? Not quite
It took India 25 Tests and 19 years, eight months to win their first ever Test match in February 1952. In 24 Tests before this, India lost 12, and drew 12. Out of which lost four at home in 12 games and 8 away games in 12 Tests
From June 1959 to January 1968, India lost 17 away Tests in a row.
Four consecutive whitewashes overseas: 5-0 in England in 1959, 5-0 in the West Indies in 1962, 3-0 in England 1967, 4-0 in Australia 1967-68 before winning their first overseas win at Dunedin in February 1968. Soon after, India won two away series: in WI in 1971 (1-0) and in England in 1971 (1-0)
After defeating England at Mumbai in December 1981, India did not win a single Test for three years and 31 Tests until Dec 1984 when India beat England again at Mumbai.
India's record during this period (from 9 Dec 1981 to 29 Oct 1984) Mts: 31, Won 0, lost 9, Drew 22
Consecutive Test wins for India - the best period
Four from 29-1-1993 to 17-3-1993
Four from 24-11-2009 to 27-1-2010
Consecutive Test losses for India - the worst period
Seven from 8-6-1967 to 31-1-1968
Six from 4-6-1959 to 16-12-1959

All stats: Mohandas Menon