While some feel the ongoing Indo-Pak peace talks should continue, others reason the brutal manner of attacks at the Line of Control. Speak Up brings you opinions.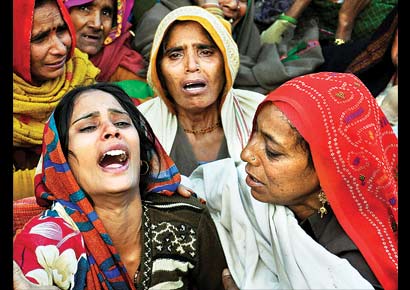 The brutal killing and mutilation of two Indian jawans by intruding Pakistani soldiers in Mendhar has drawn angry reactions from the public. Many feel India should suspend all diplomatic channels including hosting cricket with Pakistan till it doesn't come clean on this issue. While others feel the ongoing peace talks should continue so that both the nations can reach to an agreeable solution on various complex issues. Speak Up brings you opinions...

The mutilation is an attempt to provoke India
There is no doubt that the act of mutilating the bodies of Indian soldiers is heinous and terrible. However, investigations are still going on so it is too early to draw any conclusion. The current state of mind of people in India is very emotional and many want the peace process to be scrapped. There is a lot of anger.
The government must take up the matter with the Pakistani authorities. What the government should do now is to consult the armed forces and evolve a response which has the backing of all the stakeholders. We must not resort to any knee-jerk tactics out of emotion and anger.
Whatever be the intentions of the civilian administration in Pakistan, it is the army that calls the shots over there.
Unless they are a part of the peace process, any talks will not be effective. The cricket series and summits are peripheral matters and will not make much of a difference. It seems as if the firings and mutilation are an attempt to provoke India.
—Ashok Gokhale, IFS officer and former Ambassador to Iran
Pak is not serious about peace talks with our nation
The peace process in its entirety must not be scrapped. The peace talks must continue but other efforts undertaken must be stopped. The summits and cricket series should be discontinued. There must not be any concessions either on Siachen or on Sir Creek. We must be tough with Pakistan. The current situation is that Pakistan takes us for granted. The government of India must not show undue keenness to have peace talks with Pakistan. It is for Pakistan to show its willingness. Taking this issue to the United Nations is something we should avoid.
The Pakistani establishment has no right to mutilate the bodies of Indian soldiers. It violates the Geneva Convention completely. If we want Pakistan to take us seriously, we have to be militarily far superior to them. I do not think that currently we enjoy the military superiority. The firings must not be seen in isolation. In the past too, Pakistan has violated the ceasefire agreement. It clearly shows that Pakistan has never taken India's peace talks seriously. Even the interior minister Rehman Malik had fired some 'verbal shots' when he visited India in December last year.
—Major General (retired) SCN Jatar
We must support secular, liberal forces in Pakistan
There is no doubt that Pakistan's act is a provocative one. But scrapping the peace process may not be the right response. India should act tough but not escalate or trigger the conflict to a new or higher level. The important thing to keep in mind is that Pakistan has ceased to be one state. It is now a fragmented state and hence different institutions may support or oppose peace talks with India. We know that there are sections within the military who oppose peace with India. Our country must isolate that faction and encourage the democratic, liberal and secular forces in Pakistan. The democratic process in Pakistan needs to be strengthened.
Indian diplomacy has not failed. It is Pakistan that has failed. We must insist that Pakistan admits to its mistake. Till then we must suspend all talks with them. It is quite possible that certain elements in Pakistan who want to sabotage the peace process may be behind this act. There is also a possibility of foreign hand in this act.
—Ajit Abhyankar, CPM district secretary
It's time to learn from America's killing of Osama
I feel that the peace process must be scrapped completely. Pakistan does not understand the language of peace. All the attempts from our side to maintain a positive rapport with Pakistan have failed. Pakistan continues to support terrorists. The only response from our side should be of bombing terrorist camps in Pakistan Occupied Kashmir (PoK) and elsewhere. It is time to learn from how the United States nabbed and killed al-qaeda leader Osama bin Laden in Pakistan.
The common man and artistes in Pakistan want that India and Pakistan maintain good relations. The government of Pakistan, however, is not serious about improving ties with India. Instead, Pakistan diverted the public's attention from the country's serious problems by attacking India. Pakistan does not fear India because we do not have the leaders to stand up to such atrocities. This time, the government of India should not take Pakistan's act lying down.
—Sandeep Khardekar, president, Creative Foundation
India should run a campaign against Pak internationally
Peace is a continuous process with obstacles on the way. It can never be scrapped and stopped. While arguing for peace, India can parallely run a strong campaign against Pakistan at international level. Of course, Pakistan should be dealt with sternly on this brutal and heinous crime of mutilation that goes against the Geneva Convention. India needs to bring realism in its policies with Pakistan. It needs to do away with its 'Soft State' image so that Pakistan or any other neighbouring country doesn't resort to this kind of violation. In case of any violation, other countries must be ready for retaliatory action from India's side.
Our country definitely needs to be offensive on such occasions without escalating to a war like situation. This is because war can be fatal for both the sides. With improved relations with the US and growing economic strength, India can afford to take strong action against Pakistan for the time being. India should also try to isolate Pakistan internationally on diplomatic front. But the ultimate goal of this action should be peace only.
—Vidyabhushan Arya, political analyst
Mutilation is not just of soldiers but human rights
The peace process with Pakistan must not be scrapped. The need of the hour is that the United Nations must intervene in the India-Pakistan dispute. The dispute no longer concerns just India and Pakistan but the larger international community. I would say that the mutilation is not just of the Indian soldiers but of the human rights and of human life itself. Pakistan must be punished for this barbaric act. The biggest problem is that the government of Pakistan is not reliable at all. Even if we wish to peacefully co-exist with our neighbour, Pakistan doesn't seem serious about the same.
The firings and mutilations are not a failure on our part or of our diplomacy. We have behaved responsibly as a nation in terms of our foreign policies. It is Pakistan which is always belligerent. We must take the incident to international forums.
—Taha Alam, student