While the Shiv Sainiks have been demanding for its construction at Shivaji Park in Dadar, the place where Thackeray was cremated, residents staying nearby are against the proposal. Speak Up gets you opinions..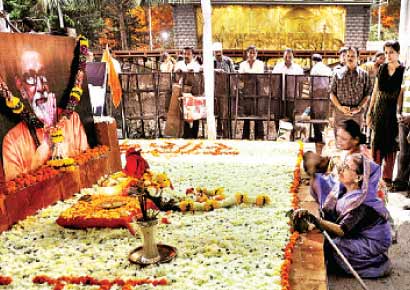 Building a memorial at Shivaji Park is illegal
The Shivaji Park ground is a cultural and sports ground. We have to take into consideration the views of the citizens who are residing around the Shivaji Park ground. Having a memorial for Bal Thackeray at the Shivaji Park is not only illegal but against the interest of residents staying near to the ground. Hence it is wrong on Manohar Joshi's part, who has served as chief minister of the state and is currently a Lok Sabha member, to take such an adamant stand. State chief minister, Prithviraj Chavan's decision is absolutely right and within the legal parameters.
—Ratnakar Mahajan, Congress spokesperson
Thackeray's memorial will be an exception
For a leader like Bal Thackeray, the people of Maharashtra have high regards and he will always be mentioned in the history of the state. Hence, I don't think there is anything wrong in having a memorial for him in a small corner of the big Shivaji Park ground. The demand is not for the whole ground but to allot a small space within it.
What Thackeray has done for the Marathi people and the state is exceptional and people will remember him for years to come. Those who criticise Thackeray will also admit that he was a person with different credentials.
When Teen Murti House, earlier the official residence of India's first prime minister, Jawaharlal Nehru, can be converted into a memorial museum and library and when former prime minister, Indira Gandhi's memorial can be built on Safdarjung Road in Delhi because it was an exception then why can't Thackeray be considered as an exception and his memorial be built at Shivaji Park? What Joshi is demanding is absolutely right, Thackeray's memorial at Shivaji Park must be considered as an exception.
—Shantanu Pendharkar, Pune citizen
Why not use Kohinoor Mill land for memorial?
Bal Thackeray was one of my best friends and I know that he would have never insisted on building a memorial for him. The demand for building a memorial for Thackeray at Shivaji Park ground is against the will of the public and the sports committee, who have opposed the idea. If you want to have memorials, build it with your thoughts and deeds for the betterment of Maharashtra, these material constructions serve no purpose. If Manohar Joshi wants a memorial for Bal Thackeray, why doesn't he use his own land at Kohinoor Mills for the same purpose?
—BG Kolse Patil, Former High Court Judge
Shivaji Park is a public place and a playground
Senior Shiv Sena leader Manohar Joshi should give away his Kohinoor Mill land to build a memorial for Bal Thackeray rather than demanding for Shivaji Park area. The park is a public place and it also serves as a playground for children. It is absolutely wrong for Joshi to demand for a memorial at Shivaji Park.
—Bhai Vaidya, Socialist leader
Shivaji Park is the pride of Marathi manoos
For a senior political figure like Manohar Joshi to say that they will take the law in their hands if the memorial at Shivaji Park is not allowed means you are leading towards anarchy. Joshi very well knew beforehand that the demand for memorial space at his Kohinoor Mill land will emerge, which is why from the beginning he insisted on constructing the memorial at Shivaji Park. This was his stance in spite of Uddhav Thackeray's directives to Shiv Sainiks to remain calm and patient on the memorial issue. The state CM's decision is absolutely right. Why should Shiv Sena eye Shivaji Park, which is a public place? Why can't they ask Manohar Joshi to provide space at his Kohinoor Mill land? Citizens too are opposing construction of a memorial at the Shivaji Park because it is the pride of Marathi manoos, as the ground has witnessed many gatherings, protests and campaigns besides those led by Bal Thackeray.
—Kumar Saptarshi, Founder, Yuvak Kranti Dal
Legal Hiccups
The state government says that Shivaji Park at Dadar, Mumbai, is a recreational ground while the Bombay high court tags it a playground, banning any construction or parking at the ground
If the state government decides to give in and allows Thackeray's memorial at Shivaji Park, it would have to change the ground's reservation
Shiv Sainiks have been insisting on building a memorial at the ground as it was the place where Bal Thackeray addressed his
first public rally in 1966
However, there is a strong possibility that the proposal might not go the Shiv Sena way. The Bombay High Court has declared Shivaji Park as a silent zone and a memorial would raise noise levels
As per the rules, a memorial cannot be built in the park and the matter could be subject to a prolonged litigation
Chairman of Brihanmumbai Municipal Corporation (BMC) standing committee, Rahul Shewale, maintained that the structure will definitely be constructed in Dadar
Shewale, in the backdrop of reports of the memorial likely to be constructed on the mayoral bungalow premises, reiterated that there are a few locations being considered by the all-party committee set up under mayor Sunil Prabhu's leadership to suggest options where the memorial can be built
Option being considered is constructing a Shaktisthal-like structure at Shivaji Park and a full-fledged memorial at the mayor's bungalow
Political Stand-Off

"Many people are saying that legally we can't build a memorial at Shivaji Park. If the law is against the memorial then we will take the law in our hands. We will ensure that the memorial comes up."
—Manohar Joshi, Senior Shiv Sena leader
"Manohar Joshi's statement will be legally examined. No rules will be violated for the memorial."
—Prithviraj Chavan, Maharashtra CM
About Shivaji Park
Shivaji Park is the largest park in Mumbai. It is situated in Dadar, Mumbai. Like the Azad Maidan and August Kranti Maidan, it is of historical and cultural value because of the political and social gatherings it has witnessed, both in pre- and post-independence Mumbai
The park is named after the legendary 17th century warrior king of the region, Chhatrapati Shivaji. The park was created in 1925 by the Bombay Municipal Corporation, in the days of the British Raj. Through the name, the British authorities acknowledged Shivaji and the reverence his name commanded amongst the local Marathi population
Besides being a venue for gatherings of freedom fighters in British India, after independence in 1947 Shivaji Park was the focal point of the Samyukta Maharashtra Chalval (the struggle for a consolidated Maharashtra) that led to the present Maharashtra state being formed in 1960