The colourful doodle features multiple ankhs - the symbol of Venus that is used to depict the female form.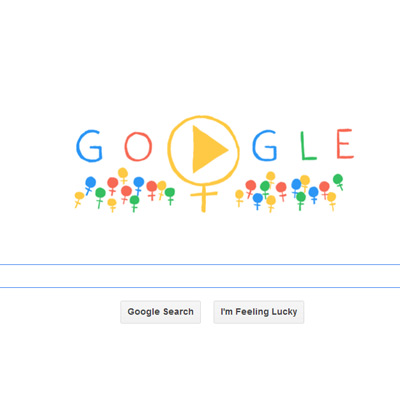 Google started the International Women's Day celebrations on Friday with their search homepage featuring multiple ankhs, the ancient Egyptian symbol which stands for Venus and is used to represent the feminine form.
With a play button in the second O of Google, the doodle starts a video feature with many women from around the world. The likes of Mary Kom, Asha Bhosle, Malala, Dora - the explorer, muppet Chamki from Galli Galli Sim Sim, the Indian equivalent of Sesame Street who wishes everyone 'Happy Women's Day' in Hindi are among the women personalities featured in the video.
Women's Day was celebrated for the first time in 1909 when the socialist movement demanded that women be treated as equals. International Women's Day now is celebrated on March 8 every year and pays tribute to all forms of womanhood.
When the video ends, the doodle features Google with a green banner that reads, 'Happy International Women's Day!' with the share, music and search options all contained in ankhs in blue, red and yellow.
The video features some real women and some Zap Mama music, the doodle video is a tribute to women of all ages, races and ethnicities from around the world. The women in the video do a range of things from smiling at the camera to saying, 'Happy Women's Day' in their own language.
Providing an explanation for the doodle, Google on their YouTube page wrote, "Women have historically been underrepresented in almost all fields: science, school curricula, business, politics-and, sadly, doodles. In addition to our continued effort for doodle diversity and inclusion, today's truly International Women's Day doodle features a host of inspiring women from around the world, including the President of Lithuania, a brave Pakistani education activist, an ever-curious explorer, and dozens more."
Watch the doodle: