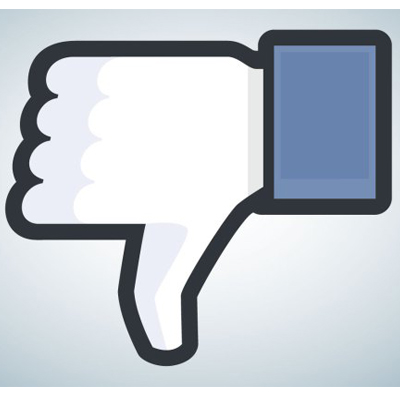 Social networking site Facebook crashed on Wednesday night and prevented nearly one billion users from accessing the site.
The site's homepage read, "Sorry, something went wrong." It further read, "We're working on getting this fixed as soon as we can."
Facebook statement read as follows:
"Earlier today we encountered an error while making an infrastructure configuration change that briefly made it difficult for people to access Facebook. We immediately discovered the issue and fixed it, and everyone should now be able to connect. We apologize for the inconvenience and will thoroughly investigate this issue so we can learn from it and ensure that Facebook is there when people need it."
People from around the world took their complaints to Twitter and here's how the events unfolded:
So, this one takes the cake!
RIP Facebook.

— Koca Kafa (@KocaKafa) September 3, 2014
Important announcement:
Attention! Facebook is down. I repeat #facebook is down! Seek shelter. Hide your cat videos. Hug your children. #endoftheworld

— Chip Litherland (@chiplitherland) September 3, 2014
Seriously?
I think Facebook is down. Is then when I'm supposed to call 9-1-1?

— Colleen Snow (@ColCol37) September 3, 2014
#Facebook just died?

— Yogesh Pawar (@powerofyogesh) September 3, 2014
Distraction, eh?
FACEBOOK IS DOWN. I REPEAT, FACEBOOK IS DOWN, THIS IS NOT A DRILL. Keep calm and look at this dog in a bow tie. pic.twitter.com/Pfnib3ZAWJ

— Guyism.com (@Guyism) September 3, 2014
Someone lives off the internet, sigh!
SOMEONE IS TRYING TO SABOTAGE MY CAREER - NOW TUMBLR IS DOWN

— kaylamomo (@kaylamomo) September 3, 2014
Haha, we imagined the same!
when facebook is down, i imagine a siren going off in the facebook HQ, sprinklers going off, and people screaming everywhere

— kaylamomo (@kaylamomo) September 3, 2014
Likes anyone?
Facebook down, Day 3. Holed up with canned goods. Streets filled with dazed people carrying pictures, begging you to like them

— Chris Taylor (@FutureBoy) September 3, 2014
This!
Attention: FACEBOOK IS DOWN. pic.twitter.com/vkE7HB22L9

— PCMag (@PCMag) September 3, 2014
Woah! That's quite a revelation!
This explains why the Internet is having issues #facebookdown #ebaydown #TheFappening pic.twitter.com/FU12TwjKOK

— Edgar Santana (@ers1159) September 3, 2014
Brace yourselves...@facebook may have crashed #facebook #Crashing pic.twitter.com/zC1iYaiAWT

— Edgar Santana (@ers1159) September 3, 2014
That really proves it!
We now have proof Twitter users are also Facebook users.

— Lexi Mainland (@lexinyt) September 3, 2014
How we wish for this!
I wish Facebook had a function akin to Twitter favoriting. I want to see a record of my "likes" and use them to save links for later.

— Lexi Mainland (@lexinyt) August 29, 2014
Surely!
Go home Facebook, you're drunk...

— KATRIN BERNDT (@KatrinBerndt) September 3, 2014
Ideal situation!
In other news... Loving this idea of millions of people staring at Facebook not loading #facebookdown

— Kat Lagrue (@k_lagrue) September 3, 2014
Finally, a genuine advice:
FACEBOOK IS DOWN! I repeat: FACEBOOK IS DOWN! To ensure your own safety, turn to the person next to you & start a conversation.

— Scott Nevins (@ScottNevins) September 3, 2014