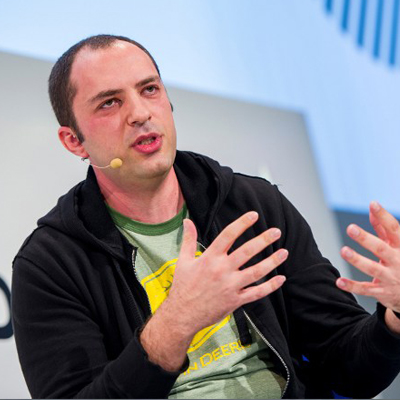 On Thursday, social media giant Facebook monopolised the messaging market with its whopping $19 billion cash and stock buyout of mobile messaging company WhatsApp.
WhatsApp was founded in 2009 by former Yahoo employees Brian Acton and Ukrainian Jan Koum. The deal, which is the largest acquisition by the Mark Zuckerberg-led firm, is even bigger than what Facebook offered Snapchat. But that is understandable given that WhatsApp is arguably the biggest messaging company out there, and an obvious rival to Facebook in that capacity. But what is surprising – or not all that surprising as these things happen all the time – is that before deciding to go out on his own with his partner and start WhatsApp, Acton was rejected for jobs at Facebook and Twitter. The tweets below symbolise how Acton took the rejections in stride and looked to the future for better prospects, which eventually paid off, resulting in one of the largest-ever venture-backed deals.
Got denied by Twitter HQ. That's ok. Would have been a long commute.

— Brian Acton (@brianacton) May 23, 2009
Facebook turned me down. It was a great opportunity to connect with some fantastic people. Looking forward to life's next adventure.

— Brian Acton (@brianacton) August 3, 2009
Jan Koum. Photo by AFP PHOTO
WhatsApp co-founder Jan Koum was also a struggling businessman when he first moved to the US, needing food stamps to survive. The overnight billionaire, who is estimated to now be worth about $6.8 billion, had been raised in a rural community, in a house with no running hot water or electricity, when he moved here from Ukraine. Koum, who joins Facebook's board under the deal, said, "WhatsApp's extremely high user engagement and rapid growth are driven by the simple, powerful and instantaneous messaging capabilities we provide." In a blog post, Koum added: "Almost five years ago we started WhatsApp with a simple mission: building a cool product used globally by everybody. Nothing else mattered to us."
WhatsApp has gradually been gaining enormous traction as a social media presence, taking away some of the attention from Facebook and other social media companies.
(Illustration photo shows 'likes' on WhatsApp's Facebook page displayed on a laptop screen - Photo Credit: Mal Langsdon/Reuters)
Read Also: Facebook acquiring WhatsApp: If you can't beat them, buy them out