The search engine war has gone to the next level. Microsoft has chosen much like Yahoo! who chose to opt for a new look logo earlier this month to take a step up with Bing.
Google maybe the leader when it comes to search engine choice among Internet users around the world, but it seems like Bing has joined Yahoo! in giving the market leader some tough competition.
To lure users, Microsoft who owns Bing on Tuesday opted to unveil the better Bing with social search options, 'page zero' tool and adaptability across devices.
Internet analytics company ComScore rates Bing as the second most popular search engine after Google. In their latest rankings ComScore gives percentage points with Google having 70% share while Bing has 17%.
Bing's logo has also adapted with the changes in the search engine, it now has a new golden orange coloured logo and is more abstract.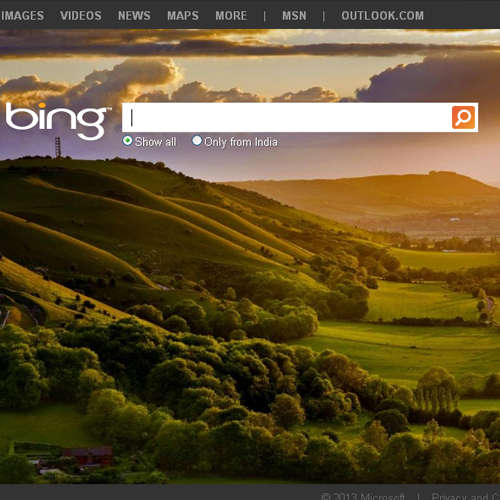 In a blog post, Scott Erickson who is a senior director of the Bing brand team wrote, "It is designed to 'instantly feel at home alongside all Microsoft products', reflecting the growing presence of Bing across Microsoft's various devices and services."
The more efficient Bing search has a combined space on the right side of the search results page that shows the user related content both from social networks and from 'entity' entries about people, places and things.
A novel feature called the 'Page Zero' helps users get helpful answers to a question or doubt even before they open the traditional search results page and also has a filter option.
Snapshot a feature announced last year which showed what 'Bing knows' about a person, place or thing has also been updated, with more answers and data available for users.
More apt for search and offering users easy answers to their queries the new Bing looks to beat Google and Yahoo! to become the first search engine Internet users go to when they search online.
On Twitter the Bing account tried to create a buzz about the rebranding with these tweets,

Who knew fog came in so many beautiful colors? http://t.co/ZOoyZ344Kw pic.twitter.com/IXvUX3NZzm

— Bing (@bing) September 17, 2013
Who knew fog came in so many beautiful colors? http://t.co/ZOoyZ344Kw pic.twitter.com/IXvUX3NZzm

— Bing (@bing) September 17, 2013