3D printing that can produce things including food, medicines and prosthetic limbs is a reality, albeit an expensive one. Indians are getting a foothold in this technology, reports Amrita Madhukalya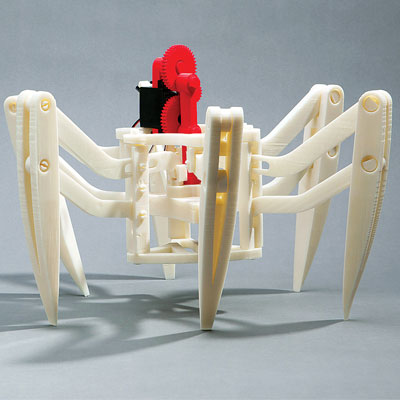 A world where you can manufacture cutlery, stationery, medicine, household items and even food at the push of a button! No, it's no longer in the realm of the imagination alone or the implausible plot of a futuristic sci-fi film, it's happening here and now — through 3D printing.
The technology is still in its incipient stages and very expensive, costing thousands of dollars even in the US, and so is yet to be an everyday reality. But Indians, too, are getting a foothold. Makers, as enthusiasts call themselves, around the globe are manufacturing food, fighter jet parts, prosthetic limbs, Hubble space telescope images, clothes and musical instruments.
"3D printing, or three dimensional printing, is an unconventional manufacturing process wherein, unlike the traditional subtractive method, the additive method of manufacturing is employed," explains Vishesh Sisodia of Delhi-based 3D Printronics.
In the subtractive method of manufacturing, a block of mass is subtracted from to arrive at a particular shape. 3D printing, however, uses additional layers of material to construct the product. The design is sent to a computer-controlled printer, and the material is loaded on to the syringe in a liquid form. The printer prints the object by heaping horizontal and vertical layers of the material on top of each other to give the user what he desires.
Keen to be a part of the emerging industry, Vishesh and his friend Rakesh started the company eight months ago. They make jewellery and charge anywhere upwards of Rs500 for printing, depending on the intricacy of the design, the amount of material required and the size of the product.
3D printing is at a nascent stage in India. There are less than 10 organisations offering commercial 3D printing services in India due to the expenses involved.Surendranath Reddy of the Chennai-based 3Ding imports 3D printers into the country and feels that there is still a long way to go. "I have imported about 15 printers since I started out last July. These printers cost anywhere between Rs.50,000 to a few crores. It is still a niche segment," says Reddy.
Delhi-based product designer Srishti Bajaj, who deals with home décor products, uses the technology for rapidly prototyping her products. "High-end technologies are not freely available in India. Methods like organic printing are unheard of here. In the US, designers manufacture various types of threads with different dyes. Prototypes of suits for the US Army are printed, and even various forms of silicones," says Bajaj.
"3D printing has helped express error-free designs and in showcasing products of intricate designs with a smoother finish," adds Bangalore-based product designer Micheal Foley, who with his team has used it to make watches, jewellery and to cater to customised designs from clients. "With 3D printing, you can stimulate plastic to come up with plastic of various qualities to make a product, and use various colours and textures, which was not possible in alternate methods like injection moulding. It pre-empts problems and reduces errors. That is a blessing in medical science."
What makes this revolutionary technology a wonder for our times is the democratisation of manufacturing of consumer goods, argues Christian Anderson, former editor of WIRED and a prominent advocate of the technology, in his book Makers: The New Industrial Revolution.
The food industry is the latest to adapt to 3D printing. ChefJet, a 3D printing machine that prints edible digital food in various flavours that was announced last month, will be available for about $5,000 by later this year. Food giant Hershey's announced a multi-year joint development agreement with 3D Systems, the manufacturers of the ChefJet last month. This means that chocolates will now come in various shapes and sizes.
There is a team of scientists that is working on restoring the Bamiyan Buddhas, two statues of standing Buddhas in Afghanistan destroyed by the Taliban. And another that is building scaffolds of body parts that can be coated with cells to grow real ones.
3D printers have been around since the 1970s-1980s and were used in the fields of aeronautics, defence and the automobile industry to make prototypes. In the US, the market for materials of 3D printers was valued at $70.5 million in 2012 and is poised to reach $209.6 million by 2018, according to a study conducted by MarketsandMarkets, a US global market research and consulting company. The study notes that the Asia-Pacific region is the second largest consumer of printing materials after North America and that both will compete to dominate the market by 2018.
However, there is a flip side. Many fear that the technology could also do harm. In 2012, a 26-year-old American Cody Wilson developed a prototype of the Liberator, a plastic gun that can be manufactured through a 3D printer. Last year, Wilson, who identifies himself as a crypto-anarchist, uploaded his design on the Internet for free download. Before US authorities pulled it down, the design had been downloaded 100,000 times. Detractors also point at the staggering losses manufacturing companies stand to lose in the future. And the end of licences and copyrights. Popular sharing website Piratebay has a section called "physibles" wherein one can download digital designs to print. Anderson points out that it will be nearly impossible to sort out copyright claims on products when 3D printers become a household item.
But, for now, we are waiting for a revolution to unfold.