Mukesh Ambani owned, Reliance Jio Infocomm successfully demoed their 4G LTE capabilities at the Indian Institute of Technology, Bombay (IITB) during Techfest, Asia's largest science and technology festival last week.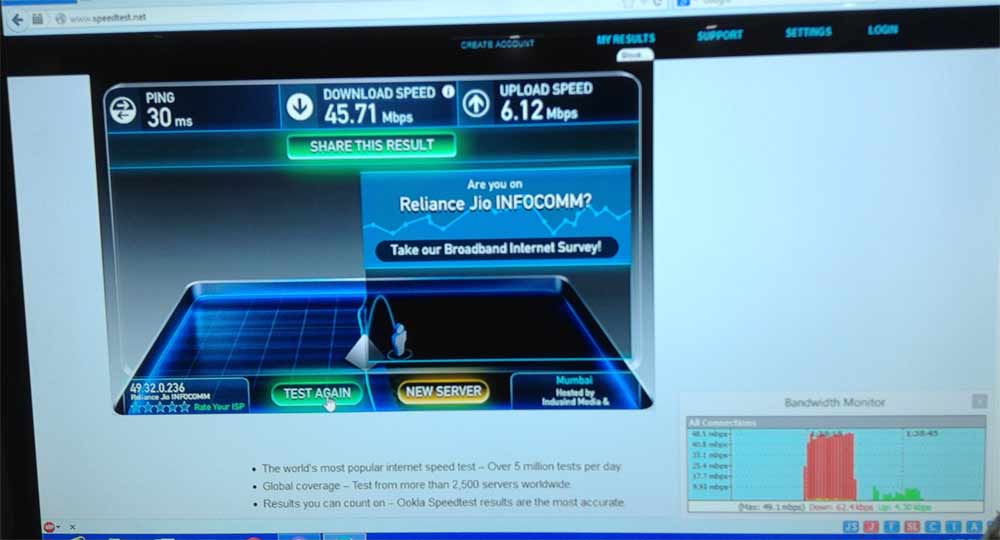 Clocking in impressive download and upload speeds of up to 49mbps and 9mbps respectively, RJIL also demoed a host of other services which will be rolled out with the 4G TD-LTE in the first half of 2014.
These include smartphone services and TV services which will be provided with the help of Customer Premise Equipment (CPE) which are a result of Reliance's own R&D.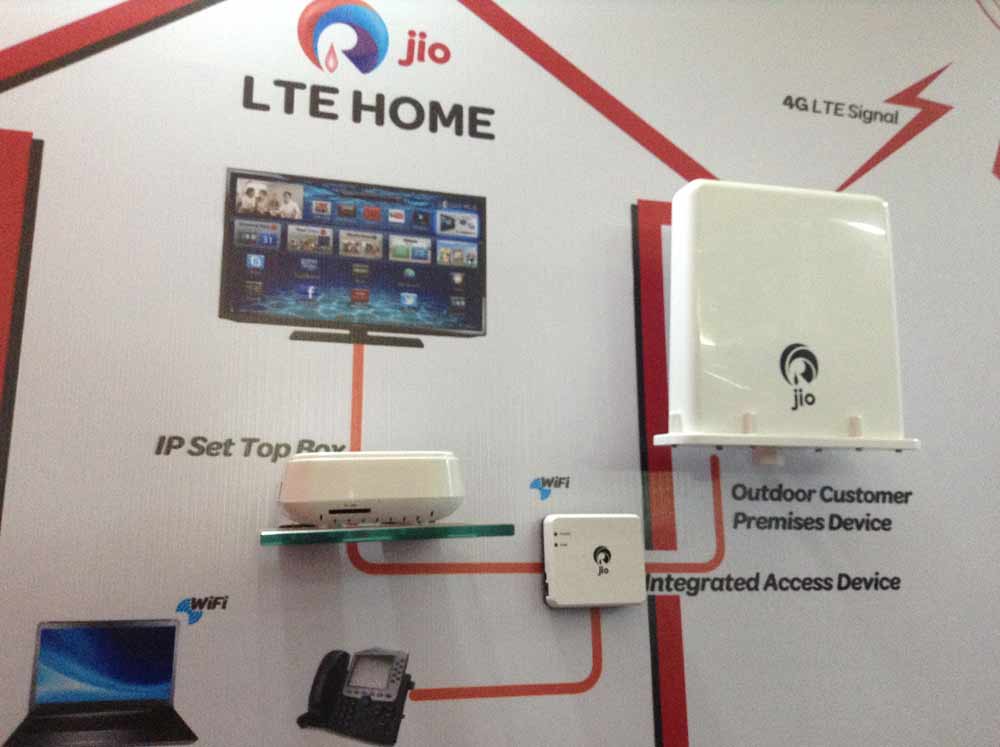 CPEs include a set top box which is based on Google's Android platform (Android OS 4.0.4 ICS) which will facilitate both broadband and television services, making a "normal TV" into a smart TV. One can watch Live TV & Video on Demand in HD (1080 p) without any buffering or lag.
A feature called "Catch Up TV" also allows you to watch content up to 7-days-old from each channel and thus eliminates the need to record by yourself like with other DTH. Users can also switch screens i.e. move from a TV to smartphone right in between a TV series and will still be able to continue from where they left off.
Reliance also has a cloud service called the Jio Drive which will give its subscribers 100 GB of free storage space. RJIL's pilot healthcare project, which is now restricted to only six Reliance Foundation clinics, was also on display.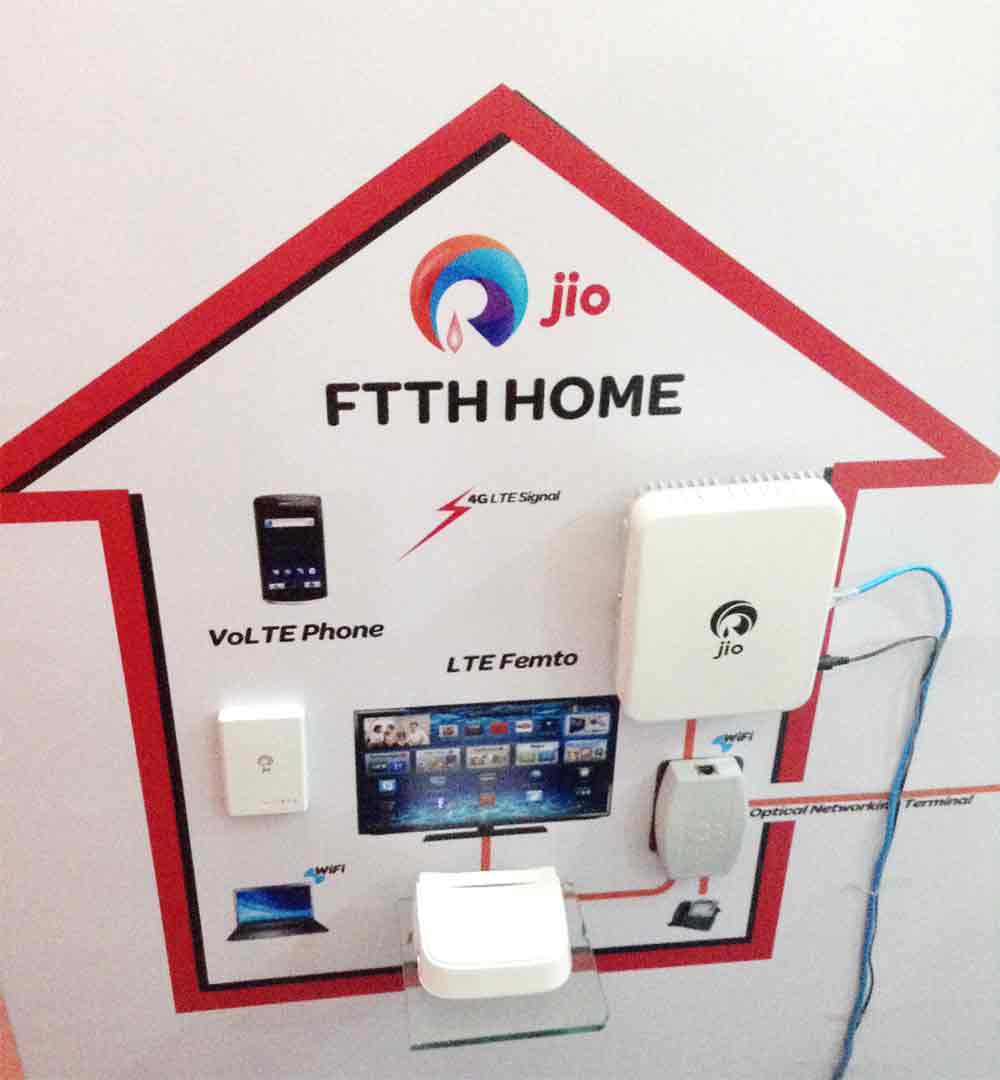 Reliance plans to provide robust connectivity indoors as well using fibre to the home i.e. FTTH which will be connected to the mobile towers with the help of femtocells and routers to help improve network connectivity and ensure stability at the same time as well. The setup will use instruments as explained in the image above.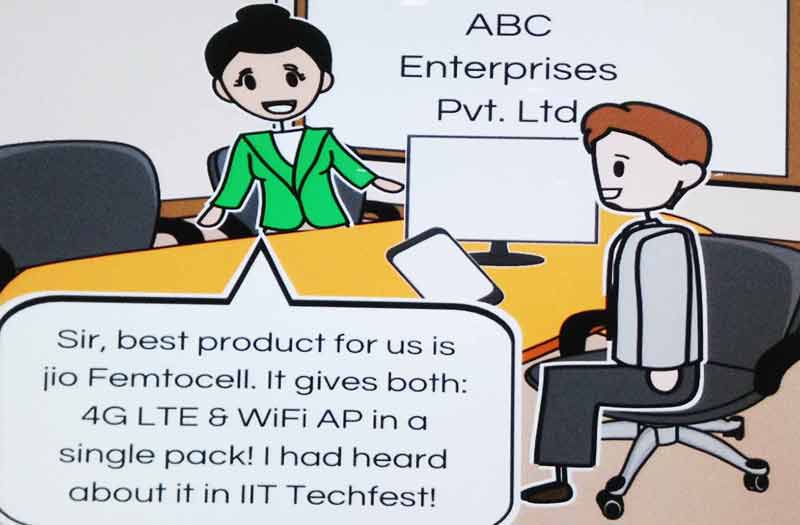 To give you a perspective as to how fast the 4G TD-LTE service is, it's about 20 times faster than 3G technology and will allow you to download a HD movie of about a GB in less than 5 minutes.
Author's take: While all of this looks impressive and sounds promising, we could not help but look at the challenges facing Reliance Jio, the country's only pan-India spectrum holder. They received the spectrum licence back in 2010, though the launch has been delayed due to the lack of ecosystem.
While Reliance Jio plans to take the service to the villages we fear that it might be restricted only to the elite class in its initial months or year.
Pricing is not the only challenge but also the fact that more than 90% of the existing devices in the market do not support the Band 40 operating at 2300 MHZ for 4G services in India. As a result, using 4G would mean buying a new handset which might prove to be a huge adoption barrier unless mitigated by providing with 4G capable devices at subsidised rates. The speakers at the festival said they are in talks with phone manufacturers to make such devices available as soon as possible.
The fact that 3G failed to take off at marginally higher rates than 2G, even with 3G capable handsets to support makes the situation for a quick mass adoption of 4G services a little bleak. However, we hope that Reliance Jio will be able to come up with strategic partnerships to overcome this hurdle and take this technology right to the villages of India and fulfil their promise.