Boon for blind | i-ODAN, developed by students of Bharati Vidyapeeth, will help visually impaired walk around easily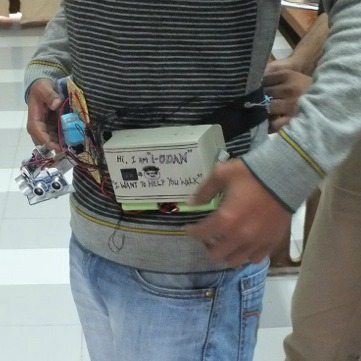 Pune: Technology to help the visual impaired has developed tremendously over the years. Gone are the days when they'd rely on a white stick to find their way.
Based on sensing technologies such as ultra-sound sensors that are used in unmanned air vehicles (UAVs) and human-free intelligent navigation in defence establishment, 2 graduates and 1 student from Bharati Vidyapeeth College of Engineering, Pune have developed and designed 'i-ODAN'. This device is a sonar-based 3D obstacle-avoidance belt for the visually impaired.
In simpler words, it is a wearable belt comprising three ultrasonic sensors strategically mounted on an innovative mechanism. Each sensor has a field of detection of about 60 degrees and a four to six feet range. It conducts a 3D scan of the immediate vicinity of the blind person, and if any sensor detects an obstacle, vibrations are felt in the corresponding vibrator attached on the belt. Depending on which side of the belt creates the sensation, one can sense which direction the obstacle lies in front of him.
This innovative device has bagged top honours at a competition held at the Banaras Hindu University (Varanasi). All three students belong to different streams of engineering — Digvijay Singh Raghuvanshi a graduate of B.Tech Mechanical, Isha Dutt a graduate of B.Tech Bio-medical and Saif Nazi belongs to Electronics.
Speaking about the invention, the project lead Raghuvanshi said that work on this project started by mid-2013.
They initially developed a prototype, which later went through a lot of modifications and improvements. Now, the project is ready and was also demonstrated at several blind schools in the city as well as in Delhi.
The principal and dean of college, Anand Bhalerao said that the demonstration of the belt was done at the Poona Blind School in Kothrud where students found the system immensely easy and helpful when walking around. Bhalerao said the equipment was developed in Bharati Vidyapeeth University College of Engineering, Pune with technical assistance from Robita Corporation, a city-based firm.
About the device
i-ODAN efficiently and automatically scans the entire area in front and on the sides of a user and establish clear communication with respect to how close an obstacle is. It responds through vibrations of varying intensity that is generated by small DC motors. The college is now in the process of filing a patent for the product.