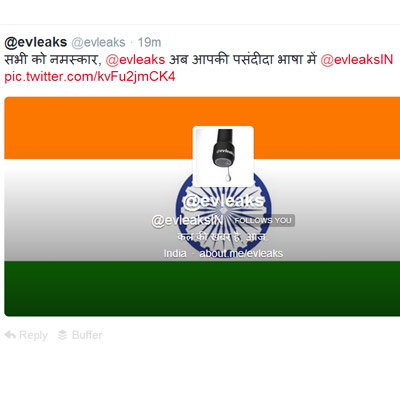 Evan Nelson Blass known as @evleaks on Twitter is a popular editor famous for releasing images and details about the latest phones before they are actually released by the companies themselves.
Today the popular phone leaker announced that there would be an Indian edition of the account with the handle @evleaksIN. The account is being handled by a fan in India.
The announcement was made on Twitter with the official handle tweeting in Hindi: Sabhi Ko Namaskar, evleaks ab aapki pasandi bhasha mein @evleaksIn. The account greeted everyone and announced the Indian edition.
This comes after various international editions have been launched including: CN, ES, JP, ID, AR, DE, FR, IT, PR, NL, PH, IN or PTBR.
The account has been active since March 5 and has been tweeting in Hindi. Even the bio has the same tagline: Tomorrow's news, today but in Hindi.
Read an earlier story on evleaks, when he was the popular mystery blogger
Evleaks answered a few questions about evleaksIn
1. Why launch an India edition? How will it be different from @evleaks?
Like the 13 other @evleaks foreign editions, this one is simply a translation for non-English speakers, by a fan of the original feed.
2. Why should someone follow the India handle?
I think, at least initially, the foreign feeds will only be of interest to non-English speakers of those languages.

3. Why did you select to do tweets in Hindi?
Just like the other foreign feeds, this one is maintained by a volunteer who approached me expressing interest.

4. Any details on who is handling the India account? Is it someone based in India?
I'm not sure that person wants his/her identity revealed. If they do, it will filter out eventually.

5. Are you repackaging news for the Indian market, or do you think the India market will send you leaks?
I think that the more interest in @evleaks, the larger potential source base I have, sure. If that means leaks specific to particular markets, we'll play those by ear.