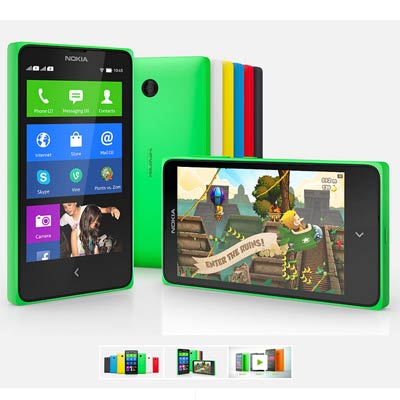 It has been raining devices and innovations at the Mobile World Congress in Barcelona, but not too many have captured as much attention as Nokia's first Android phones, the X Series. Rumoured to be in the works for ages, Nokia's Android phones finally saw the light of the (official) day at Barcelona. And have generally queries and questions by the dozen. Although the phones have not yet been made officially available to us, here is our attempt to answer some of the common queries about them, based on what we have seen and heard, from sources official as well as unofficial.
So Nokia is making Android phones. What's the fuss about then?
Well, Nokia has resisted the Android temptation for a while, preferring to stay with Symbian, Asha and Windows Phone for its devices. Considering its close relationship with Microsoft, which makes Windows Phone, one of Android's biggest rivals, yes, this is quite a big deal. Think of Lionel Messi going from Barcelona to Real Madrid...yes, THAT big.
How many Android phones is Nokia releasing?
Well, to start off, three. These are the X, the X+ and the XL, part of what many are calling the X Series of devices.
Are these going to be expensive handsets?
Far from it. Nokia's X Series of Android devices is going to be very much in the affordable price segment - the Nokia X will cost 89 Euros, the X+ 99 Euros and even the large screened XL will put you back by a mere 109 Euros. In pure conversion terms, the devices will fall in the Rs 7,000-Rs 10,000 price belt.
And what do we get for that price?
Well, the X comes with a 4.0-inch display and 512 MB RAM; the X+ also has a 4.0-inch display but has 768 MB RAM; and the XL has a 5.0-inch display and 768 MB RAM. All of the devices are going to be powered by dual core Snapdragon processors from Qualcomm, and will have displays of 800 x 480 resolution. They will all be dual SIM devices, and while the X and X+ will come with 3.0-megapixel cameras, the XL will come with a 5.0-megapixel one.
Which version of Android will they run?
Android 4.1.2, Jelly Bean.
Isn't that a bit old? I mean, the Moto G is coming with Android 4.4.
On paper, yes. But this is going to be a very different kind of Android.
Wait, so this is not the usual kind of Android that we see on other Android phones?
Nope. This is not going to be your run of the mill Android. Nokia has made quite a few tweaks to the OS. The interface is not going to be like other Android phones. It is going to be a mix of what you saw on the Lumia and Asha series of devices. There is just one home screen with all your apps arranged on it in the forms of boxes and tiles, similar to what you see on the Lumia devices (which run on Windows Phone). You can resize tiles, move them around and change their colors and so on. And just as in the Asha series of devices, you have the Fast Lane option, where swiping to the left shows you a list of recently used apps. Also a lot of the regular apps that you get on Android like Gmail and Maps have been replaced by Nokia/Microsoft alternatives like Here Maps and Nokia MixRadio.
Yes, it is Android at its core, but this is Android coated with a very generous coating of the Lumia and Asha interfaces. Very much like what Amazon did with Android for its Kindle Fire range of tablets.
When will these phones be updated to the latest version of Android?
You don't have to worry about the latest version of Android in this case, as this version of Android is going to be made totally by the folks who made the phone (Nokia). They will be pushing out software updates whenever they improve the OS, so no sitting around and wondering when you will get your phone to the Android other devices are running on. We repeat: this is not your usual Android.
But I can always go to Google Play (the app store on Android) and get my regular Android apps on the phone, right?
Well, it is not going to be quite as easy as that. You see, there is no Google Play on Nokia's Android devices…
What, No Google Play! Where do I get apps from, then?
Fear not, apps will be in plentiful supply. Nokia will have its own app store on the devices, and you will also be able to access other app stores such as Yandex from your Nokia X series device. And if that does not suffice, well, you can always side load - directly install - Android applications on your device. Mind you, you will have to get the APK files (the installer files for Android, just like .exe on Windows) to make that happen, and there are not too many reliable sources of that around.
But these phones should be able to handle most Android apps, right?
On paper, yes. However, we must confess to being a trifle concerned about the levels of RAM on the devices - 512 MB and 768 MB RAM are going to be more than sufficient for most routine tasks like social networks, e-mail and Web browsing, but if you move into high-definition graphics territory or intense gaming, there could be a few issues. We would like to stress that we are saying this based purely on the spec sheet - if Nokia tweaks Android to make even hefty games and apps run well on these devices, no one would be happier than us. But as of now, we are going to opt to err on the conservative side as far as performance goes. We think the X Series will be great for social networking, messaging and mail addicts, and will handle browsing well too, but we would not expect the world from it when it comes to stuff like gaming.
There are Android phones out there that claim to have better specs and are available for lower prices. Why would anyone opt for at makes the Nokia X Series different?
Well, while there are a number of devices that come with allegedly better specs, most of them come from relatively new players, whose record in the support and service department has not been exactly outstanding. what is likely to make Nokia's Android devices different is the fact that they are likely to be more solidly designed (they look very colourful too) and will come with a better support infrasystem in place, as compared to the competition – the 'established brand' effect, if you will. It is also very likely that Nokia will bundle a number of its services seen in the Lumia range – free music downloads from MixRadio, free maps and navigation for a lifetime on Here maps, and so on – with the device. No other Android device is likely to feature them, at least for a while.
How would these devices compare with something like the recently released Moto G?
Considering the difference in their price points (the most expensive of the X series, the XL, is likely to cost lesser than the Moto G), we don't think a comparison is really fair. However, if the devices perform as expected, we think the X Series will be more for those looking for a solid device for relatively basic tasks (Facebook, Twitter, Mail, Browsing) backed up with good support. Devices like the Moto G will be more for the geek crowd that is fascinated by Android versions and wants to run all sorts of apps on their phones.
When will we get these phones in the Indian market?
The phones are expected to hit the Indian market in March. That's barely a few days away
Is Apple...
Nope, we don't know if Apple is coming with a low-cost iPhone. Going by its track record, it is highly unlikely that it will! This Q&A is anyway about the X series.