Google looked at the elections and politics related Google search trends for the last 6 months: 1 March 2013 to 31 August 2013 and here is what was found... The results were revealed in the Google India survey today
Most searched politicians in the last 6 months:
Narendra Modi
Rahul Gandhi
Sonia Gandhi
Manmohan Singh
Arvind Kejriwal
Jayalalitha
Akhilesh Yadav
Nitish Kumar
Sushma Swaraj
Digvijay Singh
Most Searched Political Parties:
Bharatiya Janata Party
Indian National Congress
Aam Aadmi Party
Bahujan Samajwadi Party
Shiv Sena
Top elections related 'how to' queries:
How to get election card
How to find electoral roll number
How to get election card online
How to vote
How to track/check status of election card
Google also conducted an offline survey called, 'Urban Indian Voter'. Some interesting numbers from the study that was conducted on 7042 netizens belonging to 108 constituencies, 68% of who were in the age group of 18-35 are:
- 94 percent of urban Indian registered voters have said they will vote in the 2014 Lok Sabha elections but 42 percent are undecided whom to vote for.
- Both party and local candidate bear equal influence while making the voting decision.
- 11 percent say the Prime Ministerial candidate of the political party will play an important role in their final voting decision.
- 35 percent believe their decision will be based on the party and 36 percent say local candidate matters to them.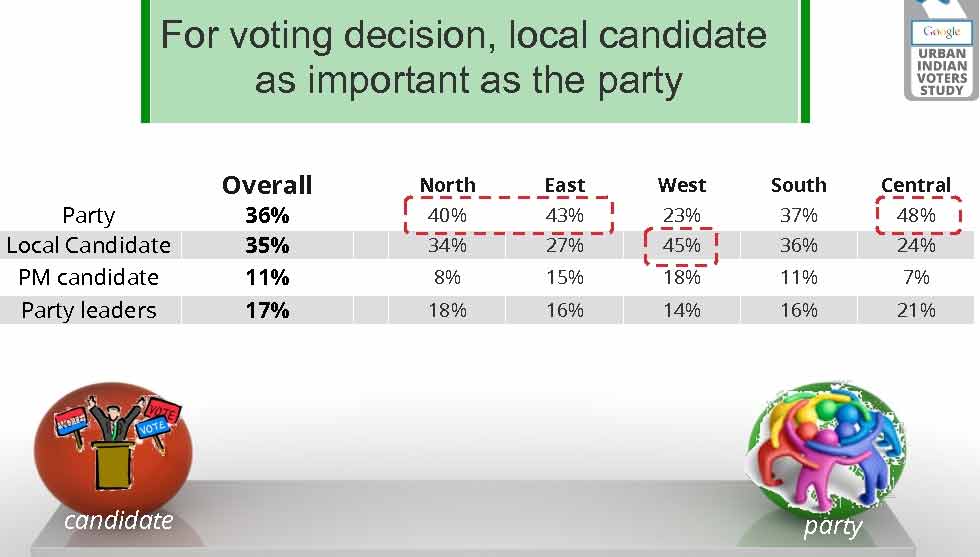 Do online Indian voters want their leaders to be online too?
Interestingly, about half of the voters who are active netizens expect their politicians to be net-savvy and engage with them on the Internet too.
- 50% respondents said they will engage with politicians online if it was made possible.
- 52% respondents want politicians to allow them to comment on their website on different topics and expect a reply from the politician.
- 51% respondents want politicians to allow them to comment on their social network page on different topics and expect replies from them too.
- 47% want politicians to conduct online video conferencing.
Voters who are online see leaders who are online as being progressive and transparent.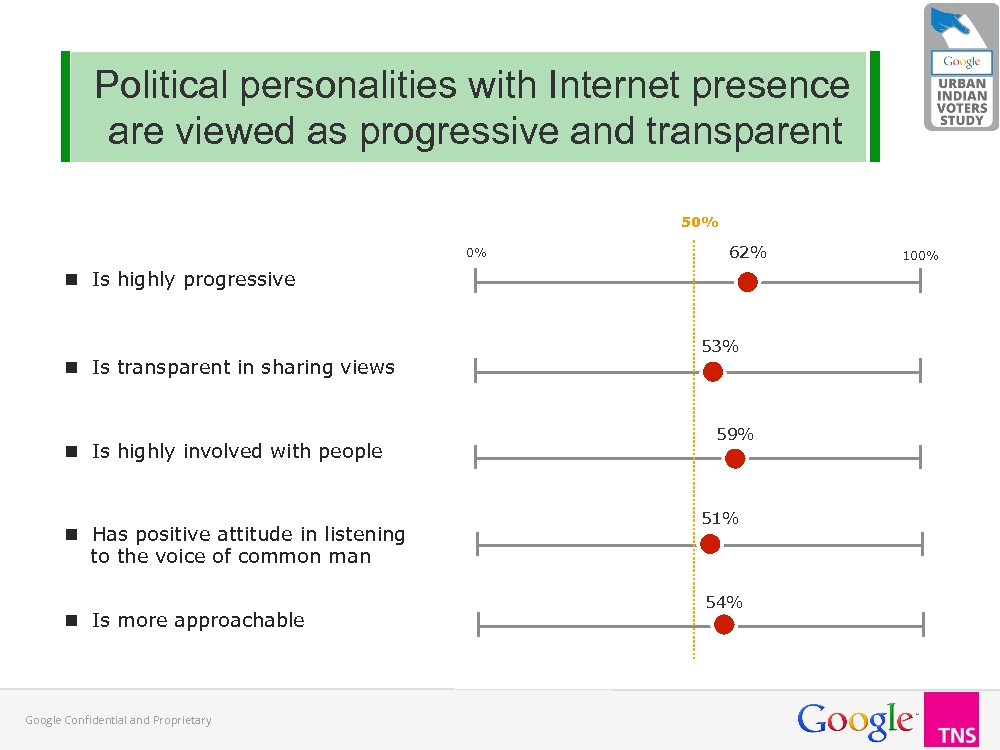 In fact, 35 % of respondents consciously start looking for elections or politics related information more than 3 months prior to the elections. And while they may be searching for political information and news online, about 2/3rds of the respondents said they do not share their political views on the Internet.
45% users said they would like to see more information about politicians online before casting their vote. This means social media and websites that give more info about MLAs and MPs will be a hit this election season. Politicians like Narendra Modi and Shashi Tharoor who have an active social media presence and dynamic websites will score brownie points with voters. It is interesting to note that Rahul Gandhi doesn't have a website of his own even though he is the second most searched politician online.
57% want to discuss local issues, 48% want updates on developmental activities and 43% want information about the candidate, party, manifesto and agenda.
"The Internet will play an important role in influencing the large undecided urban Indian population in the upcoming Lok Sabha elections. There is an opportunity for political parties and candidates to engage the urban Indian youth on the Internet," says Rajan Anandan, Vice President and Managing Director, Google India.
A bunch of interesting websites that are doing notable work in the area include:
To read a detailed story on these websites, visit: Is my neta a criminal? 5 websites that give you more information about Indian politicians
Do Narendra Modi and Rahul Gandhi's social media campaigns influence the youth?