Imagine a robot that could change its shape depending on the environment it has to be in - become a thin worm to move through a narrow pipe, realign into a spider with legs that can help it cross uneven terrain, or turn into a ball or wheel that can spin itself to move speedily over a fairly flat terrain.
Imagine a robot that can assemble itself to make a wall, bridge or shelter during a calamity or combat or emergency situation or pictures robots that could metamorphose into a chair, a ladder, or a desk, on demand.
That's what MIT's new robots have the ability to do. The objective of the designers: To design self-reconfiguring and self-assembling robots that can change their geometry according to task.
"This is exciting because a robot designed for a single task has a fixed architecture and that robot will perform the single task well but it will perform poorly on a different task in a different environment," says robotics professor at MIT, Daniela Rus.
Called M-Blocks, the robots are cubes with no external moving parts unlike other modular robots in the past that use arms and attachments in order to move modules into different places.
M-Blocks can flip, leap through the air, roll across the ground and jump over each other without wheels, legs or arms.
How do the cubes somersault?

"Inside each M-Block is a flywheel that can reach speeds of 20,000 revolutions per minute; when the flywheel is braked, it imparts its angular momentum to the cube. On each edge of an M-Block, and on every face, are cleverly arranged permanent magnets that allow any two cubes to attach to each other," explains MIT's newsletter.
It further explains:
On each edge of a cube are two cylindrical magnets, mounted like rolling pins. When two cubes approach each other, the magnets naturally rotate, so that north poles align with south, and vice versa. Any face of any cube can thus attach to any face of any other.
The cubes' edges are also beveled, so when two cubes are face to face, there's a slight gap between their magnets. When one cube begins to flip on top of another, the bevels, and thus the magnets, touch. The connection between the cubes becomes much stronger, anchoring the pivot. On each face of a cube are four more pairs of smaller magnets, arranged symmetrically, which help snap a moving cube into place when it lands on top of another.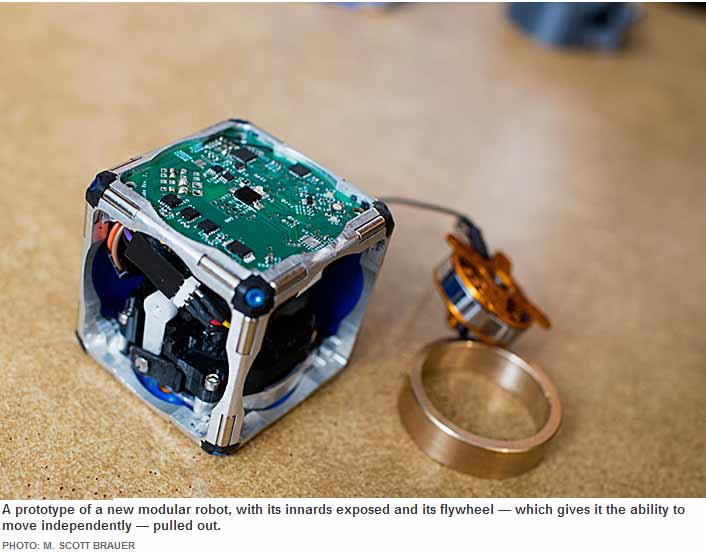 Future plans?
"We want hundreds of cubes, scattered randomly across the floor, to be able to identify each other, coalesce, and autonomously transform into a chair, or a ladder, or a desk, on demand," says John Romanishin, a research scientist working on the project.
Reactions so far...
- "A search and rescue plane could carry a few hundred thousand of these blocks to be drop into the ocean upon which they self assemble into a small boat.
- Drop them into a desert where they self assemble into a hut for shelter.
- Drop them into a broken dam where they self assemble to plug the dam.
- Make the outside casing conductive so they can self assemble into a long power line in the event of a downed power line out in the middle of ... "nowhere". Until the crew arrives," says YouTube user Pullman WA.
"Imagine what this technology is going to look like once its been shrunk down to the smallest size possible? Imagine a billion grains of sand, each one a tiny modular robot, all linking together to have any form it sees fit. It would be something like the T-1000 from Terminator 2," says YouTube user CoronaMage.
Similar tech from 2008

In 2008, there were modular robots but these were way slower... These modular bots were created by scientists at the University of Pennsylvania.