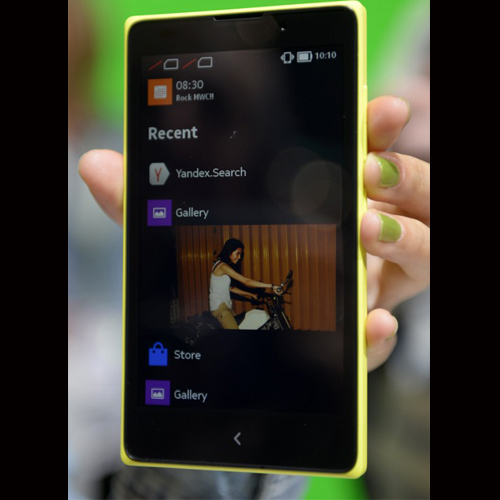 On Monday, Microsoft Devices announced that another member of the Nokia X family, the Nokia XL, a large screen affordable smartphone that run Android apps, will begin selling in India.

The Nokia XL has 5 inch IPS capacitive color touch screen, and at Rs 11,489, is at a much lower cost than most smart phones out there.
Although the devide has only a 2-megapixel front-facing camera for video calls, it boasts a 5-megapixel rear camera with autofocus as well as flash. It comes with a powerful 2000 mAh battery, rated for 16 hours of talktime and upto 41 days of standby.
The phone also includes the Nokia X signature Fastlane experience which was completely re-imagined specifically for memebers of the Nokia X family. With the upgrade Fastlane is now more customizable and user friendly. Users can select what appears on their Fastlane feed, read notifications from their social networks and update their status, which allows for a better experince for on the go users.
"With the Nokia X Family we look to offer a variety of choices to our consumers at different price points. After receiving a great response with the Nokia X, which introduced the category to this market, we are now bringing the much awaited Nokia XL and X+ to our consumers. Nokia XL, our flagship offering within the Nokia X family,comes packed with a large screen experience with a superlative front camera and a wide array of apps, offering a great Smartphone experience at an affordable price point.This will be further amplified through the X+ which will be simultaneously launched with the XL completing the Nokia X family serving as the perfect introduction to the world of Android apps, , coupled with signature Nokia experiences, and the most popular Microsoft services.", said Mr. Viral Oza, Director Marketing, Nokia India Sales, a subsidiary of Microsoft Mobile Oy.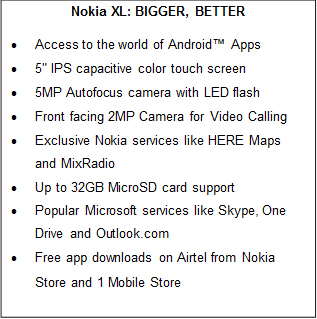 As with the other Nokia smartphones, a wide varierty of Android apps can be downloaded from Nokia's own store and several popular third-party apps. The conventional and popular apps like Facebook, LINE Free Voice and Messages, LINE Camera, LINE Bubble, Picsart, Plants vs. Zombies 2, Real Football 2014, Skype, Spotify, Swift key, Twitter, Viber, Vine and WeChat, among others.
Additionally, for the first time in the world, Nokia customers will also be able to use BlackBerry Messenger (BBM), will also be available on the Nokia X family of devices.
Microsoft Devices have also tied up with Airtel giving users free unlimited download of Android Apps for 6 months. The plan allows upto 500MB of free usage through which consumers can download their favourite apps via the Nokia Store and the 1Mobile store.

The Nokia XL device is the next offering in the Nokia X family which includes Nokia X which was launched earlier this year in India, and priced at Rs 8,399.