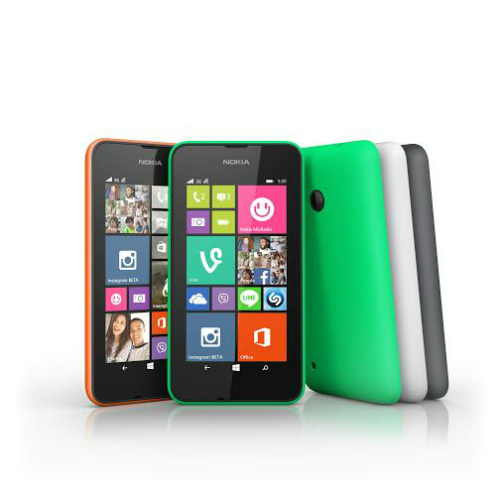 Microsoft on Wednesday launched the Lumia 530 Dual SIM smartphone, the 'most affordable' Lumia to date, in India. The phone is priced Rs 7,349 and will be available in stores from August 14, 2014.
Lumia 530 comes with the latest version of Windows 8.1, with updates such as the one swipe notification from the Action Center and the World Flow keyboard. It comes with changeable cover shells in bright orange, bright green, dark grey and white.
The phone has a 4-inch display with a screen resolution of 480 x 854 pixels. It has a 1.2Ghz quad-core Qualcomm Snapdragon processor.
With a RAM of 512 MB, Lumia 430 has an on-board memory of 4 GB and expandable memory of up to 128 GB. Microsoft also offers an additional 15 GB of free cloud storage on its OneDrive, allowing users to sync, store, access and share files between Lumia 530 and computers, laptops and tablets.
The phone has 5 MP rear camera, but no front-facing camera or flash.
The Lumia 530's dimensions are 119.7 x 62.3 x 11.7mm, and it weighs 128 grams. It has connectivity options of GPRS/ EDGE, 3G, Wi-Fi (802.11 b/g/n), Bluetooth (4.0), GPS and Micro-USB.
Microsoft is looking to target the youth with the Lumia 530 in the affordable smartphone segment.
"We, at Microsoft Devices, are committed towards helping people experience the uncompromised technologies and services that we offer on our Lumia devices. Lumia 530 builds on the legacy and success of Lumia 520 and will help us consolidate our position in this segment further," said Viral Oza, Director-Marketing, Nokia India, a subsidiary of Microsoft Mobiles Oy.

"With its innovative design, the latest Windows Phone 8.1 and signature Lumia experiences, the Lumia 530 3G Dual SIM is the perfect device for those who are looking for a distinctive smartphone," he added.
In India, the phone comes with special offers. Phones bought through the Windows Phone Snapdeal app will get Rs 3,000 off. Buyers can also win six free movie tickets from BookMyShow when they book seats to any show through the app.
Airtel prepaid subscribers will get 500 MB of 3G internet free for 2 months.