Samsung will launch its flagship phone in a few minutes. The press conference is being held in Delhi and was scheduled for 12pm today. Besides the Galaxy phones, Gear fit products are being launched. GalaxyS5 will be available starting April 11. Samsung Galaxy S5 to be priced between Rs 51,000 to 53,000. The Gear 2 will be priced Rs 21,900 and the Gear 2 Neo and Gear Fit will cost Rs 15,900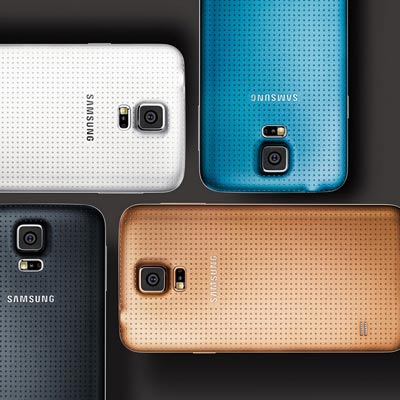 Vineet Taneja, Country Head, Mobile and Digital Imaging at Samsung Electronics has taken the stage. He is speaking about the range of Galaxy S including the S, S2, S3, S4.
"35 million Indians own a Samsung Galaxy phone in India," he says.
Taneja says there are 5 basic things that everyone wants from their phones.
"The 5 pillars are design, camera, speed, stay fit and life," he explains these saying how consumers want a good-looking phone, a phone with a great camera, a phone that's fast and phone that can help them stay fit.
The phone is water and dust resistant. Taneja says this was a key request from consumers. He is speaking about Knox, it's Android security platform that helps keep data secure. The Galaxy S5 comes with Knox.
The S5 has an ultra-power saving mode.
Now Gear products are being introduced. The Gear 2, The Gear 2 Neo and Gear Fit.
"Our innovation is inspired by people and should inspire people," says Tanjea closing his speech.
Models take the stage. They're taking selfies. They've taken like 50 already.
Next up, we have models doing exercise routines on stage. They obviously use the Gear Fit.
And the ramp comes alive with white, charcoal black, copper gold and electric blue. Models in four colours with four S5 phones in four colours. Sparkling!
And we have Slumdog Millionaire actress Freida Pinto on stage wearing the Gear Fit and holding the S5 in her hand.
The fun is over. Back to serious talk. Manu Sharma, Director – Mobile, Samsung India is up next talking about consumers, their modern lifestyle and what they want again. "They are looking for a design that has a glam look," he says. And we're back to talking about the 5 pillars. Yawn.
"It's got a perforated back. It helps consumers hold the phone better. The shimmer adds to the glam," he adds.
"We have refined the user interface with geometric patterns, we have made it clean and simple, very uncluttered. Icons are larger. Easy to navigate," says Sharma.
Depending on the environment where you are.. the screen changes its contrast. This feature is called Local Contrast Enhancement.
Battery and power management has improved he says. 2800 mAH Battery. Standby time : 390 hrs (LTE) / Talk time: 21 hrs (WCDMA).
Camera praise next.
Specs: Main(Rear) : 16MP (1/2.6", Phase Detection AF)
Sub (Front) : 2.0MP (1920 x 1080, Wide-angle lens )
Fast auto focus, high dynamic range. The faster Auto Focus of Galaxy S5 allows you to take pictures of movement and action in focus. Selective Focus allows you to focus on what's important by blurring the background and accentuating the main subject
in defined detail.
"Don't swim with the phone," says Sharma. So the phone is not completely water-proof. Rain drops can fall on it and hey, it won't get spoilt, they claim.
Samsung Gear time.
Our smartwatches are functional and beautiful. For the Gear 2, Samsung moved the camera, the speaker, and the microphone to the bezel, taking them away from the strap.
It has 4GB of internal memory and can work as a music player.
The Gear 2 has a plethora of apps. Lifestyle, Entertainment etc are the categories. The SDK kit is available for app developers. http://developer.samsung.com/samsung-gear
All the Gear wearables work seamlessly with the S5.
You can manually add personal data like nutrients and weight.
The S5 has the world's first heart-rate sensor. It looks like a LED light, but it is a sensor, says Sharma.
Fitness freak Freida Pinto on the stage now. "I travel with him (Gear Fit)," she says. The Samsung Gear Fit helps her stay motivated. "It's a fashion accessory. Black for a classy look and orange for colour. It is comfortable and doesn't hurt my wrists," she says. "I have thin bony wrists," she says.
The press doesn't wan Freida to leave the stage. They're asking her to pose for the cameras.
Pre-booking opens on 29th March.
Prices:
Samsung Galaxy S5 to be priced between: Rs 51,000 to 53,000
Samsung Galaxy Gear 2: Rs 21,900
Samsung Galaxy Gear Neo: Rs 15,900
Samsung Galaxy Gear Fit: Rs 15,900
Samsung Galaxy #Gear2 and #Gear2Neo smart watches run on Tizen and not Android.
FYI: Samsung's intro of the S5
Featuring a perforated pattern on the back cover and an array of vivid colors (shimmery White, charcoal Black, copper Gold and electric Blue), the GALAXY S5's has a 5.1-inch Full HD Super AMOLED screen with a slim bezel and Adaptive Display. Inside, the GALAXY S5 packs a 2,800mAh battery, 2.5GHz Quad Core processor, 2GB RAM and runs Android™ 4.4 (KitKat®). Around back is a 16-megapixel camera with a larger image sensor.
Samsung says it has the world's fastest autofocus speed up to 0.3 seconds on a smartphone, a new Selective Focus that makes it a snap to take pictures with blurred backgrounds, as well as the ability to preview in real time when capturing High Dynamic Range (Rich Tone) images and videos. The GALAXY S5 also has an advanced Wi-Fi and LTE performance with support for Wi-Fi 802.11ac 2X2 MIMO and LTE Category 4 standard.
For an even faster connection, Download Booster lets users bond Wi-Fi and LTE simultaneously to maximize data speeds. GALAXY S5 provides dedicated fitness tools such as the ability to set tailored goals for workouts, track fitness progress and measure heart rate with built-in heart rate sensor. Users can further customize the experience with the next-generation of Gear wearables with third-party app ecosystem.
Other features on the GALAXY S5 include dust and water resistance (IP67), an Ultra Power Saving Mode for times when you need to minimize battery consumption and a Finger Scanner for additional security.
You can watch the live webcast here: http://www.samsung.com/in/galaxys5/webcast/live_webcast.html